Amazon released the Amazon Fire TV earlier this year to much anticipation. The Amazon Cube is a follow up to their now discontinued Fire TV. In the last few years, Amazon Alexa smart home devices have become more and more popular. The Amazon Fire Cube is just that a Streaming TV device with Alexa onboard.
The Amazon Fire TV Cube is basically an Amazon Echo and Amazon Fire TV combined into one box. Amazon Fire TV with 4K Ultra HD and Alexa Voice Remote has a list price of $64.99 dollars. The Amazon Echo has a list price of $49.99 this adds up to $115 dollars. The Amazon Cube which is the two devices combined into one box retails for $119 but if you have an Amazon Prime membership the price is reduced to $89. ​The Cube has the same spec as the 3rd Generation Fire TV but with more storage. 
Build and Design
The Amazon Fire TV Cube is just that, a Cube. The Cube is is 3.5-inch square made from shiny black plastic. On the top are the controls. It is the same layout as their Amazon Alexa smart speaker, one volume up button and one volume down button.
To the right is a mute button and to the left is a command button that you can press and talk to Alexa without having to say Alexa before a command. There are eight microphones located on the top to enable the Cube to pick up voice commands from across the room.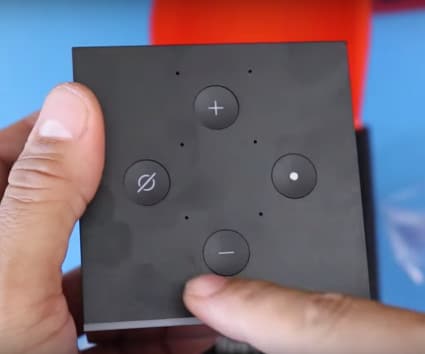 Top of the Amazon Fire Cube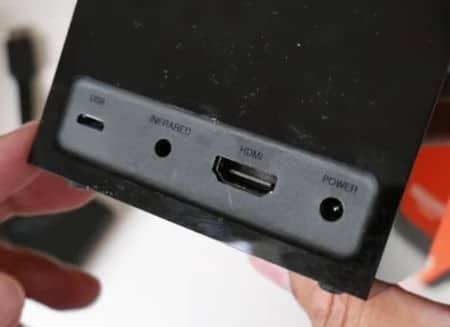 Bottom of the Amazon Fire Cube
On the front is an LED light and on the back is where the ports are located. An HDMI port (cable not included), Power Port an Infrared Extender Port and a Micro USB Port. On the bottom of the device is a downward-firing speaker.
Placement and Setup
Getting the Amazon Fire TV Cube up and running is very quite easy. You first want to place the Amazon Cube in an unobstructed location facing where you mostly sit in the room. Keep the Cube at least one foot away from speaks. To close and Alexa will not be able to hear you when a speaker is on.
Do not put the Cube in a closed cabinet under the TV. Alexa will not be able to hear you and Wifi connections with other devices will be compromised.
Once you have your Amazon Cube in a good location. Time to turn it on. When you first turn it on Alexa will talk you through the process. It will prompt you to click the Fast-forward button on the remote with each successful step.
It took only a few minutes and voice activation was now working allowing me with my voice to turn the TV off and on control volume and switch to my game console. Here is how to set up the Amazon Cube.
Setting Up the Amazon Cube
Plug the IR blaster (the small shiny cube) that came with your Fire TV Cube into its Infrared port.
Select Settings from the Home Screen.
Tap down, scroll right and select Equipment Control.
Select Manage Equipment.
Select Add Equipment.
Select Cable.
Click Yes to confirm. Click No if this isn't right, and add you're correct ZIP code.
Select your cable provider.
After making sure your cable box is on and that you've got your remotes, click next.
Using your regular remotes, switch input to the cable box. Once you're on a cable channel, hit Fast Forward on the Fire TV Cube's remote.
Select Next.
Select the input your Cable Box is connected to.
Select Next.
Hit Fast Forward after the channel changes to another channel.
Hit Fast Forward again.
Select Done.
The sound quality on the Cube is very minimal and does not sound as good as the Echo. The speaker was not designed to play music and the speaker is there mostly for Alexa. The Cube can route any music to your smart TV speaker or soundbar.
If connected, Alexa will respond through connected external speakers but if not external speakers are turned off and the Cube will use its internal speaker. Alexa is also intelligent enough to mute the audio on other devices when it hears the wake word, so you can still hear responses even when watching a Blu-ray movie.
Although not great sound quality the external speaker can easily be heard across the room and the eight far-field microphones can pick up voice commands from 15 or 20 feet away, while music or video is playing on the TV. You may have to shout if the music is loud for Alexa to hear you. Sometimes Alexa is a little finicky and you may have to repeat the command but general the Cube is very responsive to commands.
Features
The Cube will make your TV a central display hub that will allow you to pull up a video feeds from any connected home security cameras in your system. The screen also displays weather or local searches.
Alexa's news summary function now integrates video content from providers such as CNN, Reuters, the same as on the Echo Show and Echo Spot. When you're done watching Alexa's responses, the Cube brings you back to the Fire TV's familiar home screen.
They have managed to make the two interfaces work together very seamlessly for enjoyable user experience. If you have Amazon Prime Music service, when you play music the lyrics are displayed on the screen letting you belt out a song when every you want.
The Cube also makes watching live tv a lot easier. For now, Playstation View and Hulu live TV are the two live streaming services you can use with Amazon Cube but there will be more coming soon.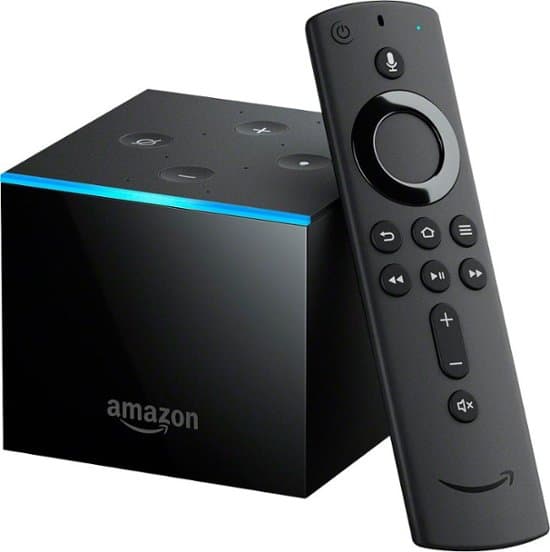 Amazon Fire TV Cube Specs
General
Processor: 1.5GHz quad-core ARM 4xCA53
GPU: Mali450 MP3
RAM: 2GB
Storage: 16GB
Wi-Fi: Dual-band (802.11a/b/g/n/ac)
Bluetooth: Yes
Voice: Far-field and near-field voice support
Ports: HDMI 2.0a, power, Micro UDB, Ethernet (through adapter)
Speaker: Built-in
Audio formats: Dolby Atmos, 7.1 surround sound, 2ch stereo, HDMI passthrough up to 5.1
Output resolution supported: 2160p, 1080p, and 720p up to 60 fps
System Requirements: High-definition television with available high-speed HDMI input, high-speed internet connection via Wi-Fi or inbox Ethernet accessory, a power outlet, (compatible TV/sound/cable equipment for control by infrared or voice). A high-speed HDMI cable and 4K TV with high-speed HDMI connector required for 4K viewing and more reliable device control.
Regional Support: Certain services may not be available outside the US.
Package content
Fire TV Cube
Power adapter, quick start guide, marketing guide
2 AAA batteries
Infrared (IR) extender cable
Amazon Ethernet Adapter (10/100)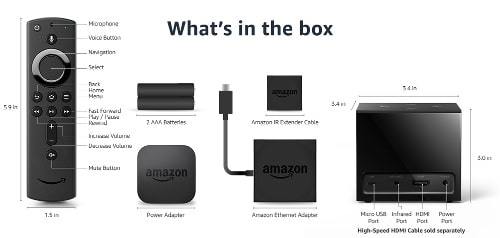 Dimensions
Size: 3.4" x 3.4" x 3.0" (86.1 mm x 86.1 mm x 76.9 mm)
Weight: 16.4 oz (465 g)
Amazon Fire Tv Cube
Pros and Cons
Pros
Sleek design
4K HDR Playback
Easy setup
Comes with remote
Cons
No Dolby Vision
No YouTube TV official support without sideloading
Should you buy it?
If you are interested in Amazon Fire TV and also have been thinking about getting an Amazon Alexa smart device than the Fire TV Cube might be the way to go. The Fire TV with 4K Ultra HD and Alexa voice remote has a list price of $64.99 and the Amazon Echo's list price is $49.99, that adds up to $115 dollars.
The Amazon Cube has the two combined into one box and retails for $119. See Amazons latest pricing. If you keep an eye out they do all go on sale and can be purchased for less. If you have an Amazon Prime account the price is reduced to only $89. The Cube will give you an excellent tv experience and give you the ability to add smart functions to your home.
If you want a smart device that has decent sound quality, the Cube comes up short. The Cube does have a speaker but the sound quality is slightly less than the Dot and not very good compared to the Amazon Echo.
Amazon Fire Tv Cube Smart Streamer Review
Conclusion
If you already have Amazon Fire TV products and you are looking to the Amazon Fire Cube as an upgrade then you may be a little disappointed. The two main disappointments are the fact that it does not have an ethernet connection.
You have to go through a separate adapter to have the ability to hook it up to ethernet, also the processing power, the fact that it only has 2 GB really doesn't seem like it is an upgrade from the Amazon Fire TV box.
The Cube has the same spec as the 3rd Generation Fire TV but with more storage. If you are thinking of plunging into the smart home and considering buying an Amazon Echo and like the idea of Amazon Prime and if you don't have an Amazon Fire TV box or stick then purchasing the Cube may be a good idea. See Amazons latest pricing.
They are on sale often and with an Amazon Prime membership, the price comes to less than the two devices together. You will not be throwing away your remote just yet but the Cube will definitely allow you to use it much less and give you the ability to control by voice a number of other smart devices in your home.