With gaming and streaming media, you want power and efficiency. Blips and delays in transmission through the network will cause frustrations, interrupt your plays, and ruin your gaming and streaming experience. For this reason, you need quality hardware that is up to the task.
When it comes to high tech gaming routers or streaming entertainment, the ASUS Dual-Band Wireless-AC3100 Gigabit Router (RT-AC88U) is one of a kind. Let's take a look with our ASUS Dual-Band Wireless-AC3100 Router Review
This unit combines the best of Wi-Fi connectivity designs and technology in one compact little package. With the extremely fast and stable connection made available, this router model has earned a reputation as one of the best on the market.
Below is a comprehensive review of the ASUS Wireless-AC3100 router with respect to design, specifications, pros, and cons.
Design Features and Specifications
Dual-Band network
The dual-band network utilizes both 2.4 GHz and 5 GHz signals. With this specific design, you have a lot to look forward to in terms of connection benefits. One of the most important benefits is the significant increase in bandwidth compared to a single-band router. This results in high-speed connectivity with no delays whatsoever. In fact, you might be able to enjoy up to 100 times the bandwidth.
Another major perk of the Dual-Band network is the fact that it allows separation of networks and dedication to specific tasks. This ensures that you get to enjoy your online activities without interruption or inconvenient delays. This is particularly important where there are multiple users on the network or multiple functions being run simultaneously.
With this functionality, whether you're progressing your career mode with features direct from the servers, or you're battling it out with gurus halfway across the world, you will be able to put bring your A-Game (pun intended) to the table. There won't be glitches and slow speeds to worry about. Your only focus will be how good your skills are to climb the ranks of the pros.
ASUS Dual-Band Wireless-AC3100 Gigabit Router (RT-AC88U)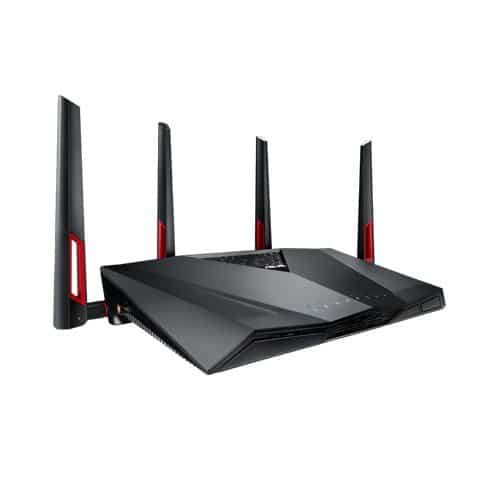 Direct WTFast Gamer Private Network (GPN) access
The ASUS Dual-Band Wireless-AC.3100 Gigabit Router (RT-AC88U) is considered one of the best routers for gamers and this feature is the reason why. The WTFast Gamer Private Network is an online gaming portal that has been in operation for almost a decade.
It was designed to offer you as the gamer access to software resources to optimize your online experience. These include LAN boosters, game accelerators as well as protection from online threats. This enhances the security of your system, allowing you to focus on the gaming itself.
The ASUS Wireless-A031 D0 router facilitates direct access to this online tool with several benefits of its own to offer. One of the most important of this is the reduction and stabilization of gaming ping time. That way, you get to enjoy a fast and uninterrupted connection with online gaming activities.
MU-MIMO Technology
MU-MIMO is an acronym for Multi-User Multiple Input, Multiple Output. As the name suggests, this technology is designed to ensure equitable distribution of resources where there are many people using the router at the same time. Unlike many other gaming routers, the ASUS Wireless-AC3100 allows simultaneous use by multiple entities without compromising on the connection speed for any entity.
This ensures that no one on your network in any way monopolizes the connection while online. This allows you and your friends to enjoy fast and stable connectivity whether or not you are on the same online sites. The MU-MIMO technology on this router also complements the dual-band feature function of decongesting the network.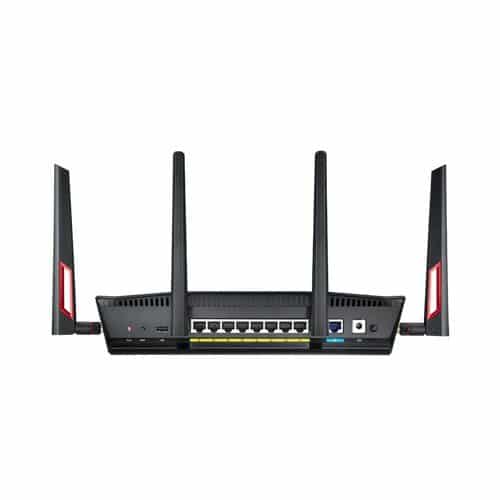 8 Gigabit LAN ports
This is another design spec that makes the Asus wireless-AC3100 router stand out. This unique feature allows actual physical connection to the router using local area network cables. It's ideal for use on devices whose performance is below optimum when connected to the internet wirelessly.
This includes everything from PCs to portable gaming units. With the 8 Gigabit LAN ports, there is a direct and reliable connection for better performance. The resulting internet connection speed is also considerably higher further improving your online experience.
4-Transmit 4-Receive antennae
This feature is also referred to as the 4T4R antenna feature. The design is meant to ensure even signal strength within the range limit. This means that whether you are at the edge of the signal boundary or right next to the router, you will get to enjoy the same bandwidth and signal Mobility. The router features four antennae that facilitate this function. The antennae should be set up strategically during the installation process to ensure that they serve optimally.
The 4T4R antenna design also happens to be complemented by the AiRadar feature. This serves the purpose of focusing on and boosting the signal. This is especially useful in households or commercial setups where there are multiple users spread out all over the space. Whatever the case is for you, you can rest assured that you will never be out of range. Inbuilt AiProtection program
ASUS Dual-Band Wireless-AC3100 Gigabit Router
Finally, the ASUS Dual-Band Wireless-AC3100 Gigabit Router (RT- AC88U) features an inbuilt malware protection system. This is referred to as the AiProtection program. Basically what it does is to identify possible online threats and protect your network and systems from malware. In this case, it acts as both a firewall and an antivirus system.
The importance of this feature could not be emphasized enough as the gaming scene is home to some potentially devastating malware. It is therefore very important to ensure that your network and devices are sufficiently protected. This is exactly what the AiProtection program does.
---
ASUS Dual-Band Wireless-AC3100 Gigabit Router specs
General Specs
| | |
| --- | --- |
| Wireless Standard: | 802.11 ac/n/g/a/b |
| Frequency Band: | Dual-band (2.4 & 5 GHz) |
| Wireless Speed: | Up to 3167 Mbps |
| Amplifiers: | 4 x 2.4GHz Amplifiers4 x 5GHz Amplifiers8 x Low Noise Amplifiers |
| Processor: | 1.4 GHz dual-core processor |
| Memory: | 128MB DDR3, 512MB DDR3 |
| Wireless Coverage Control: | 15% – 100% Output Power(Individually adjustable for 2.4GHz and 5GHz networks) |
| Antennas: | 4 x Detachable High Gain 5dBi Dual Band Antennas |
| Ports: | ​Connect multiple wired devices with 4 Gigabit LAN ports, 1 Gigabit WAN port, and 2 USB ports. |
| Power Adapter Rating: | Switching Adapter (Input: 100-240v, Output: 12v, 3A) |
| Mounting: | Wall or Desktop |
| Warranty: | 2 Year |
| Setup Requirements:   | Wireless 802.11a/b/g/n or ac 2.4GHz or 5GHz NetworkComputer, tablet or smartphone with a web browser |
System Requirements
ADSL broadband Internet service
Microsoft® Windows® 7, 8, Vista®, XP®, 2000, Mac OS®, UNIX®, or Linux®
Microsoft® IE 9 & 10, Firefox® 4.0, Safari® 6.2.6, or Google Chrome® 11.0 browsers or higher
Package Content
RT-AC3100 Gigabit Router
RJ-45 Cable
Power Adapter
Quick Start Guide
Warranty Card
Support CD (User manual & Utility software)
---
ASUS Dual-Band Wireless-AC3100 Router Review
Pros and Cons
Pros
It provides access to high bandwidths thus faster internet
It is secure as a result of the inbuilt protection program.
Provides stable and reliable connectivity whether wireless or through LAN.
It's convenient for gamers as it facilitates direct connection to the GPN.
It's convenient for gamers as it facilitates direct connection to the GPN.
It supports use by multiple users without congestion.
It's compatible with most gaming kits and other internet access devices.
Cons
It's a bit expensive than other gamer routers on the market.
Difficult to install especially when done as a do-it-yourselfer project.
Conclusion
After all, is said and done, it is safe to say that the ASUS RT-AC88U wireless router has earned all the hype that it has been receiving. Its perfect combination of a high-speed connection, stability and security make it perfect for use by gamers everywhere.
The convenient MU-MIMO technology is also something worth looking forward to. This is because it ensures everyone in your house or office gets the most out of the system. In conclusion, if you are an avid gamer on the market for a new router, this model is definitely worth considering. With the high tech specs and features, you can rest assured that you will be getting full value for your money.
Better Wifi Placement Check List
Before You Buy A New Router
Start by seeing what your signal strength is now by downloading a free Wifi Signal strength App. Then go around your house and take readings in various areas. This will give you a good idea of where your weak spots are in your home or office. Then try some of the following adjustments.   
Try to put the router in the most central place possible, the further away from the router the slower the speed. If the distance from the router is doubled the signal falls to a quarter of its strength
Keep the line of sight in mind and try to avoid barriers like brick and plaster walls
Avoid reflective surfaces like windows, mirrors, metal file cabinets and stainless steel countertops. These surfaces will bounce the signal right back and the signal will be weak on the other side of the obstruction
Avoid placing the router near any home appliances like cordless phones, microwave ovens, baby monitors and a number of other items electronic items in your home that will cause interference with your Wi-Fi Signal.  Many operate at the same frequency as Wi-Fi signals so keep your router at least 3 feet, 1 meter away.
Avoid electrical equipment like electric fans, and other motors they also generate interference that will compromise your wifi signal. 
Play around with your router for best results. Sometimes moving the router to a new location in your home can make a significant difference in the overall signal coverage. Adjusting the antennas also could make a difference in a particular area in your home or office.
If after you tried all the above steps and you still have a number of dead zones then maybe its time to upgrade your router or add an extender to help out in areas with a weak signal.
If you have a very large area a Mesh Network router system may be the answer for you. A few examples are the Netgear Orbi. This unit comes with two routers to provide two hot spots in your home.
Also recently introduced the Google WiFi router system comes with three units and you can easily add up to eight additional units. Each additional unit gives about 1500 square feet of coverage.
NETGEAR Orbi Home WiFi System Review  See my full review
More articles and reviews to help you learn more about streaming media and routers