Many users who need high-speed connected wonder which router could be the game-changer for them. With a nearly $300 price-point, ASUS AC3200 Router with Tri-Band Smart Connect promises fast, reliable speeds over multiple devices. Let's quickly go through some of the main features of this robust offering with our Asus RT-AC3200 Tri-Band Router Review.
Hardware and Appearance
The AC320.0's dual-core processor has the horsepower needed to effortlessly balance it's tri-band 2.4 and dual 5GHz networks. The aerials are detachable so you can tweak them as needed to maximize the signal, but be careful with them as they can come loose from time-to-time. The AC3200 also boasts of four Gigabit Ethernet ports (for connecting wired devices), USB 3_0 and 2.0 storage and networking functionality.
Weighing around two pounds, you don't need to worry about flimsy construction or the weight of cords pulling it down. Its muted color scheme will camouflage nicely into your home, unlike the more colorful high-end gamer crowd's routers. The suction-cup feet are also an excellent addition to keeping its footing stable. It also has a built-in VPN server.
The 3.0 USB is located on the front which isn't ideal if you plan to connect it to something other than a dongle or stick for long-term. The 2.0 USB is in the back under an awkwardly placed flap. These features could use a redesign.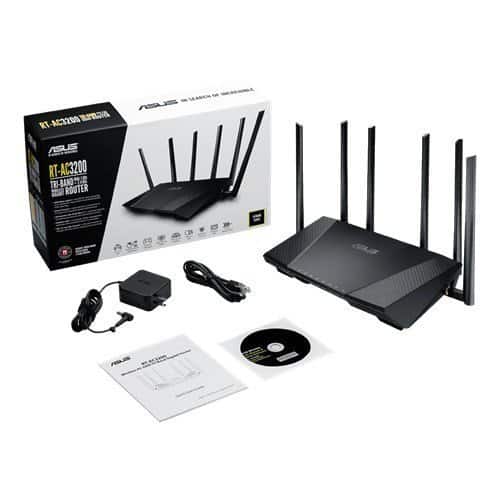 Installation and Monitoring
Installation can take as little as 30 seconds with the ASUSWRT user interface though could not really be described as plug-and-play. You can choose the easy, three-step web-based interface or dive deeper for additional options. It will do all the usual stuff like have you set up a password for your interface and for Wi-Fi. It also lets you identify right away if you want to classify the AC3200 as a router, access point, or wireless bridge.
For beginners, this router may seem a little more complicated. It may not recognize a memory stick, so you do need to know that in order to see it, you have to turn on Samba sharing. Those with a slightly more than basic knowledge of routers will enjoy getting into some of the additional features.
Those with more experience may also want to name each of the three bands separately to get three separate Wi-Fi networks which just offer an additional level of control unique to the AC3200. You can additionally utilize Guest Wi-Fi access (which is covered in the security section), among other fun features.
You can monitor your router from anywhere (for those times when the kids call because they think the system is down) with ASUS Router App. Installation is smooth and allows you to see real-time network traffic. You can also manage security settings or run a security scan directly from the app. It also lets you give a Game Boost if you want a little more speed during online gaming.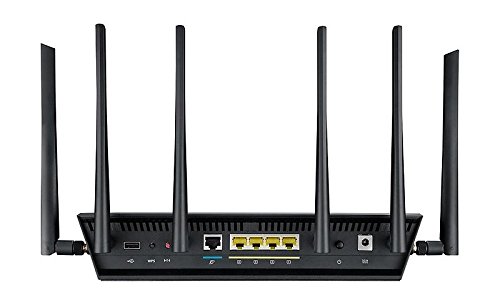 Connectivity and Coverage
The AC3200 has a unique three-transit, three-receiver antenna design. This improves Wi-Fi range and signal stability, even reaching the furthest nooks of your home that rarely connect. Its AiRadar focuses Wi-Fi signal to all your devices resulting in stronger, faster connections. It can even deliver maximum speed through a brick wall which was previously impenetrable.
This router features Tri-Band Smart Connect which intuitively adjusts for internet speed needs. It manages the traffic on both the 2.4 and dual 5 GHz in real-time, resulting in optimized bandwidth, loading and signal strength. So now if you are gaming on your laptop, the person in the next room watching Netflix won't be slowing you down.
That said, be warned, once you surpass three or more devices running high-demand applications like streaming and online gaming, you may start to experience sluggishness that seems to be attributed to the second 5 GHz band.
So, why two 5GHz bands if the second one can get sluggish? It comes down to how many devices you have on the system at once. The AC3200 has multiple bands for better bandwidth allocation leading to optimal speeds. With two separate 5GHz bands, both high- and low-end clients can work in their own band at their top speeds without affecting each other.
Additionally, having two 5GHz bands also reduces the stress on each of the bands when there are multiple devices fighting for the router's bandwidth. It's like adding more lanes to a freeway, which is helpful when there's a lot of traffic.
WAN-to-LAN speeds rev by with hardware NAT rather than a software-based NAT, removing the bottleneck between your home network and the internet. Speeds average between two to five times faster than before.
The bandwidth of This router is at 3200 Mbps, but its fastest potential speed to each client is 1300 Mbps at most. Even with the sometimes inconsistent second 5 GHz band, it cannot be stated enough how stable the signal and strength are in this model in general.
Sharing Support
The ASUS3200 notes that the built-in USBs 2.0 and 3.0 increase sharing speeds up to ten times to dongles, USBs, and printers. Unfortunately, its performance seems to be average when transferring heavy files. 
ASUSAirCloud 2.0 increases sharing, access, syncing, and streaming on all your internet-ready devices and on their ASUS Web Storage; however, it may be a little clunkier than those from Netgear and Linksys. Overall on file transferring and sharing, it falls a bit short of its promises.
Asus RT-AC3200 Tri-Band Router Review
Additional Protection
Trend Micro AiProtection keeps your internet locked down. AiProtection provides multi-stage protection against menacing online threats. It works in many ways; it blocks malicious sites, offers vulnerability protection, and prevents infected devices from spreading personal data. Web and App filters block those sites with Web Reputation and App Patrol.
The RT-AC3200 also supports nine concurrent guest Wi-Fi networks (three on each band). All of these networks are disabled by default, but you can turn each on with a simple click. After making them active, you can customize the network's name, schedule, and even its security. These guest networks allow connected devices to access the Internet but not other local resources, such as files or printers.
Google WiFi system Specs
General Specs
| | |
| --- | --- |
| Network Standard | IEEE 802.11a, IEEE 802.11b, IEEE 802.11g, IEEE 802.11n, IEEE 802.11ac, IPv4, IPv6 |
| Data Rate | 802.11n : up to 450 Mbps802.11n TurboQAM : up to 600 Mbps802.11ac : up to 1300 Mbps |
| Antenna | External antenna x 6 |
| Power Supply | AC Input : 110V~240V(50~60Hz)DC Output : 19 V with max. 2.37 A current |
| Dimensions ( W x D x H ) | 290 x 188 x 58 ~ mm (WxDxH) |
System Requ​irement
WIRELESS FEATURES
Wireless Standards
EEE 802.11a, IEEE 802.11b, IEEE 802.11g, IEEE 802.11n, IEEE 802.11ac, IPv4, IPv6
Frequency
2.4 GHz / 5 GHz
Memory
128 MB Flash256 MB RAM
Wi-Fi Technology
Beamforming: standard-based and universal1024-QAM high data rate20/40/80 MHz bandwidth
Firewall & Access Control
Firewall:SPI intrusion detection,DoS protection Access control:Parental control, Network service filter, URL filter, Port filter
Wireless Security
64-bit WEP, 128-bit WEP, WPA2-PSK, WPA-PSK, WPA-Enterprise , WPA2-Enterprise , Radius with 802.1x, WPS support
Ports
1 x RJ45 for 10/100/1000/Gigabits BaseT for WAN, 4 x RJ45 for 10/100/1000/Gigabits BaseT for LANUSB 2.0 x 1USB 3.0 x 1
Guest Network
  2.4 GHz x 3, 5 GHz-1 x 3, 5 GHz-2 x 3
Package Content
ADSL broadband Internet service
Microsoft® Windows® 7, 8, Vista®, XP®, 2000, Mac OS®, UNIX®, or Linux®
Microsoft® IE 9 & 10, Firefox® 4.0, Safari® 6.2.6, or Google Chrome® 11.0 browsers or higher
RT-AC3200 Tri-band Gigabit RouterRJ-45 CablePower AdapterQuick Start GuideWarranty CardSupport CD (User manual & Utility software)
 Asus RT-AC3200 Tri-Band Router 
Pros and Cons
Pros
Easy setup
Great for wireless gaming and streaming media
Strong performance
Has a number of extra features
Cons
Antenna mounts a little flimsy
Little pricey
Better range from front to back then side to side
Reports of intermittent disconnects 
Conclusion
Overall, the Asus RT-AC3200 Tri-Band Router is an awesome choice if you have a household of multiple devices and have a more-than-basic knowledge of routers. While it under-delivers somewhat on a few of its promises, its speed and stability stand up.
More articles and reviews to help you learn more about streaming media and routers