The Beats Pill Plus is a pretty small wireless speaker that delivers powerful and quality sound from its modest attractive frame. As with most Beats, do not expect a truly massive bass, but the Pill+ offers clean, balanced and well-defined listening experience. Apart from the wireless essentials, it comes with a port for charging your mobile devices and built-in speakerphone for fielding calls on the go. Let's take a closer look at our Beats Pill Plus Wireless Speaker Review.
The Pill+ come with bigger drivers and it's actually the first speaker of this size to sound much bigger than it looks. The original Beats Pill was bass-heavy and uncontrolled, but the Pill + is here to change that and more. The speaker also stands out as the first produced under Apple umbrella since it acquired Beats on 2014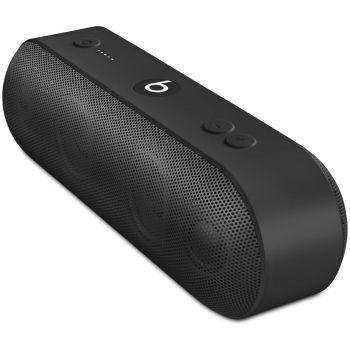 Pill+ might be slightly larger and use bigger bass drivers compared to its predecessor, but it's still quite portable measuring 6.36 x 21 x 6.92 cm (H x L x D) and weighing just about 0.75 kg. The casing of the speaker is built like a tank with a rubber and metal chassis. It's not as waterproof as the JBL Charge 3 and the UE Boom 2, but it can survive some water splash. However, you should probably not bring it to the poolside party with you.
Build and Design
The Beats Pill Plus feels and looks awesome. The design is clean, minimal, smart, and looks a bit more youthful than the Bose SoundLink Mini II. Its weight of 750g feels a little hefty when you hold the speaker with one hand. But the rubberized outer parts make it feel like it's made out of something a bit more substantial than basic plastic.
One of the best features that most of its competitors in this range lack is the convenience of water resistance. There is a neat little rubber flap on the back that covers the full-size USB, Lightning charge port, and 3.5mm aux input. The rubbery buttons located on the top don't have seams that might let in water. So while the Pill + is not exactly a rugged speaker, you don't need to actively look after it.
Beats Pill Plus Wireless Speaker Review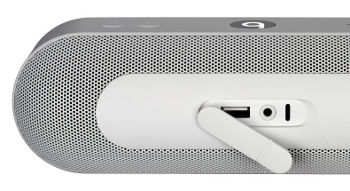 The speaker controls including the pairing, powering and volume buttons are located on top of the speaker. The rubber coating on the buttons will withstand abuse while giving a good tactile feel. You also get a carrying bag that gives your speaker extra protection while you are on the go. There are two woofers and two tweeters inside the chassis, which are responsible for the quality, well-balanced sound
There are a couple of exclusive features to note on this Pill. First, the speaker employs an iPhone-style Lightning-charging socket. It also comes with a charger cable, but it's worth mentioning that Beats now officially love iPhone users than Android fans. Secondly, the full-size USB port on the back lets you charge your phone using the Pill +'s own battery.
The company promises a battery life of 12 hours of music on a single charge, but this might vary depending on your average volume. A few small dot lights near the power button show you your battery level, so you're not cut off abruptly mid-song.
Just like with the previous version, you can double the dosage of this pill by pairing two together, either for a stereo performance or simple multi-room experience.
One little disappointing bit is that since the acquisition of Beats by Apple, some functionality has been stripped off the latest Beats. There is no Airplay streaming, Wi-Fi, apt-X support and NFC. Well, that's just the apple effect. But this doesn't in any way compromise its performance.
In fact, using the Pill app, you can pair a number of these speakers and have them playing from either the same source or easily manipulate your stereo experience.
Sound Quality
The sound is more solid and well balanced compared to the older version. Decent drive and agility are met with clarity and fair detail across the board. At mid volume, the pill can give a more emotional, intelligent execution, better communicating the quiver and dynamic inflections of the vocals. The Pill Plus adds a pair of larger drivers in the middle to give it an extra punch.
The sound dispersion from these speakers is quite wide. This is partly because the tweeter drivers are mounted to the extreme ends of each side of the speaker front and slightly tilted at an angle. The company aims at making the Pill + as ferocious and loud as possible.
If you are familiar with the Beats, you probably already know that it's not all about the bass. But it's pretty loud and a little more aggressive in the midrange which helps to deliver crisper vocals than any other speakers in this range.
Beats Pill Plus Wireless Speaker Review
The Beats Pill + offers a good impression of sound detail with a certain aggression that kicks in at the right volume levels. This leaves the tone of the sounds well-separated and natural across all music genres. While the previous versions gave a somewhat thin and wispy presentation, the Pill + sound profile is solid and big.
At lows volume, the vocals and strings remain poised and controlled, but as it approaches the higher end of the volume, it loses it's cool resulting in some hints of distortion. At mid volume, the pill can give a more emotional and intelligent execution.
Beat Pill Plus
Pros
Slightly water resistant 
Can easily pair with other speakers
Good volume for size
Improved sound from previous model
Cons
Not the most portable speaker build more for indoor use
Harsh at high volume
Harsh at high volume
Conclusion
The Beats Pill + is a sweet pill to swallow with features that have passed the test of time. The sound quality doesn't struggle to make an impact like most other competitors that have now crowded the market. The speaker is above average in all categories of performance but its price point places it in a really competitive range.
As with all Beats products you seem to be paying about 30% more for the name brand alone. There are a number of competitors with equal quality sounding speaker with better water resistance for less money. In this price range, it has to catch up with the likes of UE Boom 2 and JBL Charge 3 in which I must say it's holding up pretty great. The Beats Pill + can be a major upgrade to your audio arsenal but at a premium price.
Price: $199.95 USWhere to buy: AmazonSource: Beatsbydre