You've probably heard of smartwatches, the high-tech, futuristic-looking devices you wear on your wrist that can tell you everything from the time to the weather to your heart rate and step count. They are convenient devices that are often connected to your smartphone, giving you enhanced features like the ability to answer calls and send text messages.

But what if you don't have a smartphone? Or what if you want to use your smartwatch without having to have your phone around? What if you would like to replace your phone entirely? If any of these questions crossed your mind, keep reading for the five best no-phone smartwatches on the market. 

The Best Five No-Phone Smartwatches of 2020
As mentioned, there are not many smartwatches on the market that are truly standalone. Of the ones that are, these are the best you can get.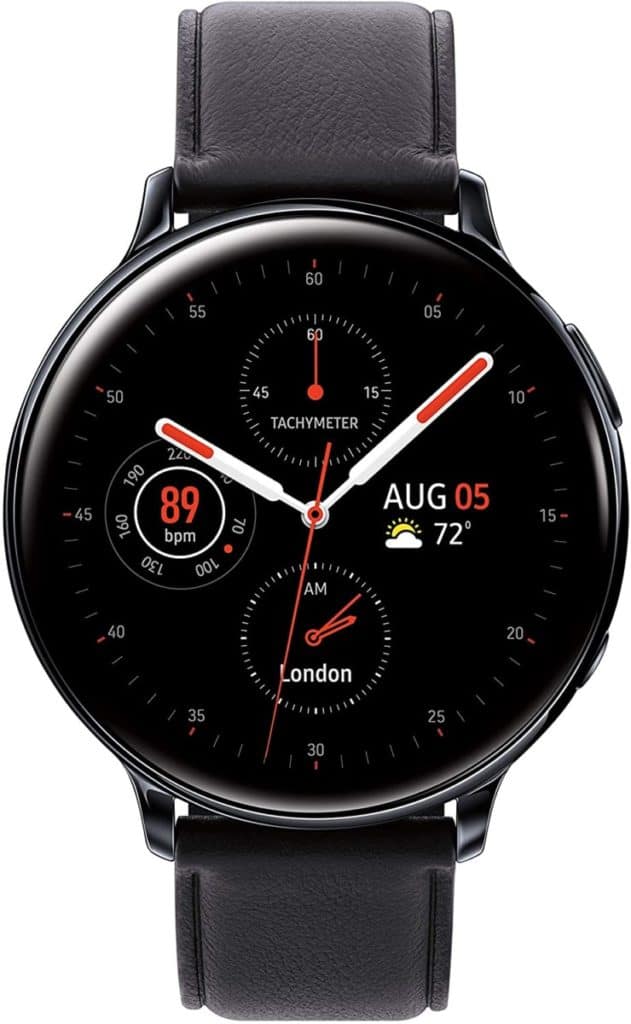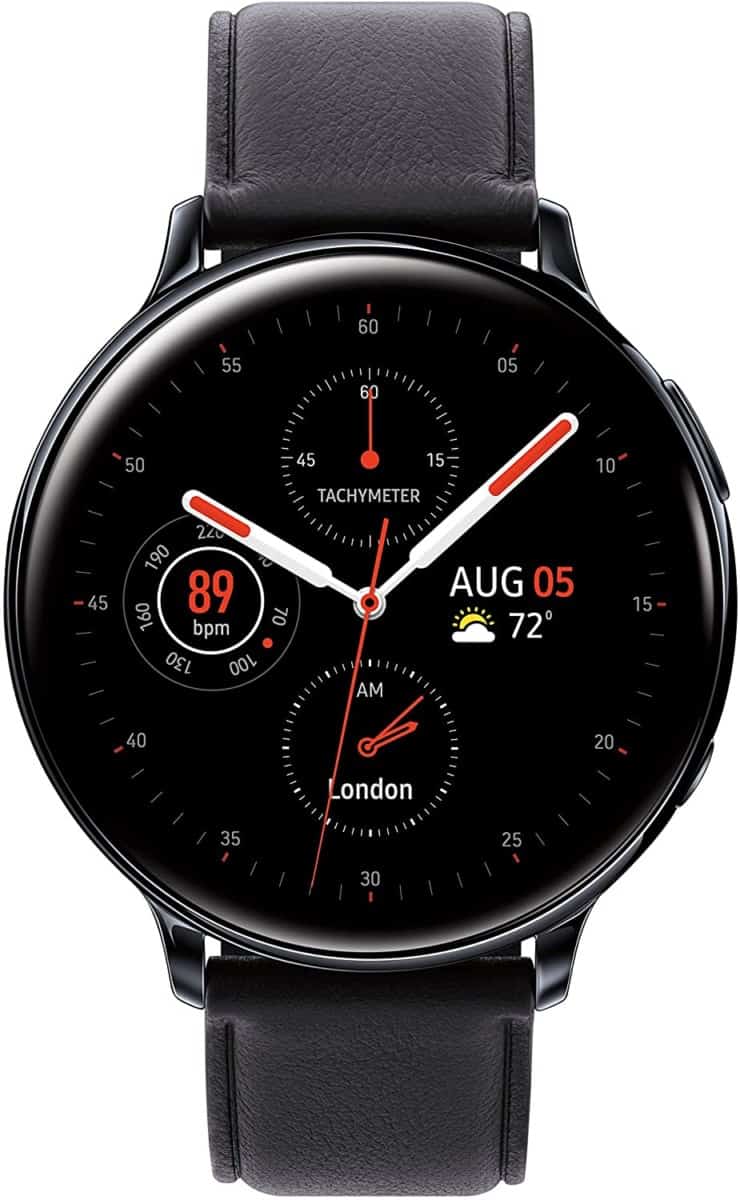 The Samsung Galaxy Active2 LTE is one of the most dependable standalone smartwatches on the market. It is compatible with both Android and non-Android smartphones, but it does not need to be connected to a phone. 

This watch can genuinely do it all. Built-in fitness trackers will do much more than count your steps–they automatically track your progress over several different exercise activities and can be manually set to track other activities as well. Like most smartwatches, the Samsung Galaxy Active2 monitors your heart rate and activity level, letting you know when you need to get up and move or give yourself a rest.

LTE connection allows you to leave your phone behind or replace it entirely. This smartwatch can call, text, and receive calls, text messages, and other notifications; stream Spotify and YouTube; help you find your way with GPS; and will even allow you to pay bills through the Samsung Pay app. It can also give you a reading of the current date and weather conditions, as well as track higher speeds with a built-in tachymeter. 

Other convenient features include a sleep tracker that can also monitor your stress levels, voice recorder and voice messaging, timer, and alarm clock.

The Active2 LTE smartwatch comes in four colors and has a variety of watch faces to choose from. The watch face is round and encased in an aluminum bezel. The long-lasting lithium-ion battery can last for up to five days between charges. 

Some users have expressed frustration with the fact that this watch is not automatically watertight–the waterproof function must be turned on. Other users claim the fitness trackers are not accurate if you are a serious athlete or gym rat. Still, many other users consider this device to be a durable, dependable, and multipurpose smartwatch.
Pros
Lots of dependable features
Long battery life
Sleek, stylish appearance
Cons
Fitness trackers may be inaccurate
Not automatically watertight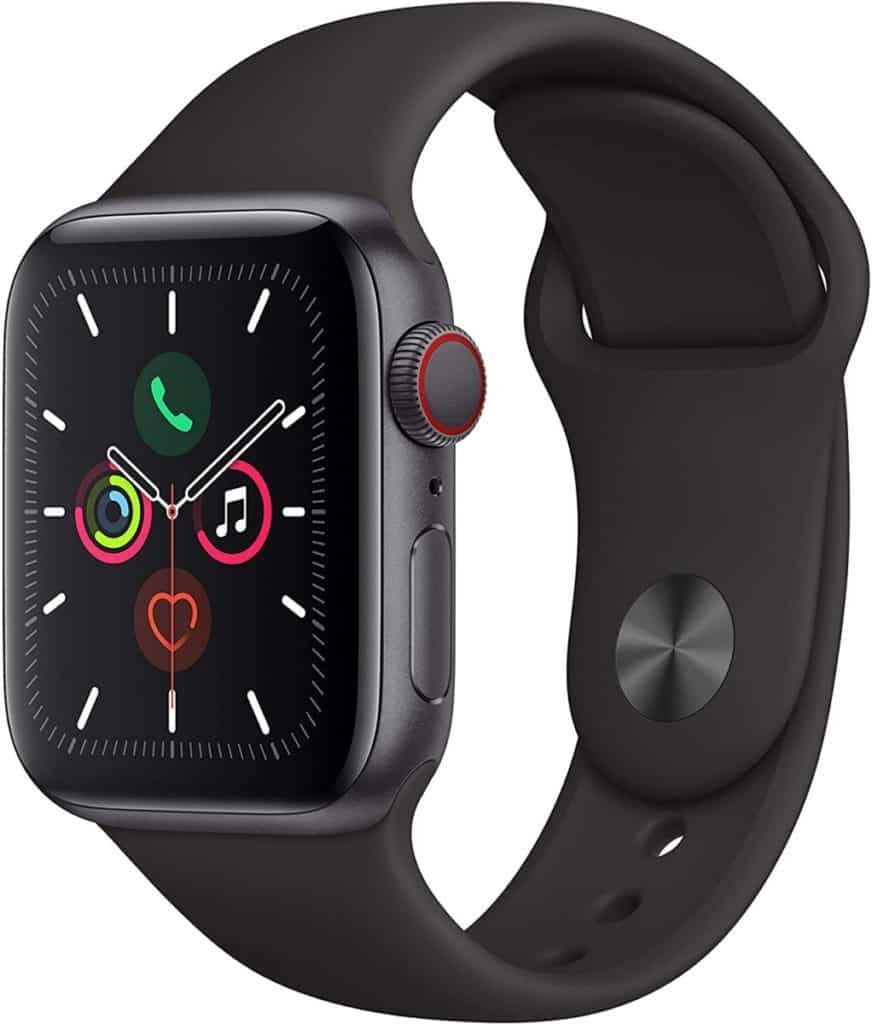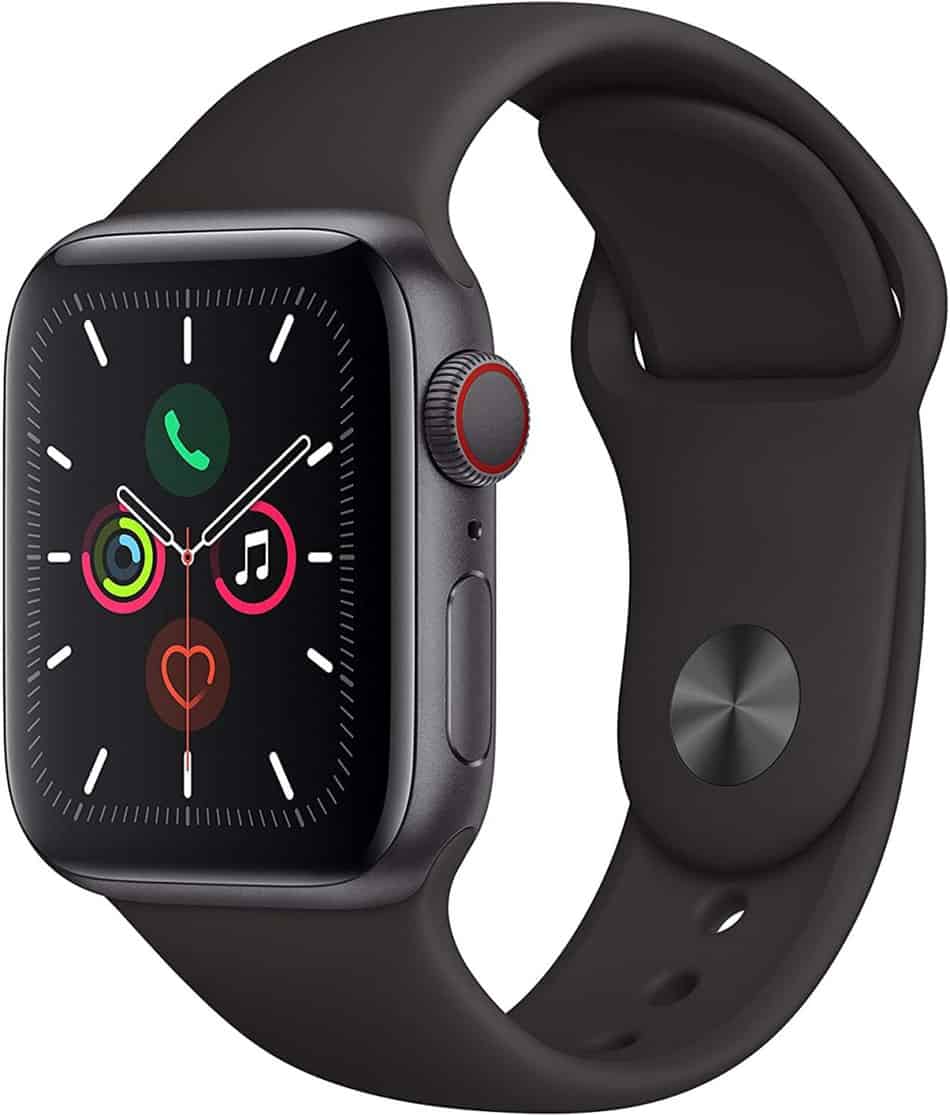 It took Apple a long time to develop a standalone smartwatch, but once they did, they created a masterpiece. Though it requires a compatible smartphone to set up, it can operate on a standalone basis after that and will do almost everything your phone does.
Need to make a phone call, send a text message, or check your email? Not a problem. Rely on GPS to keep from getting lost? This watch has you covered. Want to listen to music? This smartwatch streams anything and everything from the Apple Music library–60 million songs! It will also stream podcasts and audiobooks.
With the Apple Watch Series 5 Cellular smartwatch, you can find and download any apps available through the App Store, make instant payments via Apple Pay, and track your heart rate.

The Apple Watch comes with lots of ways to monitor your health. Besides just keeping track of your heart rate, you can also check the rhythm with the ECG app. The noise app will let you know when your environment is getting loud enough to damage your hearing. There is even a cycle-tracking app that allows you to monitor and track information about your menstrual cycle. This smartwatch also includes several features to help you meet your fitness and workout goals.

Other neat features include a built-in compass, fall-detection, information on weather conditions, and a display that stays on.

The watch face is square-shaped and relatively large for a smartwatch. The Apple Watch comes in several different color and style options, as well as more than a hundred display appearances, so you can choose the look that's perfect for you.

The battery is relatively short-lived, as it will only last about a day between charges. The Apple Watch Series 5 is also quite expensive compared with other smartwatches.
Pros
Lots of handy features
Works without a phone after it has been set up
Larger screen size
Cons
Battery life could be better
Expensive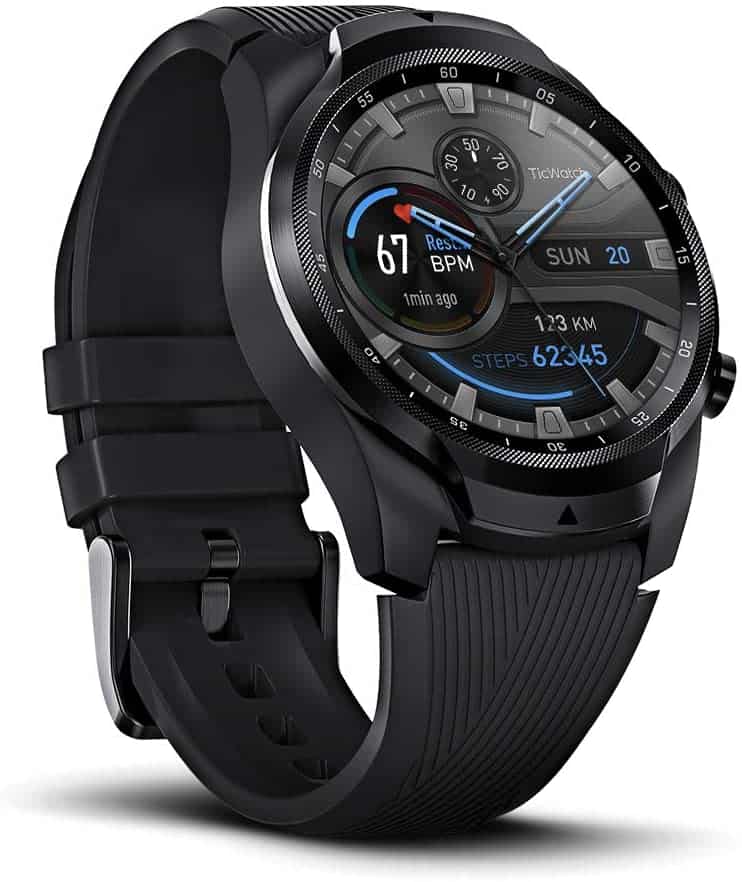 This stylish smartwatch is compatible with phones on Verizon plans, but it can be used independently of a phone. It can even replace your phone if you set it up for cellular service through Verizon's website or the My Verizon app. 

This smartwatch offers a gigabyte of RAM, as well as built-in GPS and health trackers. It will detect running, fast walking, and swimming, allowing it to track your activities and record information automatically. It will track your heart rate 24 hours a day and provide a 7-day history so you can monitor any changes in your heart rate over time.

The TicWatch Pro also provides a unique sleep-tracking app. The TicSleep app will allow you to monitor changes in your sleep patterns and provide information about your quality of sleep.

The 4G/LTE functions offer all of the benefits of a standalone smartwatch–calls and text messaging capabilities, voice text, connection to the cloud, music streaming, and smart device home controls. It also boasts a unique emergency auto-dial system.

The TicWatch Pro has an elegant design, similar in appearance to a regular watch. The bezel is made of stainless steel while the band is silicone, making this watch both lightweight and durable. It is waterproof. 

The battery only lasts up to 18 hours in cellular mode, but the watch has other power savings that can get you as much as 2-5 days of use on a single charge.

Users agree that this is a quality standalone smartwatch and one of the best-value smartwatches on the market. Many users state that it is the best watch you can find that runs on a WearOS operating system. Some users express frustration that it is only compatible with Verizon plans. Others wish that the screen was brighter, as it can be challenging to see outside.
Pros
Made from durable materials
Classic look
Good value
Cons
Short battery life in cellular mode
Only compatible with Verizon
The Best Affordable Standalone Smartwatches
In addition to the high-dollar smartwatches, there are also a lot of cheap, off-brand smartwatches on the market. If you're looking for something more fundamental, something that won't break the bank, these are two of the best affordable standalone smartwatches you can find.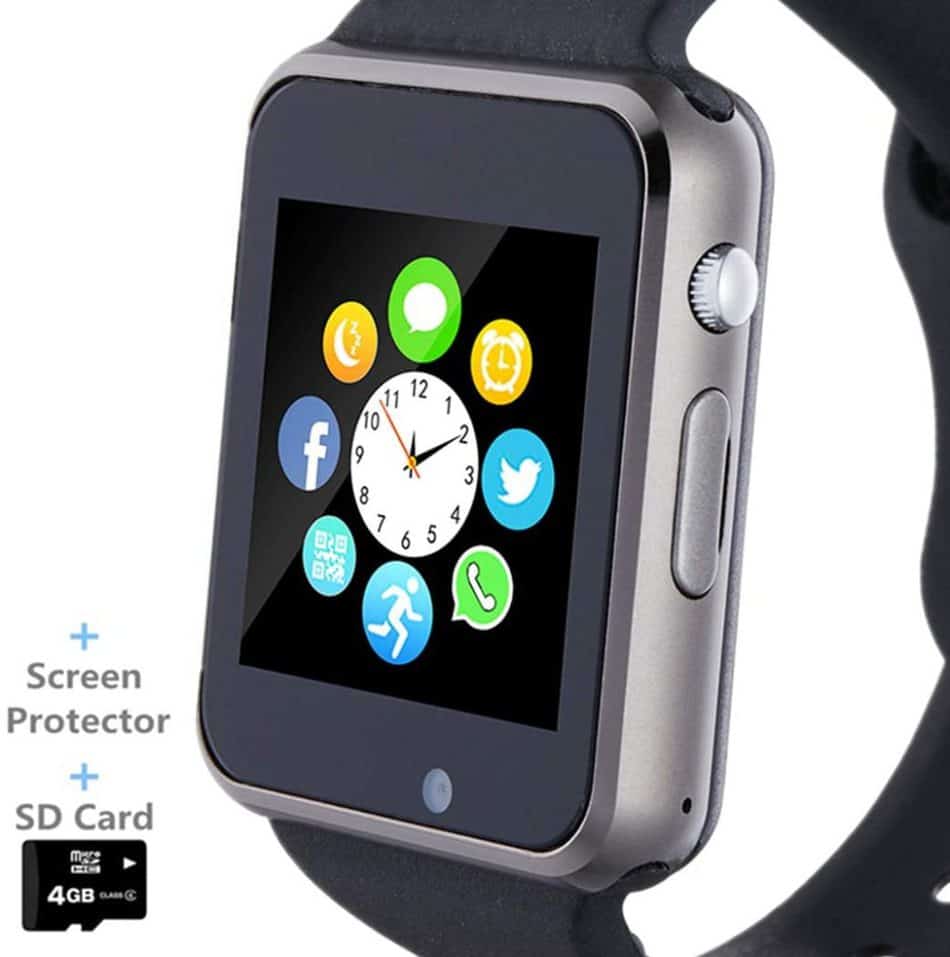 This inexpensive watch is compatible with most Android phones but can also be used as a standalone smartwatch. It takes a 2G/2.5G SIM card, which you will need to purchase separately. 

When used with the SIM card, the Amazqi Smartwatch can do everything a primary phone will do. Features include sending and receiving calls and text messages, Facebook and Twitter notifications, pedometer and sleep tracker, calculator, calendar, and alarm clock, and reminders to get up and move if you've been sitting too long. 

This smartwatch also comes with a built-in 0.3MP camera, allowing you to take photos and view them directly on the smartwatch. This is a unique feature that you don't find on many smartwatches. You can play music on the watch via an SD card or connected Bluetooth device. 

Despite these neat features, it's important to remember that this is a relatively cheap smartwatch. The quality is lower than the expensive name-brand smartwatches reviewed above. Many users report difficulty in using it as a standalone smartwatch. Others say it doesn't last long before the battery doesn't hold a charge or the materials begin falling apart.

Some users claim it's a good option for a child to be able to have necessary call and text functions without the distractions of games and other smartphone features. 

Other users love it for themselves, stating that it's comfortable, lightweight, and easy to forget you're wearing it. Some say the display is clear and bright, and the operation smooth. 

If you've never had a smartwatch before and want to try it out, this may be an excellent product to start with. Or if you want a phone replacement that's cheap and that performs essential functions, this smartwatch might be an excellent option for you. Just keep your expectations consistent with the price range, and you won't be disappointed.
Pros
Inexpensive
Several excellent features, including a built-in camera
Comfortable
Cons  
Low-quality materials
Difficult to use as a standalone smartwatch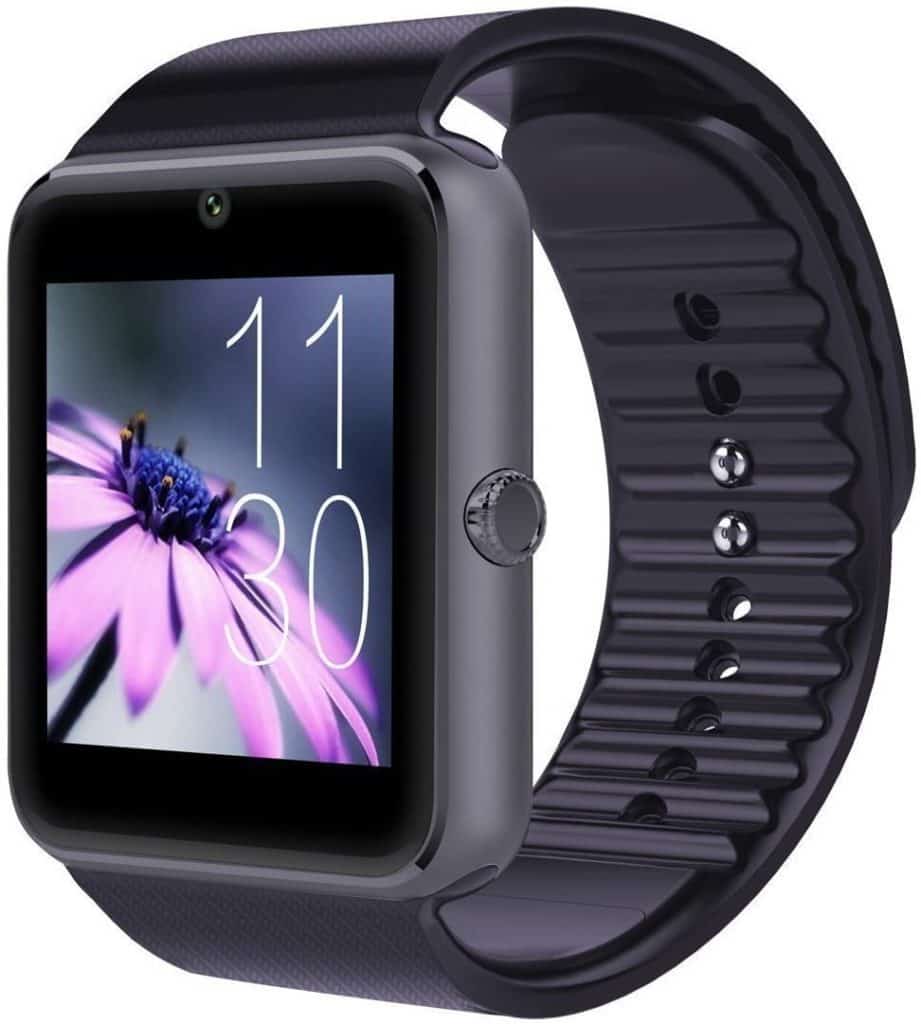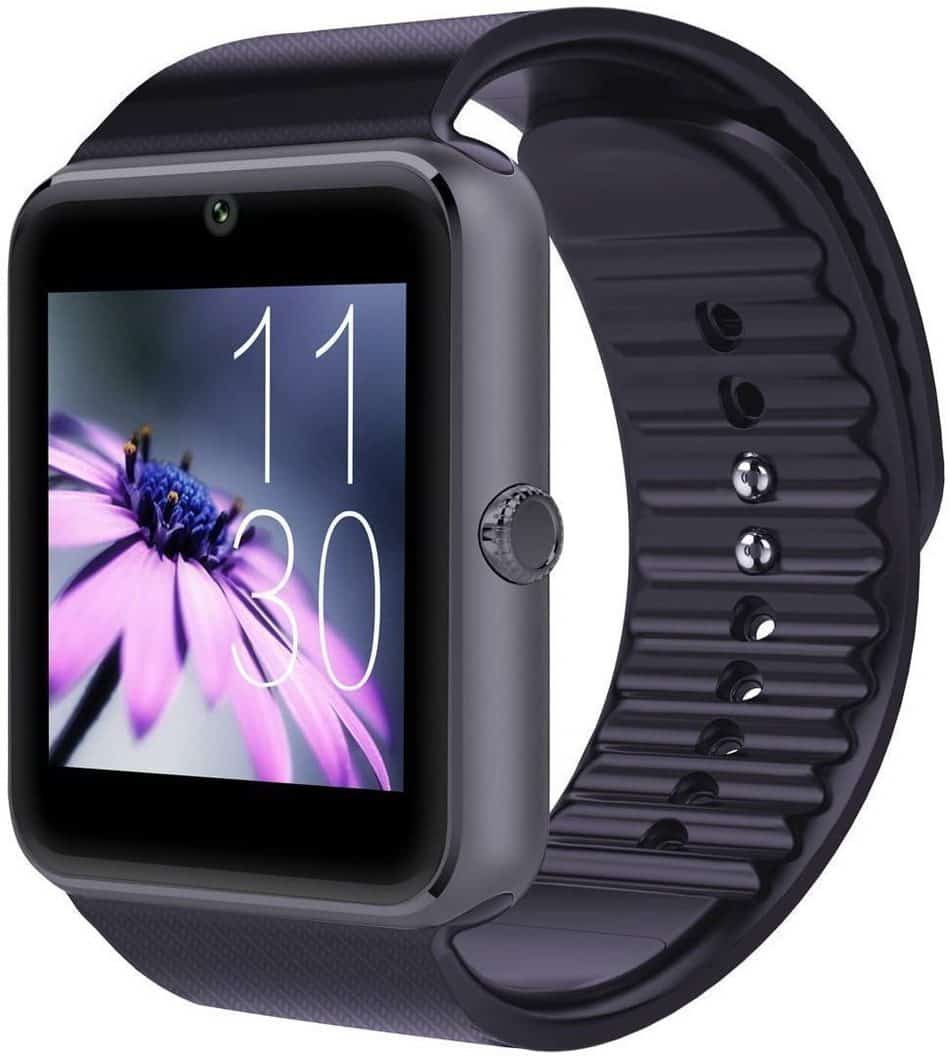 Like the Amazqi reviewed above, this smartwatch can be connected to a phone or used as a standalone. It takes a 2G micro SIM card, which is not included, to function as a standalone.

This is a very basic, cheap smartwatch. With the SIM card inserted, you can send and receive calls and text messages and access Facebook and Twitter. Without the SIM card, you can still use many built-in functions, such as the pedometer, calculator, calendar, alarm clock, sedentary reminder, and sleep monitor. 

This smartwatch also comes with a built-in camera, voice recorder, and mp3/mp4 player, but you will have to insert a microSD card (not included) to use these functions.

Some users experience trouble with the touchscreen, saying it is small and relatively unresponsive. Others claim the battery life is insufficient even for a cheap smartwatch–a few hours up to a day, depending on how much you use it. 

Still, others claim the volume is too low for making phone calls, the band style makes it difficult to put on and take off, it isn't waterproof, and it runs slow.

However, most users agree it isn't the wrong product for the price. It works according to the product description. As one reviewer states, this watch is "basically a toy, but it does actually do all of the things it says it will, and it does them reasonably well. Adjust your expectations, and there's no reason you couldn't use this every day." 
Pros
One of the most inexpensive smartwatches on the market
Works well for the price
Basic features (not including calls and text messages) will work without SIM card
Cons
Low quality
Poor battery life
Can You Use a Smartwatch Without a Phone?
More and more, companies like Apple and Samsung are making smartwatches that work without being connected to a phone. These devices, called "standalone smartwatches," offer many of the same conveniences as smartphones do, but in a more compact, convenient package. 

Depending on the type of smartwatch, you may be able to make phone calls and send text messages, use various apps, listen to music, track your fitness, and control other smart devices in your home, such as smart lights and smart garage door openers–all without the use of a phone. 

People often love the convenience of being able to wear their device on their wrist. Smartphones are bulky and often difficult to take with you, especially at places like the gym or the pool where you may not have pockets or be able to carry a purse. Standalone smartwatches allow you the freedom to stay connected, hands-free, without having to keep your phone on you at all times. 

Of course, even standalone smartwatches have their own set of limitations. Generally, you can't connect a smartwatch to the internet. They lack the memory for large documents or movies. Because of their small screen size, they are not ideal for typing messages or documents of any kind–though they can be useful for sending short text messages.

That said, there are several reasons you may want to buy a standalone smartwatch. We'll look at a few of those reasons in the next section. 
Why Buy a Smartwatch to Use Without a Phone?
Though standalone smartwatches can't do everything on their own, they are a convenient piece of technology that many people wouldn't want to live without. If you're on the fence about whether to buy a standalone smartwatch, here are some things to consider:
Buy a Standalone Smartwatch to Save Money
A standalone smartwatch may save you money on phone bills. Some smartwatches are so efficient that they can entirely replace your phone. Of course, this will largely depend on how you use your phone and what features you're willing to give up. 

If you only use your phone for calls and text messages, there's a good chance you could get by with just a smartwatch. If you depend on your phone's GPS to help you get around, you can usually replace it with the GPS on a smartwatch. If you use apps and fitness trackers on your phone, then you'll likely find comparable apps and trackers on a smartwatch.  

On the other hand, if you depend on your phone's wifi capabilities, if you write and store a lot of documents on your phone, or you like to watch movies on your phone, then you probably shouldn't replace it. You'll be hard-pressed to find a smartwatch that can make up for your phone in every possible way.

Consider what you want from your smartwatch, and decide if the savings are worth what you would lose by replacing your phone. Even if you decide to keep your phone, there are other reasons to buy a standalone smartwatch to complement your phone.
Smartwatches are Convenient 
Whether they connect to your phone or work on a standalone basis, smartwatches can give you access to lots of information with only a quick peek at your wrist. 

Smartwatches can show you a quick summary of notifications, such as unread text messages and emails, missed phone calls, and even social media updates. 

This is great for social situations where pulling out your phone would be considered rude, as well as times when you can't have your phone with you. 

Many smartwatches are waterproof, which means you can stay connected while swimming and taking a shower. They are less bulky than smartphones, making them more convenient to take to the gym or the pool. And because you wear a smartwatch, you can't misplace it as quickly as you can misplace a smartphone.

Some smartwatches, when paired with a phone, can even help you find your phone if you do lose it. 

Smartwatches are also stylish and fun to wear. They come in a whole range of styles, from bright-screened square screens that look like a small, wearable smartphone to elegant, round faces that, at first glance, look like any regular watch. 

Most smartwatches offer dozens of options for personalizing the watch face, and some also provide lots of different band colors and styles.
Smartwatches Provide Safety Precautions
Smartwatches have tons of features to help keep you safe. Most smartwatches, even those you connect to a phone, have their internal GPS, which can be used to help locate you if you go missing. Parents can use this feature to help keep track of where their kids are at all times.

Standalone smartwatches are a bit like fancy medical alert buttons. You can use them to call for help if you become sick or injured if your car breaks down if you're trapped or stranded anywhere. Some smartwatches even have an automatic SOS feature.

Because they're worn on your wrist, smartwatches are less likely to go missing or fly out of reach if you're in an accident. They stay with you, and as long as you can reach your wrist, help is as close as pressing a button.

The Trouble with No-Phone Smartwatches
Despite all the conveniences and safety features of standalone smartwatches, they do have some drawbacks. 
They Can be Hard to Find
There are few real standalone smartwatches on the market. Most require Bluetooth connection with a phone, and many won't work unless they are within a specific range of that phone. 

Some smartwatches will work without a phone connection but offer fundamental and limited features. For example, you may be able to use individual built-in fitness trackers, but you will not be able to make phone calls or send text messages. 

What's more, it can be challenging to find accurate information online as to which smartwatches can work without a phone. Many smartwatches marketed as "standalone" have to be paired with a smartphone for you to have access to all of their features. 

Proper standalone smartwatches have LTE capabilities and either a built-in SIM card or a slot for one. Smartwatches with these capabilities may be marketed as "Cellular" or "4G." The smartwatches reviewed in this article are all truly standalone, but if you choose to buy one that's not on this list, make sure you know what you're getting before you complete the purchase.
They Can be Expensive
As with most devices, you get what you pay for. There are some inexpensive no-phone smartwatches on the market, two of which we'll take a closer look at later in this article, but most smartwatches that are worth the money you spend will be well over $200. 

Of course, you don't have to choose the most expensive style. If you want an Apple smartwatch, for example, you might be able to find a Series 3 or Series 4 for less than a Series 5, which is the newest and most expensive version. 

The cost of your smartwatch may also depend on what you want from it. If you're looking for a smartwatch to completely replace your phone–a smartwatch that can do everything–, then be prepared to pay top dollar. If you can get by with something a little more basic, you may be able to find a decent smartwatch for less money.

Smartwatches that connect to phones are generally more inexpensive than standalone smartwatches. 

One last thing to keep in mind, if you buy a standalone smartwatch, you will likely have to pay extra to use it as a phone. Depending on your data usage and the type of smartwatch you buy, you may need to purchase a separate monthly phone plan or pay a particular message and data fees. 

Standalone Smartwatches vs. "Normal" Smartwatches–Which is Better?
The short answer is, it depends. 

People buy smartwatches for lots of different reasons. Some want a high-quality, expensive product that can do everything their phone does. Others want all the health features–pedometer, sleep monitor, fitness trackers, sedentary reminders, heart rate, and ECG functions, etc. 

Others want the function of a phone in a more convenient package for working out or going for a run. Still, others just want something basic to replace their phone.

Many people like being able to connect their smartwatch to their phones. Most connected smartwatches can help you find your phone if you misplace it, give you a summary of missed calls and messages, and play music from your phone without having to have your phone right there. People like the added convenience of being able to keep their phones without having to rely on it as much. 

But most connected smartwatches are limited based on how far away they are from your phone. You may be able to receive calls and text messages on the watch if your phone is just in the other room, but if you try to go somewhere and leave your phone at home or in the car, the smartwatch will lose its connection. 

So, it all goes back to knowing what you want. If you're reading this article, chances are, you want a smartwatch to replace your phone, or a smartwatch you can use completely independent of your phone. 

Whether you want to stay connected at a family dinner without being rude, trade-in your phone for a more convenient wearable device, or simply be able to track your fitness and listen to music without keeping your phone on you, a smartwatch may be the answer. 

Conclusion
So as you can see, it's possible to use a smartwatch without a phone. It's even possible to replace your phone with a smartwatch, especially if you choose one of the devices listed in this guide.

With a little time and research, you should be able to find the perfect smartwatch for your individual needs.