Smartwatches are becoming ever more popular as different brands and types of watches enter the race.
Some of these smartwatches are great for texting and have other features, while others simply lack the capability entirely. Before deciding on a smartwatch, take a look at these eight smartwatches that can text and feature other qualities. 

It is important to consider other aspects of the watch as well, especially for first-time buyers. If the watch is not suited to personal taste or other key features are missing, it is likely to go unused and collect dust.
Which smartphone is being paired to the device is vital as well; While many watches can pair with both Android and iOS, some have limited features when used with the opposite operating system. 

To help decide on which watch is best suited to personal needs, here is a list of the top eight smartwatches for texting.
All of these smartwatches come equipped with texting through typing and many have voice options. Knowing this, it is best to focus on extra features the watches have that may sway opinion toward one. 
1. Apple Watch Series 5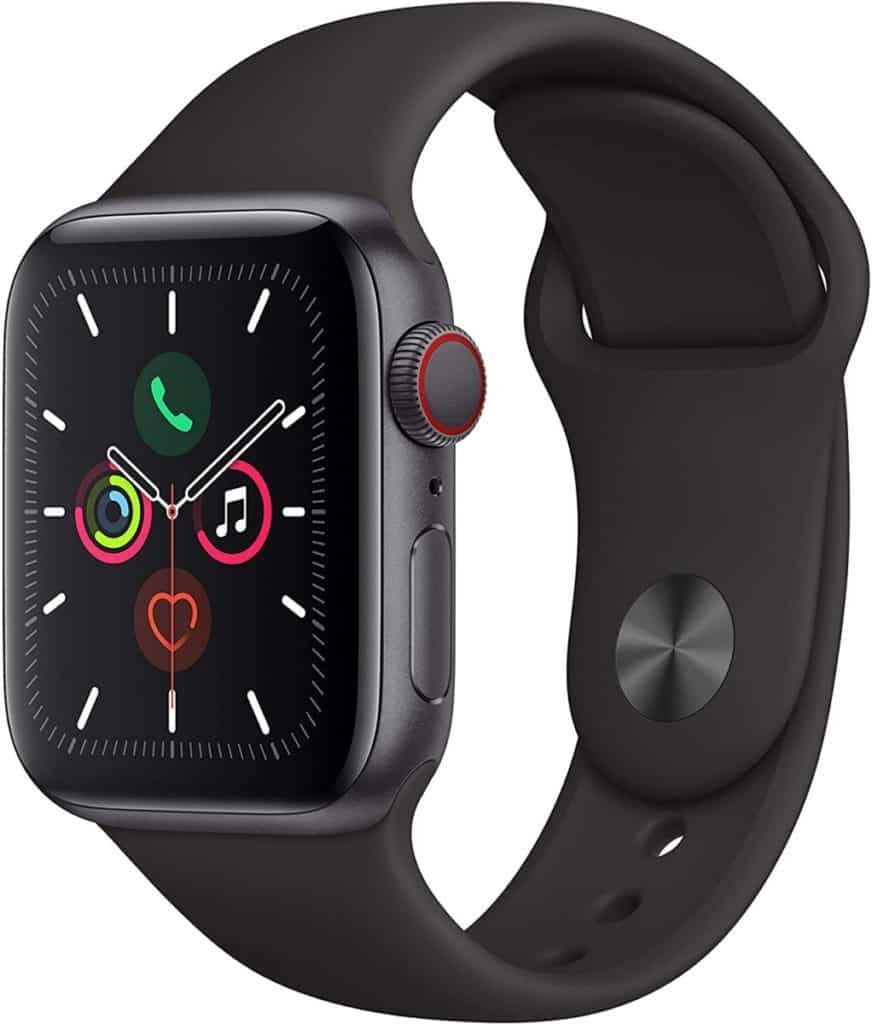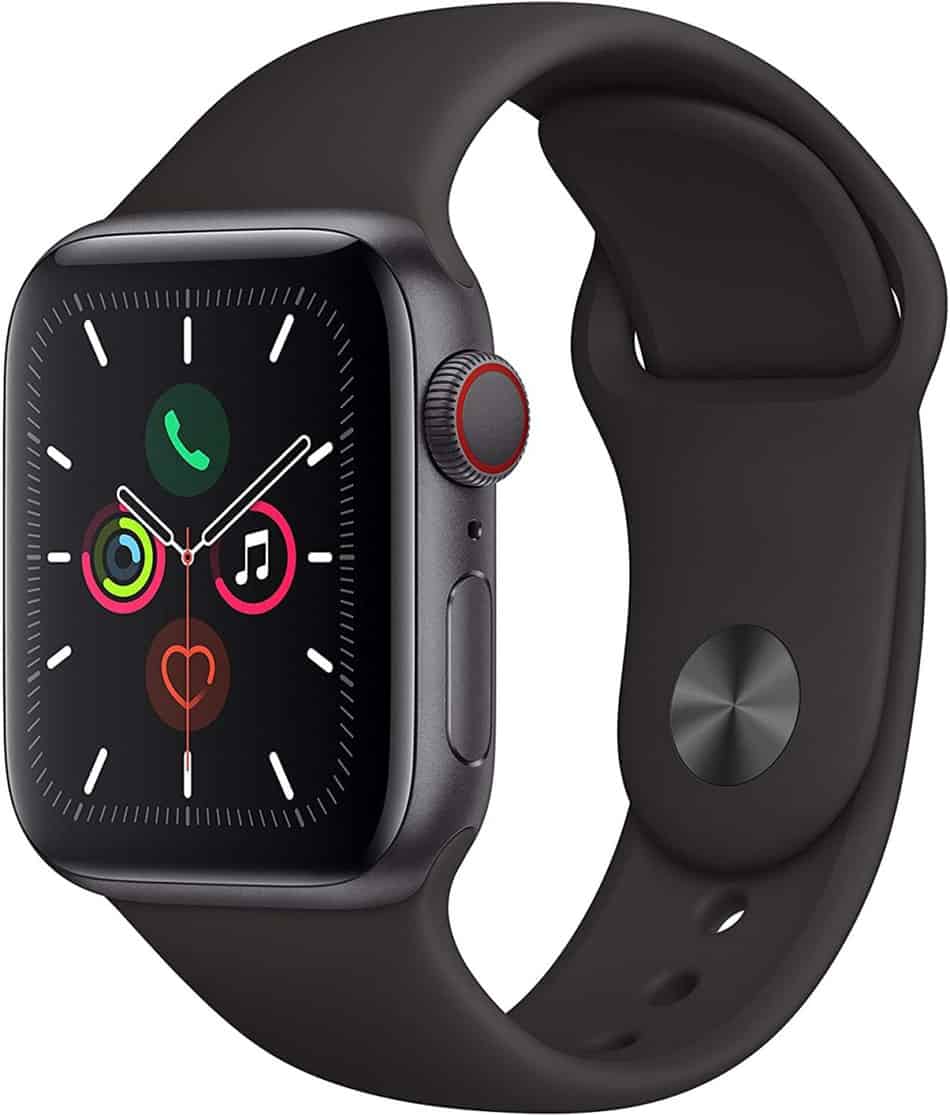 The Apple Watch Series 5 Is The Best Smartwatch On The Market.
The Apple Watch series has long been a contender for the best smartwatch available.
It has a host of advanced features including full integration with iPhones, calling, texting, and fitness controls. The Series 5 takes many of the benefits that its predecessors had and makes them better, fitting it all into a slim package that looks great.

If you use an iPhone and can afford the Series 5 watch, it simply will not be beaten in capability. The watch integrates seamlessly with any and all iPhones and can even operate when not connected to one, as it is available with LTE connectivity. 

The biggest benefits of the Series 5 watch over previous iterations include the Always-On Retina Display, a compass, and expanded app features. While none of these features affect the watch's texting capabilities, they are welcome additions that make the Apple Watch Series 5 a great daily use watch for many consumers. 

Of course, the watch has one major downfall; it is one of the most expensive smartwatches available. If you are looking to save some money and love the look and use of the Apple Watch, some of the older models still work wonderfully and are available for almost half the price. 

The Apple Watch series is not recommended for those who use Android phones. Although there is functionality built-in, the watch loses access to most features that warrant its high price tag when paired outside of Apple's ecosystem. Instead, consider some other smartwatches with texting capabilities further down on this list. 
2. LG Watch Urbane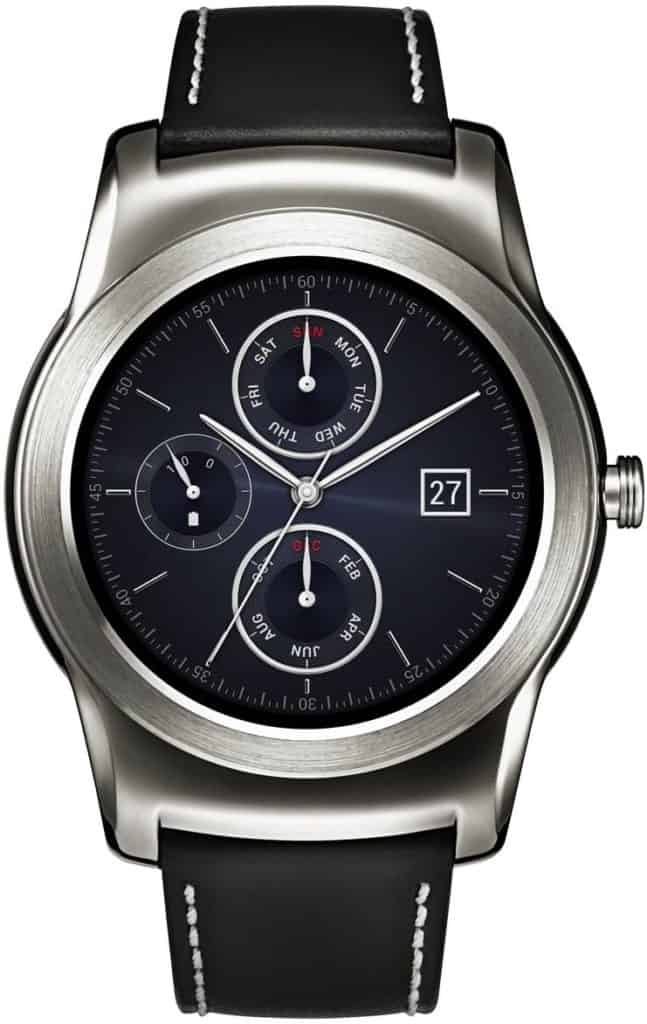 The LG Watch Urbane Is Perfect For Android Users Who Want To Upgrade Their Style
The LG Watch Urbane is one of the best smartwatches available for android users, and it comes with the added benefit of being one of the nicest looking, as well. The Urbane is classy and comes with a refined taste, making it suitable even for formal wear. If you are a fan of smartwatch capability but not the normal styles, this is one of the best compromises around.

In terms of capability, the Urbane is among the top dogs in the Android space. It includes two-way texting and calling and full Google Assistant integration. Texting someone back can be as simple as saying "OK, Google" and saying the message. If you prefer to type out your messages, the screen is more than large enough to allow for quick send-offs. 

This smartwatch comes loaded with Android Wear, Android's smartwatch operating system. This integrates apps and other features such as Wi-Fi directly into the interface. The watch cannot be used without a smartphone nearby unless connected to Wi-Fi, but that is hardly a problem for most users.

Other benefits include a decent battery life that can often go a few days between charges, a gorgeous watch face that comes in a variety of metals, and a great size for viewing and texting.

For those smartwatch users who want their watch to look classic instead of new age, this watch is the mark to beat. It's average priced for a smartwatch and a worthy pickup for those interested in the style.    
3. Tic Watch E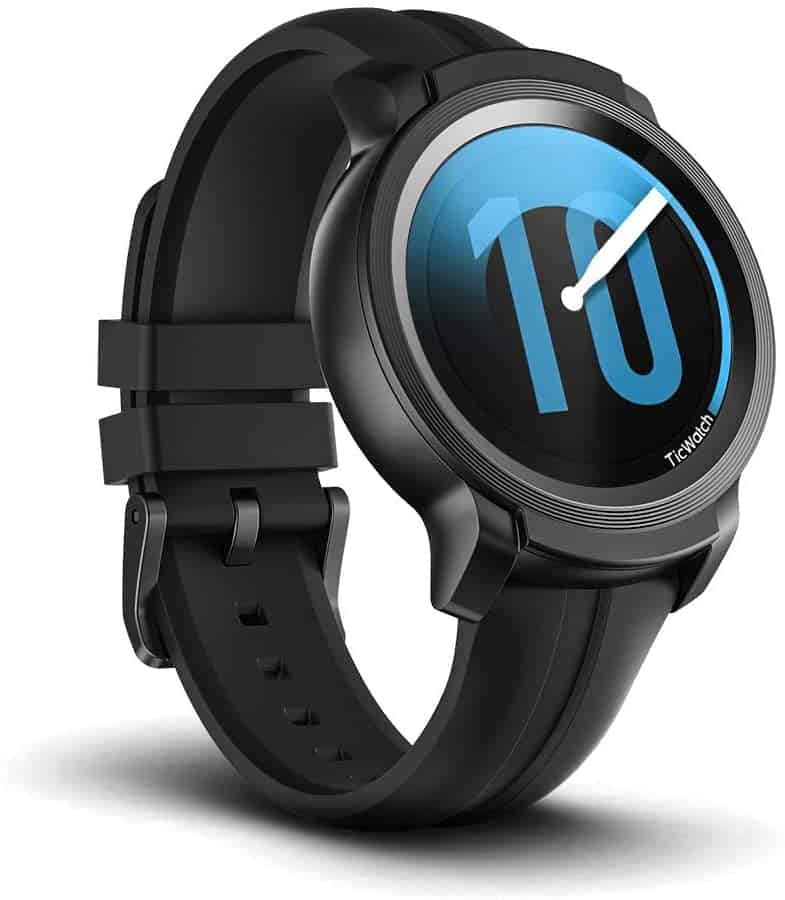 The Tic Watch E Combines Great Texting Capabilities With A Host Of Other Benefits
The Tic Watch E is a lesser-known smartwatch, but one that comes highly reviewed and packed with features. This smartwatch comes with texting capabilities and a bright, large screen for easy typing. It is tailored to Android phones more than iPhones and has Google Play apps available for install, like many other Android phones.

The largest benefit of the Tic Watch E is the inclusion of tons of extra capabilities. From built-in GPS to health monitoring to voice recognition, this watch covers all the bases. For people who are interested in a single watch that can cover almost any situation that arises, this is a perfect choice.

The watch comes in a stylish, modern setting, available in both white and black. Although it is clearly a smartwatch, it can still fit with many different attires. 

The Tic Watch E is also one of the cheapest smartwatches with texting capabilities available, clocking in around $70. This makes it an easy choice for first-time buyers who are unsure about the smartwatch craze.

For the price point, some durability in the build is lost. While not extremely prone to breaking, some parts of the watch are plastic which some may find cheap. Additionally, the battery will have to be charged daily as it can die quickly. Still, finding a good smartwatch this cheap with texting capabilities can be a challenge through other brands. 

4. Apple Watch Series 3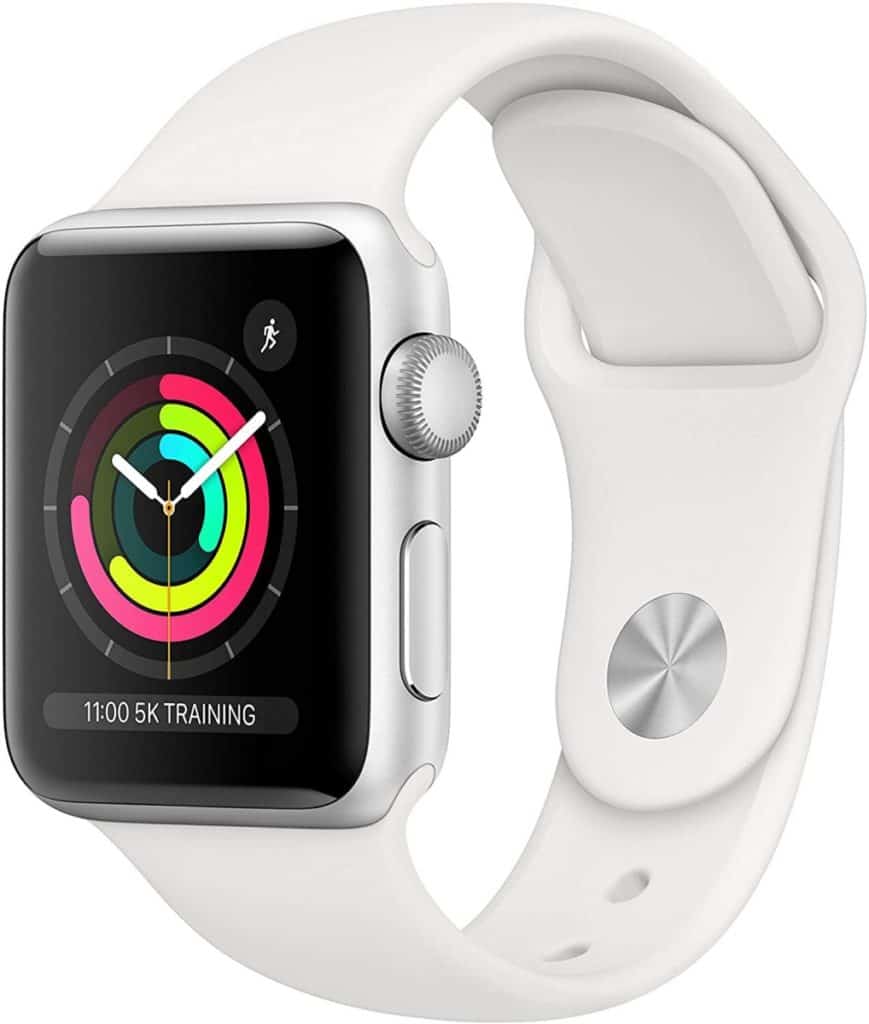 The Apple Watch Series 3 Still Holds Up Strong And Can Be Had For A Good Price
The Apple Watch Series 3 is a wonderful choice for iOS users on a budget. Including many of the best features from the newer series 5, the series 3 set the current precedent for Apple Watches. Texting, two-way calling, LTE connectivity, and apps from the App Store are all available.

If budget is a concern for your smartwatch with texting capabilities and you use an iPhone, the series 3 is one of the best watches available.  New ones are still available for roughly $200, and there are many used options through refurbished dealers or secondhand markets.

The Apple Watch Series 3 integrates seamlessly with any iPhone using iOS 11 or newer, so even if your phone is newer the watch will work wonderfully. Despite being older hardware, Apple still updates and supports the watch. Due to the efficiency of the apps available on the phone, there should be almost no noticeable slowdown with this watch. 

The watch also shares the classic look of Apple Watches, although it is slightly thicker than some newer models. This should not be an issue for almost anyone, although people who prefer sleek profiles may want to save up for the newest model.

The Apple Watch Series 3 is the best budget-friendly option for iOS users, and that does not look to be changing soon. Apple has a great reputation for supporting hardware long past competitors so you can be sure the watch will receive updates and work with newer phones later as well. 
5. Samsung Gear S3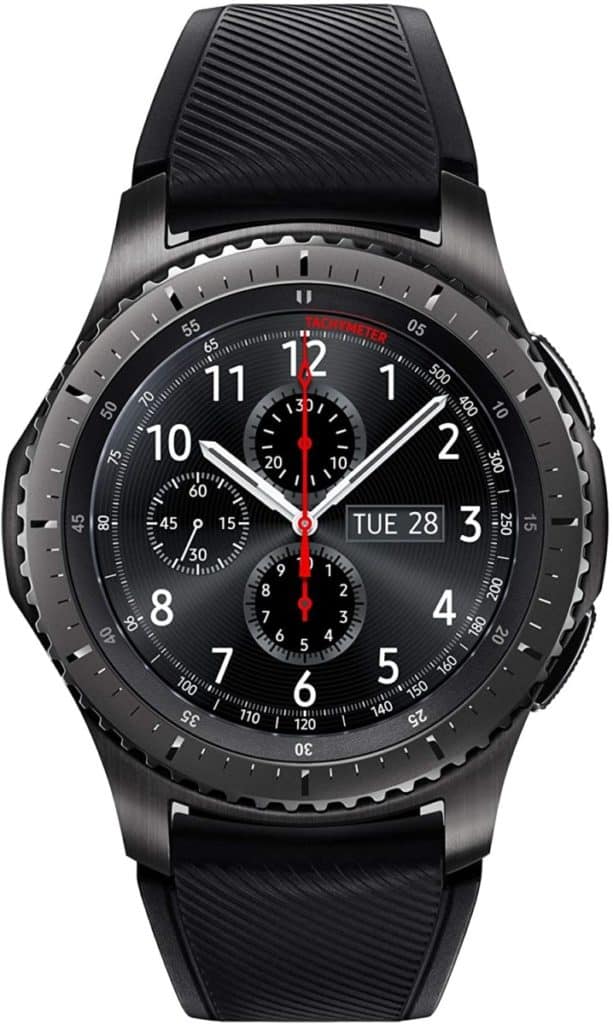 The Samsung Gear S3 Looks Classy And Has A Great Screen For Texting
The Samsung Gear S3 is a smartwatch made for Android phones like Samsung's own Galaxy series. Calling homage to the classic profile of a diver's watch, the S3 is suitable for a variety of outfits and is extremely capable.

As a top of the line smartwatch, the S3 comes standard with two-way calling, texting, and phone notifications. It also comes with other common features like apps, GPS,  and voice assistance. Rounding out the watch's high-end features are Samsung pay, allowing you to scan your credit card through the watch, and wireless charging. 

The watch looks like a diver's watch and shares much of the durability they are known for. It has military-grade performance and is resistant to water, dust, extreme temperatures, and bumps. In a nice mechanical twist, the thick bezel the watch has can be rotated to access apps and notifications. 

The Samsung Gear S3 is ideal for Android users who want to have a stylish watch with name-brand recognition. Samsung makes high-quality products, and if you are interested in completing the Samsung ecosystem, this watch is a great choice. While the watch does have iOS integration, the difference in user design could cause issues when switching between the devices, so it is best to stick to one side.

While not the flagship Samsung smartwatch (that one is coming later), it is at an ideal price to quality range.
The watch looks durable and resistant thanks to the rubber straps and a large screen. The battery life is standard for most smartwatches, advertising up to three days with typical usage.
Most users report charging their device every night, however, which is made easier thanks to the wireless charging capabilities the watch comes standard with. 
6. Fossil Gen 5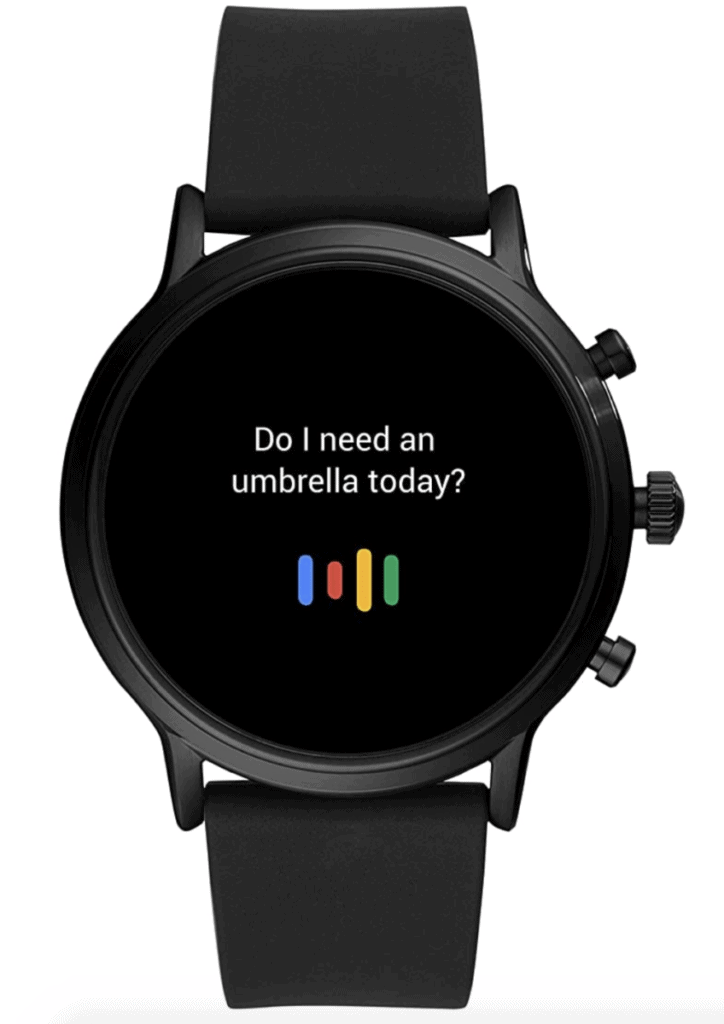 The Fossil Gen 5 Comes From A Great Watch Manufacturer And Is Packed With Extra Features
Fossil is a well-known watch brand, in business for normal wristwear for many years. Recently, they have turned their attention toward making smartwatches as well. As you might expect from an established watch brand, their designs have been stylish and the quality excellent.

The Gen 5 is a recent design from Fossil and focuses on packing in many features into a smartwatch that looks like very few others; This one is available with leather straps as well as stainless steel casings, fooling most who might look at your wrist. The watch face is large at 44mm, making it excellent for viewing notifications and texting. 

The style of the Fossil Gen 5 is truly incredible and likely its best selling point. For those who work office jobs or other positions that benefit from high-end watches, this is a fantastic piece that genuinely bridges the gap between technology and style. It is available with metal, leather, and rubber straps that are interchangeable to fit the occasion and style. 

Of course, the software and apps included in the Gen 5 are a great boon as well. Equipped with a heart rate sensor, GPS, speaker, notifications, and texting and calling capabilities, there is little this watch cannot do. Google fit's app works directly in the watch, easily tracking runs, steps, and swims.

The watch is swimproof as well for easy use underwater, improving its durability significantly. One of the few complaints about this watch is its battery life; while many people have had no issues with it, a significant number of users report the watch dying before the end of day when used often. Most of the time, however, you can simply charge the watch every night and be fine. 

Thanks to the name brand and high-quality construction, this smartwatch is more expensive than some other Android counterparts at roughly $300. Consider how important style and fashion are to your own watch purchase before spending the money, as well as battery life. 

If you are someone who will use their watch occasionally throughout the day and prefers to have it available through all sorts of social situations, the Fossil Gen 5 is a worthy pickup. However, if you are someone who uses their watch constantly or prefers the look of normal smartwatches, consider spending your money elsewhere. 
7. Fitbit Versa 2
The Fitbit Versa 2 Combines Great Texting With Health Tracking Features
Fitbit is a well-known name in health wristwear, originally creating heart rate and sleep tracking wristwear. They expanded into smartwatch territory early on, and the Versa 2 is one example. Retaining the company's focus on health and fitness, the Versa 2 combines many original features with a large watch face that can be used for a variety of other applications.

Unlike the original Fitbits which do not include texting capabilities, this watch does. Thanks to the larger watch face, texting and using apps is also much easier. For those who are interested in tracking their health while having a smartwatch that can text, this is the best option. 

Fitbit Versa 2s are compatible with both iOS and Android devices and come with an always-on display, music apps, long battery life of up to six days, and sleep and heart rate monitoring. It is important to note that the Fitbit Versa 2 can only text back on Android. All other features are available through both operating systems. 

The health tracking capabilities of the Versa 2 is what truly sets it apart from other competitors. While other smartwatches can have apps that track heart rate, sleep, and general wellness, the Versa 2 was specifically built with these goals in mind. It is efficient and easy to use to track your health. 

The Versa 2 looks like many other smartwatches, with a large rectangular screen and rubberized bands. While the bands are interchangeable for cloth or leather ones, it is recommended to keep the rubber, especially if you will use the watch while working out. The display is nice and bright, usable while swimming and in direct sunlight. 
8. Samsung Galaxy Watch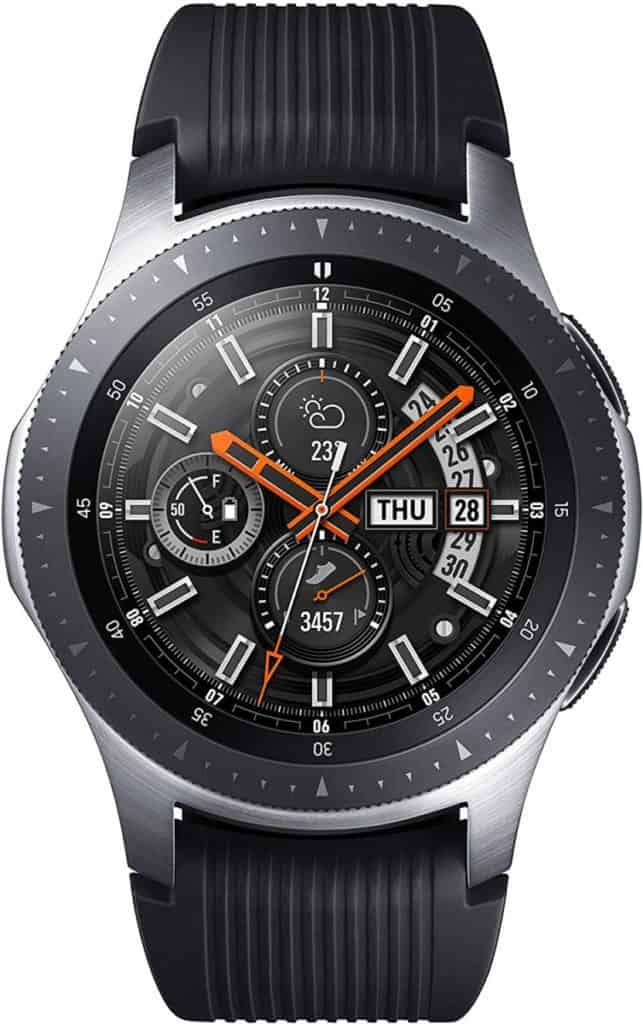 The Samsung Galaxy Watch Has A Large Screen And Great Battery Life
The Samsung Galaxy Watch is Samsung's newest addition to the smartwatch game and one that comes with fantastic reviews. The watch's most reported features are built-in fitness tracking and extremely long battery life, as well as all the bells and whistles to be expected of a flagship smartwatch. 

With a large watch face and bright display, texting on the Galaxy Watch is incredibly easy. It also comes with voice recognition to avoid typing altogether. For those interested in a compact watch face that fits on smaller wrists, the Galaxy Watch is available in two sizes. 

A big appeal of the Galaxy Watch is the display that mirrors a traditional watch when not in use by an app or notification. This helps sell the look incredibly well, as the rest of the watch is also stylishly made. Plus, it comes in three colors for even more personalization. 

The Galaxy Watch also focuses on fitness, with a built-in odometer and heart rate monitoring. The watch is meant to track activity and exercise more than general health, but it can do both. It is a fantastic option for those who enjoy the technology found in Fitbits but not the look, as well as those who want more out of their watch. 

Thanks to Samsung's enormous array of appliances and technology, the Watch can integrate seamlessly with all sorts of things. You can control your Samsung TV, air conditioner, fridge, and more all from the watch. You can also set commands in the watch to tackle multiple tasks at once, expanding on the already great voice command service. 

As a flagship smartwatch, it is slightly more expensive than competitors, priced at roughly $240. For those who use many Samsung products, want to track their health with a stylish option, or want an exceptionally well-made watch that integrates perfectly with Android, the Galaxy Watch is a great choice even for the price. 
Choosing the Right Smartwatch for You
Any of these incredible smartwatches will make texting on the go easy as ever. Do you have a favorite smartwatch for texting? Let us know in the comments below!