Bose Sound Link Mini II is a pretty small Bluetooth speaker that sounds way louder than it looks. It perfectly balances compatibility and sound quality without compromising one over the other. In this Bose Soundlink Mini II Review, we will look at what has been improved, how they sound and see if these speakers are a good fit for you.
The Bose SoundLink Mini II looks nearly identical to the SoundLink Mini; it's a slightly curved brick of aluminum, small enough to grasp easily in one hand. Although it seems a perfect size for around the house" portability, you can easily slip it in your laptop bag with your other gadgets for outdoor use.
Rather than using a cylindrical charge plug, the Mini II uses a standard micro-USB port. This means that Android owners can use their phone chargers to power the battery. You can also use an external battery to power the speaker and even add a microphone to it to be used as a loudspeaker for phone calls.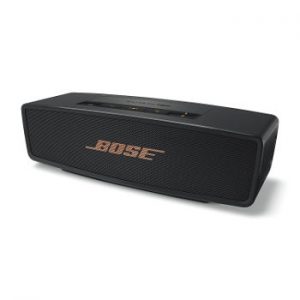 Build Quality
The Bose Soundlink Mini II is designed like a mini tank. The moment you pick it out of its box you get the premium feel with an aluminum casing that measures 51 x 180 x 58 mm; H x W x D. Bose SoundLink Mini II doesn't come with NFC but its Bluetooth connectivity is rather strong.
There is a robotic-sounding woman that chimes in to announce the battery levels when you turn the speaker on and when you connect to a new device. You can also pair more than two devices at a time.
The speaker controls sit on top of the speaker, which includes power, volume, pairing, and multi-function button. You can use the multi-function button to activate voice assistants and change tracks. And there is also a mic for when you need to make really loud phone calls.
The micro USB charging port and a 3.5mm headphone jack are conveniently located on the left side of the speaker. If you need to use the provided dock for charging in one motion, simply plug in the pins at the bottom.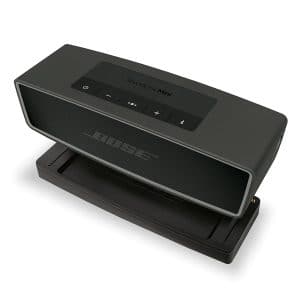 There is unfortunately still no NFC for easy pairing, but that is no big deal given the strong Bluetooth connectivity it comes with. This second-generation also comes with an improved battery life of up to 10 hours compared to the previous version.
You may however not get 10 hours if you play at full volume, but still, this should get you through a day's worth of playback music.
Fans of clean designs will be happy to note that there is no sign of fragility or flimsiness. You have options for two colors; black and gray, both of which are low profile. But if you fancy something more aggressive, covers are available in more creative, brighter colors.
The dedicated Aux button that was on the original version has now been removed. The SoundLink Mini II now automatically swaps to the auxiliary mode when it detects a sound signal.
The Bose SoundLink Mini II version also comes with a very sensitive microphone and you can comfortably use it as a hand–free conference speaker when you pair it with your Smartphone. It picks up your voice with a great level of clarity. Anybody looking for a clean and sleek wireless speaker with a simplistic and portable design should have the Bose SoundLink Mini II on their to-do list.
Sound Quality
This wireless speaker may not have fancy features, but you will be amazed by the sound quality offered here. Many compact, small wireless speakers struggle to produce a good bass presence, but the Mini II offers a really powerful punch for the size.
Even at high volumes, you can expect great quality and impact as the speaker plays bass-heavy songs with authority and without distortion. The JBL Charge 3 may have a more powerful bass, but it's less controlled and can be at times overwhelming at high frequency.
Bose Bose SoundLink Mini II handles other parts of the audio spectrum really well. The highs are really energetic and defined which helps to produce a sense of space around instruments where most other wireless speakers of this size sound dull. Similarly, the mids are warm and lush, which makes the vocal-heavy tracks come out great.
The speaker will also wow you by picking tiny unexpected details such as musician's breath in the track.
Bose Sound Link Mini II Review
Another surprising element about Bose SoundLink Mini II's performance is the fact that it sounds great across all volume levels. The bass kicks in quite early at low volume and does not distort the frequency of other notes as you move towards maximum level.
Talking of volume, this tiny speaker virtually unlimited levels of volume adjustments which allow you to dial in exactly how loud you want them to sound.
Unlike most wireless speakers, the Bose SoundLink Mini II doesn't produce any hissing sounds at low volume, making it a great plus for classical music lovers. There is a bass-heavy balance that eats into most of the spaces around instruments but gives a lot of details to emptier tracks. As earlier mentioned, the bass will not get distorted or boomy even at ridiculously high volumes.
Bose has always been a leader in unique modern designed speakers. They have always worked towards moving speaker styles to be more compact with a pleasing clean design and above all without audio quality compromise. Long before the competitors jump on board the compact speaker trend.
This history has given Bose an edge in producing incredible sound from small speakers. But the completion has been fierce in the small wireless speaker market and in the last few years there has been a lot of new entries to the market.
Bose Soundlink Mini II
Pros and Cons
Pros
Great refined sound quality for size
Classy unibody aluminum design
Good Bass
Charging dock
Cons
Less expensive alternatives available
Can't pair two speakers together 
Conclusion
The Bose SoundLink Mini II has an astonishing bass and powerful but well-balanced sound profile that is both pleasing and fun to listen to. This is not surprising since Bose has been making compact speakers part of there designs for many years.  
If you want a classy looking speaker with a great sound to conveniently use around the house or office this speaker is for you. If you want something a little more versatile and portable for outdoor use then there are other less expensive waterproof options. See our Top 10 Wireless Speakers for 2017 to see other options available.
The details are impressive, delivering a well-textured and smooth tone with a decent mid-range presence that won't leave your ears fatigued after hours of listening.
There are a few other cheaper competitors in this range, but when it comes to sound quality, smoother treble, deeper bass, and silkier mids, the Bose SoundLink Mini II beats them hands down.