There's nothing like cruising along and taking in nature's panoramic views on a long ride. You don't get to enjoy this kind of leisure on a long drive, where everything's a blur.
However, this activity can be quite intimidating for those who are longer as fit as they once were as well as those who are recovering from an injury. Those who haven't toured for some time may also find it challenging. 
Fortunately, E-bikes have evolved to take its rider farther to meet the growing demand for long rides on these powered up beauties!
In this post, we'll be tackling whether E-bikes are suited for long rides and give you some advice on how to choose the best model for your next adventure.
What's stopping people from using their E-bikes for long distance rides?
While E-bikes have quickly established itself in the cycling community, many cyclists are still wondering whether E-bikes are suitable for long distance rides. Some of the most common concerns expressed by cyclists include range anxiety and endurance concern. These concerns typically stem from preconceived notions that E-bikes are only suitable for short rides. 
What should you look for in a long distance E-bike?
Powerful Motor
To ensure a non-stop ride, a 750 watt fat tire electric bike would be ideal, as its motor provides ample power to propel you through your long ride. For better performance and efficiency in tackling the challenging and varied off-road terrains, make sure to get an electric bike with high wattage. 
Long Battery Life
Electric bikes equipped with high capacity batteries can support extended rides without frequent recharging. In fact, some E-bikes can now take you up to 230 miles on a single charge! Various E-bike models come equipped with different battery capacities, so make sure to look for one with batteries with a range of at least 50 miles or more, if you're looking to take it out on long rides.
Fat Tires
Fat tire electric bikes offer an increased level of comfort and safety for its riders. These tires offer enhanced stability, traction, and shock absorption better than regular touring bikes, which will greatly reduce muscle strain and fatigue. Fat tires are especially preferable when you're looking to ride across uneven or off-road surfaces.
Durable Build
As long distance rides can be demanding, touring bikes and electric bikes have a more robust design built from stronger materials. Look for a bike built with an aluminum frame, as this material offers a great balance of strength and stiffness with durability without breaking the bank! Some bikes that offer durable builds include the Engwe C20 Pro, Engwe EP-2 Pro Folding Fat Tire Electric Bike, Tern GSD S10, and Diamondback Current. 
Comfortable Riding Position
Staying comfortable throughout your ride is undoubtedly a top priority. Look for features like an adjustable seat height, ergonomic handlebars, and a relaxed posture to prevent discomfort or minimize fatigue.
Pedal Assist
Pedal assistance makes it easier to pedal and takes pressure off the rider's knees. This little bit of assistance can make a huge difference for riders going on long range tours, where heavy loads are usually involved. Most E-bikes will come equipped with a Class-1 pedal assist motor, which can take you up to 20 mph while sturdier models are packed with Class-3 pedal assist motors, which can take you up to 28 mph.
Efficient Braking System
Efficient braking is crucial for safety and control during long rides. Ensure your E-bike is equipped with reliable and responsive brakes, such as hydraulic disc brakes. Some E-bikes with great braking systems include the Juiced RipCurrent S, Lectric XPremium,  and Tern GSD S10 that come with hydraulic disk brakes and the Engwe EP-2 Pro Folding Fat Tire Electric Bike, which boasts a 180-inch front and rear mechanical disc brakes to bring your ride to a smooth yet immediate halt. 
Storage and Accessories
Whether you're packing a picnic, camping gear, or photography equipment, it's always a good idea to pick a bike that comes with ample storage options. 
What makes fat tire electric bikes ideal for long distance rides?
Fat tire electric bikes have several characteristics that make them well-suited for long distance rides, such as:
Enhanced Stability:

Fat tires provide a larger surface area and increased traction, which gives you better stability. This feature is particularly beneficial when riding on uneven terrains or off-road trails, allowing you to maintain balance and control throughout your ride.

Smooth Ride:

Fat tires absorb shocks and vibrations better than regular tires, giving you a smoother riding experience and significantly reduce fatigue and discomfort, allowing you to stay comfortable for longer periods.

Off-Road Capability:

Fat tire electric bikes are designed to handle various terrains including sand, snow, mud, and gravel. This versatility opens up a wider range of routes and destinations for you to explore with confidence. 

Battery Efficiency:

While fat tires may require more power to propel, modern fat tire electric bikes are equipped with powerful motors and bigger battery capacities to ensure that you won't run out of battery power so soon in your ride.

Ride Rain or Shine:

You can ride a fat tire electric bike no matter the weather condition. The increased grip and traction of the tires enhances your overall safety, making them suitable for long distance rides.

Cargo Capacity:

Many fat tire electric bikes come with integrated racks so riders can carry additional gear and supplies for long distance rides. This feature is particularly useful for bikepacking our touring trips where carrying camping equipment, clothing, and other essentials is required.

Better Design:

As fat tire electric bikes are designed with extensive use in mind, they often feature a more relaxed and upright riding position. This ergonomic design allows you to ride longer in comfort. 
Types of Fat Tire Electric Bikes
There are currently three types of fat tire electric bikes in the market today. Read on to learn about each type, so you can make an informed decision on which type best suits your touring needs:
Commuter Fat Tire Electric Bikes
Commuter fat tire electric bikes are designed for daily commuting and urban riding. These bikes typically have a more streamlined frame and focus on comfort and efficiency. A good example of a commuter fat tire electric bike is the Engwe C20 Pro, which boasts a folding, sleek design and practical features such as a powerful 250 watt motor and a long lasting Lithium battery. 
Off-Road Fat Tire Electric Bike
While commuter fat tire electric bikes make great companions for urban commutes, off-road models are built for rougher terrain. Bikes in this category feature rugged durable frames, robust suspensions systems, and aggressive fat tires to tackle challenging terrains such as dirt trails, sand, mud, or even snow. A 750 watt fat tire electric bike, for example, provides excellent traction, ample torque, and stability to meet any rider's demands for a thrilling outdoor experience.
Folding Fat Tire Electric Bikes
These e-bikes offer the convenience of folding frames, allowing for easy storage and transportation, making a perfect companion to constant travelers. Folding fat tire electric bikes are suitable for both urban commuting and off-road exploration, offering a balance of portability and performance. 
What Makes Foldable Fat Tire E-Bikes Perfect For Long Rides
Folding fat tire electric bikes offer a perfect combination of versatility and performance, which makes them an excellent choice for long rides. These bikes are especially convenient, as they can be easily stowed away in compact spaces at home, work, or during travel.
There are several brands that excel in designing folding fat tire electric bikes today in the market such as Engwe and Lectric, which have established themselves among cyclists looking for affordable electric bikes. Here is a short list of folding fat tire electric bikes you can consider for long rides:
Engwe C20 Pro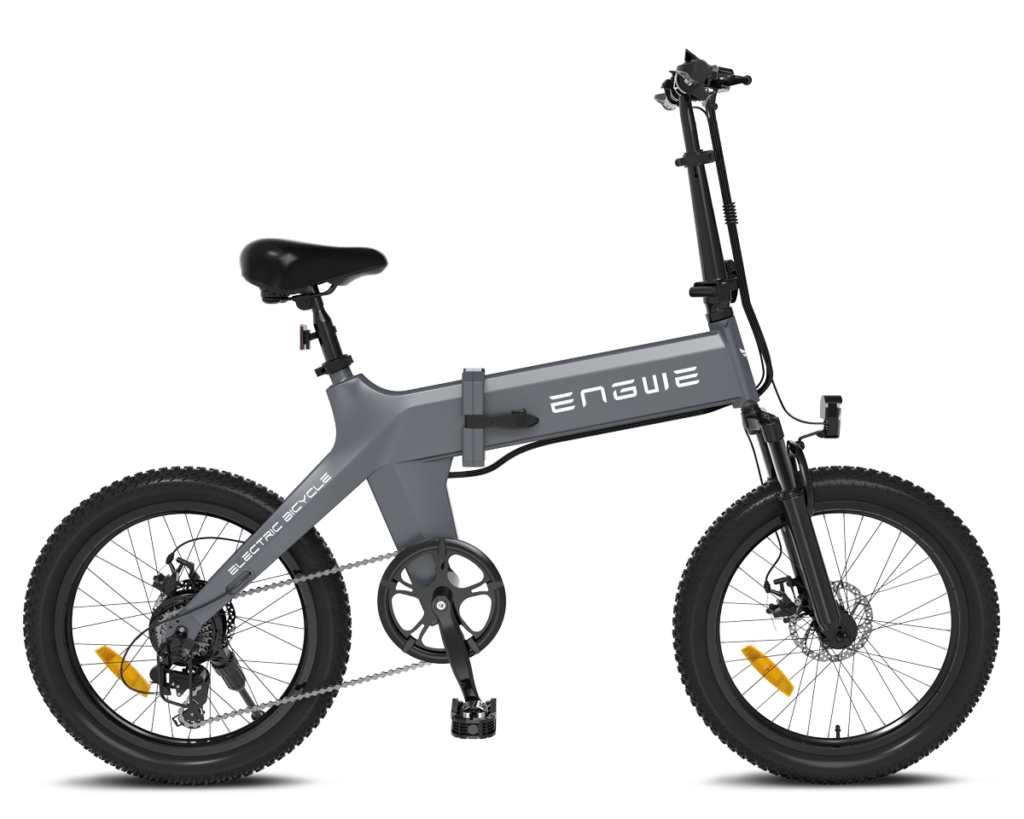 Photo: Engwe
The Engwe C20 Pro makes an ideal companion if you're looking to go off on an ultra-long range trip, as it provides assistance for up to 150 km or 93 miles in moped mode. This versatile bike is perfect for navigating the urban streets as well as the uncertain off-road terrain. With its 7 speed Shimano gear shift system, full suspension dynamic shock absorbers, and top speed of 16 mph, the Engwe C20 Pro can help you comfortably conquer any challenge nature presents along your way.
Engwe EP-2 Pro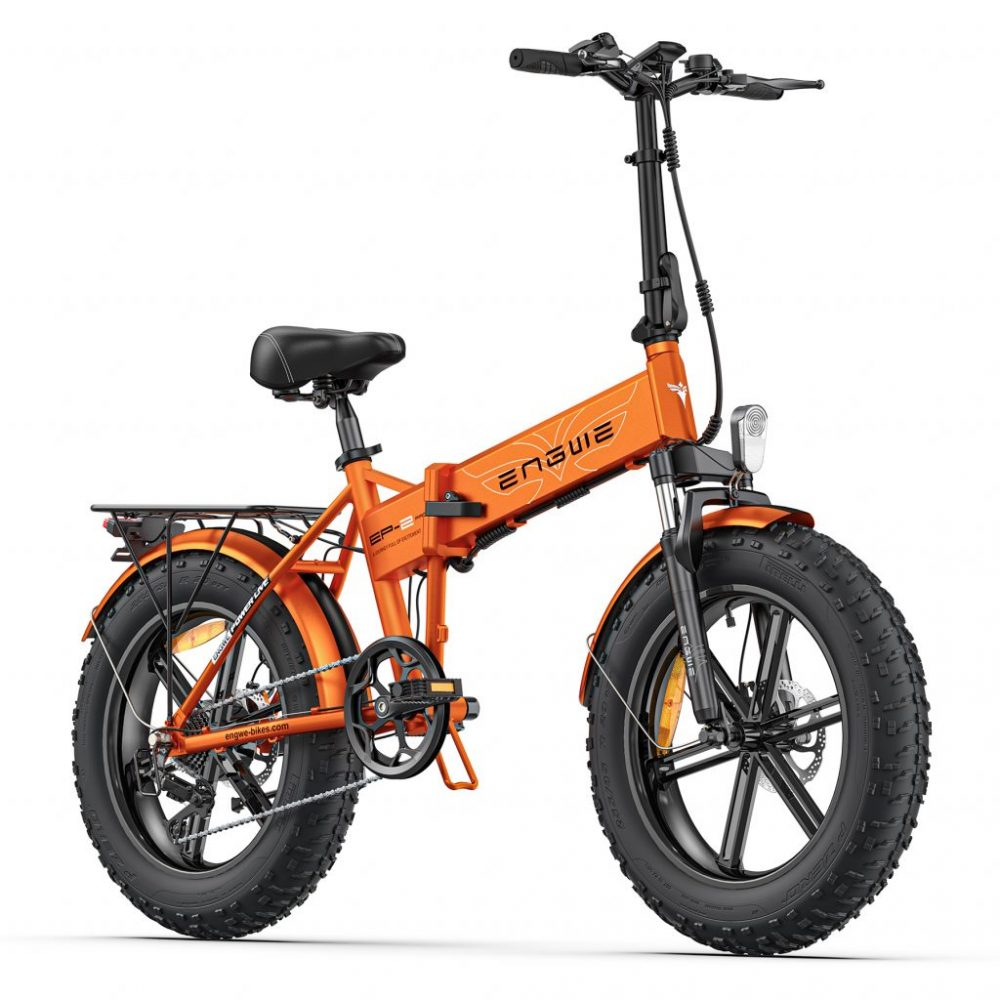 Photo: Engwe
The Engwe EP-2 Pro 750 watt fat tire electric bike is one of the models currently creating a lot of buzz in the cycling circuit. This model is the Engwe C20 Pro's stronger brother. It offers a flying speed of 45km/h, a range of 60km, ultra-durable fat tires, and 750 watts of raw motor power, which makes this E-bike a fantastic and reliable choice for long range tours and off-road adventures.
The Engwe EP-2 Pro is equipped with a 750 watt motor which allows riders to easily zip through traffic and conquer steep inclines. This 750 watt fat tire electric bike's motor is also conveniently placed on the rear hub, ensuring the rider's comfort and stability throughout the journey.
The upgraded bike comes with a 48V 13Ah lithium battery that can be easily removed, giving you the option to charge it separately or in the frame. However, you won't need to worry about your battery getting stolen, as Engwe has included a theft-prevention design to ensure the battery's safety at all times! 
XP 2.0 Long-Range eBike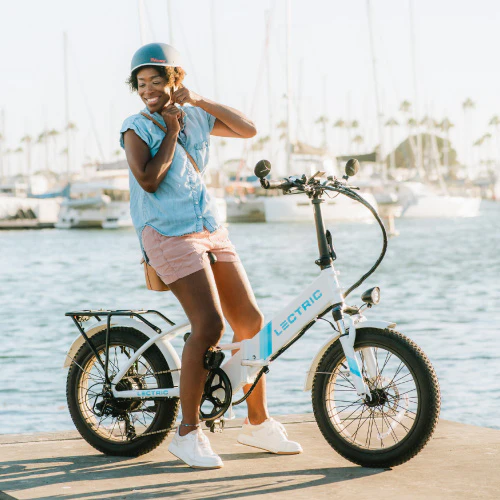 Photo: Lectric
The Lectric XP 2.0 Long Range is designed specifically to take riders the extra mile. This e-bike offers two battery pack options, the standard 45-mile battery pack and the long-range 65-mile battery pack, to ensure you have enough power to reach your desired distance.  The XP 2.0 Long Range also features a foldable, step-thru frame that allows bikers of all mobility levels to mount their bike effortlessly in one lateral motion. This long range e-bike also features fat tires, variable pedal assist and throttle, and an adjustable front fork suspension to help bikers power through any terrain they may encounter out in the wild.
RadExpand 5 Electric Folding Bike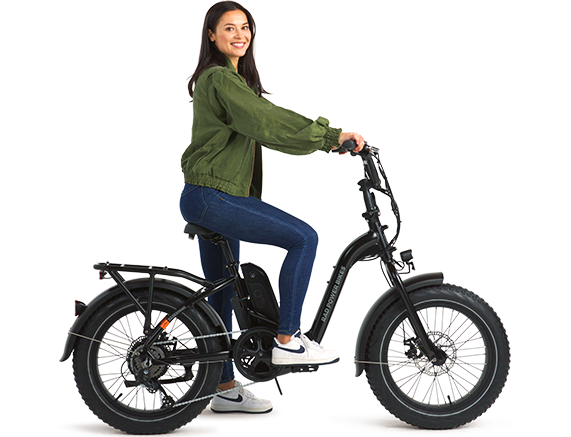 Photo: Rad Power
The Rad Power RedExpand 5 is yet another 750 watt fat tire electric bike built for adventurers. It features extra wide tires that can easily handle various terrains from pavement, fire roads, mixed conditions, and even smooth trails! Its 750 watt motor reaches speeds of up to 20 mph using the throttle or 4 levels of pedal assist. Meanwhile, its 672 Wh battery propels the e-bike to an impressive range of over 31 miles. 
The 750 watt fat tire electric bike from Rad Power is not exactly built for tall riders but instead accommodates users with heights ranging from 4 '10' ' to 5' 10″. This makes it a perfect off-road e-bike for women and teens looking to go on exhilarating adventures! This 750 watt fat tire electric bike is designed with the biker's comfort in mind, as it features wide handlebars to ensure that the rider has full control and stable handling during their ride. The e-bike is also adjustable to accommodate the rider's unique needs for a more ergonomic experience, as it comes equipped with an adjustable riser bar. 
However, while this fat tire electric bike can be folded down to reduce its size, the bike remains relatively large and weighs 64 lbs and 8 oz, which may pose challenges when carrying or loading it into a car. Despite this, the RadExpand 5 can still be stored in small apartments as well as RVs.
In Conclusion:
With their robust motors and high-capacity batteries, these bikes – particularly 750 watt fat tire electric bikes – provide the necessary assistance to conquer extended distances with ease. Simply keep in mind that the combination of fat tires and a powerful motor is critical to ensuring that you have a smooth and enjoyable ride. Whether you're embarking on an epic cycling adventure or simply exploring new trails, a fat tire electric bike is a reliable choice that can handle the demands of long rides, providing both comfort and exhilaration along the way.