Most people that have pets love their pets and would do anything for them. The worst part about having a pet is leaving your pet home alone for the day while you go to work. You know your little friend is home alone and you often think about them or would like to check up on how they are doing. How do I keep my dog entertained while I am at work?
Here is a list of new Cool Dog Gadgets that will give you a way to keep in touch with your dog with HD video cameras that allow you to see your dog clearly and for them to see and hear you. After your little chat, you can give your pet a treat. I have a tracking device on the list that will let you know where your dog is at all time and monitor its activity and a few other cool devices that are quite practical for pets and pet owners. So here we go with.
Cool Gadgets For Dogs Home Alone
1. Findster Duo Plus Pet Tracker GPS Tracking Collar for Dogs and Cats & Pet Activity Monitor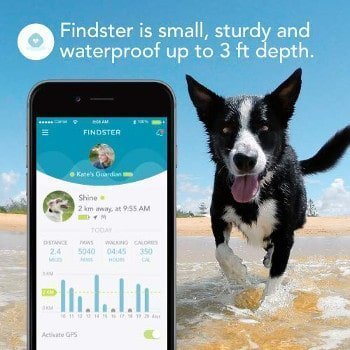 If you have a pet, this could be the best gadget you ever get for yourself and your pet. Never have that sickening feeling when you lose your pet. Your mind races and you think of the worst. Findster Duo+ will let you know where your dog or cat is at all times.
The Findster Duo+ has no monthly fees Findster Duo+ is the first GPS pet tracker that doesn't require a subscription. Maze technology eliminates the need for a cellular connection to send the GPS coordinates, so no SIM card or cell coverage is needed. Effectively removing the need for monthly fees!
Track your pet's activity with real-time pet tracker and instant alert. The Duo+ uses the most reliable and precise technology to monitor your dog or cat. Define a safe area around your pet's position on the map, and you'll be immediately notified if they leave that space, giving you time to react!
Findster also works as a Pet Activity Monitor, tracking your pet's fitness and activity levels and helping you assure their daily needs are met. Clip on to a collar and you are good to go. Allows you to track your dog when your not at home and can be alerted if he leaves a certain area. Available at Amazon
---
2. Petcube Bites Pet Camera with Treat Dispenser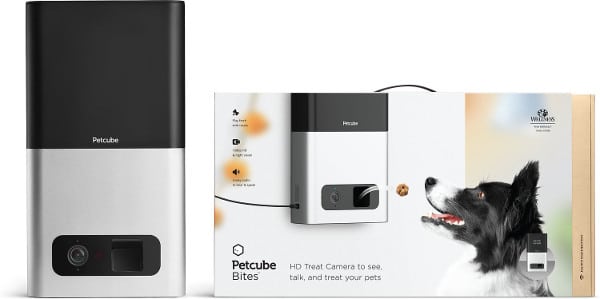 Everyone hates to leave their pet home alone. But unfortunately, people do have to go to work leaving a pet home alone cannot be avoided. The Petcube Bites Pet Camara might be the product for you and your pet.
Using your smartphone with their free app allows you to get real-time access to your pet and it works with Alexa You get a clear 1080p HD video with night vision when you are checking up on them when it is dark. You can talk to your pet, and they can talk to you.
You can keep an eye on what your pet is up to and communicate with them any time you are away, and if they have been good, you can dispense a treat to your dog. The Petcube Bites Pet Camera with Treat Dispenser with remote monitoring with HD 1080p Video, Two-Way Audio, Night Vision, Sound and Motion Alerts. Works with Dogs and Cats. A great device for any pet owner. You and your dog will love it. Available at Amazon
---
3. Outward Hound Dog Brick Treat Dispensing Dog Toy Brain and Exercise Game for Dogs by Nina Ottosson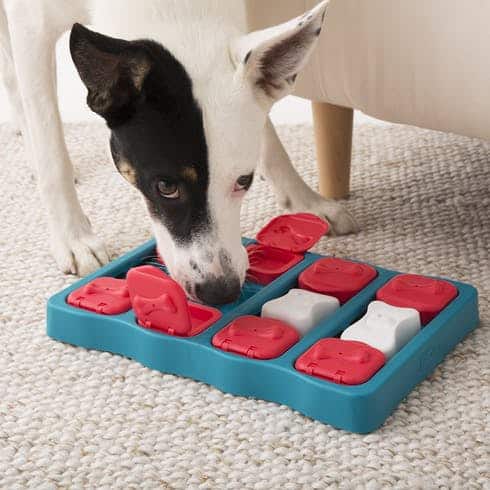 Here is something new in the dog world. The Outward Hound dog dispenser is a new way to feed and challenge your dog Put a treat in a different compartment and the dog has to flip, find & slide. The Hound dog dispenser gives your pup a new challenge every time they play! The Nina Ottosson Dog Brick is a great way to engage and entertain your dog.
This treat training dog puzzle occupies anxious dogs and gives them a little entertainment when they have become bored. Many pet owners say they love it. It provides the dog with a challenge, but it is not to difficult to frustrate the dog. Many dogs have it opened in minutes, but some take about 10 minutes.
The dog has first to lift the white bone out, open the compartments, then slide them over to find all the treats. You could set something up if you have a smart home. Like, unlock an area for your dog remotely. Fun to watch too. Available at Amazon
---
4. iCalmDog 5.0 Portable Speaker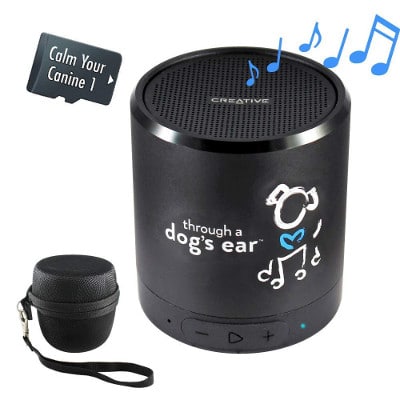 Some dogs are calmer than others. From my experience, usually smaller dogs are more nervous. With all the street noises and sirens going on many dogs that stay home all day can get pretty upset and nervous.
The iCalmDog is a Proven Canine Anxiety Solution that will play clinically-tested calming music through a dog's ear for up to 5 hours. Proven Canine Anxiety Solution. Recommended by vets/trainers worldwide, contributes to the calm for Fear Free Happy Homes. Special BioAcoustically rearranged music is shown to relieve canine anxiety and is preloaded on the speaker. Available at Amazon
---
5. iFetch Interactive Ball Launcher for Dogs – Launches Mini or full-size Tennis Balls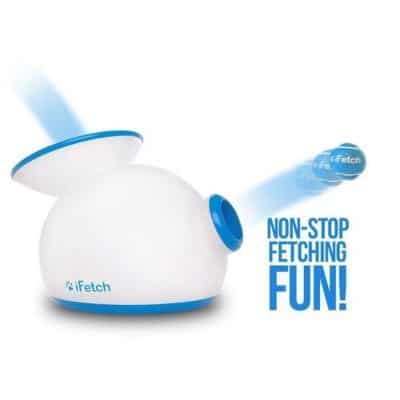 What dog does not like to play Go Fetch? The iFetch is an interactive, automatic tennis ball launcher that lets dogs play fetch to their heart's' content, even when you are not at home. The iFetch comes in two sizes one for standard tennis balls and bigger dogs and a Mini for smaller dogs that launches mini tennis balls that is ideal for smaller dogs.
The iFetch launches a standard sized tennis ball or mini depending 10, 25, or 40 feet ball with the touch of a button. It even includes a "random" distance setting to keep your dog guessing. The perfect indoor or outdoor dog toy invented for and tested by, their resident test dog fetcher, Prancer. A great way to have your dog get some exercise when home alone.  Available at Amazon
---
6. PetSafe Drinkwell Platinum Cat and Dog Water Fountain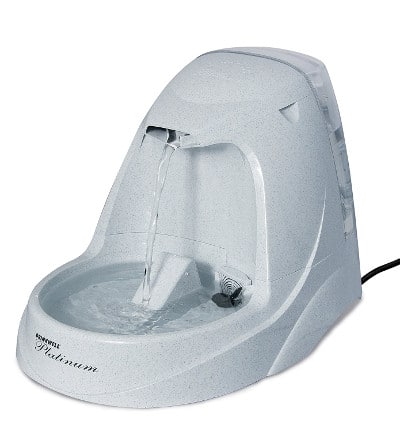 Make sure your dog always has fresh water available. The PetSafe Drinkwell Fountain is an ideal way to ensure your pet never runs out of water. The free-falling stream entices pets to drink more water. Comes with a replaceable carbon water filter that removes chlorine bad tastes and odors, keeping water fresh.
Large built-in reservoir increases capacity and extends the time between refilling your fountain. You can adjust the stream for less water flow for smaller pets. The PetSafe Drinkwell is easy to clean and dishwasher safe. A great way to always have fresh water available for your pet. Available at Amazon
---
7. FitBark Dog Activity Monitor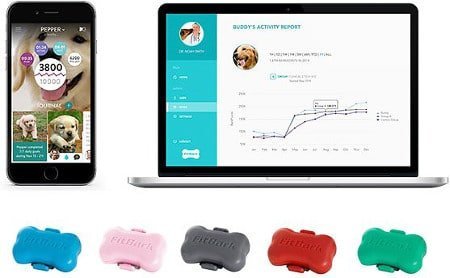 Chances are if your dog stays home alone a lot your dog is overweight. Just like people in the US, 54% of dogs are affected, by obesity. Obesity is the single most serious problem among pet owners today.
Clip-on the FitBark on the dog's collar, and you can now monitor your dog's everyday activity 24/7 and set health goals for you and your dog. It tracks your pet's activity levels, quality of sleep, distance traveled, calories burned, and overall health and behavior 24/7, that you can compare with similar dogs and even yourself.
Works with an app. You can set custom goals based on similar dogs. Share reports with friends and vets, and you can sync the Fitbark with your Fitbit and many other activity trackers. Studies have shown that chances are if your dogs overweight you are overweight this could be the motivator to get you and your pet going. Available at Amazon
---
8. PetSafe Smart Feed Automatic Dog and Cat Feeder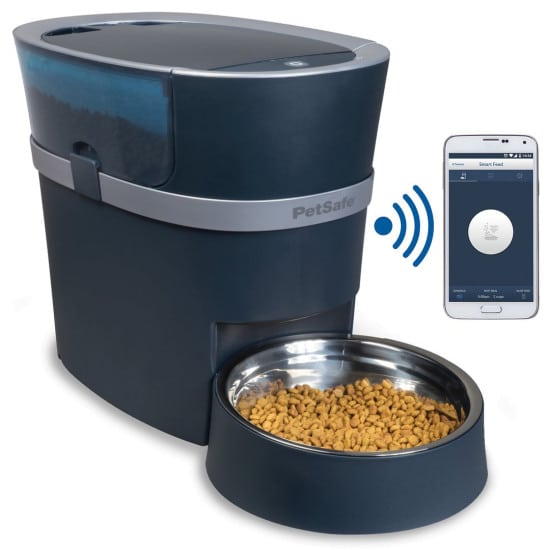 This device can give you a little freedom. Have you ever been stuck in traffic or got tied up at the office and came home a few hours later than your normal? Meanwhile, your hungry pet is sitting at home waiting to be feed. They are looking forward to seeing you, but let's face it they want to be feed.
Wouldn't it be nice to be able to feed your dog remotely? The PetSafe Smart Feeder holds 24-Cups of dried pet food. The automatic feeder can be set up to for 12 meals to eat on your pet's schedule. A feed now option allows you to feed your pet outside normal feeding times.
All can be monitored and adjusted from your smartphone. Monitor your pet's feeding from anywhere for peace of mind. Feeds on schedule as programmed if Wi-Fi connection is lost or feeder is offline Available at Amazon
---
9. PetChatz HD: Two-Way Premium Audio/HD Video pet Treat Camera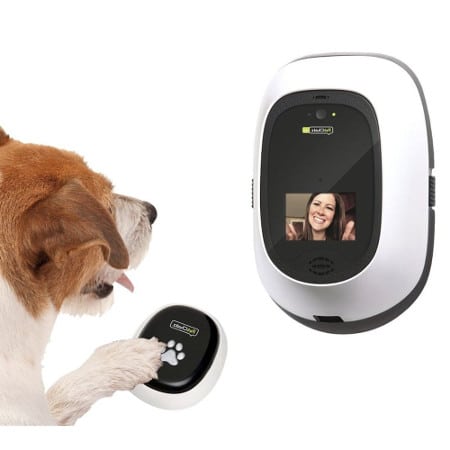 The PetChatz is similar to the PetCube Bits but with better quality Hd DogTv, and more features like Smart Video Recording, Calming Aromatherapy, and Motion/Sound Detection. Designed by top pet experts to be much more than a treat camera. You can control the PetChatz from anywhere using an iOS/Android app or desktop computer.
Pet safe design made in the USA with no corners, edges or cords to chew; attaches securely to your wall or kennel for optimal pet safety. Sound and motion-triggered PetWatch video recording to capture your pet's activity while you are away.
A heads up the device can only use PetChatz food, but the treats are high quality, grain-free, and meat is the first ingredient. It comes in chicken and salmon. Available at Amazon
More cool gadget posts