Are you looking forward to enjoying a fast, reliable and efficient internet? If yes, then this D-link ac3150 router review is for you. Often listed in the top 3 wireless routers for gaming and streaming media.
Regardless of how far your local ISP is from your residence, you can still enjoy the best Internet experiences by installing D-link ac3150 Dual Band wireless Gigabit Ultra-Wi-Fi Router with a powerful 1.4GHz Dual-Core Processor in your home. Let's take a quick look at the main features, shall we?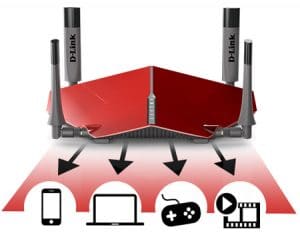 Design
D-link ac3150 features a unique design just like the high-end models. The router has a pyramid-shaped, cherry-red enclosure measuring 4.7 x 15.2 x 9.7 inches. It has 4 adjustable and removable antennas. In addition, there are 5 small LED indicators on the top for Internet connectivity (USB connectivity and radio bands) and Power.
Around the back, there is a WAN port, four Gigabit LAN ports, USB 3.0 port, Power button, Reset buttons and WPS buttons.
There's also a switch for operating in extender or router mode offering efficiency at its best. It's a portable internet device that you can carry along with you anywhere you go as long there is electricity to power it. For instance, while working away from the city at a location with no reliable internet, it can be of significant support. The router fits neatly alongside your laptop thus reducing the hassle of carrying extra bulky equipment
Smart Connect
The D-link ac3150 places its clients on the most suitable vial band. By doing so, your fast Internet devices can get along well by grabbing that important unused available bandwidth that slower clients don't need. The All-in-all Smart Connect feature is specifically designed to improve the performance and efficiency of all your wireless bands.
Open Source with DD-WRT
If you're happy with basic settings, then default D-Link GUI shall just be fine. However, in case you want to delve much deeper, you can always use the DD-WRT's open-source firmware.
This firmware offers more options for you to tweak and around with. D13-WRT is basically a Linux based firmware which offers extended settings. These include Port Forwarding, Wi-Fi power output and advanced Quality of Service.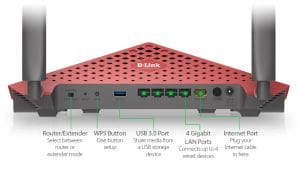 Why The D-Link Ac3150 Is A Must Have Internet Gadget
With the current global technology advancement, the internet has made the world a global village. The need to have a good reliable internet signal in your home is almost as important these days as having running water. Most of the communication and information sharing is almost entirely based on the internet.
You cannot afford to be locked behind simply because there is no ISP near your home. D-Link ac3150 is all you need for all your home internet solutions. It's one of the simplest and cheapest ways to help you access fast and dependable internet right where you are. You will also find it portable, affordable and reliable.
The router has a 1.4 GHz Dual-core processor (DIR 8135UR),11 has an ultimate Wi-Fi performance with AC3150 Dual Band speeds that promote fast guarantees you fast home internet. Its real-time 4K/HD online gaming and video with 4×4 data streaming and 1024 Nitro QAM technology give you the best entertainment experiences you'll appreciate.
D-link AC3150 Router Review
It also has a great 1.4GHz Dual-Core processor that facilitates fast and efficient wired and wireless Internet desired. Simultaneously support multiple Wi-Fi devices with MU-MIMO technology due to its solid Wi-Fi signals.  The router offers seamless management for all your gadgets through intellectual QoS traffic optimization.
It's easy to install and manage networks from your desktop and network devices. This router also supports four wired devices giving you the best online experiences for gaming and I-10 streaming.
Is This All You Need For Cable Wi-Fi And Internet Phone?
The answer is NO. D-link ac3150 requires a modem to transform coaxial cable to Ethernet. You can get the modem from your Internet service providers depending on your location. A rental fee applies for different ISP. If you need an internet phone, you can get it still from your ISP, it functions by connecting your phone to the phone port available in your modem.
Once the settings are properly put in place, you will enjoy a plug and play internet. This implies that you don't need to add settings anytime the router is powered on, it automatically connects according to previous settings. Isn't that amazing?
D-link AC3150 Router Specs
General Specs
Device Type: Router
MU-MIMO: Yes
Wireless Specification: 802.11ac
Number of Bands: 2
Number of Wired LAN Ports (Excluding WAN Port): 4
Number of Antennas: 4
Chipset: Broadcom Link Rate: AC3150 Quality of Service: Yes Security: WEP, WPA, WPA2, WPS (Wi-Fi Protected Setup) Firewall: NAT, SPI Access Control Lists based on MAC Addresses: Yes IPv6 Compatible: Yes Parental Controls: Yes Tech Support: One Year
System Requirements
ADSL broadband Internet service
Microsoft® Windows® 7, 8, Vista®, XP®, 2000, Mac OS®, UNIX®, or Linux®
Microsoft® IE 9 & 10, Firefox® 4.0, Safari® 6.2.6, or Google Chrome® 11.0 browsers or higher
Package Content​
Four (4) detachable antennae and 1x3_0USB ports. Uses wireless connectivity technology.
This router has dimensions of 4.7 x 15.2 x 91 inches with an average weight of 3 83 lbs.
It has wireless compatibility of 802.11a/b/g/n, 2.4 GHz radiofrequency.
Has a metallic red color with an AC power source and a voltage of 12 volts.
D-link AC3150 Router Review
Pros and Cons
Pros
Sleek design
Its Multiple Input and Multiple Output (MU-MIMO) capable
Strong performance
Support open-source firmware
Cons
The router is quite pricey
Offers average file-transfer speeds
Conclusion
The D-Link Ac3150 is an excellent choice if you are looking for those mid-range routers that deliver a unique aesthetic and speedy output. Even though it's a little bit more expensive compared to most routers within its class, it still ranks among the best routers that you can get today.
The model features most of the latest Wi-Fi technologies, which include MU-MIMO streaming, band steering, and beamforming. In addition, it offers a great selection of out-of-the-box performance options and ports.
Customer reviews show that D-link ac3150 Dual Band Width wireless Ultra Wi-Fi router can be used in a two-story home and give best results when properly installed as advised by the technical staff near the center of your home.
The DIR-885L is an accomplished device with very strong performance across wired and wireless connections. In many tests, it beat its more powerful big brothers and was more than a match for competing devices from ASUS and TP-Link. In short, the D-Link Ac3150 will certainly prove to be a worthy purchase.
A good router will make it easier to cut cable. Learn more about streaming media.