The NetGear Nighthawk x10 AD7200 router is by far the most technically advanced home Wi-Fi router. Widely considered the best router on the market. Boasting top-notch capabilities, it is designed for use in large homes. This slightly massive router is best described as chock full of networking goodness.
As the industry-first 802.11ad router, you can be confident it will exceed your expectations. Let's have a closer look with my NetGear Nighthawk x10 AD7200 Review. Needless to say, the Nighthawk x10 is like a race car. It's super-fast, powerful and exciting. Its performance will ultimately fit in with your daily surfing habits. Here is a quick look at the main features.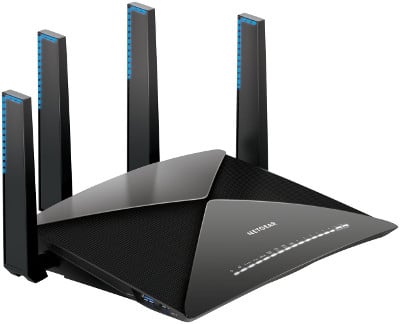 Key Features
The emergence of mesh-wire systems has given wireless technology the boost it needed. However, the Nighthawk X10 is proof that sometimes a traditional single-unit router can get the job done. It comes with numerous features that fully compensate the seemingly pricey tag. Unlike many other routers, this one gives you the best value for your money.
NetGear Nighthawk x10 AD7200
11ad is 3 Times Faster Than 11ac
Compare 1.3 Gbps to 4.6 Gbps
Fastest Wireless Transfers for all your media and backups.
Time to transfer 3GB
Backup
8 sec vs 24 sec
Time to transfer 8GB
Movie File
21 sec vs 64 sec
Time to transfer 20GB
VR Video
53 sec vs 120 sec
Its features include:
An eye-catching design: The NetGear Nighthawk X10 AD7200 showcases a progression of all NetGear designs. Its dark color may look familiar but the horizontal configuration certainly makes it unique. It comes with a row of LEDs on the top front and other additional lights that provide a 60 GHz frequency. At the back of the router are seven Gigabit ports. There are a single yellow Wide Area Network (WAN) port and six LAN ports. The cutting-edge design makes this router one of a kind.
The 802.11ad networking: This should not be confused with the 802,11ax. The standard 802.11ad operates on the 60 Hz frequency band. It is a supplement to regular Wi-Fi connections. However, it does not function with all Wi-Fi clients; Instead, it can only serve those who have 802.11ad compatible devices. 802.11ad technology is also ideal for transferring big chunks of data. It equally makes streaming 4k videos very easy
Wi-Fi Range: The router has a relatively short range (15 to 20 ft). Due to this reason, its signal doesn't easily penetrate obstacles like walls. Thus, the router can be best used by people who stay within close range. But, to make up for this, the 802.11 ad has a lightning-fast Wi-Fi speed. It can support up to 4,600 megabits per second or 4.6 gigabytes per second.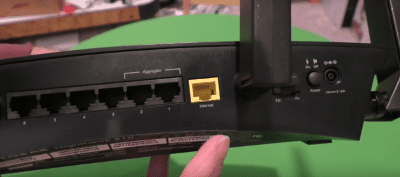 Multiple Wi-Fi standards and wired connections: Incorporating a quad stream access point, the router supports multiple frequency bands. These include 800Mbps, 1,733Mbps, and 4,600Mbps. It also supports Wi-Fi speeds on 60 Hz, 5GHz, and 2.4 Hz. Wired clients will also enjoy six Gigabit Local Area Network (LAN) port. When port 1 and port 2 work together, they create a single 2 Gbps connection. They combine throughput for double speed which makes the router ten times faster than other routers that you may be used to.
Built-in Plex server: The router has a silver lining to its interface, the Plex server. With two USB 3.0 ports, it is easy to plug in an external hard drive as well as stream content to Plex clients. The server also facilitates fast network storage performance. Through a gigabit connection, users can copy data stored on the external hard drive at speeds of up to 90 megabytes per second. This is the fastest performance among all routers with a network storage feature.
Mesh area for ventilation: The top of the router is comprised of a large mesh area which allows heat to escape when the router is in use. This is important because it promotes proper functioning of the router by reducing overheating. This is one of the few consumer routers that offer an actual fan and heat sink combination.
MUI-MIMO data streaming: This means that the NetGear Nighthawk X10 can confidently send data to MU-IVIMO-compatible clients simultaneously, not sequentially. It also has beamforming which directs Wi-Fi signals to specific clients rather than clients who are over a broad spectrum
Fast USB transfer: At 75.8Mb/s, the USB transfer rate on the router is ridiculously high, especially over wired Gigabit Ethernet. With its powerful processor and software, it can deal with multiple connections without too much of a hassle. It's important to note that when it comes to features, this router offers much more than any other multi-box system. It can be considered a true replacement for a proper NAS drive
---
Set up
Set up is easy with the NetGear Nighthawk X10. Connect your router to your computer and internet service. Then visit www.routerlogin.net. You will be directed to the Setup Wizard that will walk you through the setup step by step.
Netgear has available the Netgear Up App. This mobile app will help you to set up, update and configure your Nighthawk X10 from your smart device.
NetGear Nighthawk x10 AD7200 Specs
General Specs
|   | NetGear Nighthawk x10 AD7200  |
| --- | --- |
| Processor | Powerful Quad-Core 1.7GHz processor |
| AD7200 WiFi | Band 1: 800 Mbps @2.4GHz – 256QAM   Band 2: 1733 Mbps @5GHz – 256QAM Band 3: 4600 Mbps @60GHz – SC Explicit Beamforming for 2.4 & 5GHz bands |
| Memory | 512MB NAND flash and 1GBDDR3 SDRAM |
| Antennas | Enhanced Active Antennas with high-powered amplifiers |
| Beamforming+ | More reliable connection   Focuses WiFi signals from the wireless router to WiFi devices like smartphones, tablets & laptops Automatically checks with your device for optimal connection Boosts speed and reliability for both 2.4 & % GHz Wifi devices. |
| Back up | Amazon Cloud Backup   ReadyCLOUD® USB Access—Personal &secure cloud access to USB storage anytime, anywhere |
| Ports | Seven (7) 10/100/1000 Mbps GigabitEthernet ports   Dual Gigabit Ethernet Port Aggregation Two (2) USB 3.0 ports |
| Dimensions & Weight | Dimensions: 8.81 x 6.61 x 2.91 in(224 x 168 x 74 mm)   Weight: 4.11 lb (1865 g) |
Package Content
Nighthawk® X10—AD7200 Smart WiFi Router(R9000)
Ethernet cable
Quick start guide
Power adapter
System Requirements
Microsoft® Windows 7, 8, 10, Vista®, XP®, 2000, Mac OS®, UNIX®, or Linux®
Microsoft® Internet Explorer® 5.0, Firefox® 2.0, Safari® 1.4, Google Chrome™ 11.0 browsers-or higher your text here…
NetGear Nighthawk x10 AD7200
Pros and Cons
Pros
Easy set-up and installation process.
ReadyCloud system that provides easy remote access to a user's files.
Amazon Cloud Drive support that offers additional storage space and mirrors files to the cloud automatically. Duca, T1VC and iTunos media server support that will add to a user's entertainment time.
Powerful CPU that is capable transcoding video on the fly remote streaming.
1.7GHz Quad-Core processor VPN support secures remote access to the internet and home network.
Enhanced parental controls that manage web filtering and promotes accessibility by profiles or devices.
Home network manager that allows users to manage their network when they are away from home.
Comes with NetGear Up app which allows for easy updating and configuration of the router
Sturdy build that makes the router long-lasting
Cons
Short 802.11ad range: The NetGear Nighthawk X10's range is rather short on the 60GHz frequency band. For instance, users may need to place their laptop or computers right at close range with the router to connect at 3Gbps and 4.6Gbps multi-gigabit speed.
Limited Wi-Fi customization: It may be a bit difficult to configure the X10's Wi-Fi networks through its web interface. It is also difficult to change the network settings thus, the router will always work on compatibility, not performance.
close Pricy: Although the diversity of the router's features may explain its high price tag, users who are not into premium router features might shy away from it.
Although the router comes with a combination of the most amazing features, there are also a few concerns among users. Even so, these disadvantages do not affect the overall functionality of the router. They include:
Final Verdict
Scanning through many other NetGear Nighthawk X10 AD7200 reviews apart from this will reveal that the router is indeed powerful and has been getting a lot of positive feedback. This router is designed for serious customer with a high demand for speed. Ideal for 4K streaming and VR gamers.
Although this router will not disappoint it is a little a bit ahead of current technological infrastructure and some of it performance features can not be fully utilized. But your set for the future.
You will have to get past the premium price tag to get this router, but you get a high-end, feature-packed router that delivers high-speed throughput performance. Keep an eye out for sales Right now I have seen it on sale for almost 40% off. Making it a much better option then comparably priced routers with slower performance and fewer features.
Other articles that will help you learn more about streaming media