Netgear Nighthawk X4S is a high-end, super-fast router that offers AC2600 Wi-Fi. The speed is so fast that most available devices will struggle to catch up with it. There are two models the R7800 is a router only. The D7800 is a router but also includes a modem.
The D7800 is one of the fastest routers available however the speed is a bit of overkill as there are not many devices that can use the speed the Nighthawk X4S has to offer. Netgear Nighthawk X4S Wireless Router Review takes a closer look at the design, features, performance and whether this is the best router for you.
If you live in a connected home with multiple wireless devices competing for bandwidth, you will really appreciate what this router brings to the table. It's a Multi-User Multiple Input, Multiple Output (MU-MIMO), which means it can simultaneously send and receive data to multiple clients at the same time without sacrificing bandwidth.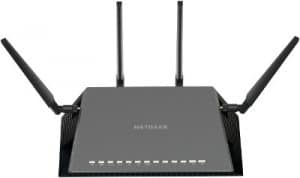 Design and Features
The Netgear Nighthawk X4S closely resembles its older sibling, the Nighthawk X4 in design and features. It has a black angular chassis that measures 11.22 by 1.97 by 7.26 inches (HWD) and comes with four removable antennas. The R7800 supports 4X4 data streaming, which means it can deliver four data streams to each band to maximize throughput speeds.
The router uses a 1.7GHz dual-core processor that offers unmatched performance for streaming, gaming, and mobile connectivity. It's capable of maximum throughput speeds of up to 2.53Gbps. With this capacity, you will have enough processing power to run all the network-heavy applications throughout your connected home.
The front panel has 10 small Led indicators that show you the status of the four LAN ports and the WAN port, USB and aSATA activity, and 2.4GHz and 5GHz radio-band activity. The led lights can be switched off to only display the power light. Nice when you want to watch movies in the dark without seeing annoying blinking lights.
Next, you will see a Wi-Fi Protected Setup button and button to disable one or both radio bands. The right side of the router has an eSATA port for connecting to eSATA drives while the left side holds two USB 3.0 ports. At the back of the router, you will find a WAN (Internet) port, four Gigabit LAN ports, a button that enables/disables the LED indicators, a reset button, and the power button.
Netgear has a Web-based management console that makes it quite easy to manipulate some of the basic and advanced network settings. You can check the status of your Internet, Wireless, Guest Network, and Parental Control at a glance right on the Home page.
From here, you will also be able to view the type of peripheral devices connected and Internet traffic statistics. You will also be able to share and backup files using the connected USB drives.
Those looking for extra connectivity will appreciate the fact that this router comes with four Ethernet ports on the rear and MU-MIMO that allow you to hook it up to a whole bunch of devices. This connectivity also allows the router to address multiple devices at once rather than doing so in serial
---
Installation And Setup
Most modern routers offer easy setup and configuration procedures, and the Netgear Nighthawk X4S VDSL/ADSL Modem Router D7800 is no exception. When you first plug the router into your computer, a setup wizard will pop up to guide you through a brief initialization in an automated format. If the Netgear Genie management console doesn't launch automatically, enter www.routerlogin.net in the URL bar.
You will also get options to use DHCP or Static IP addressing and automatic or manual DNS addressing. Once you're connected, you can navigate to the wireless-settings page to assign SSID names and security settings to each band. You will however not find all the necessary controls here. To manage QoS, you need to dig into the router more directly, by typing its IP address into the browser address bar.
QoS enables you to manage bandwidth, prioritizing services such as Netflix that require a reliable, constant stream. The best part about this Nighthawk router version is that it comes with a DSL modem. It supports the VDSL2 standard as well as ADSL, VDSL, ASDSL2, and ADSL2. And if you don't want to use a modem, you can simply use the Ethernet port.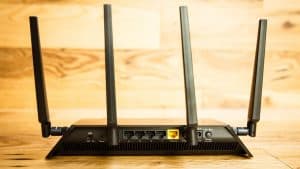 ---
Performance
Speed
The Netgear Nighthawk X4S comes with speeds of 1,733Mbps from its 5GHz band and 800Mbps from the lower performance, higher range 2.4GHz one. The 5GHz band promises a data transfer speed of up to 216 MB/sec.
You might not achieve that when using your typical available hardware, but anything in the ranges of 100mb/sec in the real world is good enough. Even at a longer range of up to 10m with a couple of walls in between, you should still get speeds of about 40 MB/sec. 
The 2.4GHz will give you great speeds at a closer range, but you might experience a few issues towards the edges of the recommended range. Regardless of the device used, the router has a habit of disconnecting devices continually over 2.4GHz when the signal strength isn't particularly strong. So you probably might want to stick to the 5GHz band whenever possible.
The USB networking speed is pretty impressive too. With a good drive, you will notice general network transfer speeds of up to 66.5MB/sec at close range over 5GHz and  11.9MB/sec over 2.4GHz. With a 1.4GHz Dual-core processor at its core, the router can juggle plenty of connections at once without compromising speed or consistency.
Reliability
A slow or lost network connection can be very frustrating but with Netgear Nighthawk X4S advanced features and high-end technology you will experience less interference as you enjoy more reliable WiFi connectivity. The Quad-Stream Wave 2 WiFi increases WiFi range for mobile devices while the dynamic QoS offers bandwidth prioritization by application & device.
Sharing
Sharing on Netgear Nighthawk X4S router is all fun and easy. Accessing your stored music, videos and photos is all a breeze. There is a vault application that enables you to securely keep your stuff safe and back it up on Windows-based PCs. There are two super-speeds USB 3.0 ports which are up to 10 xs faster compared to USB 2.0.
Netgear Nighthawk X4S Wireless Router Review
Security
D7800 comes with resourceful security features that will ensure your family is safe and their privacy is guaranteed while online. It comes with OpenVPN Connect app on Android and iOS that enable secure access to your home network and Internet connection from your mobile device remotely.
There are parental controls for web filtering all your connected devices, high-level wireless security with WPA/WPA2, Separate and secure access for guests, and a customized free URL to create FTP server.
Ease of Use
Setting up this Netgear router is pretty simple and straightforward, and you can start using it immediately after setup. There are setup wizards for all devices including iPad, tablets, Smartphones, and computers. The Netgear genie App comes with a Personal dashboard to monitor, control and repair your home network. The Wi-Fi and power on/off buttons are Convenient for power savings too.
---
Netgear Nighthawk X4S Wireless Router Review Specs
General Specs
WiFi Performance: AC2600 (800 Mbps + 1733 Mbps)†
WiFi Range: Very large homes
WiFi-Band: Simultaneous dual-band 2.4 GHz & 5 GHz
Number of Ethernet Ports: Five (5) 10/100/1000 Gigabit Ethernet Ports with auto-sensing technology
Number of ADSL Ports: One (1) DSL port, supports ADSL/ADSL2/ADSL2+ and VDSL/VDSL2
Number of USB Ports: Two (2) USB 3.0 ports
Processor: Dual Core 1.7GHz processor
Two-in-One: DSL Modem + AC2600 WiFi Router
Gigabit Ethernet WAN port for universal compatibility
Compatible: VDSL, VDSL2, ADSL, ADSL2, & ADSL2+
IPv6 support (Internet Protocol Version 6)
Guest network access—separate & secure
Denial-of-service (DoS) attack prevention
Double firewall protection (SPI and NAT)
Dimensions: 285 x 185 x 50 mm (11.22 x 7.26 x 1.97 in)
Weight: 840 g (1.85 lb)
Package Content
Nighthawk X4S AC2600 WiFi VDSL/ADSL Modem Router (D7800)
Ethernet cable
Phone cable
DSL filter
Quick start guide
Power adapter, localized to country of sale
System Requirements
ADSL broadband Internet service
Microsoft® Windows® 7, 8, Vista®, XP®, 2000,
Mac OS®, UNIX®, or Linux®
Microsoft® IE 9 & 10, Firefox® 4.0, Safari® 6.2.6, or Google Chrome® 11.0 browsers or higher
Modem: DSL Modem—Compatible with VDSL, VDSL2, ADSL, ADSL2, & ADSL2+
---
Netgear Nighthawk X4S Wireless Router 
Pros and Cons
Pros
Good port selection
Lots of management settings
Solid 5GHz and Multi-User Multiple Input, Multiple Output (MU-MIMO)
Can plug into multiple HDDs
Good 5GHz range
Cons
On the 2.4GHz band, you may experience disconnections at the far reaches of the range.
Sometimes automatic reconnect does not work and reconnect manually or rebooting is necessary.  
---
Is the Netgear Nighthawk X4S D7800 for you?
The Netgear Nighthawk X4S D7800 is an exceptional router full of great features including numerous USB and SATA connections as well as decent network speeds. If you can manage to stick to the 5GHz band, you will come to love this package. However, the 2.4GHz band requires that you stay within a close range as you might experience connection interferences at long range.
Given the relatively affordable price and excellent performance, I should say this is a good buy for anybody looking for super-fast Wi-Fi connectivity. If you have the devices to fully take advantage of the speed.
The D7800 would be a great choice if you're planning on adding more smart features to your homes such as internet security cameras, lights, and thermostats. This unit can handle newer devices requiring more bandwidth with no problems.
Conclusion
The Netgear Nighthawk X4S Smart Wi-Fi Router R7800 is an exceptional choice for users looking for MU-MIMO data-streaming technology. The router comes with a user-friendly interface and comprehensive settings to make your user experience seamless. The performance is impressive with speeds of up to 1,733Mbps from its 5GHz band and 800Mbps from the 2.4GHz band.
I think the R7800 router was designed more for an office application and the Netgear Nighthawk X4S is the better choice for home use. It comes in at about half the price of the Netgear X4S D7800 and is compatible with Echo/Alexa and has many other additional features that you would not expect at this price range.
Other router related posts