If you like surprises you will love the Breo Box. Breo Box is a subscription service that you pay annually or individually and a box of unique and cool lifestyle technology gadgets are sent to you 4 times a year. One for every season. The value of the items in the box is more than you would pay for them overall and you get about a 40% saving in cost.
The Breo Box is a part of a new trend in shopping. There are a number of companies offering different products catering to particular consumer goods. The Breo Box is a subscription that is paid quarterly or annually.
As always when it comes to shopping women are leading the trend. There seem to be many offerings for women, for example, there are subscription boxes available for women's lingerie, makeup, bath and spa products.
There are also subscriptions available for your pet where they send a variety of all-natural treats, chews, and toys. Coffee, wine, cheese, and health products are available.
Home decor products and essential oils are also available for subscription. For more ideas of what is available see: ayearofthebox.com
Breo Box contacted me recently and sent me their Summer 2019 box to take a look at.
---
How does it work
You can either buy a Breo Box two ways. You can buy them individually for between $139 to $159 or the best way with the most savings is to pay annually $579 and the price will average out to $144.75 per box
You can also purchase one BREO BOX as a gift or try it out, with no subscription or further obligation. They will send you a hand-packed wooden box with 5-8 items that revolve around everyday essentials, fitness/health, and tech with a theme to fit the season.
---
What is in the Summer 2019 Breo Box?
The summer 2019 box has something for men and women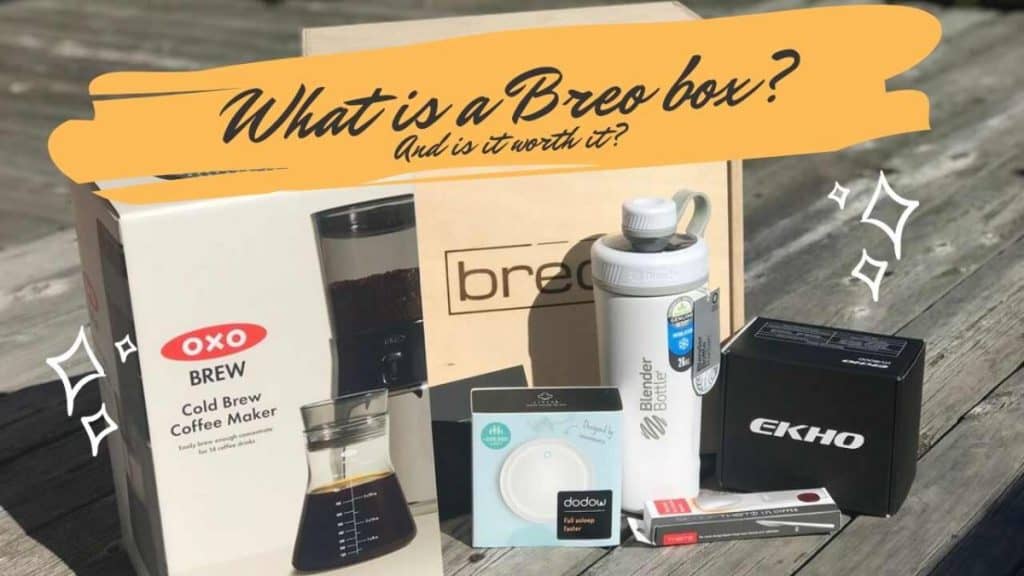 Here are the retail prices I found.
---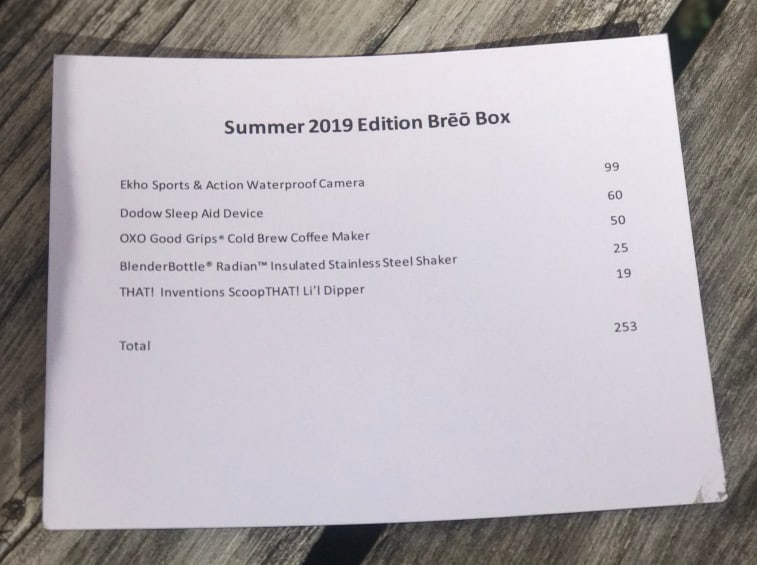 A Breo Box contains 5-8 essential home, tech, and fitness products packed in a handcrafted customized wood box.
The Cost: Yearly Subscription $589 $
1st box: $159
2nd box: $149
3rd box: $139
4th box: $129
5th box+: $129 plus perks
---
Other Breo Box subscription options:
Breo Box One-Time Gift Purchase $159
Breo Box Two-Season Gift Purchase $309
Breo Box Three-Season Gift Purchase $449
Breo Box Four-Season Gift Purchase $589

Shipping to the Continental US is free but add $20 if you live in Hawaii, Alaska, or the US Territories, Shipping costs $35 to Canada and worldwide.
Use Pete 15 and get 15% off when you order from Breo Box.
---
OXO Good Grips Cold Brew Coffee Maker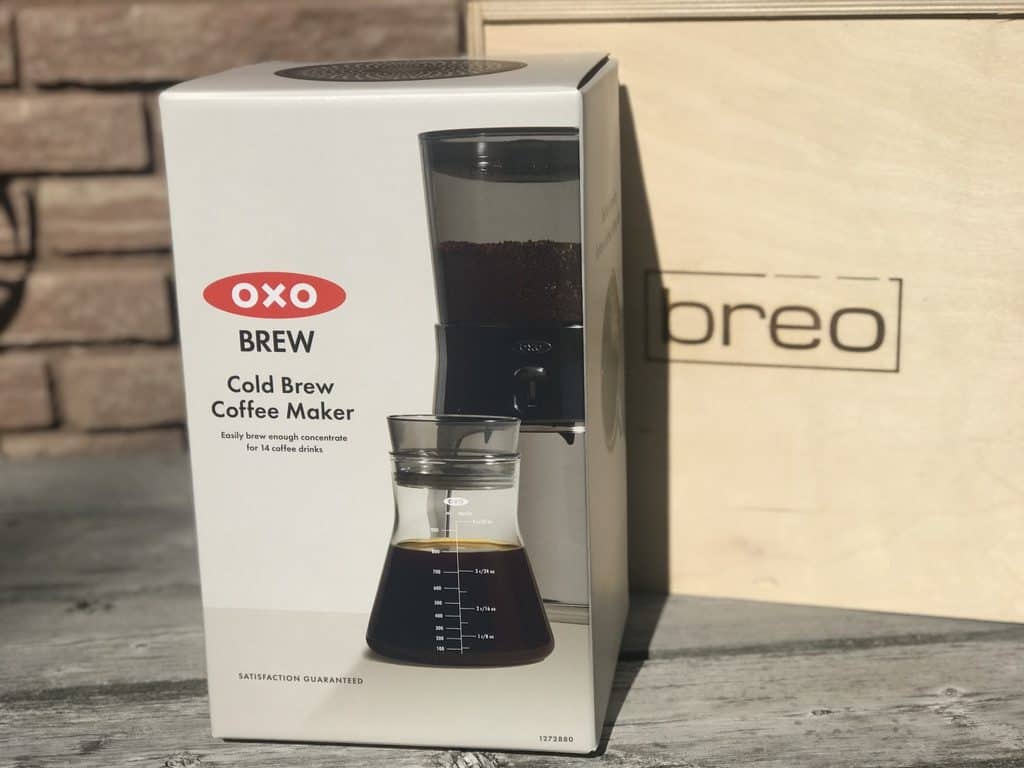 If you love cold brew coffee and want a more inexpensive convenient way to have it then you will love the OXO Good Grip Cold Brew Coffee Maker.
Use your favorite coffee, grinding beans fresh will yield the best results. Add grounds to water and let steep overnight. The OXO Coffee maker will produce a low-acid concentrated coffee.
The borosilicate glass carafe has measurement markings for portioning. Use the stopper to seal the carafe and store it in the fridge for up to two weeks.
I can see the OXO Good Grip Cold Brew Coffee Maker becoming the most used item in the box. See what they cost at Amazon.
---
BlenderBottle Radian Insulated Stainless Steel Shaker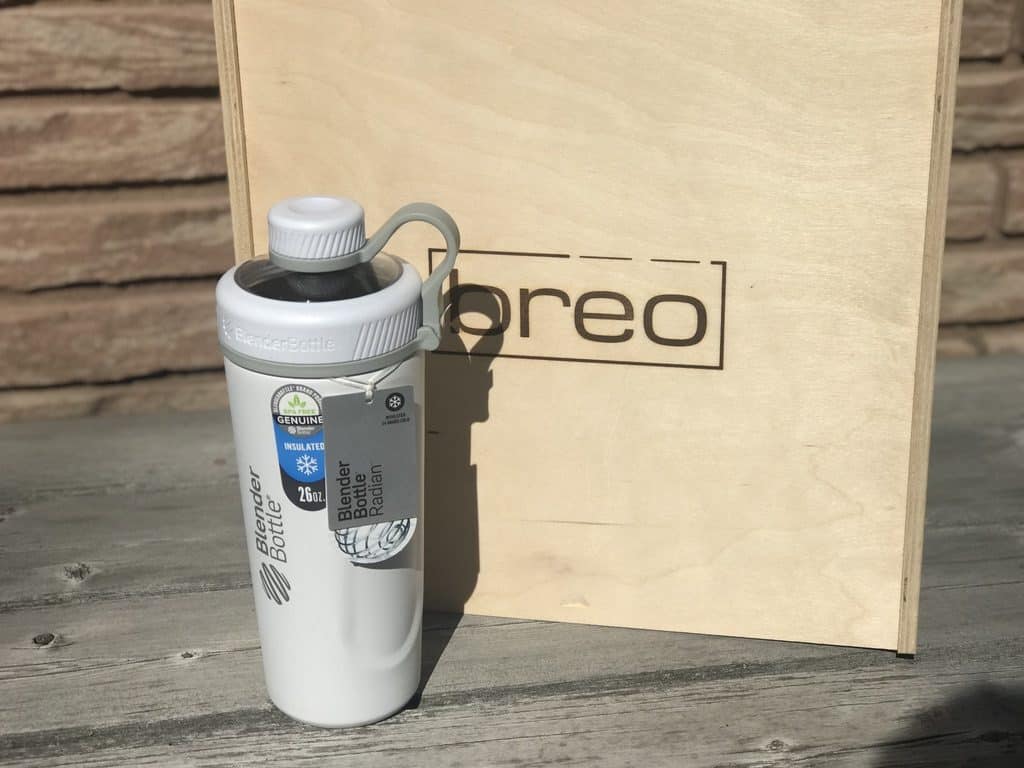 If you often have a pre-workout protein shake this Radian Insulated Stainless Steel Shaker bottle will be a welcome addition. This 26 oz insulated bottle is good for cold or hot drinks.
Just add your favorite pre-workout protein powder and water. Give the Radian blender Bottle a good shake and the blender ball inside the bottle will perfectly mix your beverage with no lumps. Clean design. See what the price is at Amazon.
---
Dodow Sleep Aid Device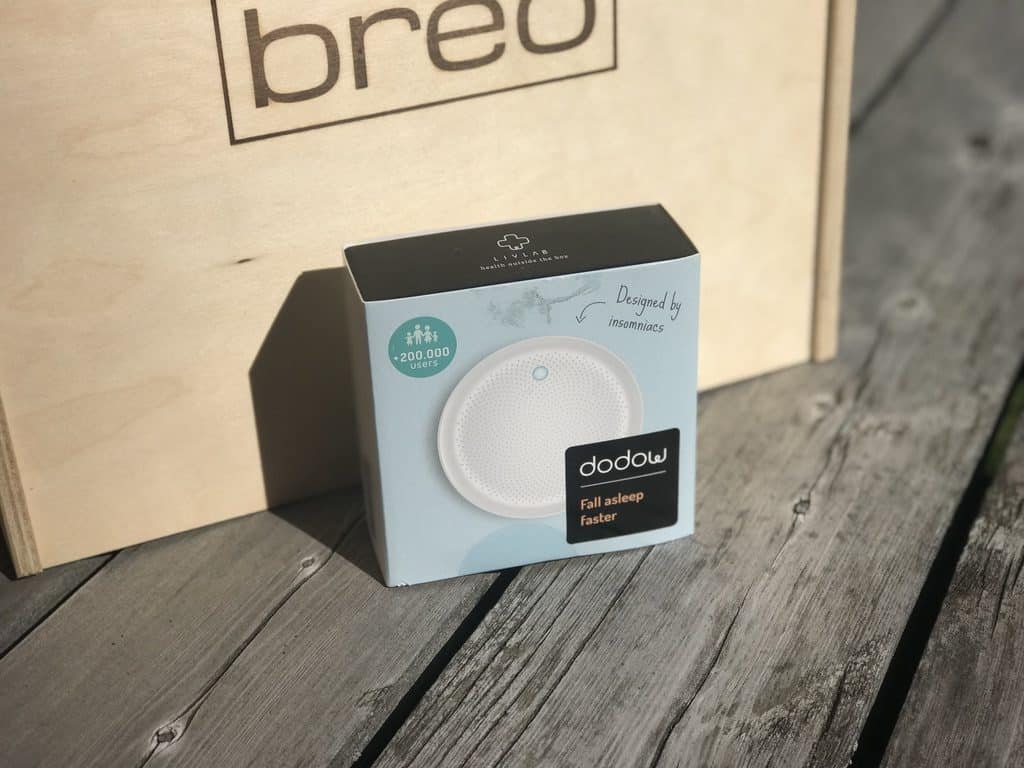 The Dodow Sleep Aid is one of those items you probably never have heard of. This unique item was developed in France by some former insomniacs.
The Dodow Sleep Aid is supposed to rebalance your autonomic nervous system to break the vicious cycle of stress and anxiety that keeps you awake. How it works is it has a blue light that pulses on the ceiling getting larger and smaller. What you have to do is breath in sync with the light. Inhale as the light gets bigger and exhale as the light gets smaller.
The device forces you to focus on your breath and do some deep breathing. This alone has many relaxing benefits. I am trying it out now and will get back with a full review. See what the price is at Amazon.
---
Ekho Action Camara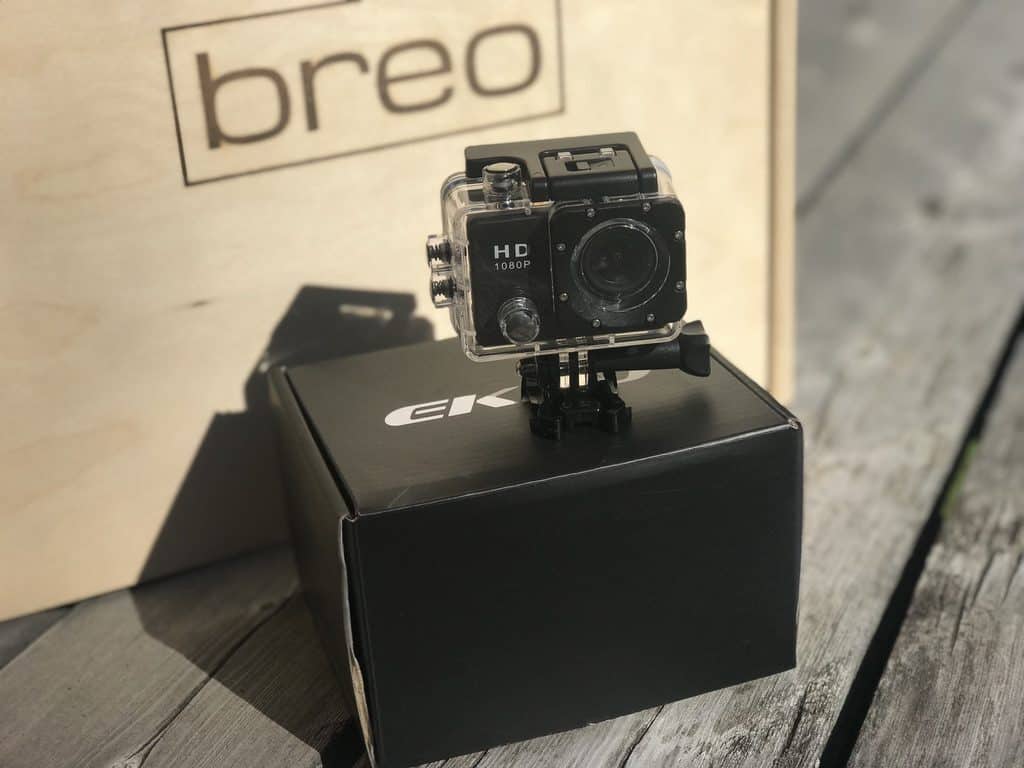 The Ekho Action Camara is the most expensive item in the Summer 2019 Breo Box coming in at around $100.
Having an action camera around is a great way to document your active family. With the Ekho Action Camara, you can film all the action and don't have to worry about it getting wet. It comes with a waterproof case and films in 1080P. If you already have a GoPro many of the accessories will work with the Ekho Action Camara. This is a great second camera to have.
The Ekho Action Camara is priced around $100. This is less than a third of the price of a GoPro and delivers comparable results. The picture quality is excellent and for the average person that is not super extreme, the Ekho will serve you well to capture the action moments in your life.
The Ekho Camera has WiFi connectivity and has a GoPlus App to make operating and making films and downloading videos (or photos) to your phone very easy. You will need to get a MicroSD card before you start because it does not come with one and the unit will not operate without one.
---
That! Lil Dipper Thermal Ice Cream Scoop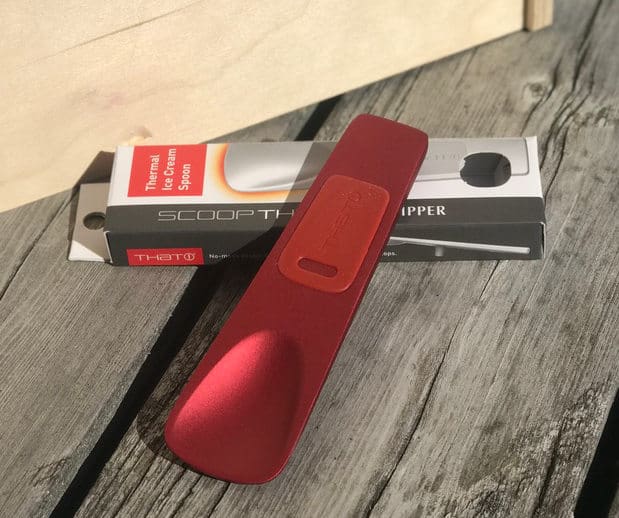 Now the Lil Dipper Thermal Ice Cream Scoop is a little different item that unless you live in Japan, you're not likely to find this item. This Magnetic Thermal Ice Cream Spoon can easily dig into hard ice cream.
These ingenious metal kitchen utensils transfer the body heat from your hand into the end of the spoon, this heat melts the ice cream just enough to easily scoop or eat.
No more having to soften ice cream before serving. Made from a single piece of forged aluminum this spoon won't break, bend, or twist out of shape. The magnetic handle keeps it in reach on the refrigerator door. Sells for $19.00 at Walmart.
---
Breo Box Refunds, and Cancellations Policy
The Breo Box subscriptions are renewed on the 5th day of each season's delivery month. Sping, Summer, Fall, and winter.
You must cancel your subscription before the 15th day of the month prior. It is possible to skip a month. This can be adjusted with your online account on the delivery schedule page.
No refunds or returns for boxes are allowed once pasted the quarterly cancellation date. This is not unlike most subscription companies.
Breo Box will replace or refund missing or broken products. You just need to contact their customer service within 30 days of delivery.
---
Spring Edition — Feb 15th
Summer Edition — May 15th
Fall Edition — Oct 15th
Winter Edition — Nov 15th
---
Unlike many subscription programs, Breo box gives you the ability to buy only one box without a subscription, making it ideal to give as a gift.
Is the Breo Box Worth It?
The short answer I think is yes. If you like unique products and getting them at a reasonable price the Breo Box is a great deal. The Breo Box can be a really great gift that keeps giving
Should you get it
It's like giving a gift to yourself four times a year and it is not only one present it is a box of 5 or 8 random cool things.
The Breo Box is a great value for the money and they send you premium items you never knew you needed. If you don't like some of the items in the box they make great gifts for someone.
---
Fall 2019 Breo Box
The summer 2019 box is no longer available. The Fall 2019 Breo box will be shipped on October 15th. Here is what you get.
Click & Grow The Smart Garden 3
Dr. Save Vacuum Travel Kit + 4 additional storage bags
Sous Shop Tea on the Go Infuser Tumbler
TeaHaus Tea Sommelier Curated Tasting Set
W&P Design "The Yoga Man(ual)" by Jen Murphy
FRESHeTECH Air Lock Lite Bag Resealer
LAVE Gallery Classic Shoe Care Kit
Use Pete 15 and get 15% off when you order from Breo Box.