The TP-Link is one of the first to uses the new Wi-Fi 802.11 standard. The WiGig offers speeds of up to 4,600Mbps, four times faster speed compared to the fastest 802.11ac routers. It, however, still faces wall penetration challenges and will still offer some households limited use.
Since it a fully-fledged AC router, the Talon AD7200 will service all your Wi-Fi needs. The router is packed with all that you would expect from a modern unit. Let's take a closer look with our TP-Link AD7200 Wireless Tri-Band Router Review.
Data transfer rates
The TP-Link AD7200 is a multi-band Wi-Fi router that provides excellent data transfer rates. It is a multi-user with multiple inputs and output option with a very high score. The price may be high, but the features make it worth the price. The TP-Link AD7200 is the first router that you can buy that includes WiFi AD.
It uses the uncluttered and mostly unused 60 GHz frequency to achieve the exceedingly fast throughput. Can theoretically transfer data up to 4600 Mbps. Three times faster than WiFi AC and Six times faster than WiFi N.
However, it comes with some caveats. All clients' Wi-Fi circuitry must support 802.11ad networking, and since only a few of such devices exist, it can be a challenge to some users.
This router is all about AD WiFi and this is a major problem. Many routers signal can stretch to 10s of meters. WiFi Ad has a very short range and cannot go through even one brick wall. Meaning it has a limited range indoors. Thereby making the TP-Link ideal for only a few niche applications.
The speed is incredible. Download speed is 898 Mbps that's double the AC WiFi. Nothing beats this technology in streaming 4K videos and moving large amounts of data between two points nearby.
Design and Features
The TP-Link AD7200 Wireless Tri-Bands is huge in physical size. It has an all-black color and measures 1.7 x 9 x 9 inches in height, width and depth. It features eight external antennas on its perimeters, and all can fold beautifully into the top when not being used.
On the front are nine LED indicators for Ethernet, power, internet connectivity, 2.4 GHz, 5GHz, 6GHz, WPS activity, and connectivity for the USB 3.0 ports. On the side of the indicators are buttons for Wi-Fi, WPS. and LED. On the rear are the four Ethernet ports, two USB 3.0 ports, WAN port, reset, and power buttons.
The hood contains a powerful 1.4 GHz dual-core processor, an internal antenna, the 802.11ac circuitry for communicating with the 2.4 and 5GHz bands, and 802.11ad circuitry for communicating on the 60 GHz band The 2.4 GHz band can achieve a theoretical rate of 800Mbps; the 5 GHz can max out at 1,733Mbps, whereas the 60GHz can reach a theoretical speed of 4,600Mbps.
The Talon AD7200 is designed to support the latest Wi-Fi technologies and includes beamforming where the router directs the signal to specific clients instead of over a broad spectrum. It also supports MU-MIMO where the router sends data to clients simultaneously unlike the regular sequential data transfer.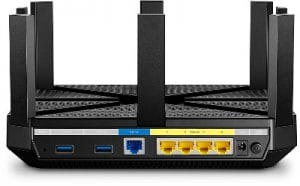 Initial setup of the Talon AD7200
The TP-Link AD7200  has the same user-friendly interface like the AC3150. When you start up, it opens a quick setup screen with two options, basic and advanced setup to get you up with both the internet and wireless settings. This tab opens a network map to help you set PPPoE, Static IP, Dynamic IP, and PPTP. It also guides you to set up the SSID and password for the wireless network and guest network. Set up the USB settings like print server and sharing access, and settings for parental control.
On the advanced settings menu, the status screen displays LAN, Wireless, Internet, and Guest network information. The submenu allows you to configure NAT forwarding, Advanced wireless settings, Advanced Network and Quality of Service, and adjust DHCP settings. The security menu offers access to Denial of Service, Access Control, SPI firewall and VPN server menu for creating OpenVPN server and generating certificates. A firmware update expected later this year will introduce the Smart Connect feature that lets the router automatically choose the band depending on network traffic load.
You can also skip all these and jump straight into the menu. This has nothing out of the ordinary and also shows no glaring omissions. Making changes to the Wi-Fi settings at times don't work or take some time to follow through. Setting the router is the easier part, finding the right device to connect it to at this time could be the challenge. There are very few devices in the market that are equipped with Ad Wi-Fi technology apart from another AD Wi-Fi router. This can help in sharing internet across alleyways where walls have come in between you and the router
Installation and Performance
The TP-link​​​​ AD7200 is easy to install. Once you plug it and connect to your desktop using the provided Ethernet cable, enter tplinkwifi.net or 192.168.0.1 in the browser address bar and use the above quick setup to configure your wireless and internet settings.
Test the 60 GHz performance of this router with a laptop equipped with an 802.11ai Wi-Fi adapter. This will deliver enormous speeds and within the same room, it can achieve more than ten times the rate of a router operating on a 2.4GHz and double the speed of the 5GHz signal. It can achieve an average of 226 Mbps when connected to three MU-MIMO clients. When tested at a distance of 30 feet, the AD7200 on three MU-MIMO connections delivers an average speed of 113 Mbps.
On the 5 GH2 band, the Talon AD720 delivers 440 Mbps speeds in close proximity and 237Mbps at 30 feet. When tested on the 2.4 GHz band, the router manages 98.9Mbps at close proximity and 79.8Mbps at 30 feet.
The file transfer speeds using the USB to a desktop connected directly to the router reaches a speed of 56.8Mbps, faster than most of the routers in the market. Its write speed of 27.9Mbps is significantly lower but is still very fast and comfortable to use.
---
TP-Link AD7200 Wireless Tri-Band Router Specs
General Specs
| | |
| --- | --- |
| Interface | 4 10/100/1000Mbps LAN Ports1 10/100/1000Mbps WAN Port2 USB 3.0 Ports |
| Button | Wireless On/Off ButtonPower On/off ButtonLED On/off ButtonWPS ButtonReset Button |
| Antenna | 8 external antennas, 1 internal antenna |
| External Power Supply | 12V/4.2A |
| Dimensions ( W x D x H ) | 9 X 9 X 1.7 in. (230 X 230 X 43mm) |
WIRELESS FEATURES
Wireless Standards
IEEE 802.11ad 60GHzIEEE 802.11ac/n/a 5GHzIEEE 802.11b/g/n 2.4GHz
Frequency
60GHz, 2.4GHz and 5GHz Band1/Band4
Signal Rate
60GHz: Up to 4600Mbps5GHz: Up to 1733Mbps2.4GHz: Up to 800Mbps
Reception Sensitivity
5GHz:11a 6Mbps: -94dBm11a 54Mbps: -76dBm"11ac VHT20_MCS0: -93dBm 11ac VHT20_MCS8:-69dBm11ac VHT40_MCS0: -90dBm 11ac VHT40_MCS9: -64dBm11ac VHT80_MCS0: -87dBm 11ac VHT80_MCS9: -61dBm"2.4GHz:11g 6Mbps: -95dBm11g 54Mbps: -78dBm"11n HT20_MCS0: -95dBm 11n HT20_MCS7: -75dBm11n HT20_MCS8: -70dBm 11n HT40_MCS0: -92dBm11n HT40_MCS7: -72dBm 11n HT40_MCS9: -66dBm"
Wireless Functions
Enable/Disable Wireless Radio, WMM, Wireless Statistics
Wireless Security
64/128-bit WEP, WPA/WPA2, WPA-PSK/WPA2-PSK encryption
Transmission Power
CE:<20dBm(2.4GHz)<23dBm(5GHz)FCC:<30dBm24dBm EIRP (60GHz)
Guest Network
2.4GHz guest network ×15GHz guest network ×1
System Requirements
Microsoft Windows 98SE, NT
2000, XP, Vista™ or Windows 7
Windows 8/8.1/10, MAC OS
NetWare
UNIX or Linux
Package Content
Talon AD7200 Multi-Band Wi-Fi Router
Power supply unit
Ethernet Cable
Quick Installation Guide
---
TP-Link AD7200 Wireless Tri-Band Router 
Pros and Cons
Pros
Very fast Wi-Fi AD
For a open room application the speed of this router would be a good choice.
Many extra features
WiFi AC and Wifi N has Good performance
Cons
No Wi-Fi AD clients 
Kind off Bulky and pricey
No "Smart Connect"
Conclusion:
The TP-Link A​​​​D7200 router ushers in the new era in Wireless networking with a multi-band design that utilizes the latest 802.11ad standards. It works with a compatible device with the 802.11ad architecture which will take advantage of the very high-speed protocol. This is the fastest connection when moving large amounts of data and video between devices that are nearby and in the same room.
 Apart from the 60 GHz fast throughput speeds, the router delivers fast MU-MIMO data transfers that surpass all the competitors. Its excellent transfer rates on all the three bands, 2.4 GHz, 5 GHz, and 60 GHz makes the router one of a kind.
A good router will make it easier to cut cable. Learn more about streaming media.