In this VHS to DVD converter guide, we will take a look at how to save your old memories before it is too late. Do you have an old collection of VHS tapes with a lifetime of memories on them? Your wedding video, when your child was born, that tape of grandma when she was still with us?
The unfortunate reality is those memories will not last forever. Most VHS tapes begin to degrade after only five years. Imagine the quality after 30 or more years. With improper storage conditions, if you live by the ocean the salt air is a real killer.
The picture quality of a video will deteriorate over the years, but one of the main problems is with time the tape itself gets brittle and simple playing it once can sometimes tear and damage the VHS tape beyond repair.
How to convert VHS to DVD yourself
It is a good idea to convert VHS to DVD before it is too late.
If you're thinking of converting your recorded old movies and episodes of your favorite old TV program it is probably, not worth it, first became it is technically illegal to produce copies of commercial films and copyrighted content, plus they have reissued most old films and TV shows that can be pick up very inexpensively.
They are better quality and can be viewed on a number of streaming services available for free or next to nothing. Old VHS tapes, unlike LPs, do not appreciate in value. Here is are the best VHS to digital converter methods to convert all your old tapes.
Four different methods to convert VHS to DVD
1. VHS to a hard drive on a computer using analog to digital adapter
2. VHS player to DVD recorder
3. Using a Direct VHS/DVD Combo Player
4. Using A VHS to DVD conversion service
---
VHS to DVD Converter Guide
1. VHS to a hard drive on a computer using analog to digital adapter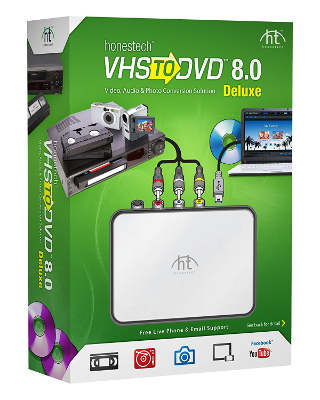 ---
2. VHS player to DVD recorder
VHS to DVD converter guide. There are a few ways to convert VHS to DVD. The first and most inexpensive is to simply buy an adapter and plug into a computer and your old VHS and start recording.
Another great all in one product to use if you already have a VHS player Vidbox VHS to DVD Deluxe is a great all in one kit
But be cautioned an old VHS machine that may not be running properly may damage your tape beyond repair. Be sure to give the playback heads on your VHS a good cleaning before you start converting.
Try the old VHS machine out with a test tape to see how it runs before putting in the important tapes. Some older neglect machine may simply eat up the tape and ruin it forever.
---
3. Using a Direct VHS/DVD Combo Player
Caution! An old VHS machine that may not be running properly may damage your tape beyond repair.
---
If you have a lot of tapes to convert and are concerned with the quality then you may want to purchase a new DVD/VHS Recorder. A good one is the Toshiba DVR620 DVD/VHS Recorder and follow our VHS to DVD converter guide.
You will also need a reasonably recent PC, hopefully not slower than 500 Mhz with a decent amount of memory. Your results may vary depending on your setup.
An S-video or RCA composite cable is required to connect the VCR to your video card, and a converter from a dual or single RCA Left/Right audio cable to a single mini stereo jack is required to hook the VCR up to your sound card for audio capture.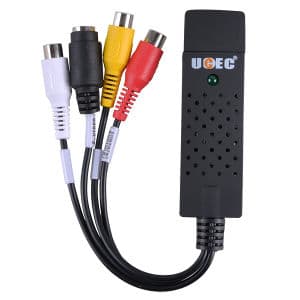 Lastly, you'll need quite a bit of hard disk space, depending on how many videos you want to capture. We recommend at least 40-80GB of free space, though you can obviously experiment with less. For extra safety burn your videos to DVD and also use an additional external hard drive for additional storage. If and when the old computer crashes.
---
VHS to DVD converter guide four steps.
First step: Connect your VHS to your computer using the cables provided with the software that you selected. Be sure to match up the colors on the back of the VHS because most often the front connectors are inputs, not outputs. You want to be sending your signal out to your recorder or Computer.
Second Step: Follow along with the software setup on your computer. At this point, Press play on you VHS and start recording.
Third Step: Stop the recording software at the end of the tape then stop the VHS.
Fourth Step: You can now edit and easily transfer your recordings now in a digital format. You can burn them to DVD or transfer to a hard drive.
Note: If you are planning on burning to disk for family and friends. I recommend you buy normal quality DVD disks because buying Blu-ray disks are more expensive and the poor quality of the original VHS makes it pointless.
VHS to DVD converter guide do it yourself method is a great option but can be very time consuming because you are recording in real-time. 1 hour of converting takes 1 hour of real-time. No loading in 60 seconds.
So if you have 100 hours of tapes it will take you 100 plus hours to convert. But if you have the right attitude and patience you can do a little bit at a time. Then sit down and watch the memories.
Transferring Film and Other older formats
If your family memories are preserved on film rather than on videotape, you'll need a little extra equipment getting them into a digital format.
One low-budget option is to project the movies onto a wall or screen and use a tripod-mounted video camera to record the image as the movie plays. However, the quality of the film footage suffers from severe flickering and poor color balance.
---
4. Using A VHS to DVD conversion service
If you don't have the time or equipment or have a mix of older formats there is another easier option available. Digital Memory Media VHS to Digital conversion services is a great choice.
The best way to transfer film is to send it to a professional transfer service, which can more accurately preserve the color and picture quality of your footage. Most services will clean and condition your old film before transferring it, to restore as much of its original beauty as possible. Some companies even offer transfer services for obsolete video formats, such as Betamax.
The easiest way to digitize home movies & photos is to use a converting service.
Step #1
Gather all your:
8mm
Super 8
16mm
Betamax
VHS-C
8mm/Hi8
MiniDV
Photo Prints
Slides
Negatives
Step #2
Place in a Memory box and ship to Digital Memory Media
They will scan and convert all your photos and VHS
Perform a number of quality checks, optimize quality and edit pictures
Create digital copies that can now be easily organized and transferred via the cloud or burned to a DVD
Send back the originals and now your memories are digitally formatted.
With added on Cloud service you can easily share your memory's via email or social media like Facebook and more. Easily edit your videos on a computer with one of the many digital editors available. Turn your family movies into something special. With your videos and photos now labeled and sorted you can now easily find and share your memories
Included with All Orders:
Manual Scanning Work
Digital Optimization
CD/DVD Copy of Images
Complete Tracking Insight
Helpful Customer Service
Articles that will help you learn more about streaming media