So, are electric bikes actually worth it?
E-bikes have been around for some time now, with the technology that drives them increasing in efficiency with each and every year. The latest e-bikes to hit shelves come to market with an array of quality characteristics that include; better efficiency, greater value, and an ease of use that accommodates almost any age/fitness group. 
Over the years, the e-bike has become much more environmentally friendly, leading many people to believe that the e-bike could be the future of daily commuting. It will not only free up roadways and general congestion, but it'll also lessen the overall strain that we put on the ozone from emissions.
Speaking of daily commutes, this is probably the number one reason why people are turning towards e-bikes for shorter journeys. Almost every e-bike offers benefits to riders, especially when it comes to quicker, more efficient commuting. The e-bike not only provides the freedom to bypass inconveniences of congestion, but it'll also save you money in the long run – thanks to reduced fuel bills and other expenses.  
So, to answer the big question on most people's lips (are e-bikes really worth it?), you'd have to say yes, absolutely! Whilst they can be a little impractical – it rains a lot in the UK – the pros far outweigh the cons for me, especially if you're the kind of person that takes a stance on environmental safety. Furthermore, when you consider the money you could potentially save, and the lower pricing that comes with the latest e-bike offerings, you'd be hard-pressed to disagree with the value they bring to the table. You can also check out my guide full of e bike facts if you want to learn more about the specifics of these awesome incentions. 
Will you still be getting exercise compared to a regular bike?
Making the big swap from a regular bike to an e-bike also comes with a whole host of considerations. For example, many regular bike users feel making the switch to an e-bike will reduce the amount of exercise they receive – not completely accurate. 
Because many of today's e-bikes are hybrid (allow users to pedal and use electric energy simultaneously), the rider can still get plenty of exercise if they feel the need to. Whilst this probably isn't as efficient as exercising on a normal road bike, you can still get up quite the sweat by pedalling the much heavier e-bike. Let me explain…
A standard e-bike motor might offer assistance levels that span 50%,100%, or 250%, meaning; if you were to produce 100w when pedalling at your everyday pace, the e-bike would provide either 50W, 100W, or 250W of additional power – depending on the e-bike. 
You've also got to take commute distance into consideration as well. When making the switch to an e-bike, most users find that the distances their riding naturally increases. So, whilst you might not be putting the same energy into the pedalling, you'll probably be riding for much longer – giving you the additional calorie burn that you so desire. 
So, the bottom line is this… Whilst the e-bike definitely takes some of the load away from your everyday pedalling, it doesn't completely remove exercise out of the equation. You can still burn a healthy amount of calories during your commute, effectively killing two birds with one stone – less environmental footprint and getting healthier. 
My favourite E-Bikes under $1000
1. Ancheer 350W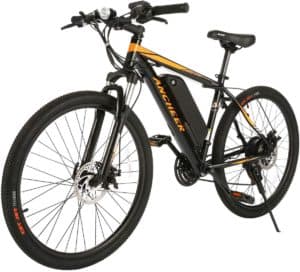 Our first is the Ancheer 350W electric mountain with 26inch wheel and removal battery. If you're looking for a well built, nicely priced e-bike that offers comfort and great performance, the Ancheer could be exactly what you're looking for.
The frame is constructed from Aviation grade aluminium alloy, offering a nicely-balanced mix of strength, responsiveness, and low weight. The design of the frame has been custom-designed to better suit the natural ergonomics of the human body, or so they say. Pair this with the dual disc brakes and the high-strength steel forks for a comfortable ride that ensures confidence in both built quality and longevity.
Taking a closer look at the power, this bike comes to the table offering the latest LG 36V 10.4Ah Lithium-ion battery, bringing an impressive 350W of stable power to the table. With this kind of power under the hood, you'll have all the juice you need to take long trips, mountainous hikes, and even speedy work commutes. 
This bike offers up 26inch mountain bike wheels which make control and stability a real plus for this particular e-bike. Furthermore, with a Shimano 21 speed derailleur, you'll be able to tailor your riding style to your exact needs. With a total weight of 24KG, this bike is considered a nicely balanced mix of strength and weight, offering easy manoeuvrability when you get to your place of storage.  
Overall, it's hard to knock this bike when it comes to overall value. Not only does it look good on the eye, but it also comes to shelves at a price point that we consider excellent value for money. 
Pros
Comes equipped with a powerful 350W motor that allows for mountainous trails and long journeys

The battery is fully removable, meaning when you want to charge it, you don't have to put the entire bike near the plug socket

High quality materials have been used throughout this bikes construction

Suitable for both road and mountain trails

Offers an easy to ride frame that almost anyone can adjust to

Carefully consider design that takes ergonomics and human mechanics into consideration

Lightweight design that is very easy to store

Offers up excellent value for money at the under $1,000 price range
Cons
Some users may find the 26inch wheels a little too intimidating

Whilst this bike is easy to store, it is on the larger side – meaning you'll need a decent sized space to store it

Replacing individual parts can be on the expensive side

Despite it's good value, this bike still falls into the higher end of the 'under $1,000' price bracket. 
2. Nakto 26″ City Electric Bike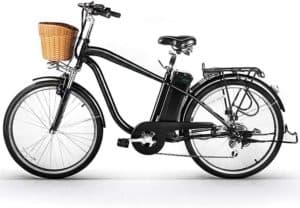 Next up we have the Nakto 26" City Electric Bike for men, bringing great build quality, value, and a vintage aesthetic to the table that is bang on trend right now. Furthermore, with a tonne of features to make your life that much easier, including a removable 36V 10A battery, we feel the Nakto E-bike offers superb value for money. 
Taking a closer look at the design, you'd have to say, this is a fairly bespoke look that will likely only suit some individuals. That being said, if you're looking for a bike that comes with a vintage aesthetic, this bike certainly offers some of the nicest stylings out there. It looks like it's been lifted right out of the 60s or 70s, yet it comes equipped with some of the latest technology when it comes to efficient commuting. 
Before we look at the technical aspects of this bike, I just want to say how well built this bike actually is. It has been constructed from durable materials, including high-strength carbon steel forks, and has a fully adjustable seat – allowing you to find the perfect riding position. Everything about this bike seems to have been designed to make your life a little easier – and we appreciate that. 
Looking at the motor, the Nakto 26" City Electric bike comes with a fully removable 36V, 10AH lithium battery that is good for 30-45 km – with pedal assistance. With a high performance six-speed shifting system, this e=bike can easily brush past 20-26 MPH at top speed. That'll make morning commutes and adventurous hilly rides an absolute joy. 
Pros
A vintage design that is right on trend (at time of writing this)

Excellent build quality and construction, giving you the confidence that this e-bike will stand the test of time

A fully removable battery that makes recharging a whole lot more versatile

Comes equipped with a nice basket that is large enough to hold a good amount of items

A very nicely priced e-bike that we class as extremely good value for money

Comes with a 1 year warranty for parts and accessories of the e-bike

Very comfortable riding position that will suit most users
Cons
The design of this e-bike is certainly something that could split the market, meaning many will not like it

Whilst top speed is more than enough for most scenarios, this bike is a little slower than some alternatives

Some of the accessories can be a little hard to remove and/or replace
3. Hicient 26″ E Bike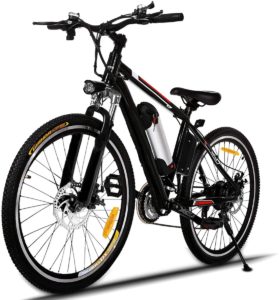 The Hicient Electric Bike is right up there as far as best e-bikes for under $1,000 goes. It comes equipped with a sporty design and excellent features that make this bike one of the best value picks in this guide. 
Thanks to the incredible versatile and capable frame that the Hicient e-bike has been designed with, there is truly no off-season for people looking to purchase it. With good sized wheels and a frame that suits most conditions, you won't be stopped by weather or terrain. This thing really does keep going no matter what. 
Looking at aesthetics, Hicient have opted for a look that is certainly on the sporty side. It brings that mountain bike styling to the table that, let's be honest, will never go out of fashion. The battery that comes equipped with this e-bike is a 26V 250W high-speed brushless motor, allowing you to climb more demanding terrains and reach greater speeds than other e-bikes in this guide. That being said, with a 21-speed gear system, you'll be able to cruise along at a much more leisurely pace if that's more your speed.
Again, the Hicient electric bike offers a fully removable battery, making your life that much easier when it comes to recharging the battery. With fully aluminium alloy wheels that measure in at 26", the Hicient e-bike is a great all-rounder that offers great stability and comfort. Overall, if you're looking for an e-bike that does it all, we can't think of a better choice than the Hicient 26" e-bike. 
Pros
A fantastic and versatile design that won't go out of fashion any time soon

Comes with a sturdy yet easy-to-remove battery that gives you additional flexibility when it comes to charging this e-bike

Fantastic build quality that gives you the confidence to take more demanding terrains

Comfortable and stable, even when hitting this bike's top speed

Comes with a kickstand that makes storing this bike a whole lot easier

Once you pair the battery, build quality, and features of this bike together, it shows some of the best value out there when it comes to the under $1,000 price range
Cons
The aesthetics of this e-bike are most certainly on the sporty side

Battery life is a little less than other bikes in this guide – only providing 22-28KM

Can be considered a little heavy for some individuals

Whilst frame is described as unisex, this bike is probably better suited towards men

4. Swagtron EB-5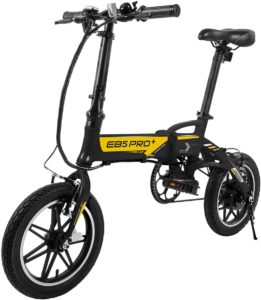 Up next is the first of two folding e-bikes that will feature in this guide – the Swagtron EB5 Pro. This compact and versatile e-bike ticks a lot of the right boxes – especially if you want a bike that's easy to travel with. It comes to the table at a very affordable price tag which sees it undercut many of the other options in this guide. And at £499, it might also be one of the best in terms of value. 
This nicely designed bike is perfect for city commuters that want a easy to store e-bike that doesn't take all day to charge. With a top speed of 15.5MPH, it might not be the fastest bike in the world, but it's certainly enough to power most day-to-day commuters and leisurely users.
The Design of this bike is a little on the funky side, especially with its low-lying frame that doubles as a battery cover. That being said, it's an aesthetic that is certainly growing with this bike's popularity. Despite the Swatron's small battery, you still have up to 15.5 miles of distance on a single charge. Whilst this is on the lower side, it's still pretty impressive considering the size of this bike. 
Probably the main pro, for me personally, is the size and the foldability of this e-bike. Whilst it won't suit everyones needs, it is an excellent city bike that not only helps reduce our carbon footprint, but also helps declutter roads and overall congestion
Pros
A nice compact design that is easy to store and carry on a day to day basis

Despite the battery only being small, it still gives you a max speed of 15.5mph – not terrible

Users are treated to a 15.5mile travel distance, perfect for small trips to the shop or the city centre

Battery is small and can be charged in pretty quick time

Accessories aren't the most expensive if something does malfunction

When looking at this bike from a larger perspective, you have to say it has some of the best value for money in this guide
Cons
Top speed is a little on the slow side, especially when comparing it to some bikes in this guide

Travel distance is also less than others in this guide

Design can be considered a little uncomfortable for some individuals

Small wheels do make stability and control a little harder – especially when taking this e-bike on rough terrains

5. XPRIT Folding Electric Bike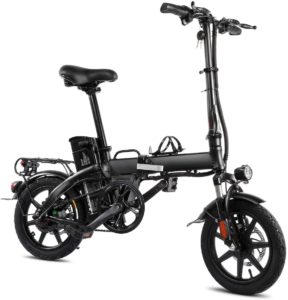 Last up, we have the XPRIT folding e-bike – the second of its kind in this guide. For me, the XPRIT folding e-bike might be one of the coolest looking bikes in this guide, bringing a premium look to the table that others can't match. 
This 14" foldable electric bike is built for effortless travel. Whether you're looking for a bike that's going to make your commute to the shop or city centre easier, this bike does it with style and comfort in mind.
The XPRIT offers you plenty of functionality and versatility, allowing you to choose the way you ride via a hybrid cycling mode (pedal assist or full throttle control). Getting to and from your destination in rapid fashion couldn't be easier thanks to the 15MPH top speed this bike comes equipped with. With a travel distance of 19 to 25 miles per charge, this e-bike certainly makes others in this guide look a little sluggish.
The battery is compact and fully removable, allowing users to unhook the battery for easier recharging when needed. That being said, this bike is so small, you wouldn't struggle taking the bike into the house and charging as a full unit. All parts of this bike feel extremely well-made and have been designed using robust materials. The lightweight frame of the XPIRT is one of the stand out features for me – especially when you consider the folding/carrying aspect of its design.
Overall, this bike ticks a lot of the right boxes. If you're in the market for a small, foldable electric bike that gives you a decent speed and travel distance, look no further. 
Pros
Small, compact, and robust design that is extremely easy to carry and store

Whilst this bike is on the small side, it still offers an aesthetic that is head and shoulders above others in this guide

Very effective braking system

Fully removable battery than makes recharging this e-bike very functional

Comfortable riding experience, even when at top speed

A hybrid riding motor which allows pedal assisted riding – great for exercise – or a throttle only mode

Lightweight design that makes carrying this folding e-bike much easier
Cons
Top speed is a little on the low side, especially when you compare it to other options in this guide

Whilst the design is nice, it certainly wont be for all individuals

Small wheel design makes riding this bike on tougher terrain a little more testing

At £700, this e-bike is probably considered a little too pricey for some individuals
Conclusion
If you are going to take anything from this guide, it's that you don't have to spend a fortune in order to get your hands on an e bike that you can rely on.
Rather than looking at price, thing about exactly what you want from this specific type of bike, and purchase accordingly.
If you enjoyed this guide, you'll also love the breakdown of the best accessories for e bikes.