So you have yourself a new E-bike and you are at the stage where you would like to add a few extra accessories to your Electric bike. Here is a list of cool bike accessories that you can buy for yourself. This list will also give you great gift ideas if you have an E-bike rider or cyclist in your life. Gadgets for E-bikes.
Gadgets for E-bikes
Many E bike accessories on this list cost around $100 or less and can be installed in minutes with simple tools. Here are my Ultimate Accessories for an electric bike.
---
Ultimate E Bike Accessories
---
1. Cycle Satiator Programmable Charger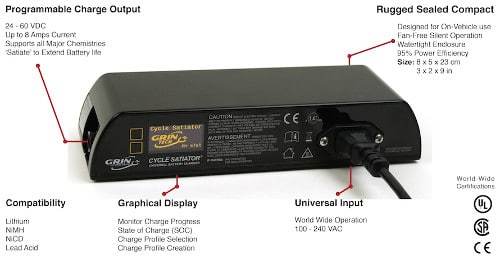 When you buy a new electric bike they all come with a basic charger. The charger that comes with the bike is battery specific and can only be used on a battery with matching amps and wattage specs. This is why if you have a few E-bikes it is a good idea to label each charger to match the bike it is to be used with. Using an improper charger on a battery will simply not charge or worse damage the battery.
If you are familiar with proper battery care and on how to get the most out of your battery, you know that charging a battery to only 80 to 90% will increase the overall life cycles of a battery. See my full post Care and Maintenance of an E-bike Battery.
The Cycle Satiator can perform a quick charge on a battery. This reduces the time it takes to charge a battery. This can be handy if you have only a little time to recharge or when you are out on longer rides. Keep in mind quick charging may get you on the road faster but quick charging reduces the overall life of your battery. 
The Cycle Satiator programmable battery charger is known as the Cadillac of battery chargers, not the cheapest priced at around $300. It is a versatile charge that can charge many different batteries. If you have a few e-bikes this battery charger is worth the money. See Amazon for the latest pricing.
---
2. Voltmeter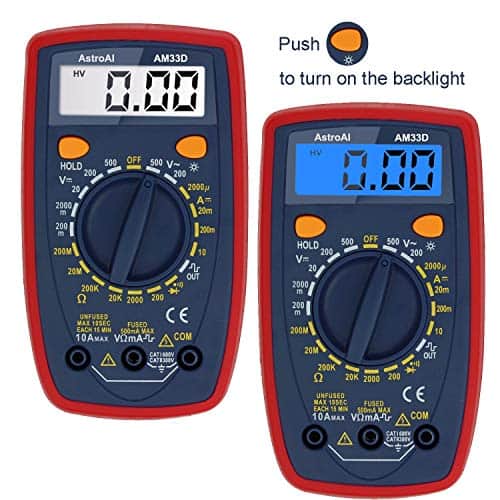 A voltmeter is definitely a handy item when you have an electric bike. A voltmeter can help you isolate an electrical problem by reading the voltage or current in a number of key areas.
You can spend a lot of money but there are many voltmeters available at Amazon for under $20 that will serve your basic needs. Some tips before you bring your bike to the bike shop.
---
3. Dot Approved Helmet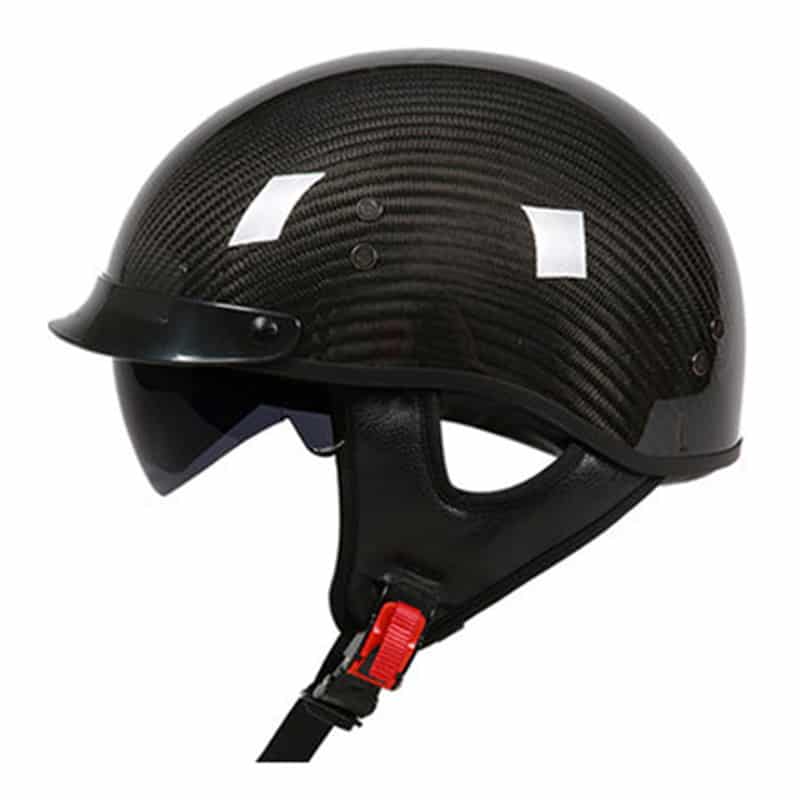 There are not that many rules when it comes to E-bikes. One rule that is a must is a Dot Approved Helmet.
What is a Dot Approved helmet? A Dot approved helmet is a minimum standard that all helmets sold for motorcycling on public streets must meet. The standard is Federal Motor Vehicle Safety Standard 218 (FMVSS 218) and is known commonly as the DOT helmet standard.
You may think you do not need a helmet but keep in mind you are going faster on an E-bike than a conventional bike and the chance for serious head injury is greater.
There are many different helmets to choose from ranging from $30 to $300 depending on your budget. See Amazon for their Dot Helmet selection.
---
4. Saddlebags/Pannier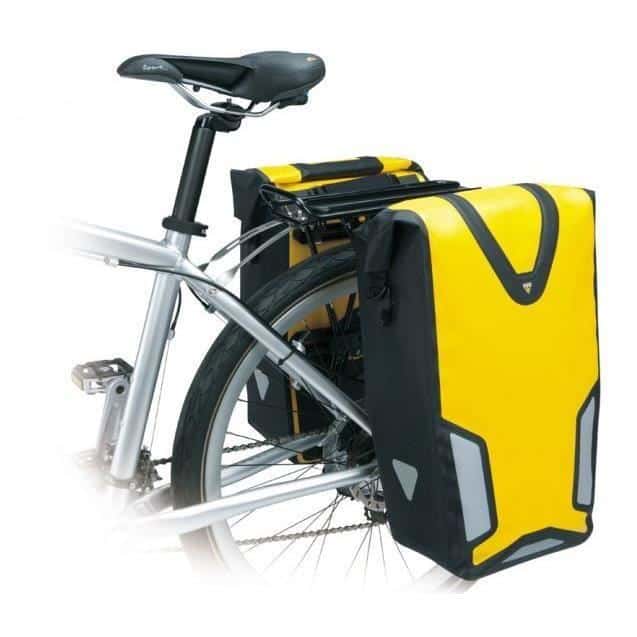 Carrying your stuff with you when riding a bike has always been a challenge. Saddlebags also know as pannier bags are an excellent accessory to add to your bike.
A saddlebag gives you a place to safely store your things. A small tool kit, waterproof clothing, a pair of gloves and locks to secure your bike when parking. The benefit of using saddle bags is the weight is distributed lower on the bike and this makes for better handling than being top-heavy.
Many saddlebags sold today are waterproof to keep your belonging dry and they often have quick-release fasteners to make it easier to remove from a bike. Prices start at about $30 and can go up to $150 for high-end pannier bags. Here are a few saddlebags available from Amazon.
---
5. Upgrade the Saddle
If you do a lot of riding inevitably you will get a sore bum on many seats that come with most E-bikes on the market. This seems to be a common complaint with new E-bike owners and is often the most popular upgrade to a new E-bike that many riders make.
There are high tech models available that ensure blood flow to all your vital places but a very popular seat that has been made in the same place in England for over 100 years, is the Brooks England B17 Bike Saddle.
Eltin also makes a good saddle that is very comfortable and reasonably priced. See Amazon for Pricing.
---
6. Suspension Seat Post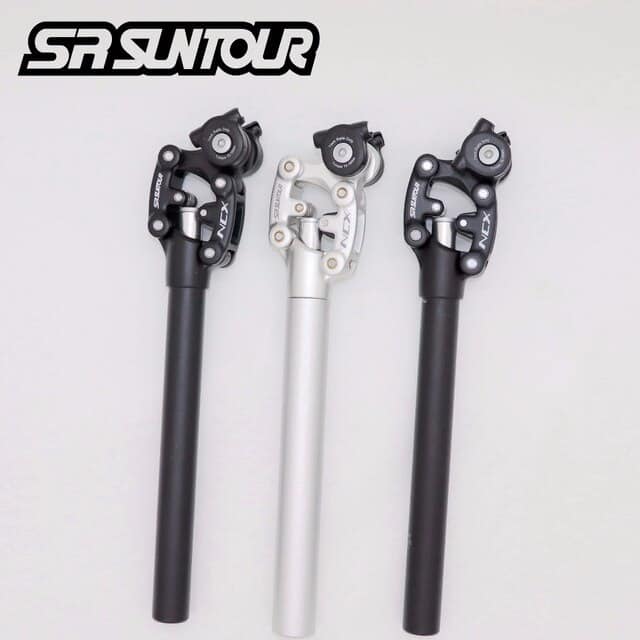 While I was doing research for this post one of the most popular suggestions for an accessory was a suspension seat post. This can add another degree of comfort for people with a sensitive derrière.
A suspension seat post is just that: a seat post with suspension built-in. This suspension absorbs road bumps and makes for a smoother ride.
A great addition to your bike if you have no rear suspension. Depending on where you ride and road conditions, adding a suspension seat post can make a big difference in the comfort of your ride.
A good quality seat post like the Suntour comes highly recommended and sells for around $100. See Amazon for the latest pricing.
Crane thud buster Seatpost from Amazon is also a very good quality suspension Seatpost.
---
7. Upgrade the Pedals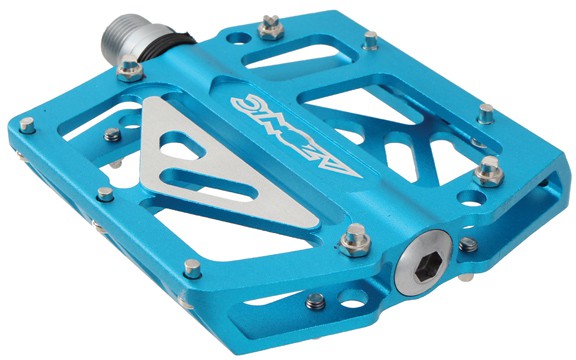 Depending on the type of riding you are doing, upgrading the peddles can be an easy and inexpensive upgrade
The Oneal Azonic 420 Pedals are a professional grade peddle that is super sticky on rubber souls. They have come highly recommended in a number of chat groups I am part of.
The Azonic 420 Pedals is a solid pedal that is a reasonable weight and price. Upgrading your peddles for around $100 dollars can make a nice difference to your E-bike. They come in a number of cool colors too.  
Other good quality pedals Available at Amazon
---
8. Good quality locks
A couple of good quality locks are a must if you have an E-bike. A combination of U-lock and chain lock are necessary to safely secure your bike and its parts. ( Battery, quick release tires seat and post ) See how to lock your bike up properly.
A good quality U-lock is a must-have to lock up your bike. Abus 540 is a strong U-lock that comes highly recommended available at Amazon.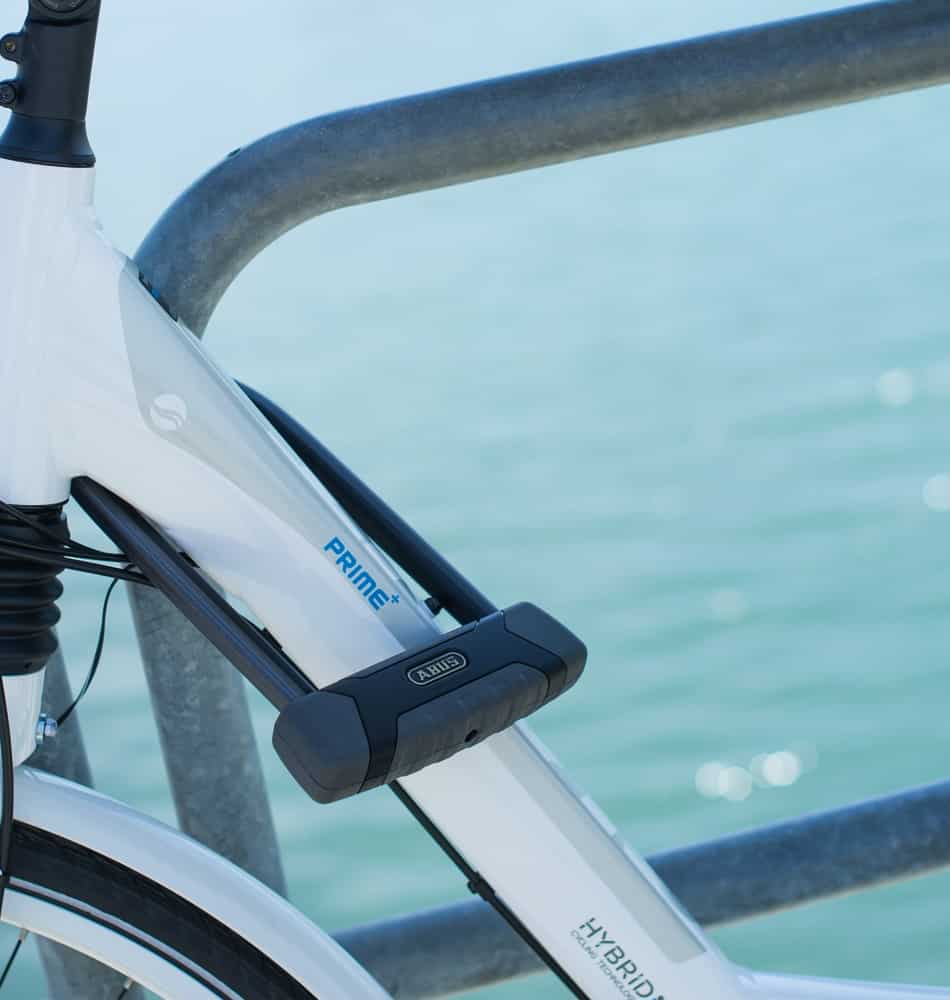 Locks that can be worn
There are a number of flexible locks on the market that can be worn and act as an additional reflector for added night safety.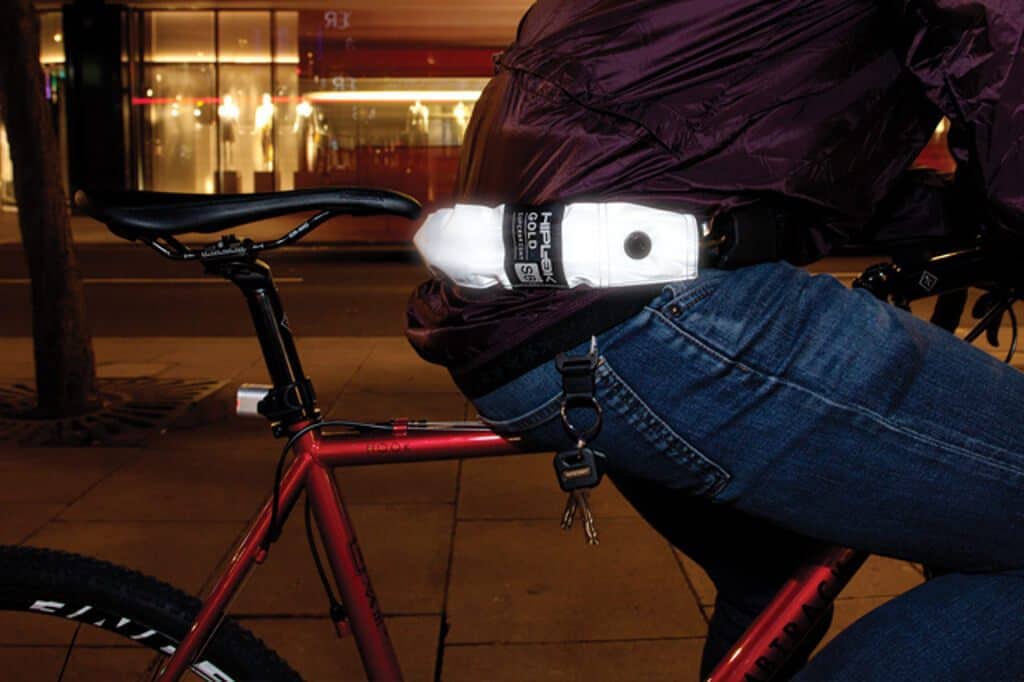 Hiplok gold is a strong lock that can be worn and has an additional reflector. This helps you be seen at night. It can be purchased at Amazon for around $130.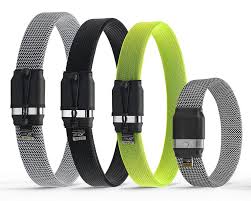 Litelock is the best lock that I have ever had. It is strong and extremely lightweight. You can even wear it as a belt instead of mounting it on your bike. It also has added reflectors. LITELOCK offers an insurance policy if you buy a bike lock from them. Coverage world wide. The Litelock can also be purchased from Amazon.
Some insurance companies will reduce your rate if you take a photo of your bike locked through a wheel to a static object.
Learn about insurance for your E-bike E-bike Insurance: What is the cost and what does it cover?
---
9. Small Portable Bluetooth Speaker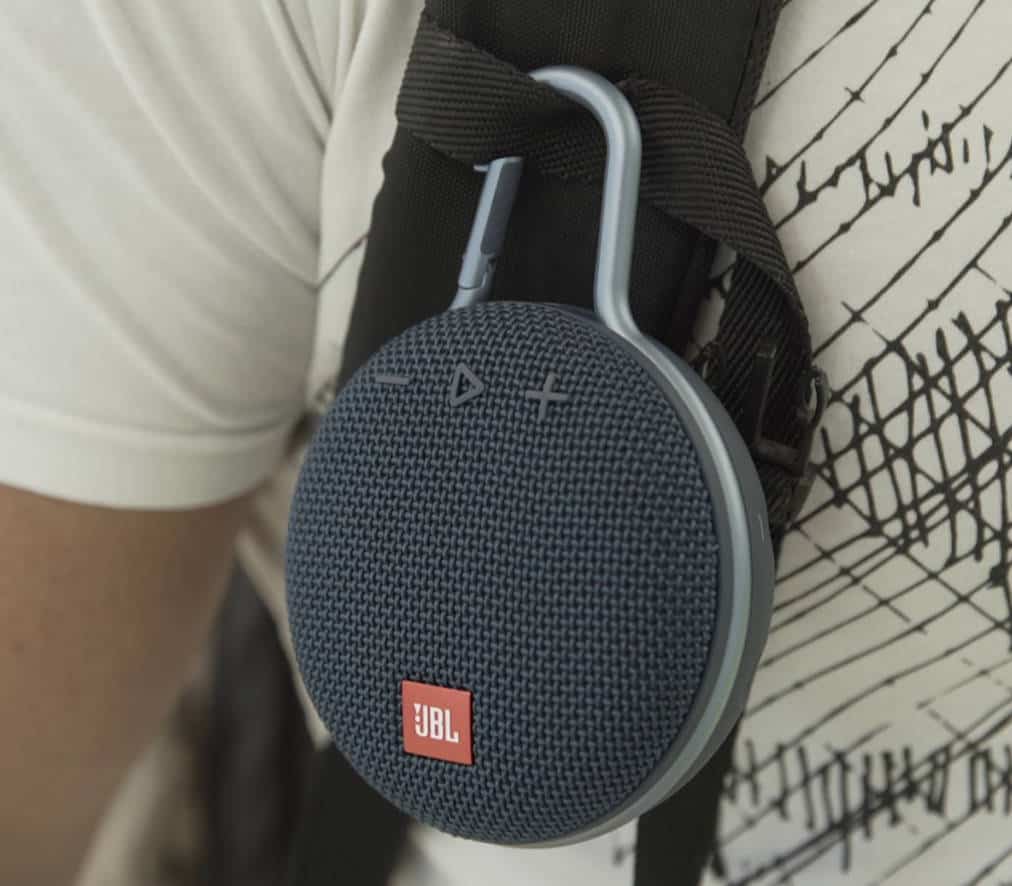 Wearing headphones when cycling is not the best idea. Hearing and being aware of what is going on around you is an important part of staying safe on a bike. Earbuds or over the ear headphones can completely block out exterior sounds.
There are a number of small waterproof speakers that can be latched on to the handlebars or your backpack. Here are a few small Bluetooth speakers that are available from Amazon that will work.
---
10. Hydraulic Disc Brakes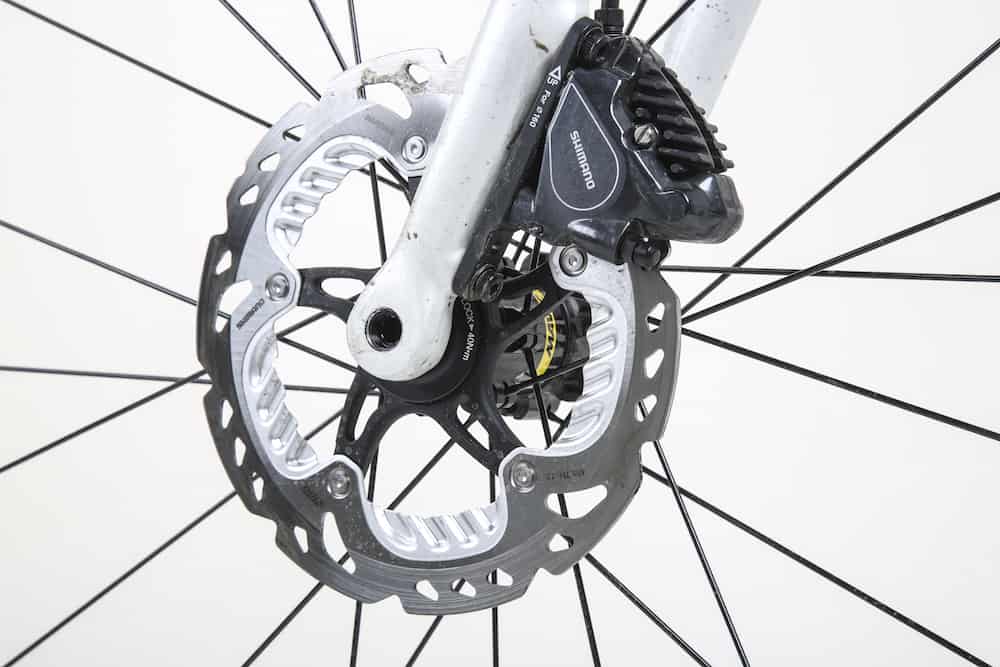 Disc brakes are becoming more common on most bikes sold today. Many E-bike manufacturers have been upgraded their brakes to disc brakes and some are further upgrading to hydraulic brakes.
The upgrade to hydraulic disc brakes can give you significantly better control with much fewer adjustments. Many purists that in the past resisted discs brakes on aesthetic principle have accepted their excellent stopping power, superior speed modulation, and better all-weather performance on all types of bikes.
Hydraulic disc breaks are also particularly well suited for E-bikes because of their increased weight and speed.
Upgrading to hydraulic disc breaks is a little more involved than many other e bike accessories upgrades on this list but is well worth it. Stick with a well know brands like Shimano or SRAM hydraulic brakes available at Amazon.
A good hydraulic disc brake kit like this one from Amazon is a must if you are going to do it yourself.
---
11. End Mirrors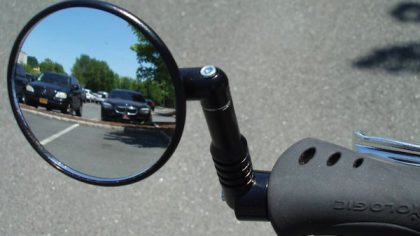 Having rearview mirrors are a great safety feature to have on your bike. A mirror helps you stay aware of what's coming up behind you.
There are a number of inexpensive end mirrors that are available that can easily be mounted on an E-bike. Here are two that are recommended. Available at Amazon.
---
12. Handle Grips
Many people that get new E-bikes and put on a few miles often complain about getting a numb hand from holding the handle grip. Especially if you have no front suspension and your forearms are acting as the absorber.
A new product on the market is a suspension grip. Revgrip makes an excellent pair that you can order directly from their website. The price is expensive for a pair of grips for your bike but they are suspension component and not just an ordinary grip.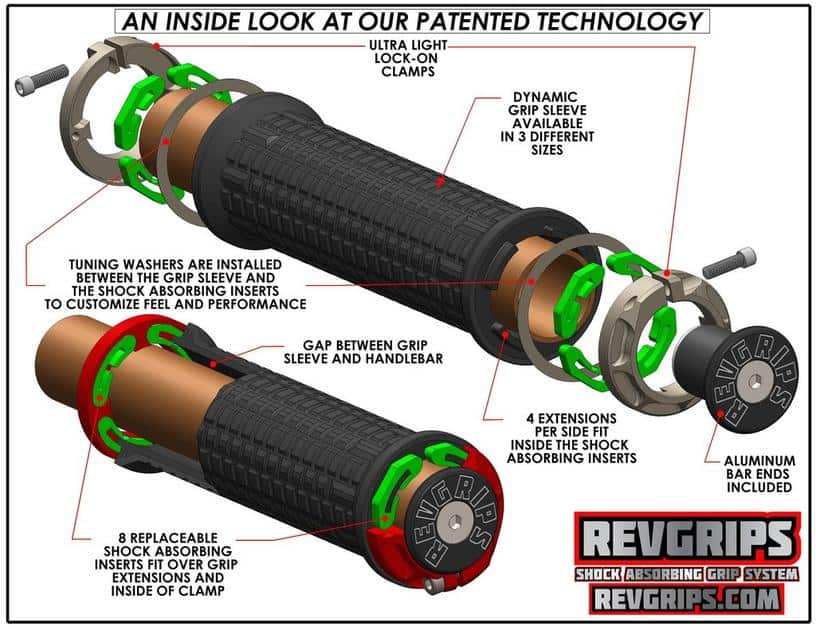 You can also find Ergonomic handle grips at Amazon for under $20.
---
13. Puncture-resistant tires and tubeless sealant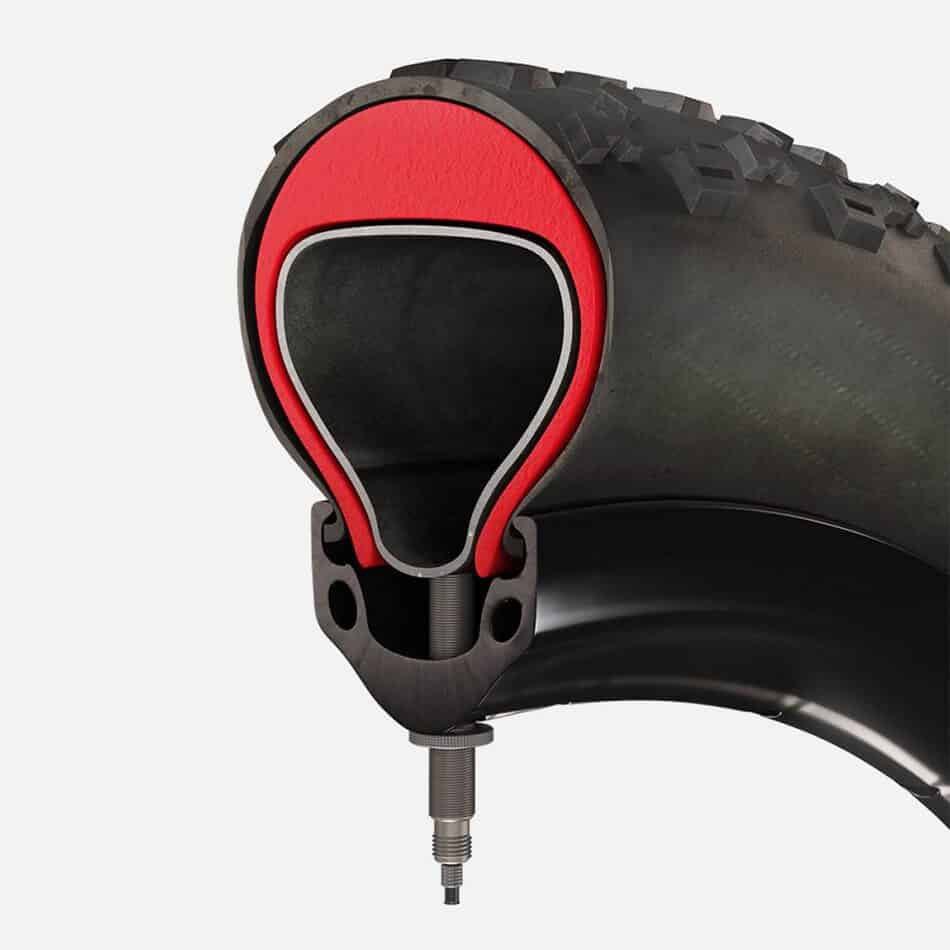 Having a flat can be a real bummer especially if you are out on the trails with limited tools. Fortunately, there are a number of puncture resistance products and tires on the market that many cycles today are using.
Here are a few puncture resistance products available at Amazon
---
14. Tire Inserts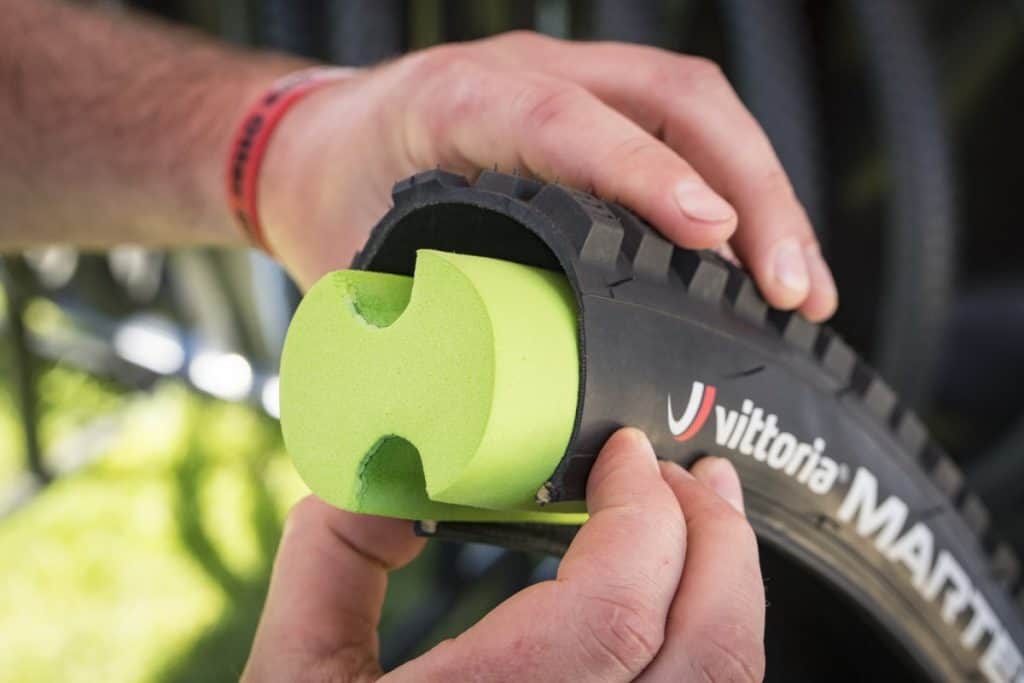 More options for reducing or eliminating flat tires are using tire inserts. Protects the rim, enhancing overall tire grip, and prevents punctures on the roughest trails. Two that are available from Amazon are:
---
15. Buddyrider dog seat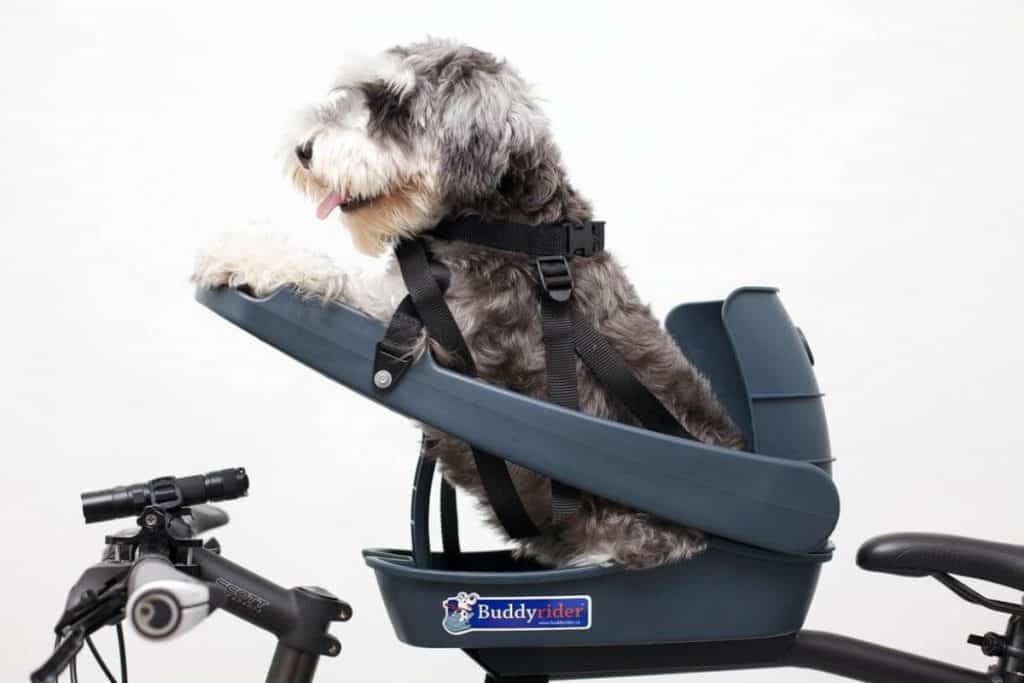 If you are a pet owner chances are you are going to want to take your pet with you on long bike rides. There are many pet bicycle basket on the market to choose from available at Amazon. The Buddyrider dog seat is a new product that can be purchased directly from their website Buddyrider.ca
---
16. Spare battery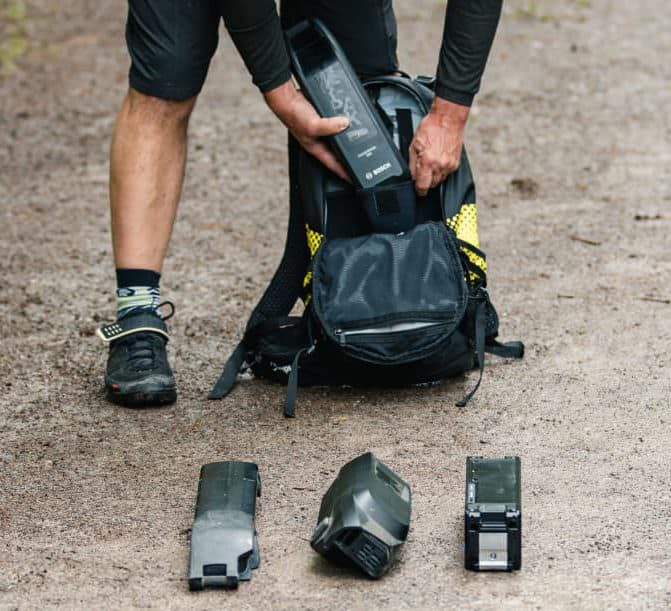 If you do a lot of riding or go out for long day trips a second battery can be a great addition. You can always have a fully charged battery waiting.
Also when winter riding where cold temperatures affect battery life, you can keep your extra battery in a warm place and switch batteries as needed.
If you don't want to purchase another battery here is a post "How to charge my e-bike battery when out for a long ride" that may help you and another post "How to care and maintain your E-bike battery" to help you get the most out of your battery.
---
17. Gear shift sensor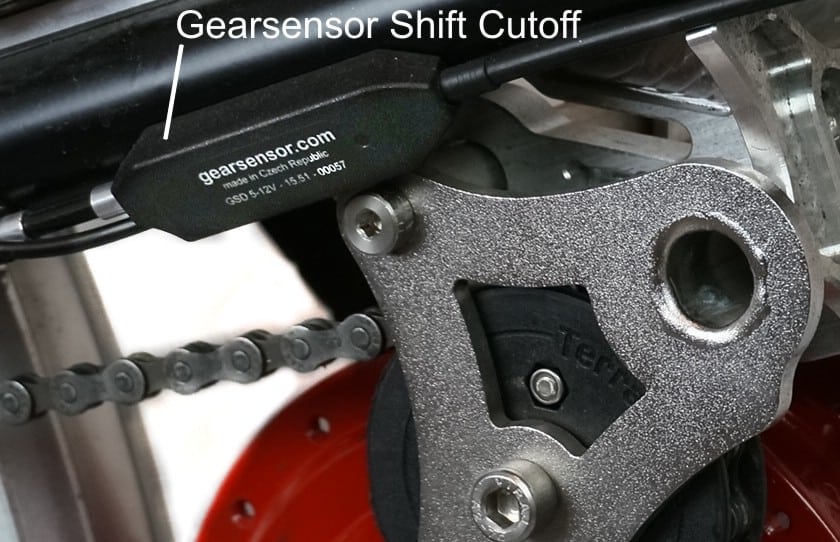 A shift sensor is a device that can detect the action when a rider shifted gear on an eBike. This device makes your gear shifting more fluid.
The gear shift sensor detects the motion of the cable when shifting, and cuts off the motor momentarily to allow for a smooth and stress-free shift. The alternative is to use the brake cut-off for a second while shifting.
A shift sensor will increase the lifespan of the chain, cassette & derailleur. It is important to have a shift sensor to cut the motor power as you shift the gear. The mid-drive motor does not know when you are shifting the chain hence the gear system will cut power during gear shifting.
The Bafang Electric Bike Gear Sensor is available at Amazon for under $30.
---
18. Suspension Banana Seat Kit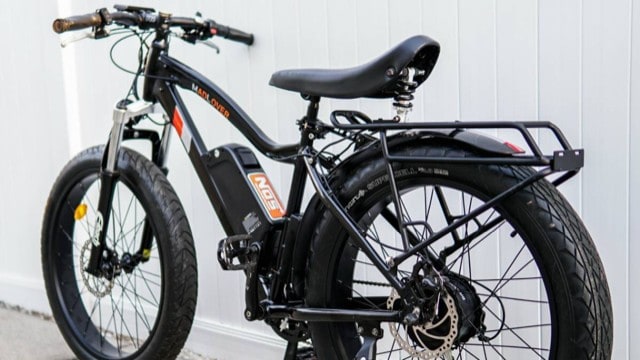 If you are a kid from the 60s and 70s you are probably already familiar with the banana seat. Well, they are back! New designs have added suspension to the seat to add another degree of shock absorption to your bike.
The long seat is comfortable and has added shocks. A Sissybar Banana Kit kit can be purchased at Bicycledesigner.com
---
19. New bright Front Light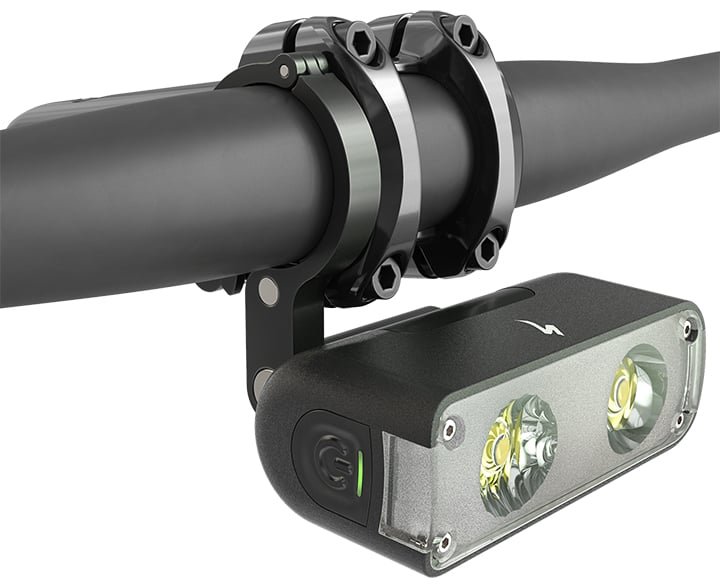 Summer is ending and the days are getting shorter and this means more night riding on your bike. See and be seen is the best rule of thumb.
Many E-bikes manufactures today are offering lights as standard equipment on their bikes. The lights that come with a new E-bike are ok but there are better lights on the market.
Most standard lights that come with many E-bikes are good lights for someone to see you but most lack in actually illuminating the road in front of you.
Priced a little over $100, Specialized Flux makes an excellent 900 and 1200 lumen lights that will really light up the trail. Also, Gemini Titan 4000 is another very bright bicycle light. Amazon also has a number of good light options for a little less money.
---
20. Race face bash guard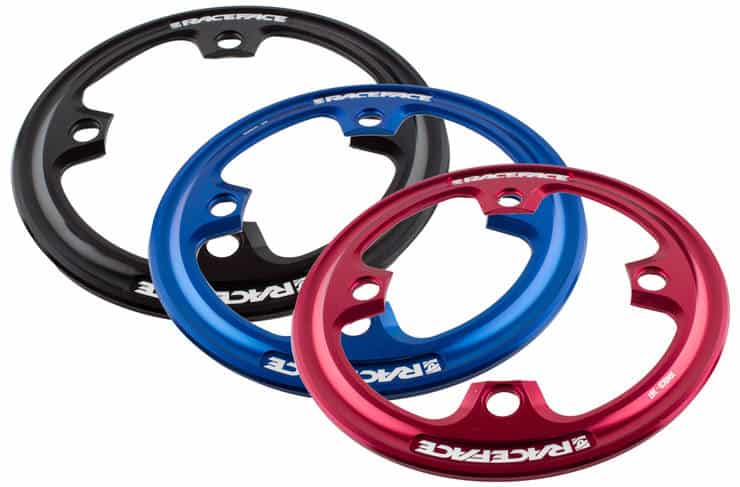 If you do a lot of trail riding in rough conditions the Race Face Bash Guard is what you need. Race Face bash guards are made to endure the toughest driving conditions. The Race Face Guard is made super durable.
They come in a number of different color options and are an easy install. Available at Amazon.
Race Face products are made to endure some of the most abusive riding conditions out there, made for riders who value function as well as fashion. Tested on North Vancouver's notorious 'Shore', you'll be safe in the knowledge that your Race Face gear can take on anything you throw at it.
---
21. Garmin Cycling/Bike GPS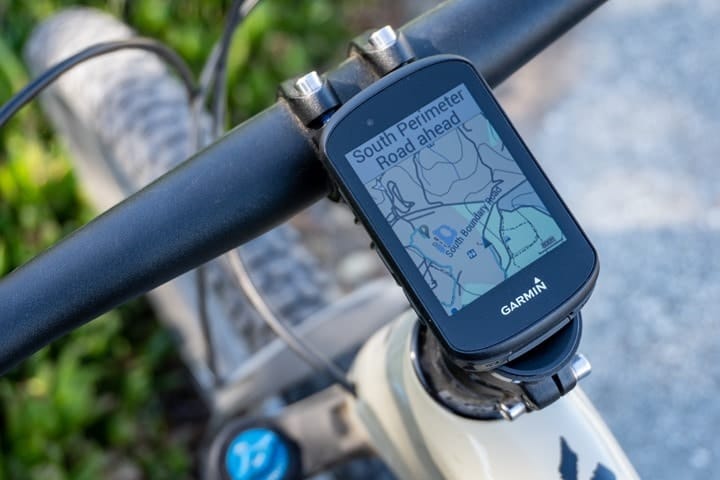 GPS is a nice luxury to have on a bike. You may already have a free app on your phone, but a designated GPS unit is a better option. Made more durable and waterproof a GPS unit can be easily mounted on your front handlebars.
The Garmin edge 530 GPS has cycling safety features that include new bike alarm, group messaging and tracking assistance. They are compatibility with Variant rearview radar and lights so you can see and be seen (when the device is paired with your compatible smartphone)
---
22. Swagman folding fat basket!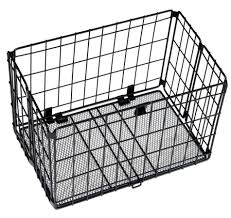 A collapsible basket is a great accessory to have for your bike. If you do not have pannier bags and only carry things home once in a while, a collapsible basket can be just the item you need to carry some stuff.
Folds up for easy storage when not in use. Swagman Fat Basket available from Amazon for under $20
---
23. Rehook 
Get your chain back on your bike – Without the mess! 
Have you ever been on your way to work and your chain fell off? Now you have to put your chain back on and have greasy dirty hands. For Linking Chains to Gears – Easy, Fast, Mess-Free.
The Rehook is a new inexpensive device that has just been invented and recently introduced on Shark Tank. The Rehook is a device that will easily and quickly help you put the chain back on your bike without getting your hands dirty. The Rehook is small portable and priced under $20. Available at Amazon.
---
24. Nyon onboard computer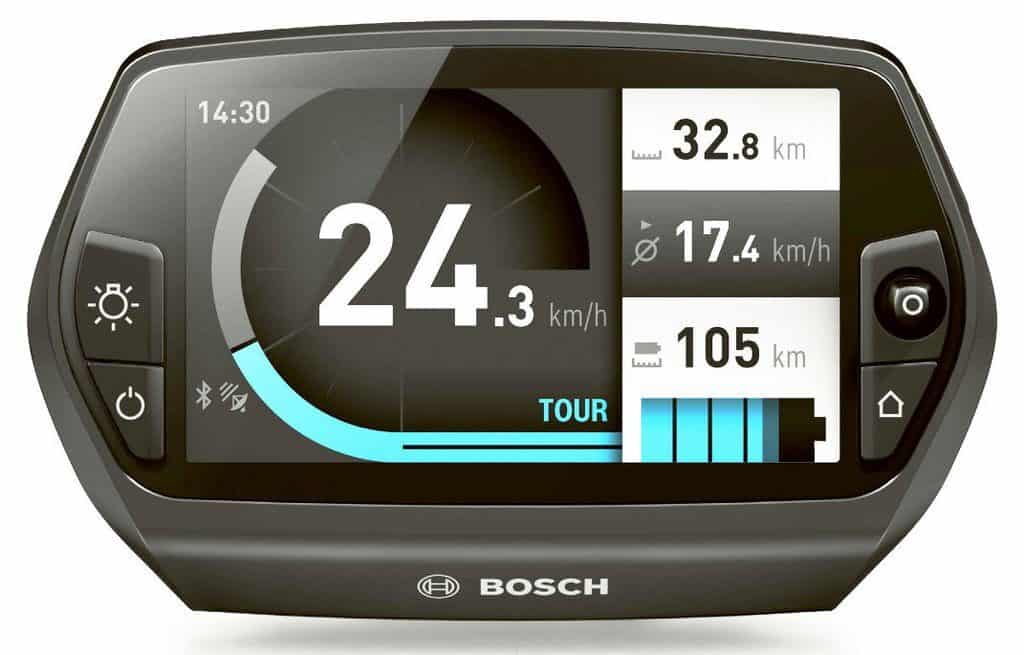 The Nyon onboard computer by Bosch is a next level onboard computer for your E-bike.
This device will help you analyze past trips and plan future trips. Planned trips can be transmitted directly to the Nyon
All in one onboard computer for your Electric bike. Shows all riding relevant information at a glance. Shows battery percentages vs just 5 bars like most displays. Some of the main screens information include ride distance and performance over time, elevation, and a GPS enabled map.
Nyon onboard computer. Available from Bosch
---
25. Bike Carrier Rack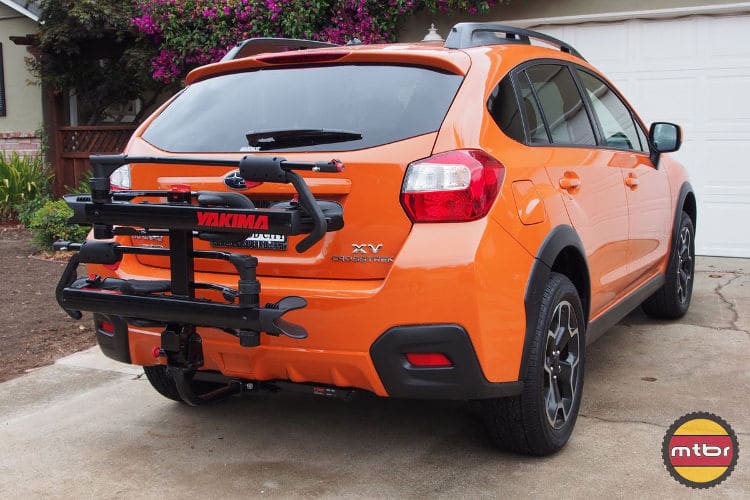 If you plan to go out a little further than just your neighbourhood you will need a Bike Carrier Rack. Simply mount the rack to the back of your car or SUV and load up the bikes.
Most bike carrier racks sold today are designed and rated for conventional bikes that weigh around 30 lbs or less. Most E-bikes weigh in at least 50 lbs and go up to close to 80 lbs.
Check out my post "Best Car Bike Rack Carrier for a Fat Tire E-bike"
---
26. Bike Cover for Outdoor Bicycle Storage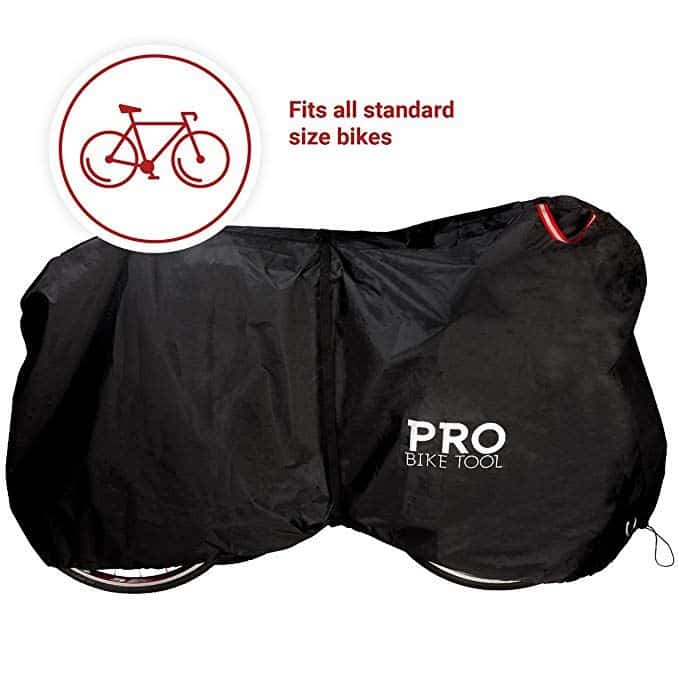 Fall is just around the corner and then, unfortunately, winter, and with the change in season comes more inclimate weather. If you have to store your E-bike outside, a good quality bike cover can protect your E-bike from rain snow and also help reduce theft.
Covering up your bike when you are transporting it with a bike rack is also a good idea. This Pro bike cover for outdoor bicycle storage comes recommended by many cyclists.
This Pro Bike cover is 'double stitching' & 'heat sealed' seams delivering Top-Class protection from adverse weather conditions – whether rain, snow, ice, wind, dust or sun! Includes high-quality drawstring bag for convenient storage. Fits all standard bikes. The Pro Bike Cover is available from Amazon.
Learn more about E-bikes