The E-bike journey I have been planned for next summer requires that I do some camping to help reduce cost and because I like camping. I spent two years in the 80's backpacking around Europe and the middle east staying in youth hostels and also camping. Since then there have been a number of advancements in camping gear.
The main thing with many items is they are now significantly lighter and also with new digital technology there are a number of gadgets available today that make camping a little more comfortable and give you the ability to stay connected throughout your journey. This list is my wishlist of Cool Camping Gear Gadgets when bike touring.
Cool Camping Gear Gadgets When Bike Touring
---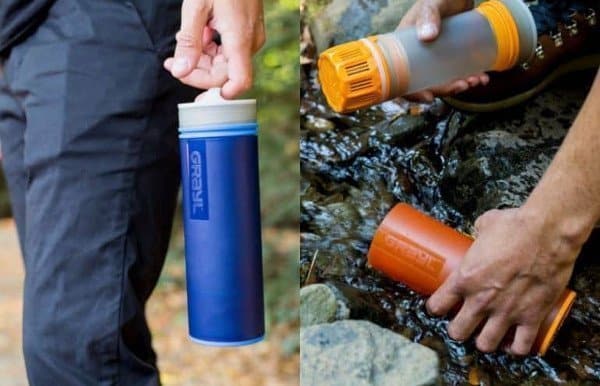 I will be cycling in remote areas of Canada where water is not always available. My big concern is how will I maintain enough of water supply during some 300 km stretches when I will not have water readily available? When traveling by bike hydration is a very important consideration.
Proper hydration is a must when cycling. You will need to drink more water to avoid dehydration because you are pedaling all day. It also may be sunny and hot and this will also increase your fluid intake requirements. Neglecting your water intake can have serious consequences causing you to stop cycling for the day from lack of energy or worse like getting cramps and possibly passing out.
If you are cycling in areas where water is readily available you can stop and fill your containers as you go on your journey, but sometimes you may be encountering stretches where water is not available and this can pose a problem. The only option you had in the past was to bring enough water with you. This was not a great option since water weighs a lot and you will most likely not be able to bring enough water to suffice your needs.
The last few years a number of companies have been producing portable water filtration systems designed for hikers and preppers that allowing you to drink water from lakes and streams. The straw design is a filtered straw that you use to directly drink from the water source.
Another design is the filter cup. There are a few on the market but one that stands out is the Grayl Ultralight Purifying Bottle available at Amazon. The Grayl purifying bottle started a few years back with a successful Kickstarter campaign. It has a different filtration method than others on the market. Instead of pouring the water through the filter you push the filter through the water.
The Grayl Ultralight water purifying cup can produce 500 ml of water in 15 seconds and the empty cup is very lightweight. Each Replacement Purifier cartridge displaces 300 single-use plastic bottles. A great way to stay hydrated when camping or cycling.
---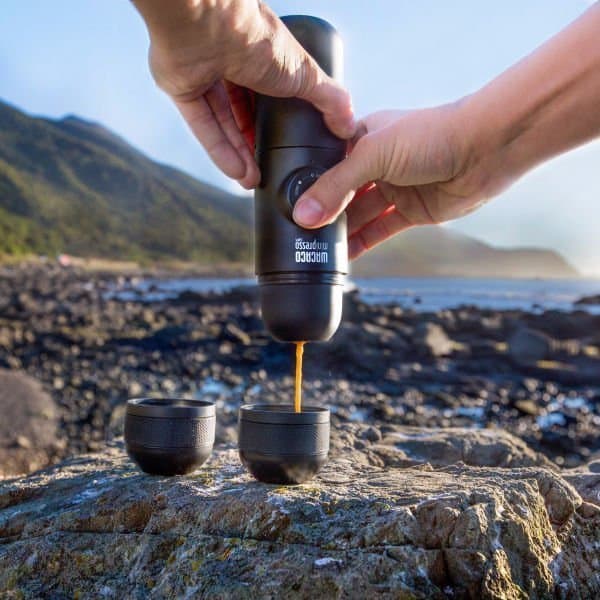 Now that you have fresh water anywhere with the Grayl ultralight purifier bottle. Maybe you would like to make coffee? This next item is for the coffee lover that absolutely need to have their coffee in the morning. I would consider this small travel coffee maker a luxury item to take along when camping but the Wacaco Minipresso might be an item that a touring cyclist might consider.
There are a number of travel coffee makers on the market but the Wacaco Minipresso stands out as one of the most compact and affordable portable coffee makers on the market. Very easy to use with manual hand pump operations and requiring no batteries or power source. The Wacaco Minipresso is made up of six pieces.
The main body that is the pressure chamber, on the bottom is a water tank, a filter basket with a cap to hold it in place an integrated cup and a scoop. All six-piece fit nicely together into one compact unit. Just the right size to store in a pannier bag or backpack. All you need now for an espresso on the road is a little ground coffee and hot water.
Using the included measuring cup fill the filter with coffee fill the bottom with hot water. Now screw the Wacaco together and turn the piston knob left on the main body to release the piston. Pump several times to prime the pump until the coffee starts coming out the bottom.
This produces a nice flavorful shot of coffee. Many purists will say this is not a real expresso but I have a feeling being in the great outdoors will make this cup of coffee will be a very nice treat. If you can afford the extra weight and love your coffee, the Wacaco Minipresso weighing 360 gram / .8 lbs. might be a gadget worth taking. You can order it from Amazon before your next journey.
---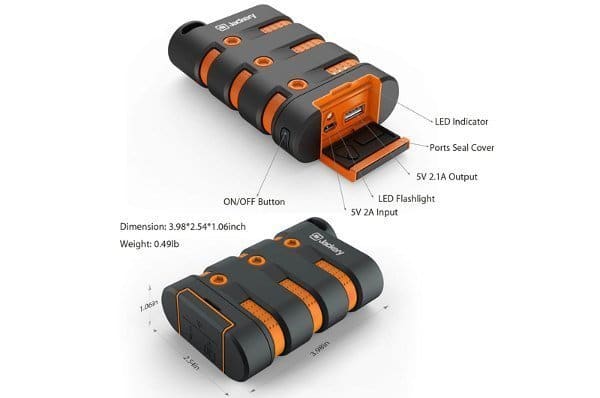 Ideally when camping unplugging is a good idea. But most of use will still bring along our phone. Not only is it great for taking pictures it can provide a little entertainment in the evening and it can be a lifeline for emergencies and allow you to communicate with others providing there is a cell phone signal available.
There are many portable chargers to choose from but the Jackery Armor portable charger can be a good choice for camping or cycling. It has a very rugged shockproof build and is waterproof IPX6 rated which means it can be submerged in water up to 3 feet for 30 minutes.
Weighing around one lb the charger is relatively light. The Jackery Armor is a hand-sized power block that is ready to help keep your phone charged up, no matter where you are. The Armor can fit in your pocket or also can be attached to your gear, with the included carabiner. It has a small compass and a built-in flashlight.
A fully charge Jackery Armor charger will give you over 3 full charges on your mobile phone. I good companion to keep your electronics charged when you out camping. It has many positive reviews. The Jackery Armor Portable Charger can be purchased at Amazon keep an eye out it does go on sale.
---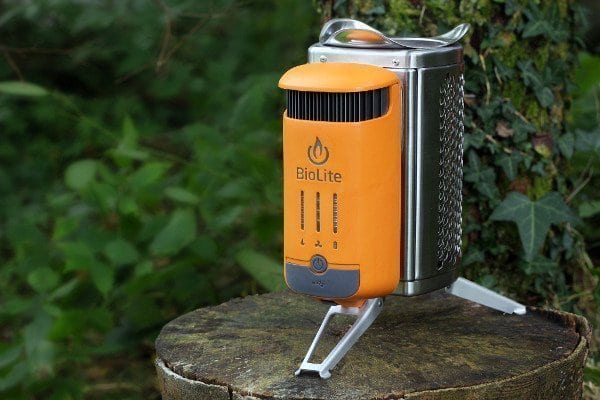 The Bio camping stove is a new modern camping gadget that performs two functions. Provide heat for cooking meals and boiling water and the heat produced also generates power that you can use to charge your devices.
The Bio stove is easy to use and set up. It uses only wood, (smaller sticks and pieces of wood are required) and an internal fan that has 4 fan speed settings to circulate air for improved combustion and efficiency and create a smokeless fire.
Not the smallest stove on the market weighing 2 lbs may be better suited if you are towing a bike trailer. The on-Board Battery is an Integrated 2600 mAh battery that can charges devices with or without a live fire. The new model Bio Camping stove has 50% more power with updated thermoelectrics.
You will need to buy the Bio camping cooking accessories to get the full use of this stove. The stove is compatible with the KettlePot and Portable Grill, sold separately. If you have the extra space the Bio Camping Stove may be a good option for you. To help you cook and charge your devices out in the wild. The Bio Camping Stove is available at Amazon.
---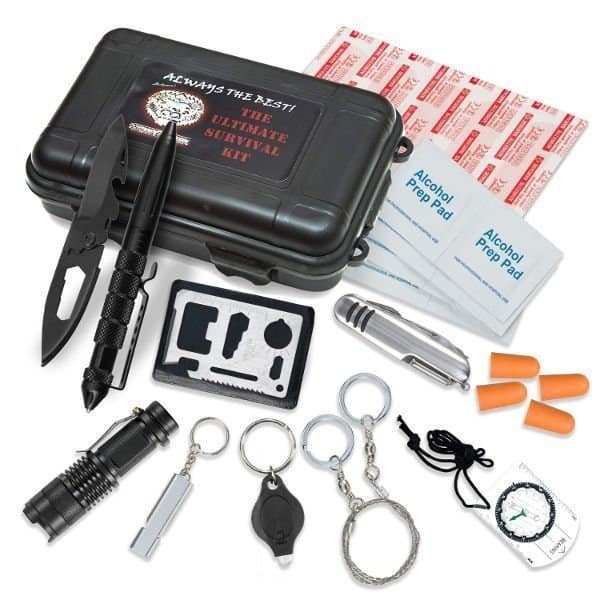 If you were a boy scout you probably know the motto "Be prepared". This is especially true when you are doing a long-distance bicycle tour. A first aid kit is always a good idea to take along on a bike tour along with various extra parts and tools to use to repair your bike when breakdown occur out on the road.
The Bear Grylls Ultimate Survival Kit will not replace a full first aid kit, it does come with a few bandaids and cleaning pads along with other items you may not have even have thought of.
This survival kit weighs 11 ounces and comes with a Survival Pocket Chainsaw, Emergency Whistle, Flint Rod And Scraper, Knife/Bottle Opener/Wrench, 11-In-1 Multitool Survival Knife, 11-In-1 Survival Card, Compass, Led Keychain Light, Flashlight, Pen/Emergency Window Breaker, Sets Of Earplugs, Fishing Line, Fishing Hooks, Fishing Bait, 1 X Pencil, Razor Blade, Alcohol Prep Pads, Band-Aids and Safety Pins.
This kit could be a little big if you have limited space. There are other smaller survival kits that may work better. See survival kits at Amazon.
---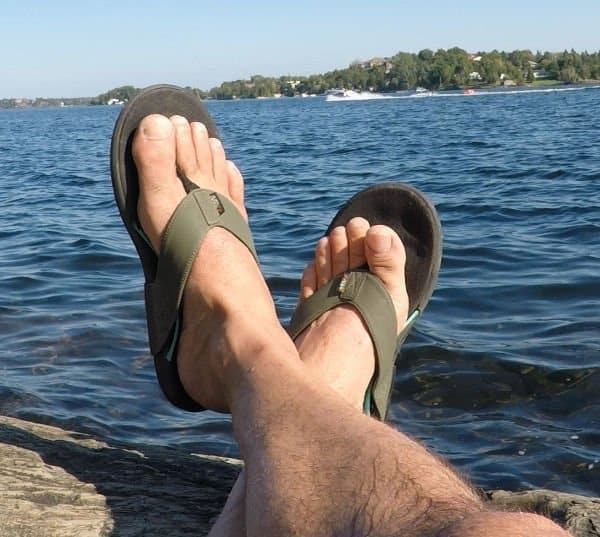 After a long day of riding it is nice to take off your shoes and relax with a pair of flip flops or sandals. Having a good pair of sandals to take a shower with and walk around your campsite is a good idea. The Wiivv 3d printed Sandal is not your usual run of the mill flip flop.
This sandal has a custom arch support that can help with plantar fasciitis and other foot ailments. The Wiivv company started a few years back with a successful crowdfunding campaign started off with custom insoles and many customers asked them to make a sandal.
You can order the Wiivv sandals online. They have an app that you take a few pictures of your feet and they take this information and measure 200 points to produce a custom made sandal just for you. I had a pair last summer and I find them incredibly comfortable.
The flip flops are very durable and lightweight, the Wiivv sandal is ideal to take as a second pair of footwear and can easily be packed away in a pannier bag. See my full review and Youtube video to learn more about how to order your own custom pair.
Use my special Wiivv promo code PETEL20 and get 20% off when you order a pair of Sandals or Insoles.
---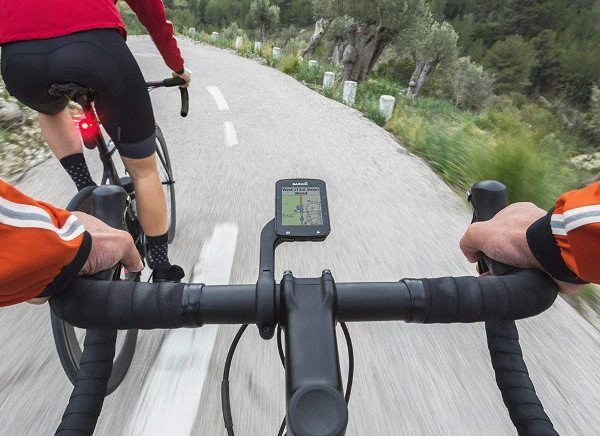 Knowing where you are going is a good idea. Going in the wrong direction and having to backtrack on a bike is very frustrating. In the past, many cyclists would carry maps with them to help them navigate. They would fold the maps and place them under a plastic cover in a visible location on the crossbar.
Fortunately, we now have personal GPS devices to help us. A good GPS unit will also help you navigate away from busy highways and help you find more bike-friendly routes. Should you get A dedicated GPS device or just use your smartphone app?
For accuracy, a smartphone or a GPS unit is about the same. A dedicated GPS device can offer a few more features than a Smartphone App like telling you the speed limit. They are also fully waterproof and built very rugged. A big advantage of a GPS device is that many have a no-glare screen that makes it easier to see the display in bright sunlight.
What I like about a dedicated GPS device is they are not that expensive and I would rather have a $300 device mounted on my bike vs a $1200 iPhone. Also when you are using a GPS device you are not using up battery life on your phone.
This could be an advantage if you are camping and do not have access to electricity to charge your devices. A portable solar collector is an option or a portable charger like the one mentioned above. You be the judge if you need a GPS vs using your phone. A wide variety of GPS cycling/bike computers units are available at Amazon.
---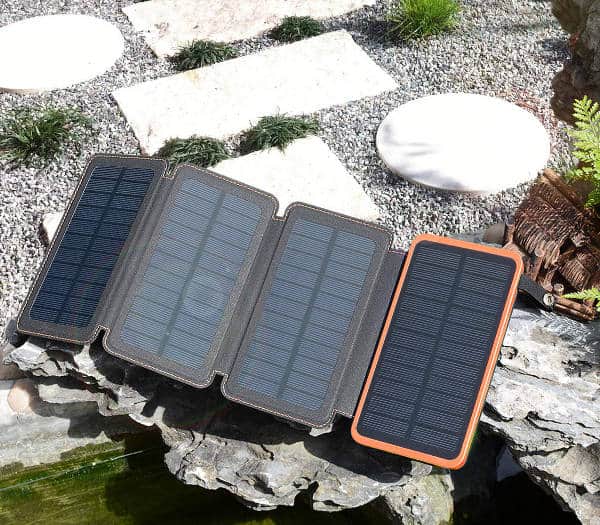 Here is another example of a portable charger on this list, but unlike the Jackery Armor portable charger mentioned above, this unit has the ability to charge itself using sunlight. The Hilucky Outdoor charger can be charged with a USB connection or using sunlight. The Hilucky outdoor charge is a nice rugged compact unit that is fully waterproof and very compact.
The Hilucky Outdoor charger weighs 1.3 lbs and folds up into a conveniently compact unit. It has dual USB outputs that give you the option of charging two devices at the same time and a micro-USB to charge it from an outlet. It also has an led light that can be used as a light source.
It does take several hours to fully charge when using solar power. But the size makes it easy to mount on top of your panniers or placed in the sun when not riding and is a great power source when you need it. If you go out in remote areas and need a steady power supply to charge your devices.
This portable solar charger is a handy item to have if you travel with devices that need charging. The Hilucky Outdoor Solar Charger is available at Amazon for under $50.
---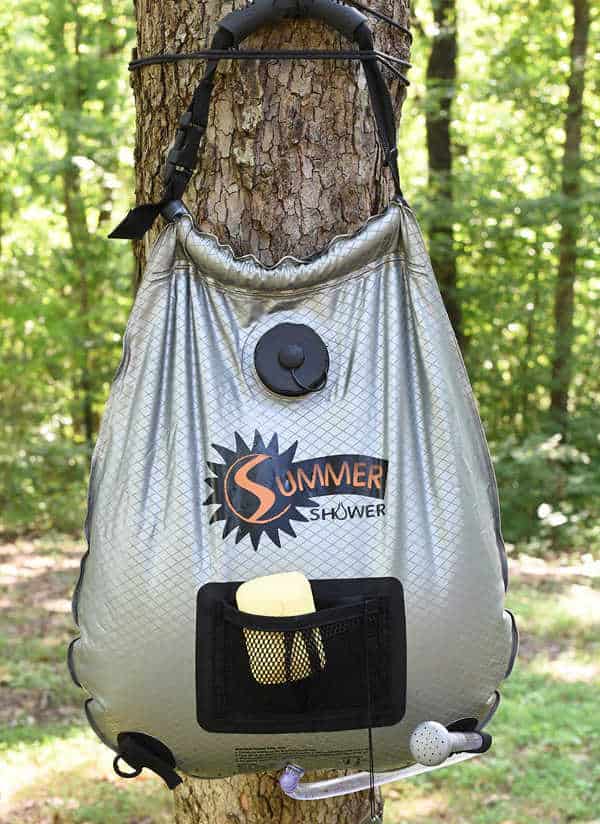 A warm shower at the end of a long day of cycling is always a treat. Depending on where you are riding this luxury may not be available to you. The Advanced Element solar shower may be the answer for you. Advanced Elements solar shower bags are available in a few different sizes from 2.5 gallons up to 10 gallons.
The ideal size for bike touring is the 3 gallon or the 5-gallon bag both priced under $30 available at Amazon. The Advanced Elements solar shower is made with 4 layers of durable plastic, comes with a wide handle grip for comfortable transport and easily rolls up to store in a backpack. This solar bag warms up water quickly in direct sunlight and has a convenient mesh pocket to hold your soap and shampoo.
This solar shower has a temperature gauge to let you know the exact temperature of the water and has a mirror for guys that want to shave. This is a great product to get the road dust off and have you smelling fresh after a day of cycling. Something worth considering if staying clean and fresh is a priority.
---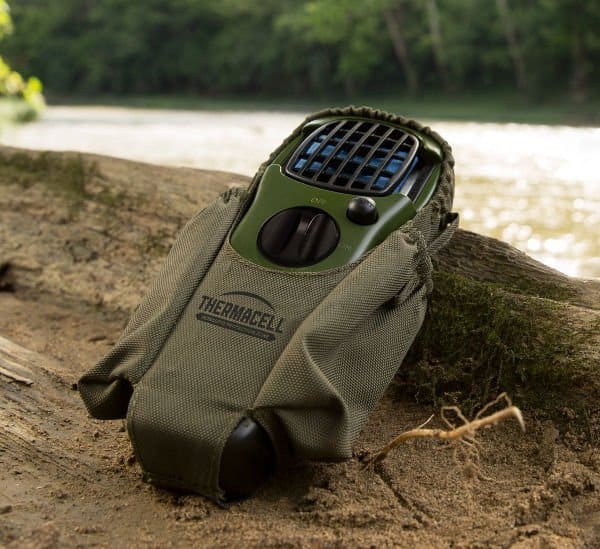 Camping can be a wonderful experience but depending on where you are touring and the time of year mosquitoes can be a real problem. Thermacell MR150 Portable Mosquito Repeller is an ideal companion and makes an evening in the bush much more enjoyable.
The Thermacell MR1150 is a scent-free device that will give you a mosquito protection zone of 15 feet. This unit is portable and lightweight and weighs 11 oz. It works with a butane cartridge that produces a small flame that heats up the mosquito repellent pad. This produces a smell that mosquitoes don't like.
The Thermacell MR150 is an ideal size and I recommend you buy the optional holster available at Amazon so you can clip it on your belt for personal protection. The Thermacell MR150 has many positive reviews and can make the difference between a miserable night out camping or enjoyable time.
I would still suggest using DEET bug repellent spray but for around $20 available at Amazon, the Thermacell MR150 Portable Mosquito Repeller will make it a little more enjoyable sitting around the campfire. Be sure to stock up on extra pads and cartridges.
---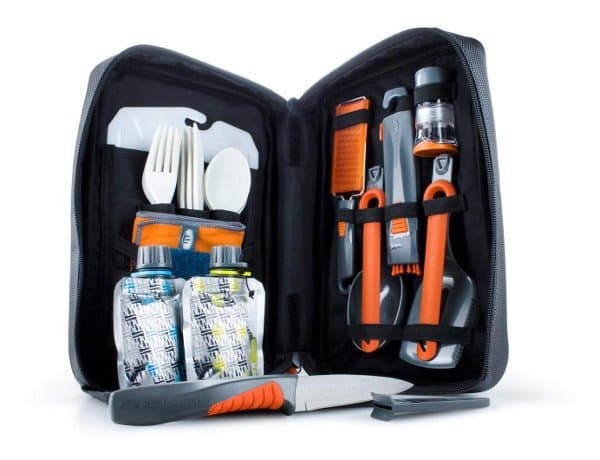 When out cycling and camping eating and preparing food is part of the trip. Making food and eating is much more enjoyable when you have the right utensils to work with. Making sure you bring everything you need can be a little daunting and inevitable you forget something.
The GSI Outdoors – Destination Kitchen Set 24 is a great way to be sure you don't forget anything. This set includes 4 forks, 4 spoons, 4 knives, a collapsible whisk, pivot spoon, pivot spatula, utility knife, spice shaker, 2 condiment containers, cutting board, scrubber, camp towel and a waterproof salt and pepper shaker module that screws together to keep all your spices dry and full of flavor.
Comes in its own convenient case to help keep you organized. The GSI Outdoors – Destination Kitchen Set 24 is available at Amazon. Larger or smaller sets are also available.
Cool Camping Gear Gadgets When Bike Touring
So there you have it a few gadgets that will make your next bicycle tour much more enjoyable. If you know of a cool gadget that works great for camping and is relatively light and small, please comment below and I will include it on the list.