You may not think of the humble flip-flop as a high tech item but Wiivv, a new upstart company, is putting high tech into sandals by making custom 3D printed sandals. Last year Wiivv launched their Wiivv custom 3D printed insoles after successfully crowdfunding $235,054 and became the most funded 3D project to date. That record was beaten by their crowdfunding for their new custom-fit sandals and more than doubled their goal of $250,000 and raised $566,401.
The Wiivv Sandal is a custom fit sandal that is incredibly comfortable to wear. They are custom orthopedic sandals that can be bought online. They offer custom arch support, are made very durable. Available in a combination of colors to choose from. The custom-fit  Wiivv sandal is a full orthopedic sandal and is a nice alternative to orthopedic shoes. If you love flip flops, Wiivv custom Sandals can give support for plantar fasciitis, foot fatigue, flat feet, high arches and can also help with knee or back pain.
​Let me share with you my thoughts and experience with my new favorite footwear with my Wiivv custom 3D printed sandals review. A pair of custom-fit sandals just for you.
Wiivv Custom Fit Sandals Review
I first discovered Wiivv about a year ago and what caught my eye was the new technology they were using to make custom products for people. I contact the company, and they sent me a pair of their custom insoles and found them very comfortable.
I notice when I use the insoles I have better posture when I am walking. They have shipped out thousands of pairs of Wiivv custom insoles in the last year with a very positive response.
After successfully launching their 3D insoles many customers were asking for custom fit sandals. So Wiivv went back to the drawing board and design the​ first custom made 3D printed sandals. They came up with orthotic flip flops with custom arch support. Over the winter of 2017, they started their crowdfunding campaign and more than doubled their funding goal and raised $566, 401. They began shipping in the spring of 2018.
I ordered my sandals in June, and about 14 business days or almost three weeks later I received my sandals. I have worn mine for the summer, and in this Wiivv custom, 3D printed sandal review I will tell you what I think and how they have faired.
For my readers use my special promo code PETEL20 and get 20% off when you order a pair of Sandals. Order from Wiivv.com
Order process
I had ordered Wiivv insoles before, so I was familiar with their Wiivv App and how to measure your feet. I did have to upgrade the app, but unfortunately, it did not work on my older Ipad. I had to use my daughter's newer smartphone to use the app.
Once I got the app updated the process to measure my feet is the same as before. You place a 9 on an 11-inch paper on the floor next to a wall and put your foot on top with your heel against the wall.
The app will prompt you when the camera is level with a green indicator; once it is green, you can take a picture. The app will ask you if the picture is good and then moves on to the side photos of your foot.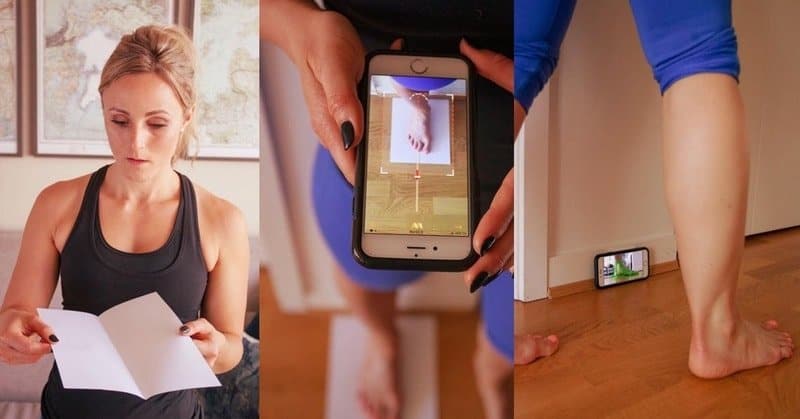 To measure your arch, you place the smartphone against the wall, and the app will ask you to put your foot facing the camera within two points on the screen. It will take a picture, and you have to do this with your other foot. Again the app will ask if the photos are good before you send them off.
Don't worry if you are not sure if the pictures are good. At Wiivv they have someone that checks, and if the photos are not good, they will contact you to redo the images. Once the pictures are approved, they will take these photos and map your feet to 200 points to create a pair of custom Wiivv Sandals that are made just for you.
The custom-fit Wiivv sandal that you can buy online is a full custom orthopaedic sandal and is a nice alternative to orthopaedic shoes.
Quality and Build
At first glance, you may think that Wiivv sandals are just overpriced and look similar to many on the market selling for 20 to 40 dollars but that is not the case. Wiivv Sandals really are the first of its kind for a custom orthotic flip flop with arch support. There are a few comparable sandals on the market like Birkenstocks that cost around $100 or more but keep in mind they are not custom made for your feet like Wiivv 3D Printed Sandals.
There are some custom made orthotic shoes being produced but they can cost a few hundred dollars for a pair, and you generally have to visit them on-site for measurements. The base on the Wiivv Sandal is not just a piece of foam. It is made from a skid-resistant rubber layered with a high-performance foam that is waterproof and sweat-proof. I can say odor proof as well as I have worn my Wiivv sandals all summer and I have not found they smell at all.
Unlike some flip flops, I have had in the past. They also have a deep heel cup that holds your heel in place and supports it from all sides, and this helps buffer the fat pads on your heels and better distributes impact will walking. An indication on how durable the Wiivv Sandal is made is Wiivv engineer, Chris Bellamy finished the Boston Marathon in April with a final time of 02:59:36, after running the entire race in Wiivv Sandals.
Not only did he run the full 26.2 miles in flip-flops, but he also did it in temperatures of 33°F (0°C) and heavy downpour. I don't think many flip-flops on the market could last in these conditions.
I have worn them all summer I even wear them at the gym for my workouts they give you great posture when lifting and work great on cardio machines. I also did my boot camp with them on as well because I instinctively put them on to go to my class and they performed very well.
I think many cheap flip-flops do not give you this kind of support and would fall apart under these conditions.
The custom measured ensures each sandal has the toe thong placed in the perfect spot for your toes and custom-fit arch support. I found the toe thong is very comfortable and found I don't get chafing or discomfort between my toes when I am going on long walks. Again unlike what I have seen with cheap thongs.
What is strange after wearing them I find when I put on my other footwear they feel like someone else shoes.
Custom-fit arch support can help improve your posture. Proper arch support can prevent issues related to your feet and lower limbs, such as plantar fasciitis, neuromas, or just sore feet.
Unlike many flip flops when a strap breaks the sandal is garbage, the Wiivv sandals have replaceable straps and can be purchased separately for $20 in a variety of colors.
Custom-fit arch support
Custom colors for personalized style
Deep heel cup to stabilize your heel and absorb shock
Adjustable straps for optimal comfort
Perfect toe thong placement
High-performance foam tested to 150,000 cycles
Waterproof, sweat-proof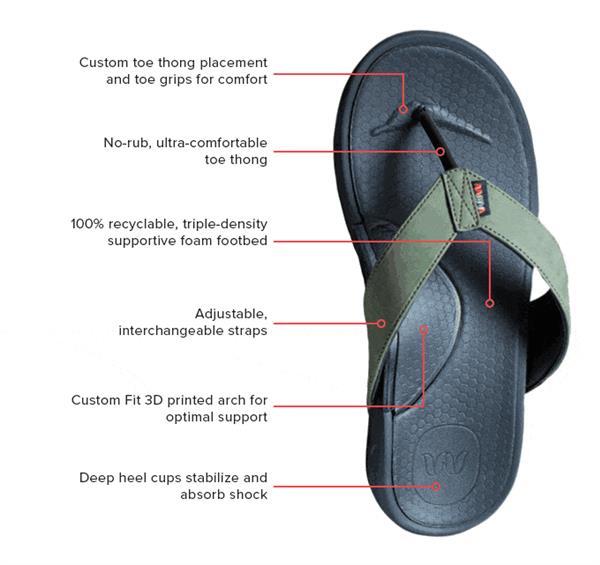 First time wearing my custom fit sandals
I must confess that the flip-flops I had previously, believe it or not, I paid 3 dollars for and I have had for 14 years. They were thick foam flip-flops similar to Crocks. I thought they were comfortable.
I like the idea of custom footwear because I have difficulty fitting in some footwear. My feet have a high Tarsal bone on the top of my foot, and sometimes I cannot get my feet in many slip-on shoes or sandals. I put on the Wiivv sandals for the first time and to be honest they felt just OK.
They felt a little strange, and I found the strap too tight over my foot. I adjusted the strap using the innovative click fastener located on the sides of the sandals to the loosen the fit. I adjusted them as much as I could, and I found it still tight on one of my feet. After about a week or so I decided that I was going to cut off one fastener in the row to loosen the straps one more notch.
This made the difference I needed, and the fit was better. But this turned out to be a mistake because the straps did eventually stretch a little and I now adjust the straps back a notch for a tighter fit.
Adjustable straps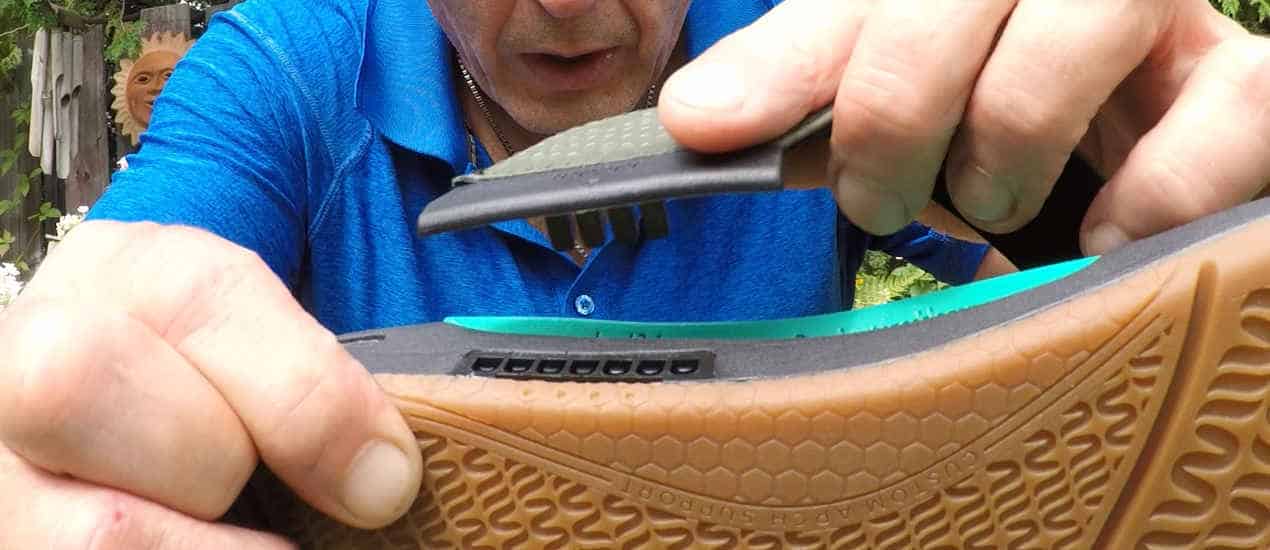 When first walking with the Wiivv sandals you will notice that you have improved posture and you are not shuffling your feet as you may do with most flip-flops. I found for longer walks the Wiivv Sandal is much more comfortable than my previous pair of flip-flops. Wiivv testing showed that changes in arch support of as little as 2-4mm have a significant impact on the way you move.
Those small changes add up step after step. That's why your feet hurt after walking a few blocks in crappy flip-flops. Instead, Wiivv Sandals actually stabilize your foot, keep it in place and support your arches, so your body doesn't have to work so hard.
It took about three weeks to really fall in love with these sandals. After the top strap stretched a little and I got used to the support the Wiivv sandals have now become my favorite footwear. So much so that when I put on a pair of my other shoes or my old flip-flops, It feels like I am wearing someone else's shoes.
What Wiivv sandals can help you with
Plantar Fasciitis
Wiivv custom arch support is designed to reduce the pressure and loading of the plantar fascia, getting you moving pain-free.
Foot Fatigue
Wiivv's stabilizing heel cup and custom-fit arch support improve comfort and are scientifically proven to reduce forces on the muscles and ligaments of the foot, decreasing foot fatigue.
Flat Feet
Biomechanic Smart Filters identify flat feet and map a supportive arch unique to the size of your foot, offering a healthier alignment and reducing uneven loading and pressure.
High Arches
Wiivv offers custom support for your high arches allowing you to distribute even weight and pressure across your entire foot's surface.
Knee, hip or back pain
Knee, hip and back pain is often caused by joint misalignment. A pair of Wiivv sandals help put your feet back into a natural, aligned position, optimizing your biomechanics and reducing unhealthy and uneven strain on your knees, hips, and back.
---
Update: My Wivv sandals after two summers are still like new
I have had my Wiivv sandals for two summers now. After two summers my sandals are wearing very well. The base has a little wear and tear but overall are still in excellent shape. Unfortunately, I live in Canada and can wear sandals for only about 4 months of the year in the summer and I am always sad when I have to put my sandals away for the winter. I suggest to Wiivv to make an open toe sandal so people can wear them around the house with socks on.
The only issue I had was my daughter dog got a hold of my sandals and chewed up the straps. Needless to say, I was a little upset that my favorite sandals were basically ruined. Fortunately, Wiivv sells replacement straps so I ordered a new pair of straps for $20 and I changed the straps and now they are as good as new.
Improvements on my second pair of Wiivv Sandals
Wiivv recently sent me another style sandal they are now offering with leather top straps and a brown base. Using the same measurements as my first pair, Wiivv has managed to improve the fit even more since my first pair. The base is a little smaller than my original pair and is an exact fit.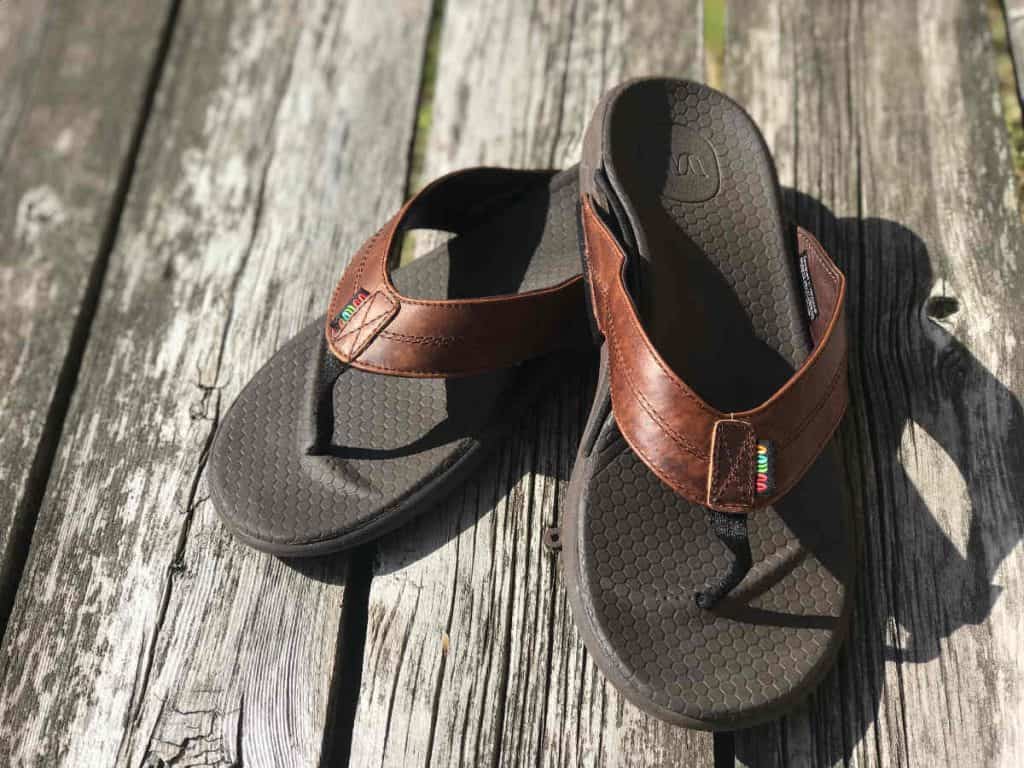 ---
Should you buy a pair?
If you are cheap like me, I can see why you might not be interested in the Wiivv Sandal. The $129 price tag is not cheap for a pair of flip-flops, but you are getting a custom pair of orthopedic flip-flops that are very well made.
You will definitely feel the difference when wearing them as compared to cheap flip-flops. The pair I have been testing for the summer has worn very well and look just like new. The Wiivv Sandal can allow people with various health issues to wear flip flops and leave their orthotic shoes at home.
Another great thing with Wiivv custom 3​​D sandals is they will be less likely to be stolen because your name is printed on the sandals and the fit is custom to your feet so if someone else slips them on they will probably not feel that great. After wearing mine for the summer, I am dreading the winter coming, and I will no longer be able to wear my Wiivv sandals until next summer.
Wiivv Custom 3D Printed Sandals unboxing and two-month review
Conclusion
After wearing my Wiivv custom-fit sandal for the summer, they are just like new. It took a little break-in period but once you get past that they soon become your favorite footwear. If you have back problems or any other various foot issues and cannot wear conventional flip-flops or sandals I would say give the Wiivv sandals a try.
They do have a 30-day return if the fit is not right. The price of $129 may seem pricey but for custom orthotic footwear the price is not that bad.
I feel that Wiivv is a forward-thinking company that is developing what I think will be a much more common approach to buying and delivering personal apparel. They are taking new technology and custom-making products for consumers at a more reasonable price.
This will help reduce unnecessary returns, ensure a better custom fit for the consumer, eliminate sizes that are not popular and overall this will produce less waste and will be better for the environment. They plan to set up in various cities smaller production facilities to reduce shipping distances and create local jobs.
You can also recycle the Wiivv sandal when you are done with them. The closed-loop recyclable footbeds allow you to send them back to Wiivv when you wear your flip-flops out and they will use this material to create future sandals.
Thereby reducing the environmental impact on landfills and oceans and again setting the model for how manufacturers will be required to do business in the future and taking responsibility for the waste their product produces.
Helping to support them now I think will help them to decrease the price in the future. As they get more established and setup with better suppliers and distributors I believe this will help them bring the price down to closer to $99.
This will make purchasing them even more attractive and more people will have access to a great pair of custom-fit flip-flops that is good for your feet and the environment.
If you would like to purchase a pair of Wiivv custom-fit Sandals or insoles please use the links on this page. If you want a great gift for someone with foot issues that are guaranteed to fit. Get a Wiivv gift certificate.
Price: $129.95 US check for sales. For my readers use my special promo code PETEL20 and get 20% off when you order a pair of Sandals. Order from Wiivv.com
Source: The sample of this product was provided by Wiivv.com
Some other cool gadgets and gear reviews