When Apple first launched its new version of Apple TV, it introduced some really interesting features along with a whole new set-top box. Undoubtedly, Apple TV has changed the way people used to watch TV. Whether it is the sleek design, new operating system, the unique remote control or the newly integrated voice-command functions, the fresh features of the New Apple TV launched in 2015 is truly exclusive. Let's see the New Apple TV Pros and Cons Review.
With the starting price being £ 129 in the UK and $149 in the USA, Apple TV has thousands of satisfied customers around the world. This fourth-generation Apple TV is powered by an A8 processor which is much more efficient than the previous A5 processor. A number of new apps and the tvOS operating system, both have made the Apple TV a must-buy for many consumers. Apple TV is known to be the ideal streaming TV. Here we have made a list of the exclusive features that come with the New Apple TV.
A Number of New Features on the New Apple TV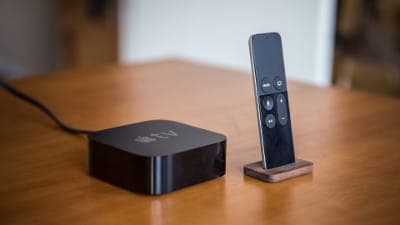 The New Operating System Called "tvOS"
You just can't miss with the new operating system when it comes to the new Apple TV. Apple has added the new iOS-based operating system to its set-top box and named it tvOS. Although the new interface isn't much different from the previous one, there have been few modifications in the system. Apple has not only changed the black background into white, but it has built support for the remote, new improved Siri-powered search facilities and a complete app store.
Many exciting apps available
If you like using Apple apps, then you will certainly love the new Apple TV. The Apple TV app store has all the tvOS based apps and the company is also encouraging the developers to build new apps based on this particular operating system.
With the new apps in the store, you can easily subscribe to channels like Netflix, Hulu, and HBO which are coming up with their new tvOS apps. With the new remote, you can simply buy apps that are displayed in the carousel view.
Kodi can be downloaded on Apple TV but they do not offer Kodi at the app store you have to go to a third party.
Siri Remote and Gaming Controller
The motion-sense enabled new remote of Apple TV has really made all the difference. The remote looks like the iPod Nano and stunning exterior are made of glass and aluminum. The upper part is the touchpad with five buttons such as menu, home, Siri voice-command button, Play/Pause and a very handy volume button. At the top, you can find a dual-mic system for Siri.
You can also notice an IR port and a Lightning port that will charge the remote's battery. To transform the remote into a game controller, use the accelerometer and the gyroscope. By swiping it down, you can simply get information about what you are watching.
One point that is a real pain with the new menu is, you have to enter any passwords or search terms with the onscreen Keyboard. They got rid of the grid system and laid out one alphabetic line that you have to swipe back and forth adjusting for uppercase and lowercase. This can prove to be very tedious. There are a few short cuts and frequently used phrases but overall not pleasant user experience. Surprising knowing Apple's philosophy of simplicity and ease of use.   
With increased processing power the Apple TV gaming experience has improved. But a big downfall with the new Apple TV gaming experience is it will only support two gaming controllers at a time. So if you want to play with multiple players at the same time you are out of luck.
Apple's Siri remote is a game controller also but you cannot use two Siri remotes at the same time. So gaming for two with the two Siri remotes is not possible. Purchasing a second Apple TV remote is not cheap. A better alternative for gaming is the Steel Series Nimbus Gaming Remote for less money and a better gaming controller. A much better way to play games than with the Siri remote which is too light with a small trackpad that is awkward to use.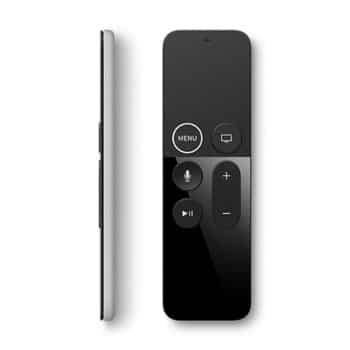 Apple TV Remote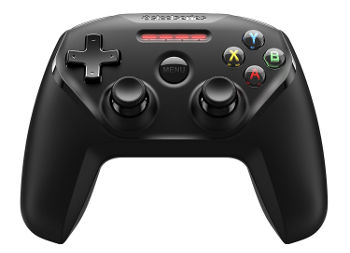 The Universal Voice Search Powered by Siri
Many customers have complained about the performance of Siri. She is not as effective as the company made it seem like. However, the universal voice search is absolutely commendable. The voice-controlled search is the smartest change that Apple has brought on their new TV.
The search results are arranged by popularity and if you ask Siri to search for TV shows, movies or a song, she will show results from various platforms like Netflix, Showtime, Hulu, and HBO. It is also possible to search by movie names, actors or genres. However, the Siri voice command does not work as seamlessly with other third-party apps.
For other streaming options, the NVIDIA SHIELD TV and Roku remotes offer some highly convenient features. NVIDIA SHIELD remote has voice search functionality. The Roku remote lets you plug headphones into it, which allows for quiet watching if you don't want to disturb anyone.​​Roku​
Apple TV Pros And Cons
Pros
Nice classy sleek design remote
Easy to User experience
Now offer 4K Ultra HD
Includes "Siri" voice controls 
Streaming providers and Apps are limited compared to others on the market
Cons
Selection is limited compared to many other competitors.
Apple Heavy environment
Price compared to new competition
Can only play with two games  
You can buy Apple TV available at Amazon.
Other articles that will help you learn more about streaming media