This Roku 1 Streaming Player Review is one of five units we compared to see the chart below for comparison specs. Read all five review before making your decision.
The Roku 1 has been numerously described as the best basic streaming player money can buy. Indeed, Roku 1 streaming player offers the full Roku experience with much more to offer than meets the eye. The moment you get your hands on this genius piece you will immediately notice its sturdy design, with smooth edges and ports conveniently arranged for easy access. The remote is intuitive and simple to use with hot-keys for Amazon, Netflix, Blockbuster, and M-Go.
Roku 1 keeps connectivity simple
When it comes to connectivity, Roku 1 keeps it simple. It comes with a single HDMI output with stereo analog outs and composite video output. It has a built-in Wi-Fi with support for WPA, WEP, and WPA2 encryption.
When setting up the Roku 1, you will be required to create a user account in order to use this device. The physical setup is pretty easy and straightforward. You just need to hook up your desired video and audio connections and then connect the Roku box to your wireless network.
You will then be asked to link the box to your Roku account after which it will download the channels you selected during account set up.
The user interface is pretty simple and aesthetically pleasing. Other than the basic settings on language, screensaver, sound effect, and system update, you will hardly need to venture into the Menus since a majority of key settings are taken care of during setup.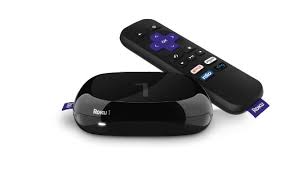 Streaming services
You will be happy to realize Roku 1 Streaming Player offers content that eclipses those available on other competing players. The major channels include Netflix, Amazon Instant Video, Hulu, Vudu, Blockbuster, M-Go, HBO Go, CinemaNow, Google Play Movie and TV, Showtime, HBO Now, CBS All Access, MLB.TV, NHL, Disney Movies Anywhere, WWE Network, NFL, MLS, NFL Sunday Ticket, UFC.TV, Sling TV and Tennis Channel Everywhere.
You will also find plenty of other services such as Pandora Radio, YouTube, Picasa, FX Now, ESPN, Amazon Music, Crackle, Facebook, Disney Junior and much more. The Channel Store found in Roku and online allows you to install and remove individual channels. The interface has a unique search function that helps you sift through all the available channels and apps.
Features
Connectivity: HDMI and b/g/n compatible 802.11 wireless
Processor: BCM7218 600 MHz
Memory: 512 MB RAM and 256 MB for Channel storage
Video resolutions: 720p, 1080p HD, 480i, 480p
DLNA Compatible: allows you to share and access videos, music, and photos from other compatible devices on the network.
Supported OS for the mobile app: Android, iOS, Windows and Fire OS. Allows you to use your phone as a remote
Remote: Standard IR with channel shortcuts that allow you to jump straight to your favorites.
Quick set up, less than two minutes
Over 2,000 entertainment channels to choose from for your favorite movies, TV shows, sports, music, news and more
Supported file formats: a wide selection of file types including GIF and PNG for photos, MP4 (H.264), MKV (H.264), and MOV for video and AAC, WMA, MP3, FLAC, and WAV (PCM) for audio files.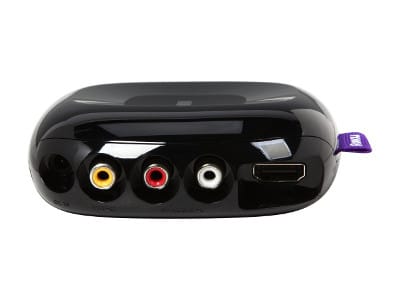 ---
Roku 1 Streaming Player
Pros and Cons
Pros
Roku 1 streaming media player offers a full Roku experience at a cheaper price. It supports over 2000 channels including Netflix, HBO Go, Amazon, Vudu, Hulu and much more
Stunning HD quality that allows you to immerse yourself in action with vibrant, rich video streaming up to 1080p HD.
One-stop search enables you to find your favorite channels, movies, and shows in a flash.
Inexpensive compared to its competitors that offer similar functionality.
You can run numerous apps at the same time without experiencing buffering or freezing
Cons
It lacks USB, Ethernet, and microSD hardware.
The remote control is IR based, meaning that you have to point it directly to the Roku box for it to work
A few users have noted that its processor is slower, but nothing that compromises the image or sound quality.
Bottom line
Roku 1 might not be the best of the Roku streaming media player in the series but compared to other manufacturers, it offers the be best streaming features that money can buy. With impressive video resolutions of up to 1080p HD and powerful Wi-Fi, you can be assured of seamless streaming without buffering or compromising image quality.
Most users particularly love the fact that Roku 1 streaming media player supports over 2000 channels to choose from; this is also what places this resourceful streaming box miles ahead of its competition.
Compare All Five Roku Specs
​
Roku Stick
Roku 1
Roku 2
Roku 3
Roku Premiere+
​
See all Roku Reviews
See Review
See Review
See Review
​See Review
See Review
​ Access to 300,000 movies and TV episodes for 3,000+ streaming channels
 Yes 
 Yes 
Yes 
 Yes 
 Yes 
TV compatibility
HDMI
HDMI or A/V Cable
HDMI
HDMI
HDMI 94K Video Via HDCP 2.2 HDMI
1080p Full HD support
Yes 
 Yes 
 Yes 
 Yes 
 Yes 
4K Ultra HD support
​
​
​
​
 Yes 
802.11 b/g/n dual-band wireless
​
 
 
 
 Yes 
802.11ac MIMO wireless
​
​ Yes 
Yes 
​Yes 
 Yes 
Shortcut button to popular streaming channels
 Yes 
 Yes 
 Yes 
Yes 
 Yes 
Roku Search search across the top channel by tile actor, or director
 
 
 
 
 Yes 
Roku Feed get updates on content availability and price changes
 Yes 
 Yes 
 Yes 
 Yes 
 Yes 
Hotel & Dorm Connect for internet connections that require user login
​
Yes 
 Yes 
 Yes 
 Yes 
Control with free Roku Mobile App
 Yes 
 Yes 
 Yes 
 Yes 
 Yes 
Voice search via Roku Mobile App

See all Roku Reviews
Yes
 Roku Stick
Yes
 
Roku 1
Yes 

Roku 2
Yes 

Roku 3
Yes
Roku Premiere+