This Roku Premiere Plus Android TV Box Review is one of five units we compared to see the chart below for comparison specs and read all five review before making your choice.
The Roku Premiere + is an upgrade from the preceding Roku Premiere plus streaming media box. Some of the added improvements include 4K and HDR support, which are key qualifications for a true 2017 streaming box. The remote is also a little different; it's now matte black and features rubber buttons, unlike the previous glossy plastic ones.
It has however maintained the same UI, same sound effects and a similar channel store as the Roku Premiere Plus It's also easy to set as ever and the 4K videos stream as seamless as the 1080p videos. It's generally a familiar, solid and a reliable workhorse you would expect from Roku.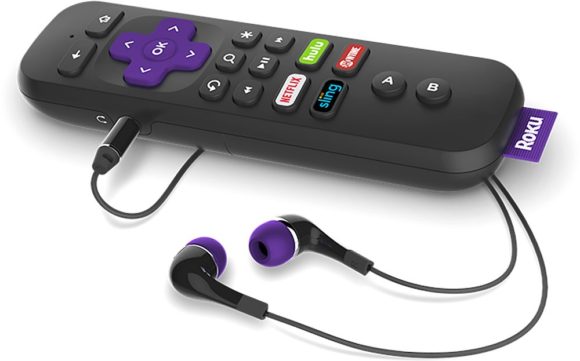 The box itself is identical to the Roku Premiere Plus. The shell is made of the same glossy black sides with the iconic Roku purple cloth tag sticking out on the left. The top is made of a matte black panel featuring the glossy Roku logo.
The actual difference is at the back where the power connector, the HDMI port, Ethernet port, and the MicroSD slot are neatly arranged. You will particularly appreciate the idea of directly connecting your box to the router via Ethernet since the 4K video streaming is very bandwidth-intensive.
The remote uses radio waves instead of infrared, meaning that you don't need a clear line of sight to control Roku Premiere Plus. It's pretty simple, dominated by a purple directional pad with menu buttons located below and above it. The remote also features dedicated service buttons for Netflix, Hulu, HBO Now and Sling TV. The headphone jack is located on the left edge of the remote.
The unit also comes with a pair of earphones that you can plug into the remote and listen to whatever you are watching without disturbing other roommates. The volume buttons are conveniently located on the right side of the remote.
Roku Premiere Plus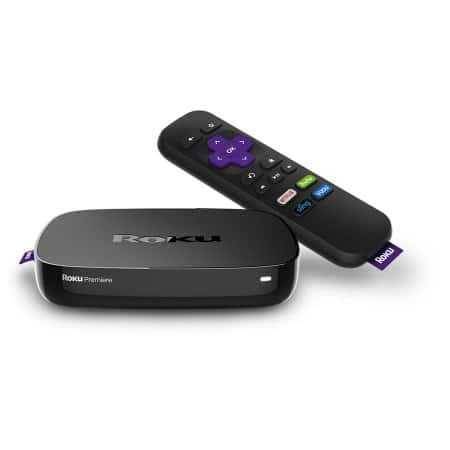 ---
Channels and apps
The Premiere + utilizes the Roku Channel Store to access hundreds of streaming services and apps. You will find all the major services such as Amazon, Google Play, Crunchyroll, Hulu, Sling, Plex, Pandora, Spotify, HBO, YouTube, Vudu, Netflix, among others. There are also plenty of niche and interest-specific channels, some free while others require a minimal subscription fee.
4K content can be streamed from all major services that offer it including Netflix, Amazon, and YouTube. You can also get more ideas on where to get 4K movies and shows from the Roku-curated 4K Content Spotlight channel.
The Roku Premiere + remote lacks the voice search functionality found in the Roku 2 and Roku 3 versions. For this, you will need the Smartphone app which also incorporates options like the additional remote control, easier text entry and direct media streaming from your mobile device to the Roku Premiere plus.
---
Features Roku Premiere Plus Android TV Box
Processor: ARM Cortex A53 quad-core 1.2 GHz
Connectivity: HDMI-dongle, b/g/n compatible dual-band Wi-Fi, Ethernet 10/100 Mbps port, and USB
Memory: 1GB RAM, 256 MB for Channel storage, microSD slot.
Remote: IR and Wi-Fi Direct technology with button shortcuts to Netflix, YouTube, Amazon and Google Play, headphone jack
Video output: 1080p or 4K over HDMI 2.0a.
Audio output: Remote & Stream to Smartphone
HDR10 support
Bundled headphones
Roku Premiere Plus
---
Roku Premiere Plus Android TV Box 
Pros and Cons
Pros
As usual with Roku devices, you get access to hundreds of streaming services and thousands of channels, movies, video shows, and music.
The Roku Premiere + plays all the 4K HDR content like a champ
Extremely fast file processing and smooth content streaming thanks to the quad-core 1.2 GHz processor
A seamless and responsive performance with apps and channels loading even faster compared to the Roku1 and Roku 2 boxes.Very affordable for the 4K HDR streaming capability.
The remote comes with a headphone jack for private listening.
Cons
The remote lacks the microphone for voice searching
The interface hasn't evolved much since 2012; it could do with some refreshing.
Bottom line
If you are fed up with your 4K HDR TV and its built-in smart TV apps, then you are a perfect candidate for a Roku Premiere+. There might not be much 4K HDR video content out there yet, but with streaming service providers quickly trying to fill this gap, you will soon be thankful that you acquired the 4K HDR-ready Roku Premiere+ when prices were reasonably low.
You will also appreciate the quick search functionality that lets you follow your favorite movies, shows, and actors. Stay Away from Roku if you're after free and new content without subscriptions. Go with an Android Box or the newest 4K Fire sticks which you can install on any Android. The Firestick works best if you have Amazon Prime.
 Ultra vs. Premiere vs. Premiere+ – Which One is Best?
Compare All Five Roku Specs
​
Roku Stick
Roku 1
Roku 2
Roku 3
Roku Premiere+
​










See all Roku Reviews
See Review
See Review
See Review
​See Review
See Review
​ Access to 300,000 movies and TV episodes for 3,000+ streaming channels
 Yes 
 Yes 
Yes 
 Yes 
 Yes 
TV compatibility
HDMI
HDMI or A/V Cable
HDMI
HDMI
HDMI 94K Video Via HDCP 2.2 HDMI
1080p Full HD support
Yes 
 Yes 
 Yes 
 Yes 
 Yes 
4K Ultra HD support
​
​
​
​
 Yes 
802.11 b/g/n dual-band wireless
​
 
 
 
 Yes 
802.11ac MIMO wireless
​
​ Yes 
Yes 
​Yes 
 Yes 
Shortcut button to popular streaming channels
 Yes 
 Yes 
 Yes 
Yes 
 Yes 
Roku Search search across the top channel by tile actor, or director
 
 
 
 
 Yes 
Roku Feed get updates on content availability and price changes
 Yes 
 Yes 
 Yes 
 Yes 
 Yes 
Hotel & Dorm Connect for internet connections that require user login
​
Yes 
 Yes 
 Yes 
 Yes 
Control with free Roku Mobile App
 Yes 
 Yes 
 Yes 
 Yes 
 Yes 
Voice search via Roku Mobile App

See all Roku Reviews
Yes
 Roku Stick
Yes
 
Roku 1
Yes 

Roku 2
Yes 

Roku 3
Yes
Roku Premiere+