Do you have problems with your Samsung TV? Technological devices frequently experience issues, but fortunately, you can typically handle these issues on your own. 
In this article, we will show you ten of the most common problems with your Samsung TV and how to resolve them.
1. The Samsung TV displays a black screen
Unaffected by brand, a typical problem with smart TVs, in general, is that they start just displaying a black or dark screen.
Although several potential problems could be the root of the problem, identifying the source is relatively straightforward.
If a set-top box or another media device linked to the Samsung TV has a faulty connection, you could experience a black screen. In this case, the cords attached to the TV need to be changed.
If there are no connected devices to the TV, the power supply within the TV is probably causing the issue.
Most likely, the power supply's capacitor is malfunctioning.

When a capacitor leaks or bloats, you can identify which one is damaged.

This can be resolved by sending the TV to a recognised repair facility.
2. Apps Aren't Installing on My Samsung TV
You might be surprised to discover that your TV isn't installing your preferred apps. 
One major contributor to this is old software. Other significant culprits include bugs in the software. When you see that your apps aren't being installed on the TV, you should:
Let your Samsung TV begin a total shutdown. When you perform a "cold reboot," it should resolve the issue. To properly complete this, you should:
Switch the television on and off 

Push the power button on the remote control for a long time.
Or, if that doesn't work, wait at least 30 seconds after unplugging the TV from the power source. Reconnect the plug after that.
3. Remote control malfunctions
Many Samsung consumers also experience problems with their TV remotes refusing to function, which requires additional troubleshooting. Here's a solution for that:
To test which one works or works more effectively, try aiming the remote at each corner of the TV.

Remove items in front of the TV (soundbar, console, etc.) It would help if you aimed for the remote receiver, frequently located directly beneath the centre of the TV.

Move the cable modem/satellite box away from the TV to reduce interference.

Reconnect the TV and remote control (where possible).

The remote's batteries then need to be changed.
Make contact with the manufacturer's assistant if these fixes don't work.
4. Samsung TV Image Keeps Freezing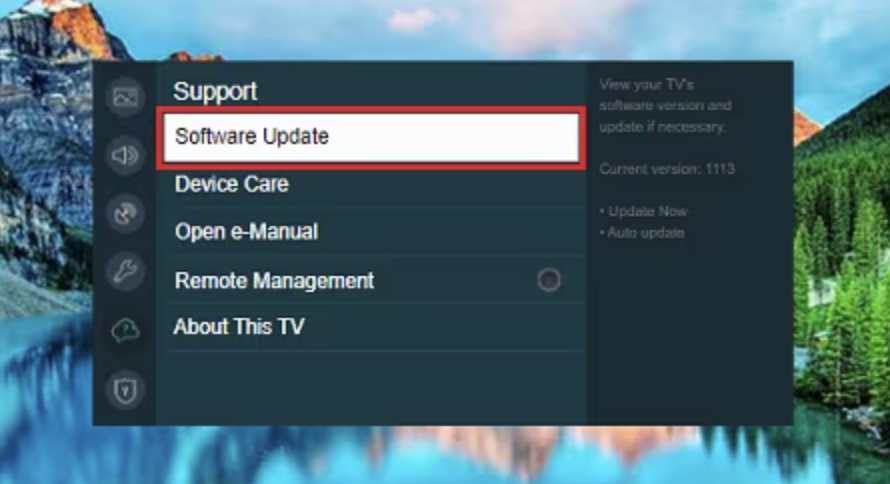 One of our worst TV experiences was a frozen display when streaming a show. However, this problem may be fixed. Most likely, you should update your firmware. Follow these steps to do so:
Choose Settings by pressing the Home button.

Visit Support, select Software Update, and then select Update Now.

By following these instructions, your Samsung TV will check for updates. 

After finishing upgrading, it will automatically resume.
Before attempting to use the TV, give it additional time to restart fully.
5. Viewing Samsung TV causes Flickering
Your Samsung TV's screen can flicker occasionally.
To remedy this, you might try performing a cold reboot. 

Your TV can benefit from a cold reboot to reduce some of the processing load and remove any unwanted cache from your TV, helping the overall flickering problem.
If the flickering persists, the power supply's circuit is probably broken. An authorised maintenance professional can quickly resolve this issue for you.
6. Unable to Turn on Samsung TV
If there is an issue with the power supply or the built-in surge protector, your Samsung TV may not turn on. If you use a remote, obstructions that block the IR signal port and interference can also be a significant problem. 
You should change the electrical cables and ensure your TV's surge protector works properly to resolve this. 
Additionally, you should eliminate barriers and disturbances from your Samsung TV to help get your TV back on and running smoothly. 
As mentioned in the preceding steps, you might also have to reset your Samsung TV remote control and the TV itself if the problems persist.
7. Graininess of the Image
Turn on the noise reduction options for content other than movies. These noise removal options are primarily intended to eliminate gradients and graininess. 
If you're streaming, strengthen your connection, or if the source quality is already poor, it will also boost it and improve graininess by:
Resetting the white balance and colour space options on settings.

Test several HDMI connections and HDMI inputs on your Samsung television.

Also, be aware that certain films, particularly older ones, are by nature more grainy. 
8. The Sound on Samsung TV Doesn't Work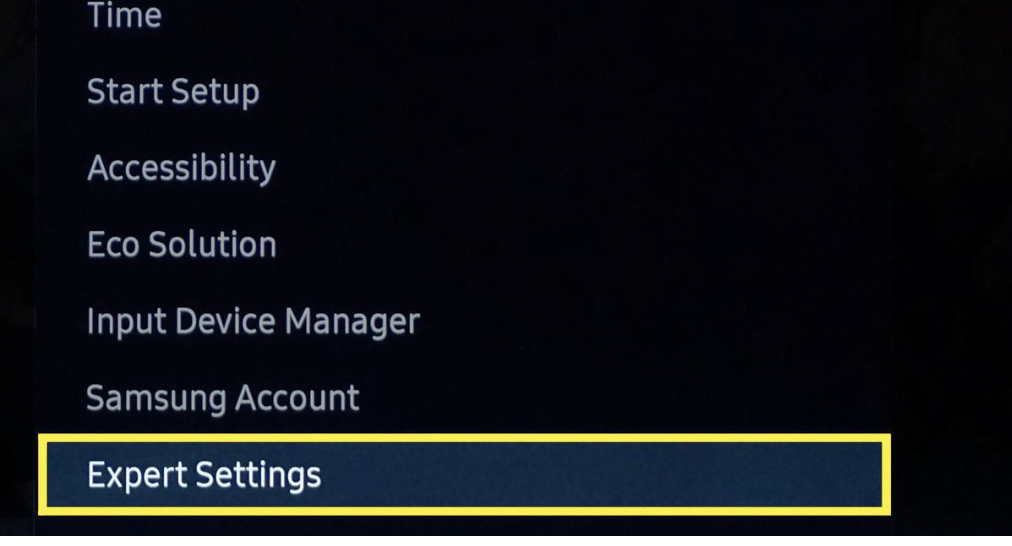 When the TV sound turns off while watching a show, it can irritate. You'll be relieved to learn that this only needs some straightforward correction.
See that the cords are correctly connected and operating, just like you would with a black screen. Verify that your external sources are operational as well. 
And if nothing else seems to be the issue, you may need to try a cold reboot. Before that, check that your Samsung TV is not muted or linked to Bluetooth. 
Then to reboot, all you need to do is:
Open up Settings, and select Sound.

Then click Reset after selecting Expert Settings.

Selecting Yes and will confirm.
You may view your movies in peace and quiet after the sound system on your Samsung TV is quickly reset.
9. There are no apps visible on Smart Hub
The Smart Hub serves as Samsung TV's primary menu. All the programmes and settings are stored there.
Apps have occasionally vanished within the Smart Hub. You search everywhere but can't locate the application you downloaded.
Here's how to solve the issue if it occurs to you:
On the remote control, click the Smart Hub key. 

Press the 2, 8, and 9 keys when the Smart Hub has loaded.

Select a different location from the Setup list, and agree to the terms and conditions. 

The Smart Hub will be updated, and you should be able to see your apps once again.
10. The WiFi on my Samsung TV Won't Connect
A lot of Samsung TVs have trouble connecting to WiFi.
This disregards the point of the Smart TV, which is to provide you with entertainment from the internet whenever you want it, which is why it is frustrating when it occurs.
Even though an Ethernet connection can offer a more reliable connection, some people may find it impractical, particularly in homes where the router is far away from the room where they watch television.
Check whether your other devices can connect to the network first. Consider unplugging one of the inactive devices and seeing if your TV can link to the internet afterwards. 

If not, restart the TV and WiFi router and wait until each device has fully booted up before turning on another. Reboot each device before attempting to connect to the network once more.

You may need to contact Samsung customer care if the TV isn't connecting to the internet via WiFi because of a more technical problem.
Final Thoughts 
Don't let all the standard problems with Samsung TV keep you from getting the absolute most out of the Samsung brand, which has become a global television industry leader. 
Just use the advice we've provided here to address these problems quickly to try and resolve what are ultimately some of the most common probelms you can expect to encounter with a Samsung Smart TV.