If you just got here, and are completely new to the steampunk movement, you should probably start with our previous detailed post on steampunk basics and what steampunk is all about. Otherwise, if you would rather just dive right into steampunk interior design style and decorating ideas, read on.
But then again, if you've never heard about 'steampunk' before, I don't blame you. The steampunk style is not a very well-known approach when it comes to interior design. But it's essentially a mixture of the strength of industrial elements and the elegant Victorian interior accessories.
It all started as a sub-genre of alternate history and science fiction back in the 1980s, and it has been relatively underground until just recently. Steampunk is quickly gaining popularity in the mainstream, with furnishings, embellishing products, and clothing designs to suit the Victorian era, but with a modern perspective.
Having said that, let's take a quick look at what makes steampunk interior décor 'steampunk' and How To Add Steampunk To Your Favorite Fashion Style.
What is Steampunk Decor?
Steampunk décor is a little more metallic than rustic décor and a little warmer than Industrial Décor. It's based on incorporating the industrial elements, and the Victorian technology and style into your home decorations.
If you're a fan of vintage décor and technology and fascinated by the inner workings of things, chances are you will love incorporating steampunk décor into your home's interior.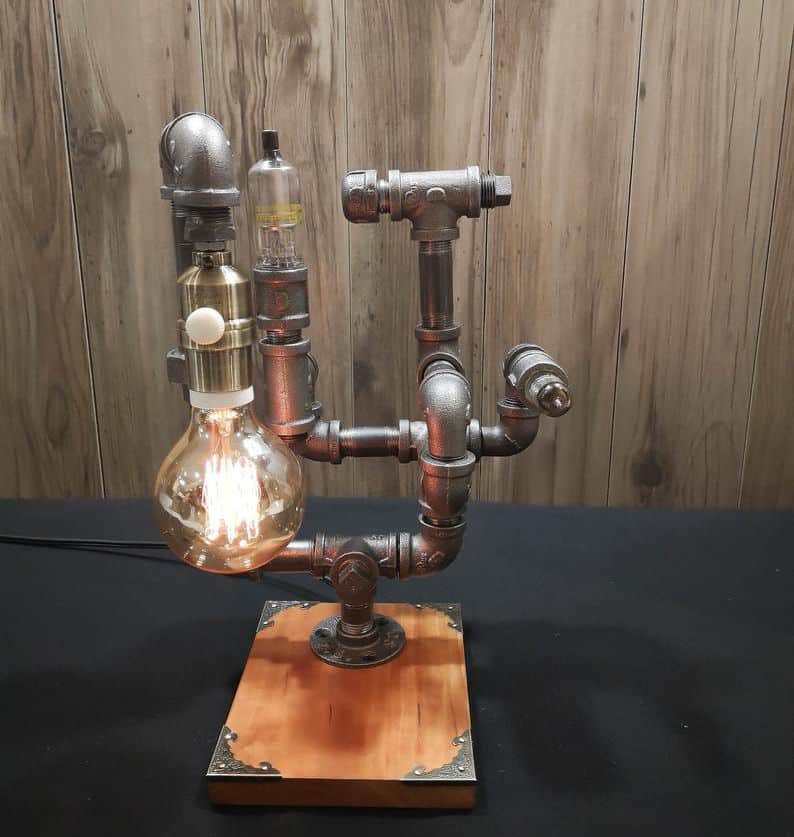 Steampunk Décor Elements
The 19th century's spirit of discovery and invention, as well as the industrialism, play a significant role in shaping the look and feel of steampunk décor. Think of things like accent walls created using vintage world map wallpapers, salvaged metal lamps featuring Edison light bulbs and antique grandfather clocks featuring exposed gears.
Steampunk Décor Colors
Steampunk is typically characterized by deep colors dominating the style, such as dark brown, black, blood red, dark blue, burned orange and bottle green. You might also notice traces of lighter shades like cream, soft grey, and sepia. Metallic accents and metal tones also feature prominently, perhaps representing the industrialism.
Coppers, bronzes and leathery tones are also heavily featured. Most steampunk rooms are dark, but they might have warm tones to balance out the space. So the walls might be painted in matte or eggshell finishes, or where possible, wood is used. The floor may also be painted in muted tones or left bare.
Steampunk Décor Materials and Textures
Steampunk décor commonly combines traditional masculine textures with feminine ones. So one approach could include a combination of large leather sofas with soft drapes or a salvaged-wood softened by Victorian lace throw cushions. Popular items in this style include things like distressed metal, old furniture, and salvaged wood.
Popular metal materials include steel, bronze, copper, iron, and brass. Gears and metal are all at home in this style, and things like exposed pipes shouldn't come as a surprise. If you just want a hint of the steampunk vibe in your interior, you could stick an oversized old clock with exposed gears on one wall to create a focal point. Or you could go a little over the top and decorate an entire wall with a gear creation for a full steampunk look.
How to Steampunk Your Home
1. Using Old Maps As Wallpaper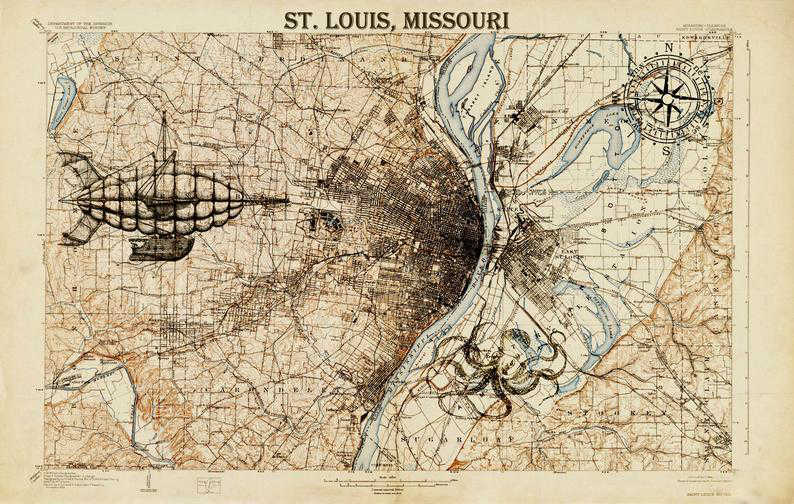 This is probably the easiest and most modest way to go steampunk with your interiors. Some of the hues commonly used in steampunk themes such as black or red can be somewhat overwhelming when used in excess. Using a wallpaper with the drawings of an old vintage world map, or using actual old maps to create an accent wall can be a great way to tone down the darker shades. The wall will act as a focal point and lighten up your room, lending your interior a vintage feel with a touch of complexity.
2. Lighting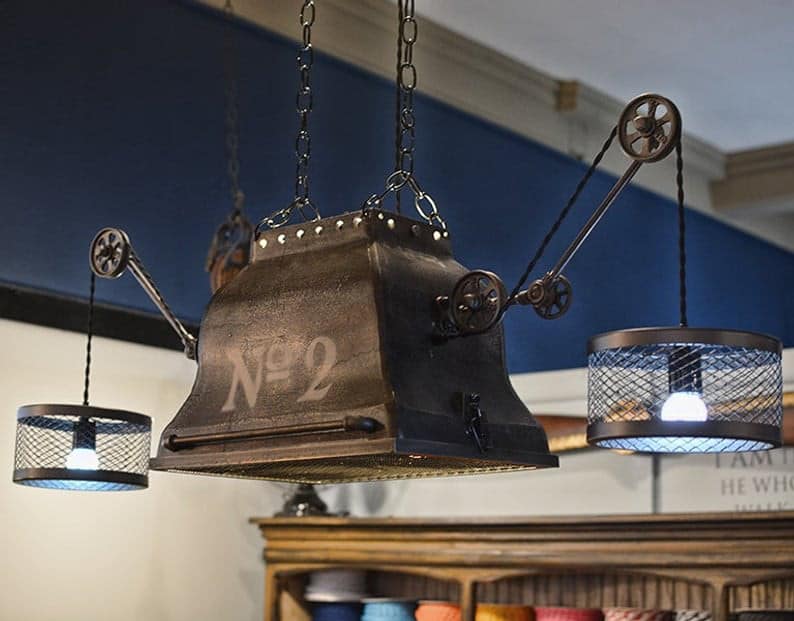 A black or red room with dark leather furniture, gears and exposed pipes and overall tones of old tomes can make your interior look like a cave if it doesn't have the appropriate lighting. And one of the best ways to light up your vintage interior is by using plenty of natural as well as artificial light. Warm light softens edges, molds surfaces, adds delicate shadows and creates powerful contrasts.
Overall, good lighting will make your interior more approachable and the room to feel more welcoming. There're plenty of steampunk-themed lighting fixtures and systems, including lampstand, lampshades, chandelier, and bulbs. Perhaps the most commonly used bulbs here are the uncovered vintage Edison light bulbs.
Light fixtures in this genre generally favor pieces that appreciate the mechanical, with exposed bulbs, steel pipes, valves for switches, caged lanterns, and salvaged metal lamps being common features.
3. Leave The Brick Wall Exposed
Brick is one of the most commonly used material due to its unique nature. They add a raw Scandinavian vibe to your interior while creating a perfect backdrop for your vintage furniture. So if you have a brick house, leave a number of interior walls exposed to add a dramatic effect and lend your room a steampunk vibe. Naturally, you would want to contrast the rich red brick tones with the dark and bold metallic tones of other steampunk elements. If you really need this look, but your room doesn't have the exposed brick wall, you can use wallpaper instead.
4. Add A Terrestrial Globe
Terrestrial globes are popular items when it comes to steampunk interior décor because naturally, they're antique pieces. Don't purchase a new, shiny model; instead, go for the oldest globe you can find to enhance the vintage look that you're trying to create. Place it on your steampunk table somewhere accessible, and you can be sure someone will be addicted to spinning it over and over again, just for the fun it.
5. Hang Hats In The Space
Hats are classic symbols of the Victorian era, and hanging them in any room instantly lends it the steampunk feel with a pinch of sophistication. Hanging them will definitely impress your guests and act as curious conversation starters. One clever way to incorporate these hats in your space to use them as lampshades or simply hang a couple of them in the room on a string, like you would hang decorative chandeliers.
6. Hang Sepia Photos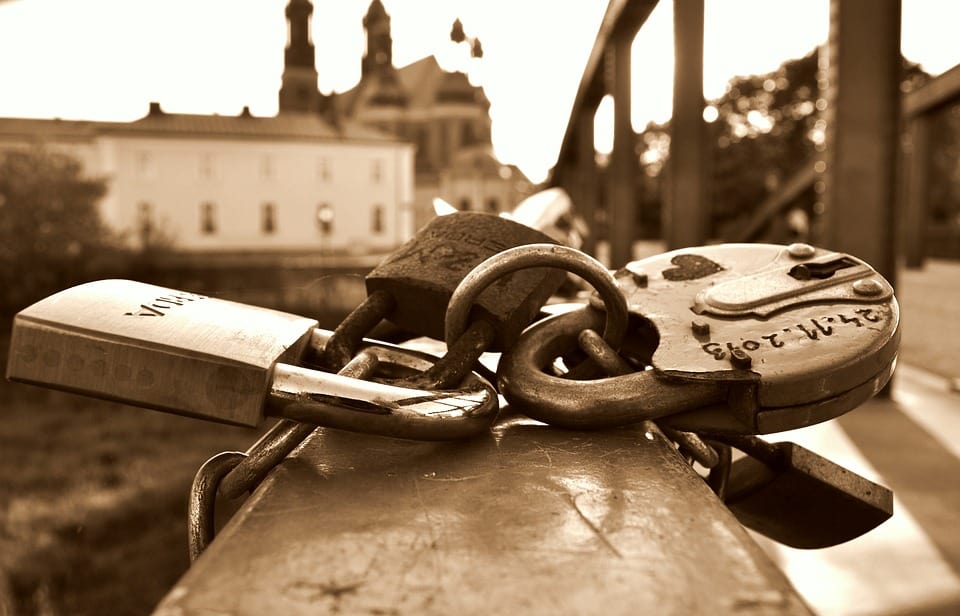 Sepia photos, aka antique photos, are common decorative items used in steampunk-themed interiors. You can use your old family photos or download some pictures of historical characters who inspire you from the internet. Just don't overdo it lest your room turns into a museum of sorts.
7. Decorate Your Walls With Gear Wall Clocks
As you already know, gears are a key feature in the steampunk movement, and you can cleverly incorporate them into your space to lend it that industrial look. Here, you have literally unlimited options. You can either hang an oversized old grandpa clock with exposed gear on your focal wall or create a gear wall clock if you really want to make a statement.
Generally, using gears to create and display Victorian industrial pieces is guaranteed to work in almost any space. But as earlier mentioned, don't overdo it. Otherwise, your place might become a little intimidating and even weird to some of your innocent guests who don't appreciate or belong to the steampunk universe.
8. Steampunk Style Art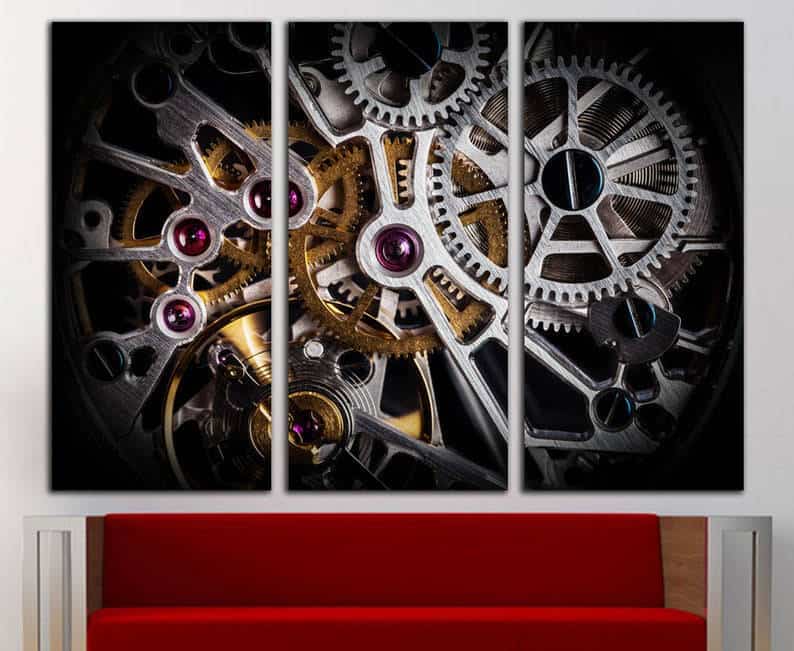 Steampunk style art is another effective way of creating a steampunk vibe while staying simple at the same time. It mixes modern technology and ideas with those from the Victorian age. Most materials used here are often items you will find in an old industrial lot or old science lab. This will typically include lots of brass, steel, copper, wood, stained glass, old watch parts, old-fashioned lightbulb, levers, gears, springs, cogs, rivets and old-fashioned parts of machinery.
You might also notice leather steampunk items, often sewn crudely together with thick stitches and heavy cord. If you've used plenty of other steampunk ornaments and elements already, you might want to go slow with the steampunk art elements. Just add bits of the art here and there so that your space doesn't become too busy and overwhelming.
9. Steampunk Style Furniture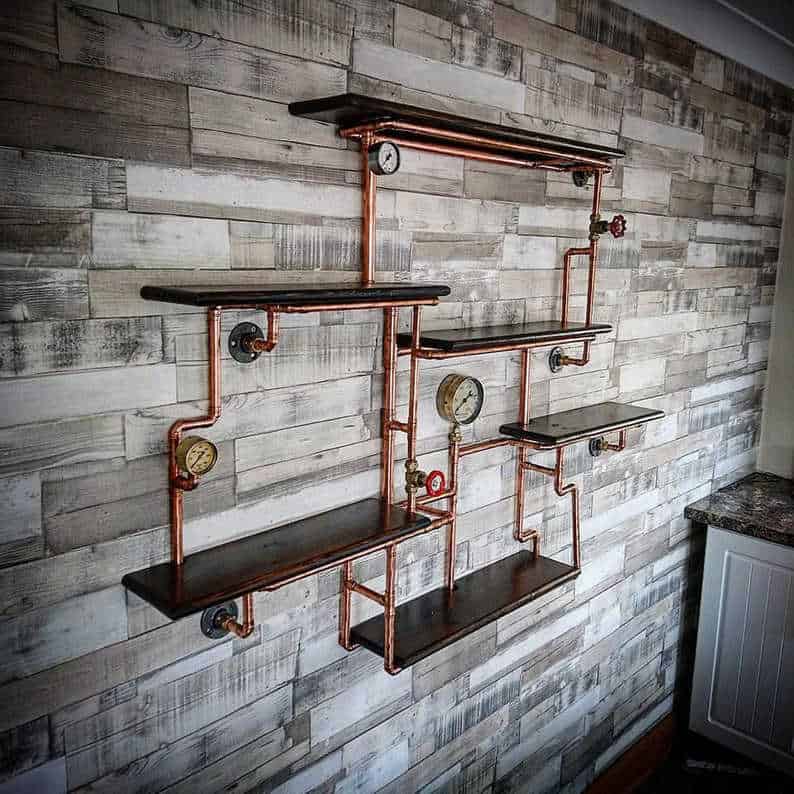 Changing your furniture to steampunk style furniture is probably the most drastic step you can take towards becoming a full-time steampunk enthusiast. This will completely transform the feel and look of any space. You have an option to change a couple of furniture pieces or throw out every piece of existing furniture and replace them with steampunk ones.
But before you do that, consider the room you're changing and ask yourself if the new furniture will work with your current room. Generally, instead of buying new furniture, go for vintage, refurbished or salvaged pieces. You can also consider using a steamer tank as a table in your living room. If you can't seem to get your hands on any of those, try shopping around for a piece of vintage furniture that has been well-preserved from the Victorian age.
Closing thoughts
I hope the above ideas got some steampunk gears in your head, turning with ideas on how to inject some steampunk vibe into your living space. Remember, the idea is to give off a Victorian vibe and rekindle those nostalgic bygone memories. There is no 'right' way of doing it, as long as you have the basic 'steampunk rules' you can let your imagination run wild. Just don't make your space feel overwhelming a few key pieces can add a sophisticated style, remember less is more.
Other articles that will help you learn more about Steampunk