The Upright Go Posture Trainer and Corrector start with a successful Kickstarter Campaign and later bought by Apple is a strapless electronic device that helps maintain good posture. It is attached on the upper part of the back to monitor spine movement and alert users anytime they slouch.
Most of the people that use this gadget report an improvement in their posture within two or three weeks. Read my Upright Go Posture Trainer and Corrector Gadget Review to see if it can help you.
The Upright Go Trainer works on its own but can be connected to a mobile app for better efficiency and feedback. The app provides you with real-time feedback, progress reports, and personal training plans. It also gives you insights on how to prevent muscle aches and pain. This results in reduced back and neck related complications and increases productivity amongst workers.
Upright Pro uses scientific learning algorithms to detect body movement and generate vibrations. You can set it into tracking mode in case you do not like the vibrations.
Once you have mastered the right posture, you may stop using the device, although most people continue using it just to be sure that they can still maintain the correct sitting or standing posture. In such cases, the device does not produce any vibrations. It only records posture data and sends it to the app for tabulation.
Upright Go Posture Trainer and Corrector Gadget Review
Design
The Upright Go Posture Trainer set consists of the trainer device and a MICRO USB charger. It is white in color and is made from lightweight silicone material. The device is too thin to be noticed when worn under clothes. The device features an all-in-one button that is used to switch it on, set the right posture parameters and toggle between training modes.
User alerts are in the form of an LED indicator or through a series of vibrations which are emitted as soon as the wearer assumes an incorrect posture. The package also comes with reusable adhesives that attach the device to your back and alcohol pads for cleaning the skin surface before attachment.
You may purchase extra pieces in case they run out. There is also a free iOS app and a travel case for holding all these items together. A user manual is also provided to ensure you set up and use the Upright Go device correctly.
Functionality
The Upright Go Posture Trainer and Corrector utilizes Bluetooth connectivity to collect posture data and send it to the Upright Go mobile app. It operates in two modes – tracking and training. The tracking mode records your posture but does not alert you when you slouch.
The training mode is the most useful because it alerts users of any changes in posture. With the training mode is activated, the device captures your posture details after every few seconds and vibrates any time you slouch.
Users can adjust the length and magnitude of these vibrations through the free app. In most cases, this vibration is not too strong to cause discomfort, but good enough to be detected. You may also switch between the tracking mode and training mode via the device's control button.
Through the Go app, you will be able to access several features, including:
A Personalized Training Plan: The app uses your biometric data to generate a personalized program that meets your daily goals.
Posture Stats: Upright Go captures the exact measurements of your posture and provides you with the necessary feedback. It tracks upright versus slouched positions and uses this information to generate a daily score. You can use this score to track your progress over time.
Installation and Use
The Upright Go Trainer is straightforward to install and operate. To use it, you must have an Android or iOS phone, which are known to support Upright Go's functionality.
There is also a desktop app for users who prefer not to use their smartphones. The desktop app is more suitable for workers who spend most of their daytime at the office. It offers the same experience as the mobile app.
Installation
To start using the Trainer, download and install the free app on your smart device and input the basic parameters. This information will be used to tabulate your stats and generate your personal training program.
You can start using the device for just a few minutes each day and keep increasing the time as days go by. Check whether the device has enough charge, then tap the all-in-one control button to connect to the app.
The app will automatically detect the Trainer via Bluetooth and alert you once successfully paired.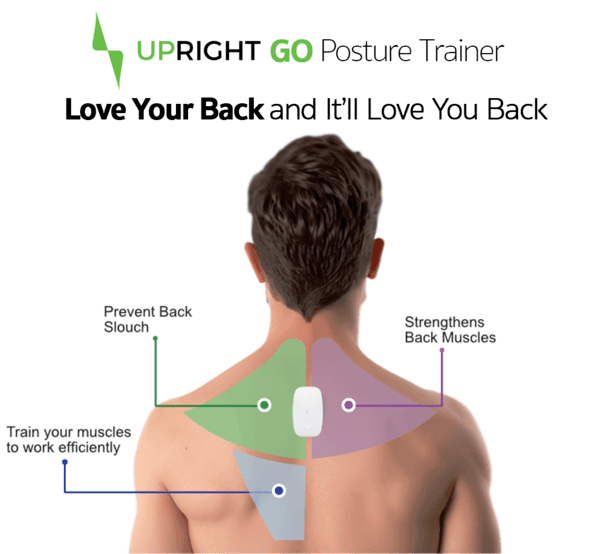 How to Use It
After pairing the devices, place it on the upper part of your back. Make sure you clean the skin surface using alcohol pads before attaching the device. Placing the Trainer on top of your shirt may not give accurate measurements; that is why users are advised to ensure it is in contact with the skin.
Once you placed the sensor in the correct position, sit straight up and double-tap the control button. The device will start tracking your posture. You will need to calibrate the device each time you attach on the skin since the position keeps varying with each use.
Slouching Trials
There is an 8-minute trial period after setting up the device. Take advantage of this trial to check whether the device is working and if it can detect any changes in your posture. It is recommended that you use the device between 15 and 60 minutes each time. These short cycles are aimed at helping you master a correct posture even when you do not have the gadget on.
Advantages
Besides helping users to maintain a better posture in less than three weeks, the device also comes with several other great benefits. Here are some of them:
Decreased Pain
The Upright Go Trainer and Corrector operates using biofeedback technology, which helps change the psychological function of the body by electromagnetic monitoring. This technique has been in use since the 1970s, and although it's not popular, it has been effectively used by Upright Go to reduce slouching, which in most cases results in back and neck pain.
Increased Productivity
Maintaining a good posture supports the spine, thus minimizing body discomfort. Sitting or standing straight improves circulation, allowing you to think better. This translates to a healthier lifestyle and more productivity at work, especially for users who spend most of the time in front of the computer.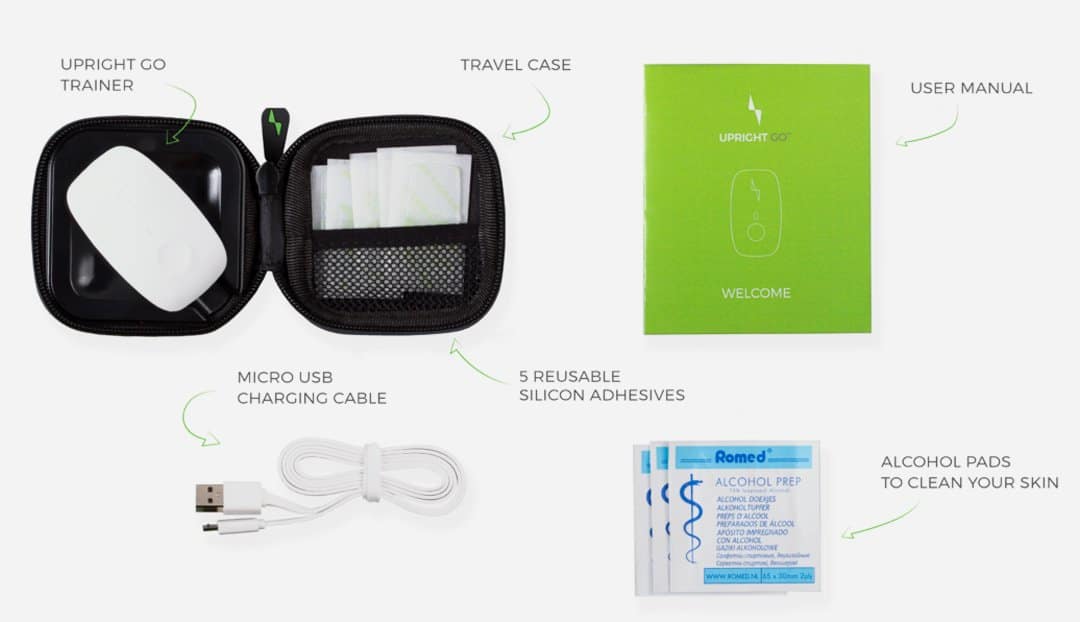 Discreet
The device is too small to be easily detected. It is very light in weight, and its general design makes it comfortable enough for long-term use. When placed between the shoulder blades, it is undetectable even when wearing tight-fitting clothes.
Strengthens the Core
Unlike other posture trainers and correctors, this device assists in building a strong core, which automatically translates to a stronger back. Since good posture is vital for a strong core, using Upright Go is one of the easiest ways to achieve this goal.
Users are able to report changes in just two weeks –using the device is likened to having a personal posture trainer. The app has several tutorials that can help achieve this within a short timeframe.
Personalized Programs
You can calibrate the device to suit your lifestyle and body type. When setting it up, you will be asked for some information that will be used to customize a personal training program that suits your lifestyle.
Instant Feedback
The Trainer tracks your progress and provides you with instant feedback and stats which you can use to improve your posture. It also notifies you each time you achieve your daily goals. There is an in-app customer support team that you may contact for assistance, motivation, and information.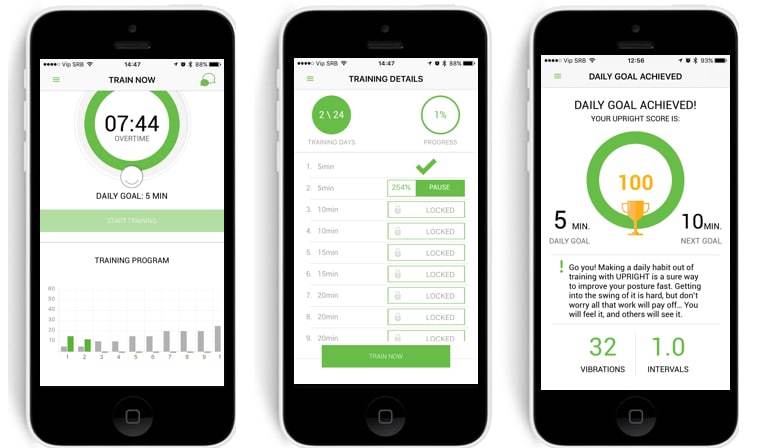 Easy to Install, Use and Maintain
To use the device, you only need to turn it on and place it on your back. The device utilizes double-sided adhesives to attach on the body. The reusable adhesives keep the Upright Go in position for a long period of time.
Each can be used up to 10 times, or more depending on the skin type and maintenance level. It is also easy to recharge the battery using the USB cable. A fully charged battery may last up to two days.
The downside
The Upright Go Trainer and Corrector from Apple doesn't have any distinct disadvantages, except that it doesn't have waterproof capability. This means that the USB port may get damaged in case of contact with water. It is therefore not advisable to use Upright Go when engaging in sweat-inducing activities.
The reusable adhesives are also not waterproof and may slip off in case of rigorous physical activity. Another downside of this device is that it only tracks the upper back posture. Therefore, it might not be effective for strengthening the lower back.
Upright Go Posture Trainer and Corrector Gadget Review
Closing Note
The Upright Go Posture Trainer and Corrector has been effective in achieving good posture goals. Once you get used to the device, you may be able to maintain good posture more frequently, without having to wear it.
Since the Upright Go is easy to operate, most users are able to install it without any assistance. However, new users can obtain installation guidelines from the upright go user manual just to ensure that they set the right parameters for their daily needs.
The Upright Go is Available at Amazon
For more gadgets