The Wacom Cintiq DTK 2200 Graphics Tablet is more than just a graphics tool. It combines pen technology and multi-touch input to make your digital drawing and writing experience more interactive. The combination is most beneficial to designers, artists, illustrators, and photographers since they must always edit their work to meet industry standards.
It is a great improvement to the previous tablet models from the well-known brand that allows you to create, edit, and fine-tune your work in simple keyboard shortcuts known as 'expresskeys.' Only higher versions of this model can beat its functionality. Let's take a closer look with my Wacom Cintiq DTK 2200 Graphics Tablet Review.
Wacom Cintiq DTK 2200 Graphics Tablet Review
Features
Size
The tablet is 25.6 inches long
15.7 inches wide
2.2 inches thick.
It has an active area of 429 x 271 mm.
It is typically larger than the ordinary 22-inch display screens.
The Wacom Cintiq DTK 2200 Graphic tablet weighs 18.7 lbs and has an aspect ratio of 16:9, which is more convenient to work with, especially when editing video content. With such specifications, the tablet is able to display a combination of about 16.7 million colors.
This is equivalent to 72 percent of Adobe's RGB color range. Wacom Cintiq 22HD supports an inclination of up to 178 degrees. Users are therefore able to display their work in a variety of angles.
Display
The Touch tablet is set to a fine contrast and definition that promote a clear distinction of colors that is not too bright for the eyes. The tablet's textured surface provides a paper-like touch for your fingers. You can use the Wacom Cintiq 22HD as an extra computer monitor, especially when you want to reference or duplicate items.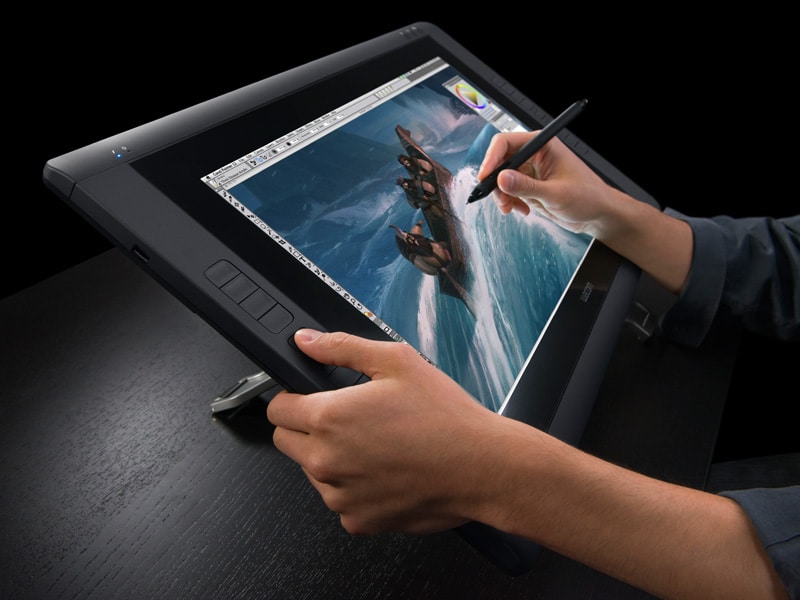 Grip Pen
The grip pen acts as a writing and drawing tool. It is fitted with a rubber holder to offer more comfort and has two switches on its sides. It also has a pointed end and eraser that work using the 2048 pressure levels available on the touchscreen. The grip pen can tilt to an angle of 40 degrees maximum, stopping at 60 different levels within the tilt range.
Since the tablet doesn't have a holder for the pen, Wacom provides a pen stand to keep the pen in an upright and ready to use position. You may easily calibrate the pen to suit your graphics needs from the Properties menu.
The calibration process involves selecting the pen icon on any of the four corners of the screen and must be done any time the Touch inclination changes, to ensure accuracy of performance.
Vents
Unlike ordinary Cintiq tablets which are prone to overheating, this model has vents on its rear to prevent it from heating up. You can, therefore, use it for a long time without worrying about overheating.
Express Keys
The Wacom Cintiq DTK2200 22HD Pen Display Tablet has a set of 18 expresskeys that can be customized to fit user needs. They allow you to toggle between several displays without the need to move around. The center button helps users to navigate between touch strips found behind the expresskeys.
The function of these strips is to zoom, scroll through a document, or change features such as the brush size and document layers. These keys can easily be customized for left-handed individuals or set as hotkeys for some applications.
USB Cables
This is in the shape of a circle with three types of cords extending from it – a USB cord, a DVI for monitors, and a power cord. Users who do not like this design can unscrew the ring and remove whichever cord they do not need. It is also easy to replace any faulty cords without having to purchase the entire set.
Tablet Stand
The tablet features a unique stand that easily rotates to ensure maximum utility of input tools. It is made of metal and has four supporting pillars. The two levers on the stand allow you to rotate the touchscreen. The left lever lets you rotate the Touch up to 180 degrees down.
This position allows you to toggle between portrait and landscape orientations when working on a document. Once you are done writing or drawing, use the right lever to push the Touchback to its original position. To connect the Touch, slide it on the surface of the stand and screw it in place.
---
Add-Ons
The Wacom Cintiq 22HD Touch model comes with a variety of add-ons that offer more functionality to designers. There is a classic pen for those who need thinner lines than the ones made using the ordinary grip pen.
There is also an inking pen for drafting sketches on real paper as well as an art pen and airbrush pen for reporting pen rotation and provision of additional control respectively. Once your grip pen wears out, you may choose to get replacement nibs instead of purchasing a new pen altogether.
---
Pros
Owing to its unique design, this version of Wacom tablets has several benefits to the user. Here is a quick look at some of them;
Efficient Design
The tablet is designed with the user's comfort in mind. The case is made of soft material which is thinned out for maximum comfort. It is therefore natural for users to rest their forearms on the device in case of long work sessions.
Versatility
The 21.5-inch widescreen display is suitable for accomplishing a wide array of digital work, including design, motion graphics, photography, animations, and illustration of content. The multi-touch functionality is very instrumental in rotating, zooming, and navigating through applications.
In a nutshell, the visual experience offered by this model is out of this world since you get to edit, design, and create your documents using millions of colors, in a central workspace.
Dynamic Display Positions
The tablet has an adjustable stand to help you achieve the most comfortable working position. Switching between angles helps you to adjust to new working angles quickly. This makes it possible for users to attain natural writing or painting strokes without straining. The tablets stand moves and recline with ease to ensure that all your inclination requirements are met.
Time-Saving ExpressKeys
You may decide to use shortcuts and hotkeys to avoid interrupting your work in case you need to execute a simple function. This is achievable by displaying some of the keys you use most on the screen for easy access.
When used correctly, these shortcuts can significantly improve your productivity and design experience. The touch strips are very helpful in scrolling, zooming, and navigation as well.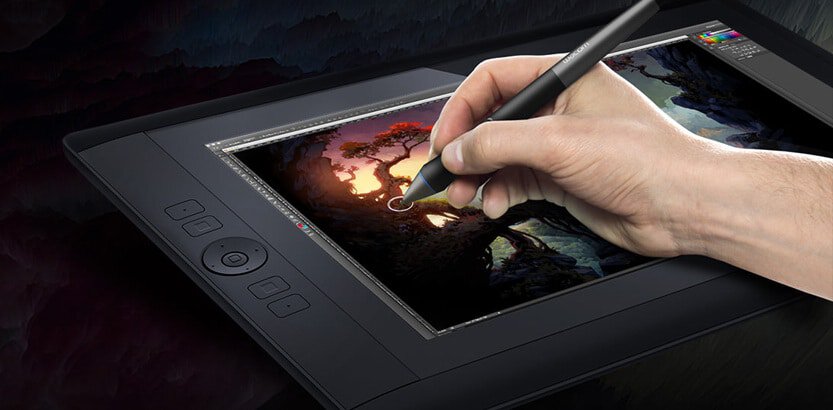 State-of-the-art Pen Technology
The Grip Pen is capable of sensing up to 2048 pressure levels. It is one of the most accurate tools used by graphic designers. Through varying the angle and pressure of the pen, professionals can easily make changes to their work and achieve highly sophisticated, yet unique digital content. By regulating the brush size and color exposure, designers can quickly achieve the same effect as they would using a paintbrush.
The two side switches allow you to change the line weight, brush size, and any other common functions to achieve a natural effect on your work. This does not need a battery or cord to work. It comes with a grip to ensure balance and comfort.
The pen can sense approximately 60 levels of inclination to offer a versatile painting or drawing experience. The pen stand can double as a storage container for other accessories such as spare nibs. In case you need more functionality with the pen you can easily purchase some add-ons.
Interactive Multi-touch Feature
The multi-touch capability gives you an alternative to using the pen and keyboard shortcuts. Using two fingers, you will be able to rotate an image with no effort. Switching between the pen and your fingers occurs in real-time.
The surface is large enough to accommodate four to five fingers, although most people prefer using only two fingers. The shortcut keys are easily accessed by tapping the screen using three fingers.
Cross-Platform Compatibility
The Wacom Cintiq DTK2200 22HD 21-Inch Pen Display Tablet is suitable for use with Mac and PCs. It has a plug-and-play feature that allows you to connect to these machines. You may also install drivers from the installation CD to be able to work from the screen.
---
Cons
The Cost
Although the gadget is highly instrumental in graphic design, its cost may be an obstacle to some users. The tablet is one of Wacom's higher costing tablets. Many of the reviewers have sighted the cost of Wacom Cintiq 22HD 21-inch DTK2200 as the most significant challenge with this product.
But if you are in for a quality, durable and extremely versatile graphics, and design tablet, this might not be much of an issue.
Dimmed Display
Due to the textured glass surface, the display seems a bit dim when compared to ordinary smooth displays.
Requires Additional Equipment
Unlike standalone tablets, Wacom Cintiq 22HD Touch requires a computer to function. This is because it does not have an operating system. It also doesn't have any pre-installed software.
Before using it, you must first download and install applications. There is also a need to use a USB connection in case you need to use its multi-touch capabilities to the maximum.
The Bottom Line
Most designers, artists, illustrators, and photographers around the world have, in one way or another benefited from Wacom's pen tablets. Wacom is one of the most popular brands in the design industry.
Although these tablets are considered more expensive than ordinary brands, any serious graphic designer will always consider getting them for the most professional work. New users can take advantage of the quick start guide and user manual provided during purchase.
---
The Wacom Cintiq Graphics Tablet Comes in five different sizes
Wacom Cintiq Pro 13 Inch
The Wacom Cliniq is the smallest drawing tablet in this line and is ideal for an artist that is on the go. Weighing less than 3 lbs the Wacom 13 inch is Light and compact.
11.6 x 6.5-inch active area
Full HD (1920 x 1080)
87% Adobe RGB
Compact pro-quality choice
---
Wacom Cintiq Pro 16 Inch
The Cintiq Pro 16 features the Wacom Pro pen 2 with 4X higher pen accuracy and pressure sensitivity, 4K resolution display (3840 x 2160) and exceptional color performance (94% Adobe RGB) in a compact display.
13.6 x 7.6-inch active area
4K Ultra HD (3840 x 2160)
94% Adobe RGB
Portable with room to create
---
Wacom Cintiq Pro 22 Inch
The Cintiq 22HD features a 21.5-inch display with a wide viewing angle and a widescreen aspect ratio, ideal for large-format work.
18.9 by 10.7 inches active area
4K Ultra HD (3840 x 2160)
99% Adobe RGB
Manageable pro-level digital canvas
---
Wacom Cintiq Pro 24 Inch
The Cintiq 24HD For artists & designers who want to add a world-class pen-on-screen creative experience to their Mac or PC.
20.55 x 11.57-inch active area
4K Ultra HD (3840 x 2160)
99% Adobe RGB
Large pro-level digital canvas
---
Wacom Cintiq Pro 32 Inch
This is Wacom's largest model in the Cliniq. All the features with a large screen to be creative with. Available at bhphotovideo.com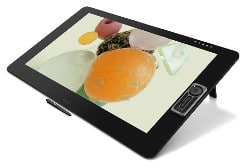 27.44 X 15.43 inch active area
4K Ultra HD (3840 x 2160)
99% Adobe RGB
Very large pro-level digital canvas
---
For more gadgets