The Addmotor HITHOT Power Mountain Electric Bike is such a fun way to commute to work on a busy weekday as well as a fun getaway to explore nature and experience the great outdoors on weekends. It is a cool electric e-bike that offers a perfectly smooth ride on all sorts of terrain with minimal effort.
It's not the cheapest bike in this range, but as you will find out, the premium pricing is all well compensated. Let's look at our Addmotor HITHOT Power Mountain Electric Bike Review.
This 500-watt Addmotor HITHOT Power Mountain Electric Bike is one of the most attractive models designed by Addmotor. It provides users with a fun and convenient way to ride through various terrains, including beaches, mountains, and normal roads. It has a specially designed stealth battery which can be easily removed for storage or recharging purposes. This is a useful design feature for those who wish to acquire a second spare battery.
Like most mountain bikes, there is a durable aluminum alloy frame incorporated into this model as well as a powerful yet completely noise-free 48V 500V brushless motor in the rear end. These two features, combined with a double suspension fork, make mountain biking unbelievably smooth to ride. Battery range is 60 miles using level one assist.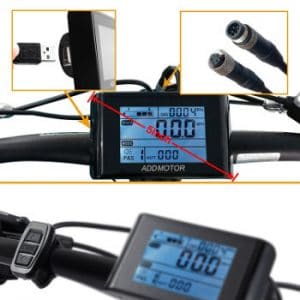 The e-bike is shipped partially assembled and assembling the remaining parts is quite easy. It also comes with a quick-release front wheel aims to enhance the bike's flexibility. It has the capacity to accommodate heavy users with a height of around 5'6, and a maximum weight of 300 pounds.
This 26-inch Addmotor HITHOT Mountain Electric Bike comes equipped with 26" power wheels to make it a more user-friendly option as compared to many other mountain e-bikes available in the market. Additionally, the efficient pedal assist system makes the bike supremely capable of taking you anywhere at the speed you prefer.
As you cruise by with your cool magnesium Integral Wheels, your friends will be envying your ride and will soon be asking you where you bought it. The double suspension and stiff and durable alloy frame smooth out the rough roads and absorb bumps. These features make it more comfortable for Long Distance Mountain biking and trail riding.
The New version has got a few suggestions from users and reviewers incorporated including creating more clear instructions and making the seat more comfortable
---
Features
Shimano 7 Speeds TX55 Rear Gears; Integrated Tail Light that also serves as a Brake Light when rear brakes are applied. It increases the visibility of a car when on the road, thus reducing the possibility of rear-end collisions
Frame: The bike is equipped with a durable 6061 Aluminum Alloy Frame which is lightweight but strong enough to support up to 300lbs of a load.
Battery: the bikes 36V48V*10.4AH Samsung Lithium Cell batteries in a sealed removable pack. The battery gives you the flexibility to have a second replacement battery and even charge away from the bike. The battery fully charges in 3 to 5 hours. Has a USB charging port on the display to top your phone on the go.
Wheels: The 26″ x 2.5″ Small Mountain tire wheel is more comfortable than other mountain E-bikes. Coupled with pedal assist, the bike is an ideal option for real mountain biking and off-road riding.
Motor: Smooth 48V, 500W high-speed brushless Rear Hub-Motor with a 21-speed Shimano professional transmission system that makes it perfect climbing. The motor facilitates a maximum speed of 25miles/hour, which is pretty impressive for a mountain bike.
Brakes: the bike has mechanical front and rear TEKTRO HD-E710 180mm/160mm F/R Alloy dual Disc-Brake for rapid deceleration or stopping.
Working modes: There is the manual mode and pedal assist mode. The pedal assist mode has 5 levels that you can choose from depending on how much effort you would like to put in. With the pedal-assist mode engaged, the bike can hit speeds of up to 25 MPH.
Front Fork: High-strength SR Suntour XCM 100mm Travel Suspension with Aluminum Alloy King shock Spring Shock Absorbers suitable mountain biking.
Distance: Electric bike single charge range is 60 miles using the Level One Pedal Assist mode.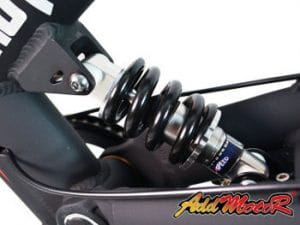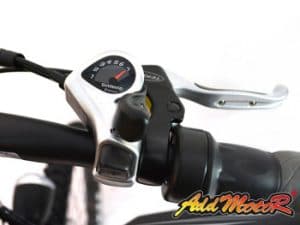 ---
Product specs summary
Battery: 48V*10.4AH Samsung Lithium Cell Battery
Motor: Bafang 48V*500W Rear Hub Brushless Motor
Display: Addmotor 5 Inch LCD Display
Charger: US Standard DC Smart ChargerThrottle Type: Variable Speed Control – 1/2 Twist Throttle
Handlebar: Black Aluminum Handlebar
Seat: Quick Release Velo Saddle
Pedals: Aluminum Black PedalsBrakes: TEKTRO HD-E710 180mm/160mm F/R Alloy Disc Brake
Freewheel: Shimano Pro Freewheel 7 Speeds
Color: Orange/Matte Black
Appropriate Height: 5'6″-6'10"
Weight capacity: 300 pounds
---
Addmotor HITHOT Power Mountain Electric Bike
Pros and Cons
Pros
Great Led display to keep you updated on battery power.
The attractive and cool appearance which adds fun to the riding experience
checkDecent battery time with a 60 miles ranges from a single charge.
check48V, 500W powerful motor suitable for mountain biking.
User-friendly and convenient features which are both durable and dependable.
Many happy users review the only complaint is the saddle could be better.
Cons
Shorter users might struggle a little to find their perfect fit.
Light s a little dim. If you do a lot of night driving replacing for better visibility is a good idea.
The main complaint is the saddle is not too comfortable.
Assemble instruction manual not detailed enough ( Take advantage of free assemble).
Addmotor HITHOT Power Mountain Electric Bike Review
Bottom line
The Addmotor HITHOT 26 Inch Power 500W Mountain Electric Bike is a nicely designed and attractive model that can offer the real biking experience on the steepest hills. But if you just want to use it for commuting around city streets, it doesn't disappoint either.
It is equipped with a powerful brushless motor and a quick recharging battery along with 5 levels of pedal assists that can help you reach a maximum speed of 25 miles/hour.
It is a premium price but you do get a lot of bike for your money. If you are technically challenged I would suggest taking advantage of the free assemble or at least partial assemble. If you like the Addmotor build but don't need as rugged of a bike then the Addmotor Hithot H1 comes in for less money and also weighs less. Could be a better option for a smaller user.
Other e-bike reviews