What is an E-Bike or Electric Bike? It is a bike consists of a customized or modified bicycle frame with pedals for manual peddling, but includes an electric motor, usually in form of a mid-drive motor, hub motor or a belt drive connected to the rear wheel. Here are our Top 10 Best Electric Bicycle Brands On The Market to find out more about E-Bikes.
You can either pedal or take advantage of the power of a battery and motor drive system. Some are bigger and some are quite small and compact. Some fold up and can easily be brought on a bus or train and be used to finish the last few miles of the journey.  We have gathered together the Top 10 Best Electric bikes on the market some are compact and other more rugged full-sized E-Bikes. Prices range from around $400 to a little shy of $2000. See what Electric Bike would suit your needs and budget. 
For you to use an electric bike, you first need to charge the battery, turn on the controller system and pedal the bike forward, pull the trigger or twist the throttle to initiate the motor drive system. There is numerous design of E-bikes from models that have a small motor to assist your pedal-power to more powerful ones that can power up a steep slope with relative ease.
Most e-bikes are legally classified as bicycles rather than motorcycles, which means they are, not subject to the more stringent laws regarding their certification and operation.
Electric bikes may not be the perfect vehicles for every transportation occasion, but they perfectly complement and sometimes come out as better alternatives to car rentals, borrowing from friends or family and using bus systems.
On many occasions, I find using a bike far more convenient in big cities with lots of traffic, and you don't have to pay for parking. There are many other benefits of using electric bikes that I bet you didn't know about. Here are a few.
---
Top 10 Best Electric Bicycle Brands On The Market
---
Benefits of using electric bikes
No insurance or driver's license required to operate
Can be used to cut through parks and on sidewalks
Offer a great opportunity to exercise and practice balance
Cleaner, Lighter and more reliable than gas-powered vehicles
Much safer compared to motorcycles as they run slower and are not fully usable on high-speed intersections
Environmentally friendly as no exhaust are created for you to inhale
Cheaper to operate compared to their gas-powered counterparts
Easily skip through and avoid congested traffic areas
Easy and quick to park and save on parking fees
Being stuck in traffic can be a little stressful and lonely especially if you are driving alone. Once you get outside and see peoples' faces, the world gets a lot friendlier as you get to meet new people and encounter your own little adventures as you ride.
E-bikes are quickly catching up with the modern urban society as their usage spreads throughout and beyond America to Asia and Europe where vehicle ownership and gas are cost-prohibitive.
This article gives an overview of the top 10 cost-effective e-bikes that I am are sure you will love. I have tried to cover the most important aspects that you should consider when buying an electric bike include safety, performance, power and important features.
Before you purchase a bike be sure it is the proper size here is a Bike Fit Guide from Amazon.
---
1. Razor MX650 Rocket Electric Motocross Bike Best Electric Dirt Bike For Kids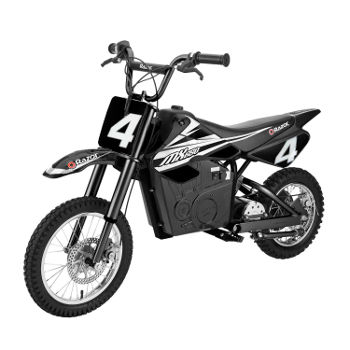 If you're looking into acquiring the Rocket MX650 by Razor, you should probably first prepare for lots of epic off-road excitement adventures. The Razor Rocket MX650 is a high-performance electric bike designed to hit dirt hard and fast.
Needing no gas means that you will also go green as you go fast. The bike features a variable speed, chain-driven motor, dual suspension and oversized pneumatic tires built for off-road riding.
The Dirt Rocket MX650 can go up to 10 miles or over 40 minutes of continuous fun in a single charge. It comes with adjustable riser handlebars, twist-grip acceleration control, hand-operated rear and front disc brakes that offer maximum safety and comfort while putting you in command. You can comfortably hit up to 17 mph.
The recommended age for riding on the Razor MX650 is 16 and above, with a weight limit of 220-pounds. However, some surveys have indicated that kids as young as 10 years with some biking experience can comfortably handle this bike. So if you are buying it for your kid, this is good news; because the sooner you buy it, the longer they will enjoy using it.
Razor MX650 Rocket Electric Motocross Bike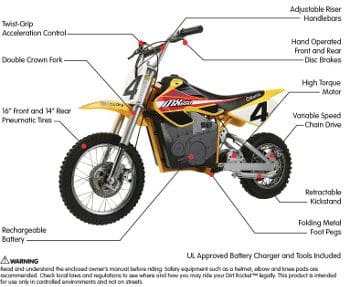 There is one more precautionary measure on safety to ensure that your kid is a little safer even as they take a tumble. (Hey, it's inevitable). The bike is equipped with shatterproof fairings and fenders which means there is no picking little pieces of plastic out of your kid's arm while tendering to their bruises.
 Razor MX650 Rocket Electric Motocross Bike
Pros and Cons
Pros
Convenient foldable design for easy transport
Fast charge time
Easy Assemble
Good suspension and torque for the size of the bike
Cons
A little bit small for the average 16-year old I see today
The power is just what you need. With a 650-watt electric motor powered by a trio of 12-volt batteries, you've got what it takes to achieve safe maximum speeds. For your kid, this is just enough to give them the thrill without racing at breakneck speeds.
Once the fun begins, I promise you will never want to stop. In addition to the already mentioned awesome features, the Razor MX650 also comes equipped with a retractable kickstand, a durable frame, built from solid steel, and folding metal footpegs.
Although they say 16 and above. I believe young is better as I do believe the average 16 years old would be too big for this bike. Purchasing something a little bigger would be a better long term option for a growing kid. If you are looking for all the dirt-kicking excitement and wind-whipping thrills of classic Motocross motorcycle scaled down to the size and safety for an under 16 years old, then the Razor MX650 would be a good choice.
See our full review Best Electric Dirt Bike for Kids Razor MX650
---
2. Ancheer Power Plus Electric Mountain Bike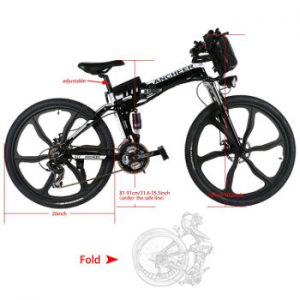 Ancheer Power Plus is an all-around bicycle that appeals to most avid cyclists. If you're a fan of lightweight electric bikes, this is the best model for you. Unlike the Razor MX650 which has a steel frame, the Ancheer Power Plus has an alloy frame which makes it much lighter. Perhaps the most unique feature is the foldable design that eases its transportation and storage. The white theme lends it a charming look too.
The wheels are pretty large, a design that makes the bike ride smoothly both on tarmac and off-road. If you commute to work or school on a daily basis, you will appreciate the battery power that comes with this innovative electric bike. The Li-ion battery facilitates a 30 miles ride from a single charge and takes 4-6 hours to charge. You will never have to show up at work or school sweaty.
Ancheer Power Plus Electric Mountain Bike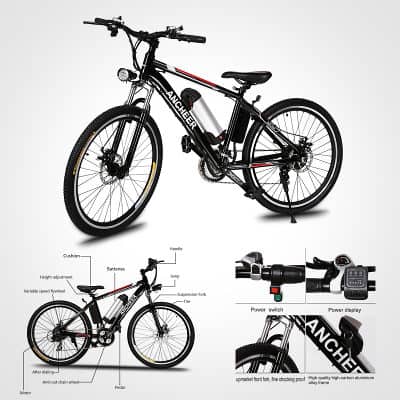 The Ancheer Power Plus comes with a set of features that make it difficult to ignore when looking for the best e-bikes. The bike can be used both with the battery and without. If you don't want battery supported riding, simply unplug the 36V battery and revert back to manual. The battery charging system makes it convenient to charge whenever you want. The charger is also relatively small and compact allowing you to easily carry it anywhere.
Ancheer Power Plus Electric Mountain Bike
Pros and Cons
Pros
Great Bike for the money
Good customers service if you have any issues 
Very quiet bike
Cons
A little bit small for the average 16-year old I see today
Assembly instructions can be challenging to some
Controls take a little getting used too
https://geargadgetsandgizmos.com/ancheer-power-plus-electric-mountain-bike-review/The bike has both the front and rear brakes to provide a sturdier and safer ride on uneven or rough terrains. The handles are made of aluminum alloy and the fork is made from carbon steel. This combination makes the bike lightweight but sturdy.
There are retro-style LED lights that add to both the safety and appearance of the bike. There are also rear and front fenders that protect you from dirt, mud and dirty water. Save for the plastic chain guard, the Ancheer Power Plus Electric Mountain Bike is a great choice for fans of lightweight e-bikes
See our complete review Ancheer Power Plus Electric Mountain Bike
---
3. Hover-1 Folding Electric Scooter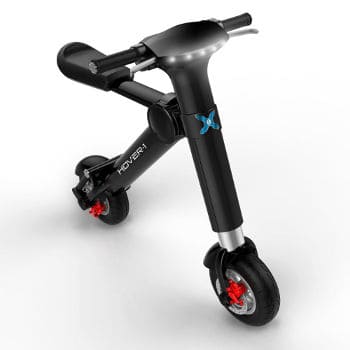 If you are looking to add a little fun in transportation, then the Hover-1 Folding Electric Scooter is for you. It's a portable, foldable electric scooter for adults but kids above 14 years will feel still at home with this on. The folding can be achieved in just a few seconds to save you both time and space when not in use.
While most electric bikes require 8-10 hours to recharge fully, this scooter takes just about 3–5 hrs to fully recharge.
The Hover-1 Folding Electric Scooter features dual disc brakes, spring-loaded kickstand, wide 10-inch pneumatic tires and a padded seat that offers a pleasant and comfortable riding experience. It has a strong metal frame and turning/brake light on the rear. A single charge offers up to 3 hours of riding fun.
Hover-1 Folding Electric Scooter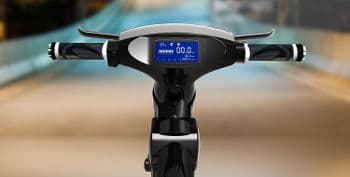 Before taking off, it's important that you understand how all the functions work. For instance, you need to make sure the scooter is unfolded all the way and clicks in place before taking off. It has a built-in safety feature that won't allow you to ride it before switching on headlights where necessary e.g. when it's cloudy, dark or rainy outside. Additionally, check that the footrests are fully extended before riding.
Hover-1 Folding Electric Scooter
Pros and Cons
Pros
Nice Solid Build
No, Assemble required
Great foldable design for easy transport
A nice digital display console
Cons
The seat is a little uncomfortable
Brake stand / Peg Stand could be better built
Could be a little small for a bigger person 
Once everything is in order, insert and turn the key into one position. Once you hit the road, the scooter functions much like the motorcycle. You will control the speed using the built-in throttle on the right handlebar.
And there is a small LCD display screen that indicates your speed, which can hit a maximum of 20 MPH. It will also indicate things like odometer, brakes, temperature and battery level. If you need to stop, simply release the throttle and gradually begin to pump the brakes.
See our complete review Hover-1 Electric Folding Scooter
---
4. Swagtron SwagCycle E-Bike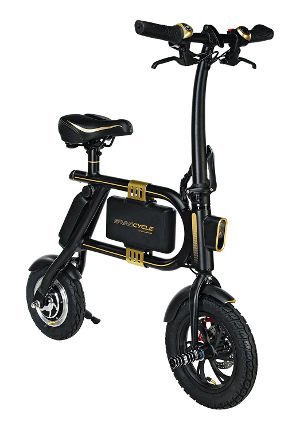 SwagCycle E-Bike is what happens when sexy meets sleek. It's a compact, affordable and zero emissions device that looks like a bicycle but rides like a motorcycle. The bike uses a high performance 36v lithium-ion battery that allows it to cruise at 10 miles per hour and the battery lasts up to 10 miles or 2.5 hours on a single charge. This makes the bike a perfect option for daily commuting as well as spontaneous adventures.
The Swagtron comes with all the features to cater to young commuters as well as adults, and even a few surprises feature that you can't expect to find on such a bike.
The robust 29lb aerospace grade aluminum frame can support up to 264 lbs and conveniently folds for portability and storage. There are a number of controls at your fingertips to make your riding experience smoother. From the handlebars, you can check the status of the battery, accelerate, brake, turn on the headlight and honk.
Ancheer makes a similar E-Bike/Scooter that is also very good for around the same price Available at Amazon.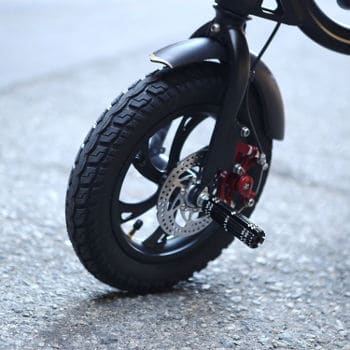 SWAGTRON SwagCycle E-Bike
Pros and Cons
Pros
Good Headlight for night riding
Foldable and compact
Will charge your phone has a micro USB port
Stable and easy to ride
Great price range and aftermarket support
Cons
Sluggish when going uphill 
More springs on the seat would improve the ride over bumps
MicroUSB port not totally sealed very well. Not great for wet weather 
One more bonus feature is the ability to charge your electronic gadgets via the USB outlet on the bike's battery. So bring along your iPod or Smartphone and add some music to your adventure. The battery is IP54 water-resistant, meaning that you won't have to worry much about light showers or early morning mist.
With the SwagCycle e-cycle, you can effortlessly zip past other bikers struggling to pedal on the hill or dash through city streets past all the cars stuck in traffic. The bike is designed for a modern commuter to help navigate through traffic and save time as well as money while being eco-friendly.
---
5. Onway 26″ 750W 7 Speed Snow & Beach Fat Tire Electric Bike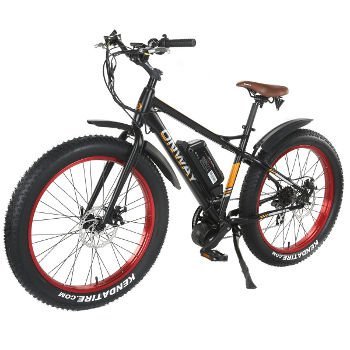 The Onway 26″ Flat Tire Electric Bike is designed for year-round use. A full size 26″ electric bike with big tires that performs well in snow and bad weather.
One aspect that makes Onway products stand out is the wide range of aftermarket products and spare parts available. The company is committed to making sure that you are 100% covered and happy with your bike. The frame is lightweight aluminum, which is durable with a three-year warranty from the manufacturer.
The Fork and rims are made from aluminum alloy and the tires are the Kenda 26*4.0, wear-proof and anti-skid model. The front and rear are equipped with high-performance TEKTRO mechanical disc brakes.
The motor is a 750W, 8FUN 48V, brushless, central driven that attains top speed without getting too noisy. The bike comes with a 48V11.6AH, lithium battery with intellective protection, long battery life.
Expect a 20 Mile/H speed and a distance of up to 47 miles from a single charge. The charging time is 4-6 hours, which is nothing exceptional, but it's commendable in comparison to the competition.
Pretty much each part on the bike has a warranty; the motor, display, controller, and battery have an Eighteen months warranty while the frame has three years warranty.
Onway 26″ 750W 7 Speed Snow & Beach Fat Tire Electric Bike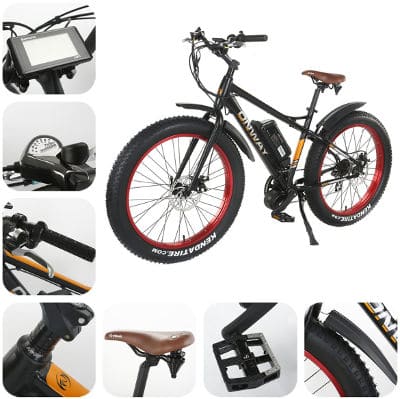 Onway 26″ 750w Speed Snow & Beach Flat Tire Electric Bike
Pros and Cons
Pros
Nice Solid Build
Great rugged bike for the beach or countryside
Big tires make for a comfortable ride
Great performance and many positive reviews
Cons
Low peddle clearance to the ground
LCD displays only KM not miles
Little big and bulky to have in the city
Not cheap but comparable price to other big tire bikes without Electrical power included
The adjustable stem gives you 9 levels of adjustment with a handy LCD display and enhances your riding experience. The 26*4.0 fat tires take all sorts of terrain with ease; it can go from sand beach to snow ground without skidding or stalling. And hey, at 20 miles/hour, you had better not forget your helmet.
See our full review: Onway 26″ 750W 7 speed Snow and Beach Fat Tire E-Bike
---
6. Ancheer Folding Electric Mountain Bike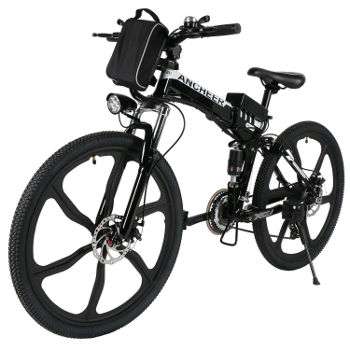 The Ancheer Folding Electric Mountain Bike comes with a removable Lithium-Ion Battery (36V 250W), 26 Inch Wheel, Premium Full Suspension, and Shimano Gear. The foldable design is especially handy for those looking for easy storability and portability.
The 26″ fat wheels are reinforced with aluminum alloy and equipped with anti-slip and wear-resistant features. This means it can take on any terrain during whatever season with ease.
The frame is 100% premium aluminum alloy and is supported by a suspension feature that adds comfort on unpaved roads. The pedals and the seat are adjustable with padding for comfort and perfect fit. There are front and rear mechanical disc brakes and a 21-speed Shimano professional transmission system that lets you pedal lightly on steep climbs.
When your battery runs out, you can simply switch from e-bike mode to pedal-assist mode using the 3-speed smart button controller located on the handlebars.
Ancheer Folding Electric Mountain Bike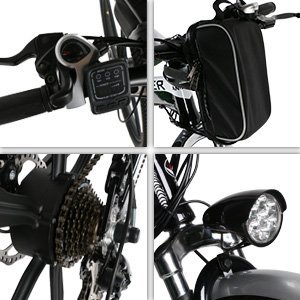 The LED screen on the Ancheer E-Bike display indicates the speed and battery status. The bike electric system can handle both snowy and rainy weather as well as long road trips. And it can hit a max distance of up to 15.5 miles on throttle alone and up to 31 Miles with peddle assist activated. Expect speeds of up to 15.5mph, which is pretty impressive.
Ancheer Folding Electric Mountain Bike
Pros and Cons
Pros
Free assemble option
A large bike that can conveniently fold up
Good customer support
Moderate price range
Tool kit included
Cons
Some battery issues have been reported
Assemble is difficult If you can. Take advantage of the free assemble 
While making your purchase, you have an option to buy the fully assembled bike ready to hit the road (assembly is free), or the semi-assembled version which then you can do the final touches once it hits your door.
The company offers a generous warranty on most of the parts but requests that you make sure you are ordering from "Ancheer" and not other fake providers. By and large, the specs of the bike are above average and I am confident that you will love it.
See our full review ANCHEER Folding Electric Mountain Bike 26 Super Lightweight Review
---
7. Goplus 20″ 250W Folding Electric Bike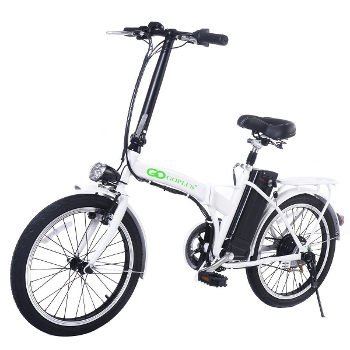 Goplus 20″ 250W Folding Electric Bike is extremely portable and ideal for commuting as it can easily be stored in small places such as your car boot or beside you on the train. The folding mechanism is a 2 part locking system that ensures the catch safely remains locked when riding, and you can operate using one hand for a smooth folding action.
The rear expansion brake and the front V brakes are designed with precaution to offer reliable and controlled stopping, ensuring that you don't accidentally bump into something.
Goplus 20″ offers you the flexibility of adjusting your saddle height to suit your preference so you don't have to struggle to peddle whenever you switch to manual mode. With pedal assist on, you can expect a distance of up to 35 km from a single charge.
The charging time is about 5 – 6 hours, which is not very impressive but still good enough for a daily commute. The fact that its charger is UL approved makes you feel safer knowing that it won't malfunction or blow upon you.
Talking of charging, this innovative folding e-bike comes with a 36V 8AH lithium battery with a 100-240V, 50/60HZ, 18A charger input and 42V, 2A charger output. The bike can hit a maximum speed of up to 35 km/h which is pretty impressive for a lightweight electric bike of this kind.
The bike itself weighs about 55 lbs but handles up to 350lbs of load, meaning you can add one more passenger without worrying that something will snap.
Goplus 20″ 250W Folding Electric Bike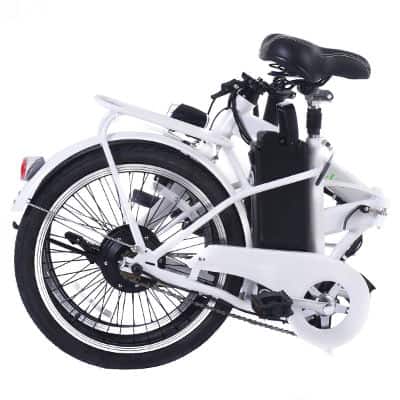 If you have storage concerns and very particular about the size of your bike, you will be happy to note that Goplus 20″ 250W Folding Electric Bike only takes a space of 33"x26"x14"(LxHxW) when folded. When fully extended, it measures 60.6"x30.6 (LxH). The bike comes with an AMA brand Ultra silent motor that kicks into action when you switch to pedal-assist mode.
Goplus 20″ 250W Folding Electric Bike
Pros and Cons
Pros
Nice compact bike with a comfortable feel
Foldable for easy storage
Wow! Goes 35 mph
Gets 35-mile distance on a single charge
Priced under $500
Cons
Surges when peddling
Pedal-assist feature does not always work well
The mobile battery charger is an awesome addition for adventurers who would love to charge their gadgets on the go. And here is the icing on the cake: The e-bike adopts a 100 percent aluminum alloy frame, while the front fork is made of high-strength carbon steel and packed with premium comfort shock absorption. What else could you ask for?
See our full review Goplus 20″ 250W Folding Bike Review
---
8. Cyclamatic CX2 Bicycle Electric Foldaway Bike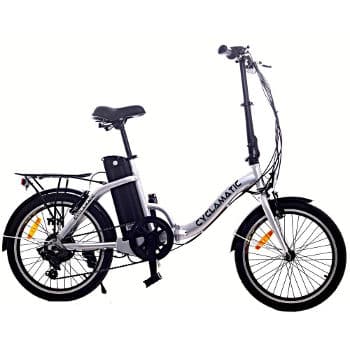 At such a modest price, Cyclamatic CX2 is one of my favorite folding electric bikes you can get from Amazon. It a good compromise between size and a good ride. The lithium-Ion battery and aluminum frame combine to offer above-average skills, though it might not be the ultimate choice for riders looking for a lightweight ride.
The bike weighs about 51 pounds, which is pretty heavy but compensates by folding to a size of 24 x 34 x 32 inches, which is portable enough.
The folding mechanism has a sturdy hinge that feels like it would not snap or unlatch even in the roughest terrains. The folding action extends to the pedals which fold up to save some extra inches of storage space. All this makes the bike a great choice for commuters who wish to bring it with them on the train or bus. And if you fancy bikes with fat tires, you will feel completely at home with the 20-inch wheels.
Cyclamatic CX2 Bicycle Electric Foldaway Bike
The 250-watt motor may not be terribly powerful, but it's capable of hitting top speeds of 13-15 miles per hour on a flat surface with partial peddling. The bike is advertised at 30 miles of range, but you are likely to get slightly less than that depending on terrain and slopes.
You have the choice of how much work you want to do using various operational modes. You can use it as a bike with no electric assist at all or choose a partial electric assist mode to increase your own efforts. It, however, doesn't have fully automatic electric mode – some degree of peddling is always required.
Cyclamatic CX2 Bicycle Electric Foldaway Bike
Pros and Cons
Pros
Sturdy small design
Folds up for easy commuting
More moderate price than some other E-Bikes
Smooth pedal action
Cons
The seat could be improved and more comfortable
​Limited speed control, does not tell specifically tell you how fast you are going
Pedal-assist is not that smooth when turned on it has a surge of power and jerks you forward.
The Cyclamatic CX2 Electric Foldaway Bike uses fairly good quality components that should last a long time with good maintenance. Overall this is a very good bike in this price range and I recommend it to anyone who needs a dependable e-bike that saves both space and money.
See our complete review Cyclamatic CX2 Electric Foldaway Bike
---
9. Xspec 26″ 21 Speed Folding Mountain Bicycle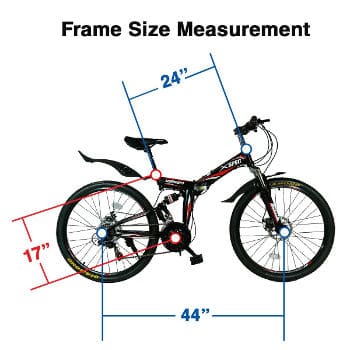 The Xspec 26″ Folding Mountain Bike Bicycle is a relatively new entry in the folding bike community. The Xspec 26″ gorgeously styled folding mountain bicycle that enables you to effortlessly transition from the road to the off-road trails. This bike is not electric but we thought we would add it to our list. If you just want the folding option and did not want an electric bike this is a good bike to choose.
So whether you are buying for daily commuting work/school or for occasional off-road adventures, you are all covered. It's also available in a wide range of colors too.
Like most foldable mountain bikes, you can literally take this bike with you anywhere without worrying about the dangers of locking it up in public places. It folds neatly into a compact pile of rubber and metal in less than 15 seconds so you can perfectly store it in the trunk of your car, in a closet or rest beside you on the bus.
It has a High Tensile Folding Frame with Shimano SL-TX30 Shifter and Shimano RD-TZ50 Rear Derailleur. The 21-speed function gives you the option to cruise or punch it in high gear and the Disc Brake lets slow down quickly while maintaining stability.
Xspec 26″ 21 Speed Folding Mountain Bicycle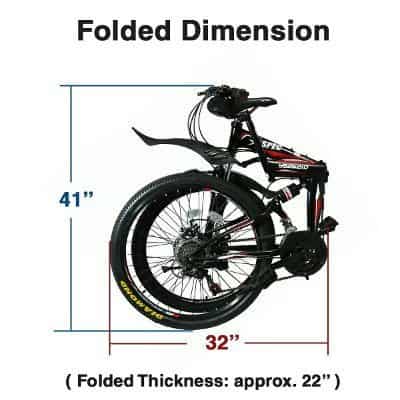 The multiple gear speeds help you to cope nicely on-road as well as off-road terrains. It also comes with both rear and front absorbers, which does an impressive job at smoothing your ride on unpaved roads. The Alloy Wheels with High Grade 26″ x 1.75 Road Tires will handle casual adventurers riding as well as actual mountain biking.
The bike itself weighs about 42 lbs which are pretty light compared to the competition and can handle a load of up to 220lbs. The bike doesn't come fully assembled, so you will have to do some minor final touches when your order arrives.
Xspec 26″ 21 Speed Folding Mountain Bicycle
Pros and Cons
Pros
Nice look with added fenders to reduce mud spray on your back
Fold up for easy storage or moving it around
Rides really nice
Cons
Assemble instructions are not good
Not a super light bike
Adjusting gears can be tricky
The Xspec 26-Inch 21 Speed Trail Commuter Folding Mountain Bike ranks high among the best folding mountain bikes. It has received a good amount of positive reviews on major online retail stores including Amazon. The folding and storing mechanism of the bike is also very ideal for people who are regular commuters. See Amazon Pricing.
---
10. URB-E Electric Folding Scooter Bike-Best Electric Bike For City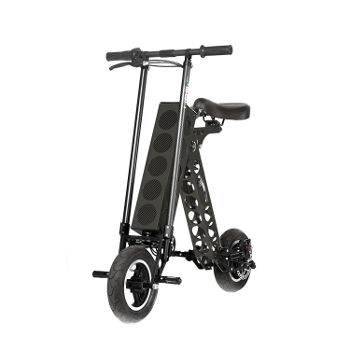 As the manufacturer puts it, the future of transportation is here. This is probably the world's most portable and compact electric vehicle. The bike was designed and built fully in California and has surpassed US quality standards with impressive attention to detail. The URB-E's patented design is made to fold conveniently and fit into a car, bus, train, boat, plane, office, closet–literally anywhere you want to go.
It's quite easy to carry it around by one hand or simply drag it behind you like a luggage. Although I would have loved a handle for this purpose, I still find it easy to grab it by the handlebars or the numerous in the mainframe. The patented URB-E frame utilizes the 6061 aircraft aluminum and carbon fiber that lends the bike its exceptional versatility and durability.
It also comes with a 36V lithium-ion battery, a cross-drilled rear disc brake, and 250W brushless motor. As far as safety and quality are concerned, every URB-E goes through a 46 point inspection to make sure that no flaw goes unnoticed.
URB-E Electric Folding Scooter Bike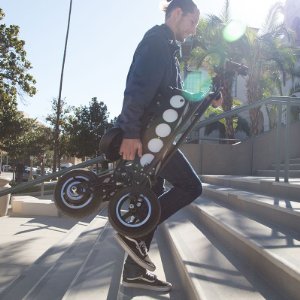 The bike is not only designed to make your transportation easy but fun as well. You can hit up to maximum speeds of 15mph and a distance of 20 miles on a single charge. While riding, your center of gravity is closer to the ground compared to conventional bicycles, which makes it easier and safer to ride. The folding and unfolding action is achieved using one hand, just lift it up and it will fold up in one move.
URB-E Electric Folding Scooter Bike
Pros and Cons
Pros
Excellent race car quality build 
USB Charging Port
Easily take on bus or train
Very agile on busy streets
Comfortable seat
Cons
No pedals if the battery has died you are walking
Not inexpensive, but quality product
The removable battery is located in the main column, and you can either charge it while still on the bike or unplug it to be charged separately. It will take about 4 hours to fully charge your battery, which pretty impressive compared to other competitors on this list.
There is a battery indicator on the right handlebar that lets you know how much juice is left. The bike has no pedals, meaning that you have to closely monitor the battery indicators so that you are not got out without power.
See our complete review URB-E Electric Folding Scooter Review
Conclusion
I have tried as much to include bikes with a wide range of features and performance across different price ranges. So whether you want lightweight, sporty, foldable, exclusively electric, pedal-assist, modestly priced or super expensive, we've got you covered.
If you are planning for an off-road adventure, think along the line of Xspec 26″, Razor MX650 or Ancheer Power Plus. But for urban commuting and fun, the SWAGTRON SwagCycle or URB-E ELECTRIC folding bike will do just fine. If you find something you like, feel free to click through and read the full review or explore details on Amazon.
---
See some of our other Top 10 Reviews and Articles
---
Interview you for my site
I am looking for people that presently own an E-Bike and would be willing to do an interview with me about their E-Bike. 

I would like to interview you on Skype and ask you a number of questions about your E-bike and personal experience. This should take about an hour or less. I would like to have a good time with you and have you share your thoughts on your bike. You can then send a few pictures of your E-bike and I will include them in a post on my blog.

If anyone is interested please contact me and we can set up an interview date.