If you are looking for something to help you with your urban commute then the URB-E might be right for you. Read my  URB-E Electric Folding Scooter Review and take a look at the world's most compact electric vehicle.
The URB-E is a very portable vehicle that can travel up to 20 miles on a single charge. It weighs in at only 35 pounds and compact enough to fit in any vehicle.
The collapsible design allows the URB-E to be easily taken on public transportation. It can be placed between your legs and it takes up minimal space. Foldable electric scooter.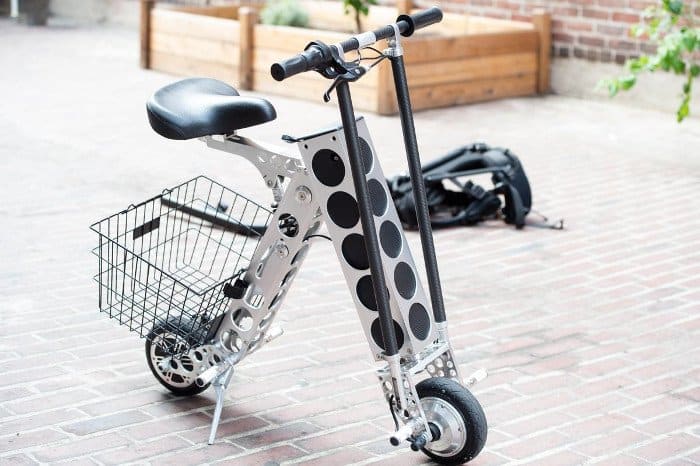 A little help with the last mile to their final destination
The URB-E was invented and designed by Grant Delgatty. He wanted to find a solution for people that were using public transportation and needed a little help with the last mile to their final destination.
Designed it to be sustainable and compact. With maximum control and fun for the urban commuter.
This was not just a bunch of college grades coming up with the URB-E. The head engineer and CEO of the URB-E are Sven Etzelsberger a former lead engineer at Porsche and Seleen Supercars.
Sven brought his design principles from the world of supercars and applied them to the URB-E Electric Folding Scooter. The materials used to build the URB-E are aircraft aluminum and carbon fiber.
A 250-watt brushless motor, an optional sport-tuned controller for increased torque and acceleration, cross-drilled disc brake for guaranteed stopping power.
They removed all materials that were not necessary to transfer forces. As a result, producing a lightweight strong vehicle that passes even the most stringent durability tests.
How does the URB-E Electric Folding Scooter Work?
Opening the URB-E is easy, simply unfold it sit on it, turn the key, choose the back or the front pegs to rest your feet. Whatever is more comfortable pull on the throttle and you are on your way.
The URB-E folds up with one quick motion, just lift it and it folds up almost like magic. Now you can put it in a trunk of a car or easily lift it onto a bus or train.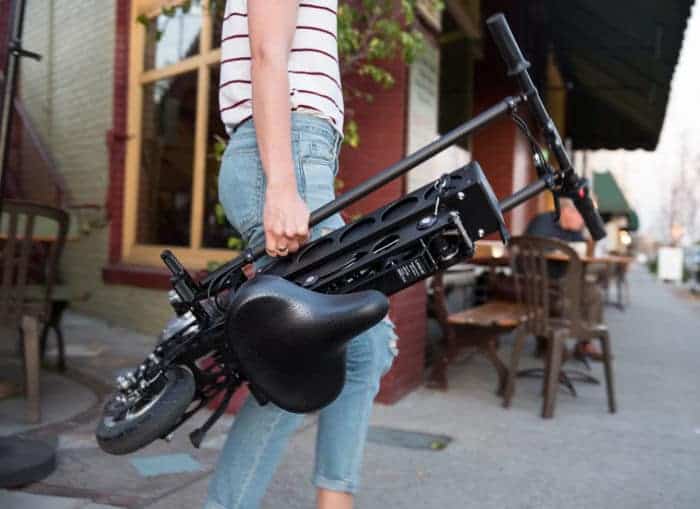 Moving the URB-E around is not that difficult it can be carried by hand or dragged behind you like luggage.
A handle would have been nice to carry the URB-E Electric Folding Scooter around with but there are plenty of holes and handlebars to use instead. I think for the sake of added weight they felt a handle wasn't necessary.
Riding the URB-E is actually a really fun ride. It takes a few minutes to get the feel for it but you are sitting low to the ground so you can easily put your feet out to steady yourself if needed.
The small wheels make it super agile and turn very easily. Although on rough terrains like cobblestones or big pothole could be a problem.
What are the features of the URB-E?
The battery is located in the main column, the battery can be plugged in and charge on the bike or it can be pulled out and brought inside for charging. Either way, it takes about 4 Hrs charge to get a range of about 20 miles.
The URB-E Electric Folding Scooter has a top speed of about 15 miles per hour. There is no URB-E app to monitor speed or battery life remaining.
The battery indicator is on the right handlebar with three indicator lights Full, Half and Empty. It would be nice to have a few more battery charge indicator lights. Taking a chance and going too far into the last red light could get you caught without power.
This bike has no pedals and you would now have to care your URB-E home. This is why a more precise battery indicator is very much needed on the ERB-E.
Moving the URB-E around is not that difficult it can be carried by hand or dragged behind you like luggage.
---
Final Thoughts URB-E Electric Folding Scooter 
The URB-E Electric Folding Bike is really cool. Its handling and agility make it easy to navigate busy streets, much more responsive than a typical bike. Due to the small tires. Considering its size you do feel safe. Especially when navigating around pedestrians and traffic on busy streets.
The URB-E has incredible hand-built quality. American designed and built. Every detail is perfect. From the battery, the airplane aluminum frame, and the very comfortable seat, all of it is extreme quality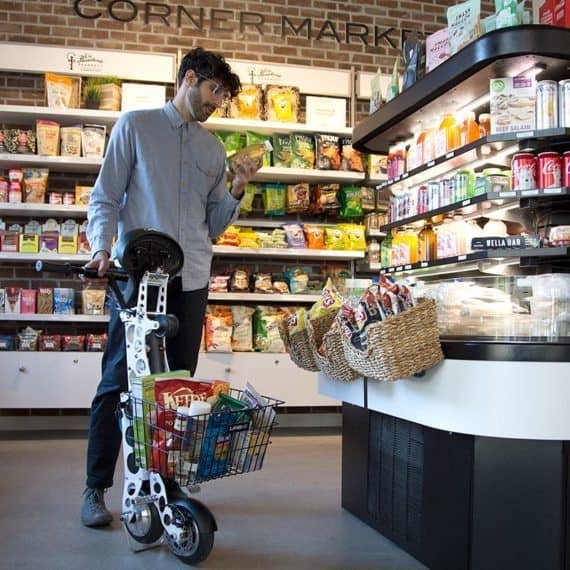 However, this racecar engineering comes at a price. The URB-E is priced at $1699.
If you do have this kind of budget here are some  E-Bikes for under $2000 that might suit you better.
This vehicle may look quirky but it is a head-turner and a lot of fun to ride. You can choose from different Colors and engine combinations. For your own look and power needs. They also offer a number of accessories, cup holder, phone mounts, and more. They offer a basket that would be a great practical addition.
Looking for something to add to your urban commute, with racing engineering a quirky style that is a lot of fun to ride, portable and easy to get around in addition eco-friendly. Then the URB-E Electric folding scooter could be a good choice for you.
For maintenance tips see my Electric Bike Maintenance Guide to keep your E-Bike in top shape.
Because the URB-E is often not available and not cheap, here are some less expensive folding compact E-bikes Scooters available from Amazon.
Other e-bike reviews