A smart home will always need a smart hub as a central communicator to other smart devices in the network to control lights, appliances, and other household smart devices. With a smart hub like the​ Amazon Echo Plus you can now control your home by speaking to Alexa, We will see in this Amazon Echo Plus Review how this device can make that happen
You'll quickly find out that one of the problems in setting up a smart home is that you need your devices to be connected to a hub and that these hubs drain their batteries too quickly if you link them via your Wi-Fi network.
In this Amazon Echo Plus review, I will point out the best features of this device and how it eliminated the need for a smart home hub. The Zigbee technology has made it possible for you to power up your smart hub for years at a time with one full battery charge!
The Amazon Echo Plus has integrated smart hub technology into a speaker, this eliminates the need of having to set up and power a smart hub. Let's see what else the Amazon Echo Plus can do.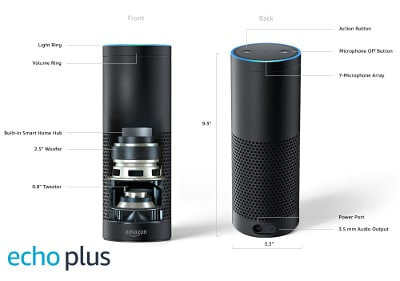 The Design
The original Amazon Echo and the Amazon Echo Plus basically looks the same. While the Echo Spot has gone organic and assumed the shape of a circular screen atop a stalk, the Echo Plus has shrunk but still holds the same physical aspects as its predecessor.
The second-generation Echo retains a cloth-like appearance. The Plus sports 9.3 inches in height and a 3.3-inch diameter, which is shorter than the original Echo but a bit wider. The cylinder is mostly made of a plastic case and has micro-holes in the bottom half.
The Echo Plus has only two buttons that sit on top of the unit but don't worry too much about the buttons because you will be operating this device with amazing voice command technology most of the time.
The one-button is used to call up Alexa and the second is to turn off the mic. If you grab the Echo buy the top edge and rotate, this will control the volume. Getting started is very easy. Located the plugin on the lower bottom of the Echo, plug in your smart device. Now download the Alexa app, opened it and got to the Smart Home section, and pair up a device.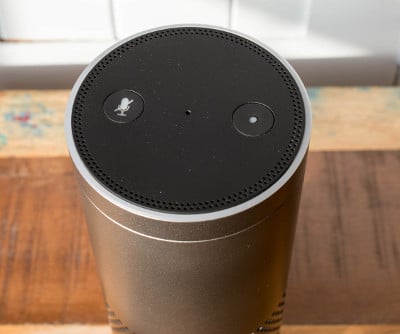 Ask Alexa
There are a number of hands-free functions you can do with Alexa and the Echo Plus. You can use your voice and called up the digital assistant to play your favorite music, call up a friend, set an alarm for the next day, and checked the weather and traffic conditions. You can control your TV and select and watched any number of movies and TV shows.
There's plenty more of what Alexa can do. It can call up an Uber ride, order pizza and wake you up in the morning with an alarm. Alexa can also answer most questions you could ask her, Wikipedia and the World Wide Web is here the main sources for information.
Amazon coined these voice-activated functions as "skills", and you can try out all 15,000 of them if you have the time. Everything is installed in the app. The Echo Plus will be your personal digital butler, always hanging around to satisfy your every whim and never complain.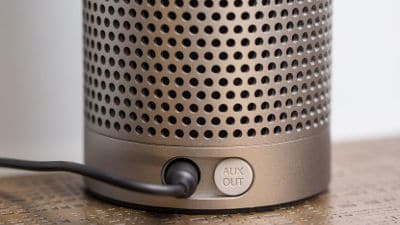 Smart Home Features
You won't have to shop for a suitable smart home hub when you get the Amazon Echo Plus. It has the Zigbee wireless protocol built-in, which means you can just connect your smart devices via the speaker directly without needing additional hardware.
Alexa works perfectly as a smart home hub. It can control the locks, thermostats and compatible smart lights. I found out that it could communicate directly with big names manufacturer devices like GE, Hue, and Philips without the need for special hardware. In short, you can cut out the middleman device, saving you plenty of time and money.
I appreciated the fact that you won't have to get tangled with all the cords and plug sockets just to set up a smart home. The Echo Plus will be the hub where every smart device you have can connect to. Simplify the process by controlling every smart device you have via the Alexa app for further streamlining. Multiple devices may be grouped for unified controls, even those from different brands.
I created a group of all the smart devices I had in one room and specified the Echo device that will control them. I entered the living room and said, "Turn on my lights". Alexa did the rest.
I must admit I got stuck to commanding Alexa to turn on my lights. There were so many different light colors to choose from, and any change could be completed with the voice command skill. It's really neat.
---
Music/ Sound
The Amazon Echo Plus comes with improved sound from its previous model. You can get Alexa to play music from all of Amazon's services and other 3rd party providers like TuneIn and Spotify and more…
Ask Alexa for a music style or artist and Alexa will give you a choice, from Radioplayer, Spotify, and Amazon Prime Music. With the multi-room feature, you can play and control music on different Amazon Echo devices in different rooms in your house with simple voice commands.
The echo speaker has 360-degree sound technology. The omnidirectional audio output spreads the sound in all directions producing improved sound from its predecessor. This technology allows better sound throughout the room with lower levels of distortion and overall improved sound quality.
But keep in mind if you want really good sound quality you would probably want to incorporate a better smart sound system that could be controlled with Alexa voice commands.
Amazon Echo Plus Review
I listened to music for a good half hour and noticed that the high ends were noticeably tinny. Moreover, some of the vocal solos were scratchy, which I attributed to the weaker midrange. If the Echo Plus had a stronger mid then it would be almost perfect.
On the other end, a voice cuts through just fine, and acoustic guitar is very well represented. The lows and the highs of any music translate well on the Amazon Echo Plus, and the bass line is top-notch. No complaints here.
Let's get down to the specifics. The Echo Plus could really play music even at the higher sound levels with very little distortion. The sound quality is such that you may even place the Echo Plus as your primary speaker. Overall, the sound is really great for the price. True audiophiles will not be satisfied, though. But that's fine as the Echo Plus could be paired up with your favorite speaker device via Bluetooth or by a 3.5mm jack.
Rounding out the Echo Plus's internals are 7 Fairfield mics that pick up your voice at a great distance cutting through the ambient noise. With the 7 mics, the noise-canceling feature and the beam-forming technology, you can be sure that the Echo Plus will be able to hear you from all directions, even with the music playing.
---
Routines
There are 2 new abilities you get with Alexa. "Routines" is Alexas newest ability to help you create smart actions that are triggered throughout your home at set times.
Turning the heat and lights on at certain times of the day, turn lights on in the driveway before you arrive home. You can also create a to-do list, check daily weather and traffic reports and control a number of connected smart home devices. There are newer devices that are incorporating smart technology coming into the market all the time.
Create custom phrases to activate them; a set of actions before you get home, you can say 'borne' and Alexa will turn on the lights, the AC, and your smart TV. This ability will grow as soon as More 3rd parties are starting to creating compatible Skills for the Amazon Echo Plus so the possibility is endless.
Here a number of things Alexa Voice command can do.
Play music by voice command to the virtual assistant Alexa Music.
Set alarms and timers
Check calendars
Weather
Traffic conditions
Daily News
Tell you the sports scores
Answer questions
Create to-do and shopping lists and read aloud
Compatible with smart home devices
Make hands free calls
Tell you a joke
---
Amazon Echo Plus Specs
General Specs
|   | Amazon Echo Plus |
| --- | --- |
| Dimensions | 9.2″ x 3.3″ x 3.3″, 33.6 oz. (235 mm x 84 mm x 84 mm, 954 grams) |
| Bluetooth | Advanced Audio Distribution Profile (A2DP) support for audio streaming from your mobile device to Echo Spot or from Echo Spot to your Bluetooth speaker. Audio/Video Remote Control Profile (AVRCP) for voice control of connected mobile devices. Hands-free voice control is not supported for Mac OS X devices. Bluetooth speakers requiring PIN codes are not supported |
| Audio | Built-in speaker. 3.5 mm stereo audio output for use with external speakers (audio cable not included). |
| Far-field Speech Recognition | Directional beam technology, improved noise suppression |
| Alexa | Yes |
| Warranty | Limited one-year manufacturer's warranty |
| Finish | Comes in a choice of brushed metal, white or Black |
| What you get | Echo Plus, power adapter/cable (6 ft.), and quick start guide. |
What is compatible with Amazon Echo Plus?
The compatibility list of the Amazon Echo is extensive and constantly expanding. We have summarized Alexa-compatible devices and systems that connect to Amazon Echo. An overview of the streaming services for the Echo Universe already exists. Amazon Echo 2 controllable smart home systems include:
IKEA TRADFRI
OSRAM LIGHTIFY
Neato Botvac Connected
Fire TV Stick
Homematic IP
Magenta SmartHome
Philips Hue
Benefits of Amazon Echo Plus
New cases and more compact size for a more pleasant look
Make calls and send messages
Improved sound with Dolby technology
Improved speech recognition
---
Hands-Free Calls
Using the Amazon Echo Plus you can send out messages and call anyone. This new second ability has been in use for a while now in the US but now getting introduced to the UK and other parts of the world as well.
The Alexa App scans your smartphone looking for compatible information from your phonebook and email address to sync with the Amazon Echo Plus. This feature will be available on all the Amazon Echo devices in the future.
After that, you can now voice command Alexa to call a certain person all without touching a phone.
If you want to step into the future the Amazon Echo Plus is a really cool device. At this point, there are some features that work really well but still needs some improvement. I felt the thrill of new technology when I tested out the voice commands and when I saw how Alexa acted upon the request. It isn't perfect, though- some of the language patterns are yet to be contextualized.
Alexa is not always on it sometimes mishears and performs the wrong action. It does get better as you get more familiar with Alexa but voice recognition technology is improving all the time.
---
Echo Spot
If you are not concerned about sound quality and prefer an onboard screen. A better option than the Amazon Echo Plus may be the Amazon Echo Spot. The speaker is not as good as on the Echo Plus but you get an added screen to watch videos, flash briefings, get the weather forecasts to see music lyrics, to-do, and shopping lists, browse and listen to Audible audiobooks, and more. All by just asking Alexa.
We will take a closer look at Amazon Echo Spot in upcoming reviews.
If you are thinking of buying the Echo and also considering getting Amazon Fire TV to check out my Amazon Fire TV Cube Smart Streamer Review. It basically is the Echo and the Amazon Fire TV all in one box.
Conclusion
As a final note, keep in mind that the Amazon Echo Plus isn't really a portable speaker because you will need to keep it plugged in and connected to your home's Wi-Fi. With that being said, the Echo Plus is definitely a solid smart device that's a great addition to any home. The Zigbee technology alone could be very well worth the price of purchase.
Price: $149.95 US
Where to buy: Amazon
Other Smart Devices Reviews