The Ancheer Power Plus Electric Mountain Bike with 26'' Wheel is a compact and durable mountain bike produced with aluminum alloy and carbon steel. This bike has a number of interesting features that makes it popular among avid bikers. You have an option to ride with little effort by peddling or no effort at all when it is in pedal-assist or E-bike mode. So it's actually not about just moving from point A to point B, it's about having fun as you cruise.
So whether you want to achieve physical fitness or just want to avoid daily traffic to work or school, the Ancheer Power Plus has got you covered. But of course, if you want to achieve maximum benefit out it as a workout tool, you will have to do more of the peddling than cruising. It also offers a convenient alternative when you want to hit the rough terrain or long distances were peddling all the way is not an option.
The Ancheer Power Plus is the kind of bike you go for when you need a versatile high-quality e-bike that comes with all the premium features but at a pocket-friendly price. Apart from being one of the most affordable electric bikes on the market, it's considered the best e-bike for hills and off-road situations.
The following part of this Ancheer Power Plus Electric Mountain Bike Review outlines the features to help you understand what you getting into.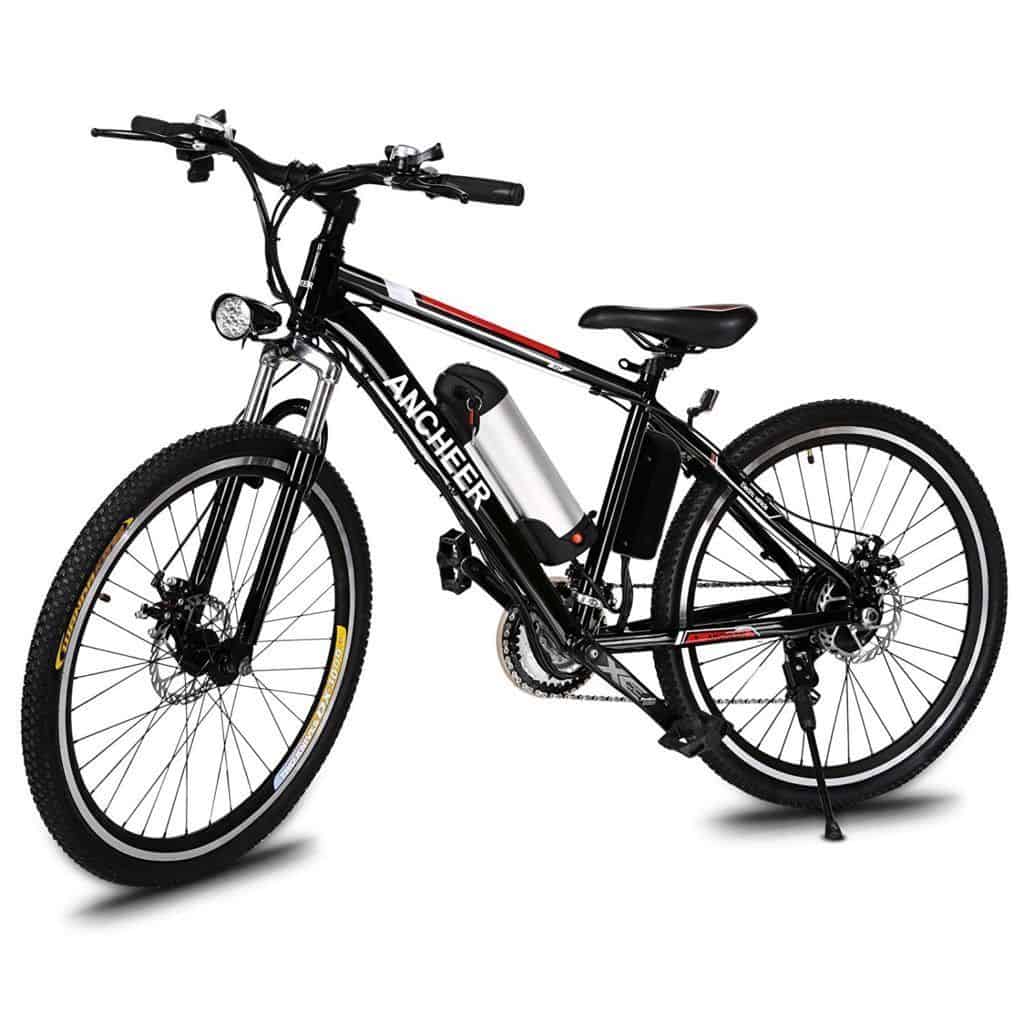 Features
High-Grade Battery: The bike uses a 36V removable lithium battery which can go up to 35-60 kilometers on one charge. This is a perfect option for a daily commute to work or school. And if you don't want the battery to support your riding, just remove it. Alternative manual pedal and electric mode can also help your battery last longer.
Aluminum Frame: The bike is built around versatile aluminum alloy frame, while the front fork is made of high-strength carbon steel and backed with premium comfort shock absorption. The aluminum frame is also lighter to make easy to carry, which boosts durability.
Charge Port: The battery charging system makes it convenient to charge whenever you want. The charger is also relatively small and compact allowing you to easily carry it anywhere.
Brake & gear shift system: The bikes a 21-speed transmission system and front and rear disc brakes that allow you to choose the speed you want and fully protect you when you need to stop. There is also a horn and LED headlamp for night riding.
Motor: Equipped with 250W high-speed brushless gear motors that help you easily attain speeds of 15 mph on road. This is not the most powerful motor out there, but for this kind of an e bike, it's quite impressive.
Foldable: When you are not using your bike, you can simply fold it and carry it around or store it. When folded, the bike can easily fit in a car boot, closet, office corner or neatly rest beside you on the train or bus. Now you don't have to worry about bringing your bike if you are going to take a bus or train.
Free assembly service available: When making your purchase, you can choose to have the bike assembled before shipping or have it assembled at your home. The best part is assembled is quite easy and doesn't require any expert knowledge or technical tools.
Meter with 3-speed smart buttons: The speed button helps you to choose how first you want to go. The bike is by default at ''low'' level. To increase the peddle assist level, press the ''+'' and you will switch from low, to mid or high. "High" is the maximum level that will provide fast speed while pedaling, and to decrease speed level you need to press the ''-" button. The '-" can also be used to eliminate the three pedal assist levels and switch into pure E-bike where you are only required to twist the throttle as you cruise all the way.
Safety
This bike has all the safety features you can ask for in an e-bike. The front fork is made up of carbon steel comfort shock absorption which makes it a great option for any kind of terrain. The rear and front disc brakes will allow you to instantly stop the bike safely without sending you flying over the handlebars.
At speeds of 25-35km/h, the Ancheer Power Plus Electric Mountain Bike is a safe ride even for teens who might sometimes be a little aggressive. The material used and the design makes the bike strong and sturdy, meeting stringent safety standards in most countries. 
Ancheer Power Plus Electric Mountain Bike Review
---
Ancheer Power Plus Electric Mountain Bike
Pros and Cons
Pros
Lasting Battery: The battery once fully charged can give you up to 60km of riding. The general indicated range is 35 – 60kms depending on the weight you carry and the terrain you are riding on.
Ergonomics: the manufacturer put a lot of thought into the design of the bike to enhance the comfort of the rider. The adjustable seat and RST means that you will have a comfortable ride, no matter your height.
Dual Modes: the two modes (electric and manual) allow you to use the Ancheer Power Plus as a regular bike or an E-bike. And you don't need any tools to make this adjustment, just unclip the battery and you're good to go. 
Cons
Speed: You can't go beyond 35km/h with this bike, which is considered to be on the lower end of most electric bikes on the market.
Charging Time: It takes 4-6 hrs to fully charge the battery, which requires some patience if you're riding for fun.
Insufficient Instructions: the bike comes with an instruction manual but it's not comprehensive enough for inexperienced users.
---
Ancheer Power Plus Electric Mountain Bike Review
If you need the convenience of a bike that folds for easier storage and putting into the trunk of your car, than the Ancheer Power Plus Electric Mountain Bike​ ​​​​​may be a better option.
Conclusion
The Ancheer Power Plus Electric Mountain Bike With 26'' wheel is a great bike for users who commute frequently and would like to get an e-bike but don't want to spend a small fortune. The Ancheer Power Plus E-bike comes in at around $600 much cheaper than many other brands on the market that can easily reach $2000 to $4000 dollars.
This bike is not as premium as the more expensive offerings but it is very durable and it will get the job done. If you're new to E-bikes its a great entry-level E-bike. Its weakness can be its pluses its understated look makes it blend in with other bikes and when it is locked up it may not be as prone to get stolen as the more expensive eye-catching designer bike.
It will save you lots of traffic frustrations too as you cruise past car owners stuck in rush hour traffic. You get the benefit of fresh air and some exercise depending on how much you peddle and how much you rely on battery power.
Maintenance is relatively easy if you can get past the bad instructions and perform regular service on your bike. The Ancheer Power Plus has as numerous safety features, a long battery range and enough speed to get you there fast. Running cost is literally pennies a day with the charge anywhere battery and if you run out of power you can still peddle your way home.
Ancheer Hub maintenance and fix videos
I was searching around and found a few very helpful videos about servicing the Ancheer Power Plus Electric Bike. Since instructions are poor I thought I would share the Ancheer Electric Bicycle Hub Motor Maintenance and Ancheer Electric Bicycle Hub Motor Fix video.
I think they are well worth watching if you plan to dig into your Ancheer Electric Bike.
Ancheer Electric Bicycle Hub Motor Maintenance
Ancheer Electric Bicycle Hub Motor Fix
For more maintenance tips see my Electric Bike Maintenance Guide to keep your E-Bike in top shape.
Other e-bike reviews