The Bang & Olufsen Beoplay 2 is a palm-sized speaker measuring 140x80x28mm and weighing 275g. It's really small, and all about simplicity. It comes with a USB-C port for charging or connecting to your PC, a microphone, and a single button, and that's it.
It's really stripped down to the main essentials; simple and clean, no-frills. Simplicity is also reflected in its design; the covering tightly hugs the components inside to eliminate any unnecessary spaces.
Most of the remaining functionalities such as Bluetooth pairing, skipping tracks and pausing tracks are controlled via a series of taps and shakes. When it comes to sound, very few wireless speakers of this size deliver what you will get from the P2. The bass is pretty decent, much bigger than its size. The overall sound quality is surprisingly fabulous with no distortions even at maximum volume.
The B&O's BeoPlay app lets you customize a number of settings and functions including what the taps and shakes do to your speaker. The always-on microphone will pick up your voice anywhere in a large room for Google Assistant or Siri spoken commands.
I would say Bang & Olufsen did a great job in balancing the compromises of size, sound quality, and features to come up with a great-sounding, sleek-looking wireless speaker.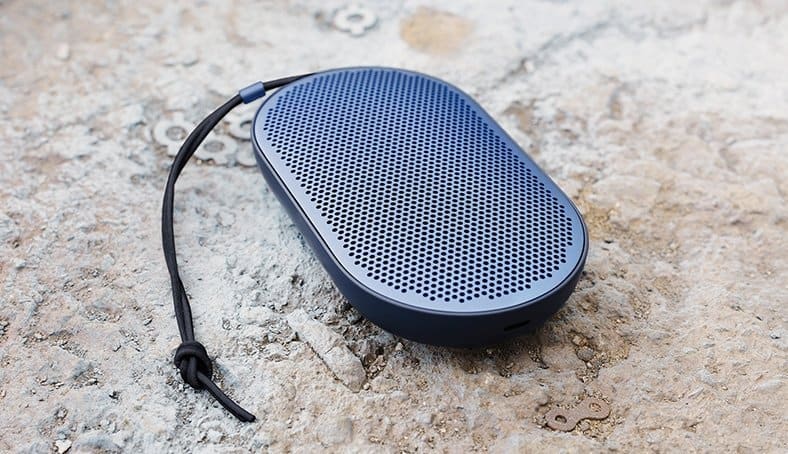 Design
The first thing you will notice when you take the B&O Beoplay out of the box is the sleek design. Taking the P2 out of the box may leave you a little confused; there are no control buttons. In reality, the controls are hidden. Located under the logo on the bottom of the speaker is the on/off button. The playback controls can shift from physical buttons to gesture or voice controls.
The speaker itself is pretty small, about the size of a 5–inch Smartphone, but a little thicker with a sleeker look thanks to the curved design. It comes in three colors – black, beige and blue, and the box comes with the speaker and a USB charging cable. The body is made from warm, soft polymer and the top is a smart and simple aluminum grill.
The small compact design is so that you don't have to leave it at home when going somewhere. It measures 14 x 8 x 2.8cm, weighs only 275g. The USB port is on one end of the rounded panel, a tiny microphone slot on the bottom and a LED indicator are located inside the speaker grill.
B & O Beoplay P2 Bluetooth Speaker Review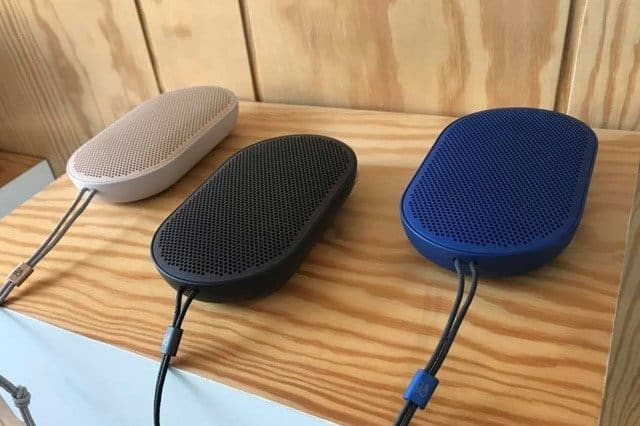 The B& O Bioplay P2 offers more functionality than you can expect. And this is what makes the P2 one of my favorite smart wireless speakers. Tapping the speaker grill plays or pauses music, double-tapping pauses playback and shaking it skips to the next track.
You can also assign different functions to each of these controls within the B&O Play app. The app also works with P2's specific features intuitively, allowing you to customize the operation of your speaker to some degree. You can adjust EQ using presets or by dragging a dot around a circular graph in various directions to switch to a warmer or brighter sound
If you really need something to fiddle with, there is a physical power/pairing button that is more or less hidden at the bottom underneath a rubber panel. There are a mid-range driver and a tweeter beneath the grill that is responsible for the awesome sound profile.
The drivers are powered by dual 15-watt class D amplifiers. B & O Bioplay P2's battery will last for about 10 hours, but this may vary depending on volume levels and features used. After a period of inactivity, the P2 will shut down automatically to preserve battery life
Setting up the P2 speaker is pretty easy. You can do so either by using the standard Bluetooth connection procedure or by downloading the Beoplay app, which will guide you through the entire process. B&O strongly recommends using this app as it will help you learn how to use the speaker a little faster, and you will also get battery life and software updates right in the app.
Additionally, the speaker itself doesn't come with volume controls, which means you, will have to control the volume from the source device.
Sound quality
So is the minimalistic design something to worry about when it comes to sound quality? Well, not at all. It might not have the most powerful bass among wireless speakers of its size, but the available bass doesn't hold back either.
The P2 gives you a single tweeter and a midrange driver under the grille delivering mono audio, rather than give you two tweeters delivering stereo audio, but the result is a surprisingly powerful bass response from a compact speaker.
B & O Beoplay P2 Bluetooth Speaker Review
The lows and the mids are well-tuned, offering a warm and rich sound which you will enjoy. The vocals are clear and crisp while the guitars come with a substantial bit.
Tracks receive a solid high-mid presence and reasonable bass presence, which might not be as powerful as what you would get with larger wireless speakers, but good enough for a medium house party. Overall, the P2's sound signature is widely sculpted, well balanced, and lives up to the B&O sound quality reputation.
When it comes to volume, expect some serious loudness without any hint of distortion. Ok, maybe not best for a house party, but will definitely work like a charm at your dinner party or picnic adventure.
B & O Bioplay P2
Pros and Cons
Pros
App for easy controls
Waterproof and durable design
Great volume without distortion
Good Bass
Cons
Need Smart device to control volume
Could use more mids and highs
Mono audio only 
Conclusions
The B&O Bioplay P2 is an excellent-sounding portable Bluetooth speaker that can get quite loud and deliver a solid sense of bass depth. For a speaker this size, I was honestly not expecting such sterling performance. It behaves like a luxury wireless speaker, but you will be happy to note that the price is fairly affordable for its performance. If you want more power in the same price range, check out the JBL Charge 3 orUE Boom 2.
Meanwhile, I strongly believe that Beoplay P2 has the best quality any speaker of this size and price can offer. The minimalist design means that you can slide it in places your Smartphone can fit and take it literally anywhere you would take your phone. The smart gestures and sleek design can make a fun and interactive companion both on your indoor and outdoor adventures.
Price: $169.95US
Where to buy: Amazon
Source: Bang & Olufsen
See other articles on wireless speakers and headphones