JBL is no stranger to the audio world. They have been coming out with incredibly good quality wireless Bluetooth speakers over the last number of years. Each model has been consistently well received by the public and every new model continually come out with new improvements and features.
The sound quality, durability, and price of JBL speakers have helped step up the portable speaker game for value and quality.
The JBL Boombox is a very practical and rugged speaker for a young family or active person. Maybe not for the audiophile purest but if you like JBL signature sound this portable Bluetooth speaker will not disappoint. Impressive big bass and crisp highs. The JBL was designed to be a rugged go-anywhere party speaker that can take a few bumps and get wet without worries.
I think JBL hit the mark. The retail price of the JBL Boombox is $150 more than the JBL Xtreme. Keep an eye out it. It goes on sale often! See the rest of my JBL Boombox Review for complete details.
I was contacted about a month ago from a rep from JBL, AKG, Harmon Kardon Audio Brands to see if I would be interested in giving their new JBL Boombox Bluetooth speaker a listen and a review. A few days later I had one at my door.
I removed it from the box and without looking at the instructions had music playing in under a minute. I was inside when I first turned it on and found the sound a little harsh. I had previously read about the indoor and outdoor mode and switched to the indoor mode.
This made a difference and reduced the high end to a nice level. The bass was super punchy and there was plenty of volume. I will further explain indoor/outdoor switch later in the post.
The JBL Boombox has won the prestigious 2017 EISA Best Product Award from the European Imaging and Sound Association which honors the most innovative and cutting-edge products introduced each year.
In the following post I will take a closer look at the new JBL Boombox Bluetooth speaker and tell you in more detail what I think of it after trying it out for a few weeks and see what all the excitement is about, but before we do lets, see the journey to the JBL Boombox.
---
The journey to the JBL Boombox
JBL now offers 4 sizes to choose from in their line of wireless Bluetooth speakers: small, medium, large and now X-large. They are designed for every budget and for different personal needs. Smaller personal speaker, possible party speaker and full-on party speaker all waterproof with impressive sound and battery life.
---
Small
JBL Clip 3 Micro
The JBL Clip 3 is their smallest and most inexpensive portable speaker.  This model is a great personal speaker that is very small, portable and waterproof. Clip 3 is great for hikers that can clip this light speaker to your backpack and head off to the trails without caring a lot of extra weight.
The new Clip 3 has an 8-hour battery charge and improved sound quality from previous models. Priced: under $50
---
​​​​​Medium
JBL Flip 4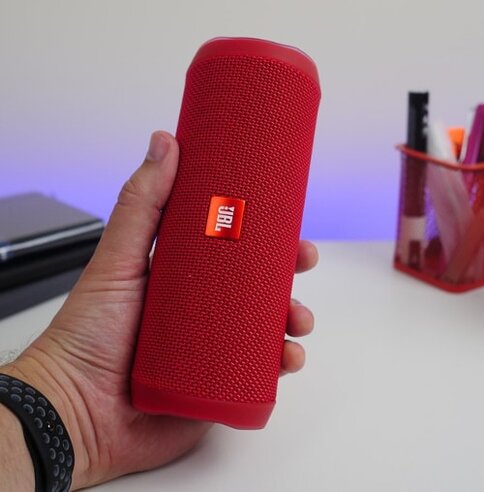 This is a bigger speaker than the Clip. Shaped like a tube with a rugged exterior and fully waterproof IPX1 rating can be fully submerged down to one meter and for up to 30 minutes in water without problems. The Flip is a great portable speaker that gives you a little more volume than the Clip but still relatively light and portable. Flip 4 is a great speaker to keep in your backpack and have as a portable speaker to use anywhere. The Flip 4 has a 12-hour battery charge. Priced: around $100
JBL Pulse 3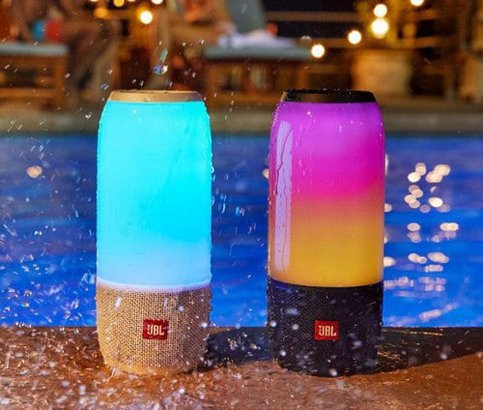 The JBL Pulse 3 is a portable speaker with the added feature of an interactive light show, reminiscent of a lava lamp. It's not as portable as the Clip. The pulse weights in at about a pound with more volume and better sound quality than the Clip, a great portable speaker for down at the beach or dorm room.
Pulse 3 has a 12-hour battery charge. Price under $200
JBL Charge 4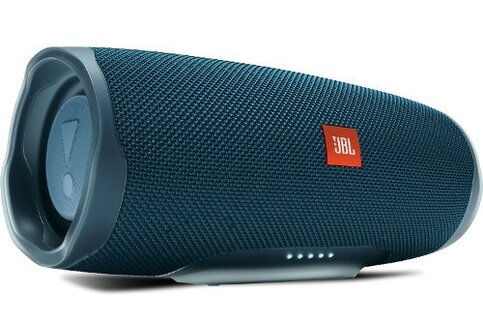 The JBL Charge 4 has no light show options and is bigger than the flip. It is now fully waterproof rated at IPX7 and will float. The Charge has a base on the bottom and it looks like a mini version of the Xtreme. Not as portable to carry around as the Flip or Charge but still very portable nonetheless.
Charge 4 is a great speaker for a bedroom or dorm room or taking it outdoors without having to worry. It has the added feature of a USB out to have the ability to charge other devices.
The battery has an extended life of 20 hrs. Priced: around $150
The Charge 3 is still available at a reduced price to see my full review JBL Charge 3 Waterproof Speaker Review
---
Large
JBL Xtreme 2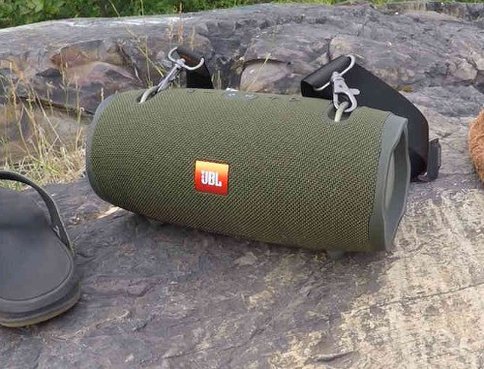 The JBL Xtreme came out a few years back and it has been quite a hit. Last year they improved on it and introduced the Xtreme 2. Larger and louder than the Charge 3 but with same solid build and the same waterproof rating of IPX7.
This model is another great sounding speaker. The JBL Xtreme 2 weighing in at over two and a half pounds is not as portable as the medium-sized speakers. This is a great speaker if you need a little more volume. The new Xtreme 2 has better sound and has a more refined finish than the original model.
The battery has an extended life of 15 hrs. Priced: under $250
Note: The newly designed JBL Xtreme 2 with improved acoustic and bass quality with updated drivers and passive radiators  See my full JBL Xtreme 2 Waterproof Speaker Review
---
X-Large
JBL Boombox
The Boombox is the latest biggest, baddest, speaker in a long line of JBL wireless portable speakers. JBL specifically set out to make the most powerful portable wireless speaker and I think they have come pretty close to accomplishing that. This item retails for $449.95.​
I remember the original Boombox or also known as a BFR. ( Big F&$king Radio) These cassette tape machine requiring 8 to 12 D batteries that lasted 5 or 6 hours at best and the volume gradually faded. Not to mention the whole setup weighs in at nearly twenty pounds and you had to carry a crapload of cassettes. Those were the good old days for outdoor audio. Not!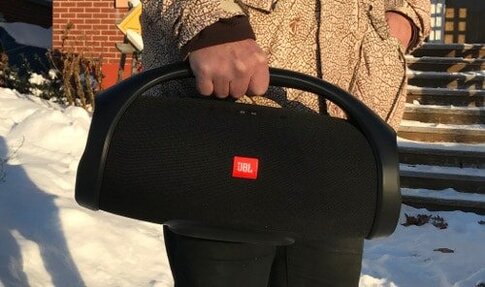 JBL Boombox Review
Build And Design
On the exterior, the new JBL Boombox is basically the same design and build as the Charge 3 but on serious steroids and with an added handle. The Boombox weighs in at 11 pounds which is significantly more than the one and a half pounds of the Charge 3. The JBL Boombox has their standard rugged mesh material covering most of the exterior except for the ends where they have two of their signature bass woofers.
Right now the color choice is black or olive green. I imagine in future models they will be introducing some more funky colors. The Boombox has a waterproof rating of IPX7. This means it can go in the water to a depth of one meter for up to 30 minutes although it would take a bit of an effort to do that with the JBL Boombox because it actually floats.
This makes it ideal to use by the pool or on a boat. Although it can float I wouldn't recommend doing it for a long period of time. It's just nice to know if you drop it in the water you have no worries. The base is a rubber finish that will solidly sit anywhere without slipping.
You will need to make sure it's sitting on something solid when you crank it. The loud bass vibrations it produces could cause something flimsy to fall over. It is built to handle a fall but I still would be careful and take care of your investment.
Functions
The control buttons are located on top with the same standard layout as on the Charge and the Xtreme.
Control Buttons from left to right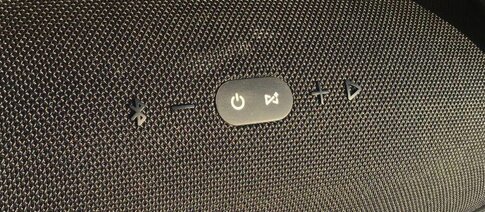 The first button is the Bluetooth pairing button.
Next is Volume down
Power Button
The next button is the  JBL Connect+ button. This allows you to pair with up 100 JBL Connects Plus compatible speakers. This means that if you have an older JBL Speaker it will not work with this newer system. Maybe an update in the future may fix that. Most likely not.
Next is the Volume Up
The last button is the forward and speakerphone. Works well when answering a call but picks up the background noise.
Located on the back near the bottom is a watertight compartment with a micro USB service port and two USB charge out ports, 3.5 MM audio input for direct input for wired sources and power connections for charging up the Boombox.
Right beside the back compartment to the left is an indoor-outdoor button. This is used to cut the treble in indoor mode and make the sound more expansive in the outdoor mode.
JBL Boombox Watertight Back Compartment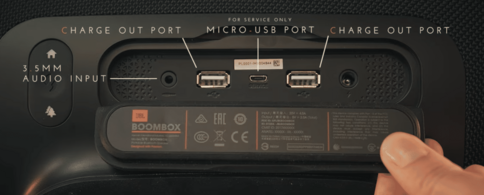 Features
Monstrous Sound and Punchy Bass:
This speaker comes with four active transducers and two JBL signature bass radiator style woofers delivering monstrous sound along with hard-hitting bass that will rock the house down and get the neighbors complaining in no time.
Sound Modes:
JBL Boombox has two sound modes. It delivers deeper bass and richer sound in indoor mode. When you switch to the outdoor mode you get a more expansive sound with strong bass and longer playtime.
Wireless Bluetooth Streaming:
You can wirelessly connect up to two smartphones or tablets to the speaker and take turns playing music from your device and listen to the exceptional stereo sound. When I  tested the Bluetooth range outdoors. I could get about 90 feet away from the speaker on my phone.
​High-capacity 20,000mAH rechargeable Battery:
This built-in rechargeable Li-ion battery can support up to 24 hours of playtime and also can charge devices via dual USB ports located in the waterproof compartment at the back.
If you play your music at the top volume you can expect to get around 15 hours of playtime but if you play your music at 50% volume then you will get closer to the 24 hours and maybe even a little more. Also charging other devices from the Boombox will also affect battery life.
Battery Indicator:
The Boombox has 5 LED lights on the bottom that indicates battery life. With 24-hour battery life, you can easily forget to check. If you are down to the last LED, don't worry, you still have about 8 hrs left of playtime. When the light starts flashing red, you probably still have about an hour of playtime. Recharging from dead takes about 4 hrs.
IPX7 Waterproof:
This means it can be completely submerged in water up to 3 feet for 30 minutes. But this is not going to happen. Because it floats. So if you drop it in the lake moving it into the boat will not damage the speaker. This makes the Boombox ideal to take to the beach or pool without worrying about rain, spills or submersion in water. See IPX chart to understand waterproof rating.
JBL Connect+:
With JBL Connect+ you can wirelessly connect more than 100 JBL Connect+ enabled speakers. This makes it great if a friend or two also have a JBL Boombox or other JBL product with JBL Connect+ you can connect them and really have a sound system. Imagine 100 JBL Boomboxes all synchronized together. That would be incredible.
JBL Connect+ Ap
The JBL Connect+ App can be downloaded on any newer smartphone. This App enables you to pair with other JBL speakers. The functions the App now performs.
Boombox speakerphone function on/off setting
Boombox audio feedback sounds on/off setting
Boombox sound mode setting: Switch between indoor and outdoor modes to optimize sound wherever the party is.
Pulse 3 light show: Customize your light show, change color by phone camera or color wheel.
Pulse 3 brightness: Adjust light show brightness.
JBL Connect+: Set up party mode, you can wirelessly link more than 100 JBL Connect+ enabled speakers to amplify the party.
Charge 3 enables JBL Connect+
Pulse 3 speakerphone function on/off setting
Pulse 3 audio feedback sounds on/off setting
Note: For people that have last years JBL speaker models the newer JBL Connect+ will not connect multiple speakers. The older JBL speaker models are limited to connecting two speakers even if the newer JBL Connect+ app is used.
Available in Black or Green
I would imagine in the coming years that they will be adding a little more color to the JBL Boombox but for now, it is only available in black and green.
JBL Boombox in Green
Sound Quality
To describe the JBL Boombox in one word would be, Wow! They really put the Boom in the Box. When you first turn it on and crank it to full you hear an incredible bass from the two signature bass cones mounted on each side and the vocals cut through clearly. At top volume, it has no distortion with a big expansive sound. I tested the speakers with a variety of music styles, at different volumes and in different locations, both outdoor and indoor settings.
I even took it down to the gym and used in a large room where I led a boot camp class. After the initial wow factor from hearing the loudness and bass and you start listening to a little more critically you may find a few shortcomings. But for the most part and for most people they will be very happy with the overall sound.
Indoors and outdoors modes
There are two distinct applications for the JBL Boombox: outdoors and indoors. JBL has tried to address the challenges of outdoor and indoor listening by giving you two modes to help compensate for different environments.
Indoor Mode
This mode makes the bass a little deeper and brings down the highs. The mids are pushed up a bit and overall it has a clearer sound.
Outdoor Mode
The outdoor mode makes the mid-range and higher frequencies become forward and more pronounced. Vocals are pushed out and the bass is not as deep as in indoor mode.
Note: I found that using the two modes was not always cut and dry. I listen primarily using Youtube videos that varied in style and sound quality. This reflected on the speaker's sound and made some music sound a little off. I experimenting with the two different modes and found at different volumes for some types of music and recording quality, using the outdoor setting even if indoor was more pleasant.
I think something for JBL to consider is adding an EQ to their JBL Connect+ App.
Sound Frequency Analysis
Bass
The bass is fantastic punchy and always there. It really is impressive for the size and portability of the JBL Boombox Speaker easily outperforms most competitors in this speaker class.
Midrange
The midrange comes through nicely but at times gets a little muddy when competing with the massive bass and overly crisp high end. The midrange seems to drop using outdoor mode.
High end
This is the area that gets a little grey and has people loving the Boombox or finding the sound to be harsh. The high end, for the most part, is nice and crisp with no distortion. At full volume, the high end can get a little bit much. Setting to the indoor mode improves the sound at full volume when listening indoors.
Outdoors at full volume sounds best in outdoor mode. It seems to boost the high end and have a more expansive sound. However, I found that listening at half volume indoors sounds best in outdoor mode on some songs. It seems to boost the midrange and tone down the high end. The results are different when using this mode at full volume.
I listen to most of my music from Youtube videos and find the sound quality varies from video to video and because of this listening quality on the JBL Boombox also can vary. I found many older recordings have too much high end, but turning down the volume and switching to outdoor mode helped.
Basically, I found good quality recordings always sounded great. I think the two modes are great but it would be nice for JBL to add to their JBL Connect App a basic Eq so you can do a little adjusting to help compensate for various recording quality and musical styles. I find where the JBL Boombox sound profile really shines is with many of the latest pop recordings.
The punchy bass and no distortion at top volume really get you going. Older well-recorded bass-heavy songs like Peter Gabriel's "Don't Give Up" sounds great and Adele's song " When We Were Young" also sounds fantastic with the bass coming through nicely. The way I see the sound profile of the Boombox is I feel the Boombox is ideally suited as a party speaker. Think of times you have had a few people over and you turned on your stereo or speaker and found the sound was not the same as when you were listening to music by yourself.
The high end lowers when a few people are in the room, leaving the music sounding flat. In an outdoor setting with other portable speakers, bass and volume just seem to disappear. This is where you won't be disappointed with the JBL Boombox in a party setting indoors or out.
JBL Boombox Specs
General Specifications
Directional speaker. This means the sound comes out from one side of the speaker unlike a unidirectional speaker that projects music 360 degrees
2 x 4-inch Woofers
2 x 20 mm Tweeters
Frequency response (50Hz-20kHz)
Signal-to-noise ratio 80dB
Music playing time up to 24 hours (Varies by volume level and music content)
Weight 5.25kg
Support A2DP 1.3, AVRCP 1.6, HFP 1.6
Power Output of 60 watts
Power supply 20V/4A
Battery
Battery charge time<6.5 hours
Battery type Lithium-ion Polymer (74Wh)
Control and Connection Specifications
Bluetooth version4.2
Bluetooth transmitter power 0-9dBm
Bluetooth transmitter frequency range 2.402GHz-2.480GHz
Bluetooth transmitter modulation GFSK, 8DPSK, π/4DQPSK
Warranty
What's in the box?
Boombox
Power adaptor cable
Manual
Dimensions
Dimensions (H x W x D)254.5 x 495 x 195.5mm
---
JBL Boombox Pros and Cons
Pros
Loud with no distortion at full volume
Punchy clear bass and massive volume
Very rugged build
Waterproof rating IPX7
24-hour battery life
Cons
High-end frequencies can be a little much for some music and ears
Single direction sound
Only two sound adjustment modes
Little pricey
Is this speaker right for you?
The people at JBL really set out to make a great versatile party speaker and I think they really accomplished that with the JBL Boombox. Although not perfect and not for everyone JBL tried to address the different issues that many consumers who would consider purchasing this type of speaker have had: short battery life, lack of bass, flat sounding music and not much volume.
This consumer also wants a rugged go-anywhere waterproof build with the added ability to charge a smart device anywhere.
I think this speaker is an ideal speaker for a family with a pool or boat that want a good rugged portable speaker. Great outside when doing yard work, washing the car, shoveling snow or any activity that could use a little music to get you motivated and you don't have to worry about getting it wet.
I can see it becoming a favorite with street buskers as their sound system because of its loudness and portability and low running cost. Not to mention if there are more than one JBL Connect+ device they can connect them and have a really good sound system on the go.
Outdoor or indoor fitness instructors will also find this speaker ideal to motivate your class. I tried it for my own Bootcamp class and found it sounds better than the sound system provided down at my gym.
If you are an audiophile I think the sound of the JBL may not be the right speaker for you. You may find the highs a little too high and at times the midrange is a little muddled having to compete with the excessive highs and punchy bass.
If you listen to music at a more moderate volume and loudness and ruggedness is not your main priority then the ​Harman Kardon Go+Play Mini would be a better choice. It has a little more refined sound with less volume and bass, more formal design and often the price is less than the JBL Boombox. I have seen it on sale for as low as $200. See my full review JBL Boombox Vs Harman Kardon Go+Play. JBL has the new LINK 500 for the same money as the Boombox it is not portable but the sound is less crisp with a more even sound profile.  You get Google Assistant on board so you can control the speaker and a number of other smart devices with voice commands. See my JBL LINK 500 Bluetooth Smart Speaker Review.
JBL Boombox Review Six Months Later
Travel Case For Your Boombox
The Boombox is a great speaker for the beach. But getting to the beach sometimes takes various forms of travel. Planes, trains, and automobiles.
They now have a hard shell travel case available. Although the Boombox is built very rugged a hardshell case is shockproof dustproof and water resistance, and gives extra protection from bumps dents and scratches.
Great if you are traveling aboard with your JBL Boombox.
Conclusion
With the vast styles and recording quality of today's music the JBL is admirably trying to keep up but sometimes comes out a little muddled in the mix. The indoor/outdoor modes are nice and can be used for different environments. I found they worked on different recordings as well at different volumes.
What I also liked is that portability allows placing it in a different spot in the room to help the sound quality by using the natural acoustics of the room. I think adding a High, Low and Mid EQ to their JBL Connect App would definitely make a lot of people happy. But for what the JBL Boombox was intended for, to play music loud anywhere and have a good time, this speaker will deliver as promised.
There are louder speakers on the market but arguably for the size and purpose, this speaker was intended the JBL Boombox is one of the loudest and best-sounding portable Bluetooth speaker out there and who can argue with 24-hour battery life. The expansive sound easily fills a room or large area outside.
The extra crispness in the sound soon disappears in a party setting and loud, clean distortion-free tunes with a kicking bass can get the party jumping. If a friend shows up with another Boombox or any other JBL Connect compatible device you can easily pair them together with the Connect+App for a huge sound.
Priced at $449.95 is pricey but it is a solid versatile little portable speaker that should give you loads of entertainment for many years without the additional cost of purchasing any batteries. If you keep an eye out they do go on sale. I have seen it go on sale for $50 to $100 less.
Price: $449.95 US
Where to buy: Amazon Canada | Amazon USA
Source: The sample of this product was provided by JBL.com
Other reviews on the latest in wireless speaker technology