What should you look for in a commuting bike? 
It may surprise you to know that there are 1 billion bicycles – not in Beijing! – but in the entire world. Recent innovations in the traditional bike design have brought on the development of electric bikes, and the future is looking bright for better and more affordable models coming to the market.
A recent Deloitte study found that the future will be in electric bikes and tens of billions of bike trips are predicted by 2022 as cleaner technologies overtake cars. Over 130 million e-bikes are expected to be sold between 2020 and 2023 (compared to 12 million electric vehicles by 2025). 
One of the key mindset changes that will undoubtedly take place is the switch from thinking about cycling as just a sport and instead as a viable commuting option. For example, only 6% of people in the UK use cycling as part of their commute to work (compared to almost 10% in Germany and approximately 16% in the Netherlands) while almost 12% use bikes for exercise purposes. 
A study commissioned by the Netherlands Institute for Transport found that riding a bicycle as part of your daily commute can reduce the risk of premature death by an unbelievable 41% in some cases. There has never been a better reason to ditch the car and invest in a great e-bike that suits your commuting needs.
So, with this boom in the market for e-bikes, what type is best for you and your commute? It's easy to be overwhelmed when most features are relatively new to the market and they all seem equally impressive. Our guide will give you all the information you need before making a decision. 
The main factors you should consider when choosing an e-bike are price, portability, weight, durability and extra useful features. In terms of cost, you'll be pleased that many workplaces offer cycle to work schemes to help offset the cost, so this is definitely worth checking out. 
When considering the structure of your bike, it's best to refer to a user guide or manufacturer website for an indication on what size frame is best for you. You will need a different type of saddle, tires, and battery for a commuter bike than a long-range mountain bike, for example. Do you also need the functionality of a rear rack or storage area as part of your commute? 
One of the key considerations for people who use bikes for part of their commute is whether the bike can fold. There are a number of compact models that will fold easily for use on the train or bus. Some disadvantages include a less customizable e-bike and a potential compromise on space for stretching your legs fully. 
Finally, one of the biggest considerations is how much power assistance you will need on your ride. For some people, they want to be able to effortlessly switch between pedal-power and motor power, while others will want the bike to do most of the work. All models are different, but there's one out there that will suit your exact specifications. Below we have rounded up our favorite 5 e-bikes for your review – your new bike might just be a few clicks away!
The best e-bikes for commuting (2021 selection)
1. SWAGTRON Swagcycle EB-5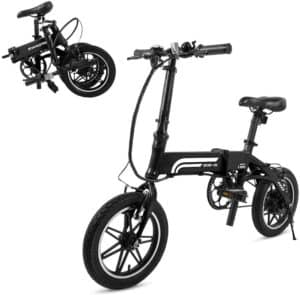 Stylish, affordable and multi-functional – these are some of the words that sum up the SWAGTRON brand, and this e-bike model is no different. With a sleek design and thoughtful features, this is one of the most popular e-bike models for a reason. Built with a commuter's experience in mind, it folds into three and is a compact and lightweight model that doesn't compromise on usability. 
There's an option to choose a standard, in-built lithium-ion battery model, or a removable option. The battery will allow you to travel up to 15.5 miles in a single charge (just under 25km) using its own power, and of course you also have the option to pedal. It's advisable to switch between the two to make your battery go further. 
The bike comes pre-assembled which means that you can start riding it almost straight out of the box. For the safety conscious, you can relax in the knowledge that the EB-5 comes with Autoguard braking technology to automatically cut the motor function immediately when you press the brakes. 
There is a reason that this e-bike is one of the top selling bikes listed on Amazon, and the hundreds of reviews attest to its value for money, best choice for commuting, outstanding battery life and portability. 
There is nothing too high-tech about the bike that will scare off a new e-bike user and it's intuitive in its design. The bottom line is that this bike will get you where you need to go and is a fantastic choice for a commuter. 
Pros: 
Very affordable price for a bike that packs a punch in terms of power and durability. At 15mph, you'll feel like you're able to get as much power as you need to go uphill 

Lightweight enough for people of all abilities to fold up and carry. It's advertised as easy light enough to be able to carry up to the fifth floor of an apartment with relative ease

Extremely powerful model that can be surprising when you first use it

High quality components and a responsive manufacturer on the off chance that there are any issues with your purchase
Cons:
The adjustable seat can be tricky to secure into place. While it is technically classed as an adult bike, older children might still struggle to use it 

The battery has to be recharged according to the manufacturer instructions or there is a risk of poorly functioning motor 
2. EuroMini ZiZZO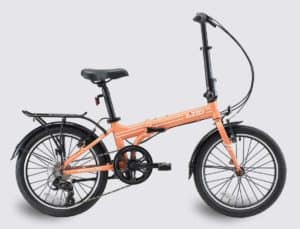 The EuroMini is a solid and bold choice that is multi-functional across a number of terrains, including road commuting and over rough ground. It's marketed as one of the heaviest-duty folding frames in the e-bike market and with the lightweight rear rack, it's ideal for carrying loads to and from your work and home. 
Coming pre-assembled, there's nothing you'll need to do before starting off on your first trip except oiling the chain and adjusting the brakes. Bike theft will soon be a thing of the past if more models adopt the folding and portability features of this brand. With a highly compact fold, it's small enough to fit under your desk at work.  
With the capacity to carry up to 300lb, the bike has an aluminum alloy frame and handlebar and most of its primary features. Keen riders who want maximum control over the speed will be pleased with the 7-speed grip style shifter.
The wheels are durable and built to last, measuring 20 inches in diameter with double wall rims. They're suitable for a wide variety of terrains, which can be rare for a commuter bike.
Riders will also be satisfied with the control they have over, with 7 speed settings available. Aside from its technical capabilities, the thoughtful features of the fenders, rack and comfort saddle are sure to be a hit for any rider on their commute. 
Pros:
Suits a wide range of adult riders with heights of between 4'8" and 6'3" and has a max load weight of up to 300lb

The saddle is remarkably comfortable and has a wide ergonomic style which should be suitable for the majority of riders. However, if you are interested in a wider seat, you can easily order the next size up

It doesn't long to fold up the bike, using the useful magnets to keep it in position. When getting it ready for use, it quickly locks back into place and is comfortably secure 

The lightweight and sturdy design is one of its best features and is durable enough to last you for years
Cons:
Some users will find that removing the brake cable housing when folding is a little bit of unnecessary extra work

The kickstand may need some tightening before use to get it to your desired level of rigidity 
3. NAKTO 26″ 250W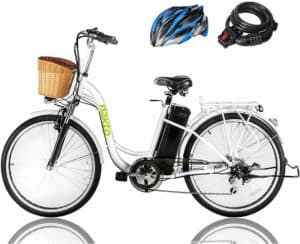 The Nakto brand is the dark horse of the e-bike market, at an outstandingly low price for multiple brilliant features. With some best-in-class features and rave reviews, you'll soon understand why this bike is frequently sold out. 
With top speeds of 18mph, the high-speed brushless motors make riding this model a breeze. The lithium battery is fully removable, making it suitable for outside storage. But possibly the most exciting feature is the fact that you can travel up to 28 miles (4-6 hours) on a single charge – one of the longest of all the models we've reviewed. 
Coming in a no-frills-attached box and with some minor assembly required, there are plenty of other thoughtful features that you might miss on first glance. 
There are three modes of power: electric, assisted, and human effort, giving you lots of choice and freedom over your ride. If that wasn't enough, you can also press the variable speed throttle to mix between the bike's power. There's an inbuilt bell and LED front light as well as an electric power display to make viewing your stats as easy as possible. You do get the sense that they've made an e-bike that you don't need to buy lots of little extras for.
The bike weighs 50lb which is relatively light, and although not as lightweight as some other models, the weight perfectly suits the powerful motor and isn't a jarring experience when using the power (which can be the case with some lighter models). 
Overall, for a solid and dependable commuter e-bike at one of the lowest prices in the market, this is a no-brainer.
Pros: 
The front fork is made from high-strength carbon steel and is designed to insulate you from shocks and bumps in the road

For the assembly, the company has made a fantastic video on exactly the steps to take to get it road ready. View the video

here

The battery is one of the best priced e-bikes with a 36V battery: this battery is more common in bikes worth over $1000

For even more control over your speed, the bike comes with a quality Shimano 6-speed gear set 

The wheels are 26" in diameter and they are great for multiple terrain types (and of course perfect for your commute)
Cons:
Some assembly is required (front wheel and handlebar) which can put some people off, but users have remarked that this is a very simple process

Some people will find that the bike is just a little too heavy for their abilities and that a more lightweight model would suit their needs better
4. Electric Bicycle 48V 750W Bafang Mid Drive Motor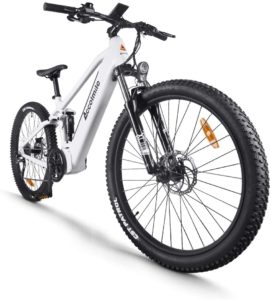 Another model that has rocked the e-bike market is the Bafang mid-drive motor. A seriously powerful bike at an extremely affordable price, it's caused buyers to question the prices of some more expensive European manufacturers. 
With a maximum load weight of 150kg, you can reach motor speeds of up to 28mph and travel for 38 miles on a single charge. Built with a sturdy aluminum alloy frame, you can be confident in the quality of the bike's structure. 
The intelligent display feature is really valuable and you could be forgiven for thinking that you're actually in a car with the amount of information you can see at the touch of a button, including speed display, power, mileage, brake, battery and error indicators. 
If the little extras are important to you, you'll be glad to know that the bike comes with 7 'free' (well, definitely factored into the price!) gifts: bell, frame bag, protective lock, tail light, wheel inflator, folding tool and more. 
The battery on this model is also removable which gives you flexible charging options. The company advises on getting two batteries so that you will be able to cycle for longer without needing a recharge.
Even more excitingly, the pedal assist and cadence sensor features are, in my opinion, the reason that this bike is such a strong contender in the e-bike market. The sensor uses real-time data to analyze how much power should be applied in any given situation. It's a really intuitive sensation and you'll feel as though the bike is almost an extension of your mind!
Pros: 
You get the best of both worlds with the motor function and the 9 speed options

The battery pack uses powerful LG cells to give you the best drive and capacity for longer and stronger rides

The front and rear shock absorbers are a value-added feature that ensure a smooth ride

If you're a fan of more traditional-looking bikes (i.e. compared to the new trend of bikes with smaller wheels), the wheels measure 27.5" in diameter and look really standard

For such a powerful bike, it is remarkably quiet and won't make too much noise on your journey

Beautiful design and made with highest quality materials 
Cons: 
Weighing in at just over 60lb, it's not a light bike, and some users may find it too hefty for a commute

The bike isn't foldable, which again may put off users who need this functionality as part of their commute  
5. Swagtron Swagcycle EB-7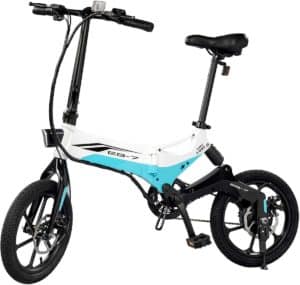 You can't beat the Swagtron Swagcycle when it comes to e-bikes and this model proves why the brand has been a relentless competitor and innovator since its launch in 2015. Since then, the company's mission has been to become the market-leading brand for stylish and affordable light electric vehicles (LEVs). This model is one of their best-sellers and with good reason. 
With capacity of up to 15.5 miles on one charge, the motor enables speeds of up to 18.6mph – perfect for a commuter bike. Whether your morning/ evening journey to the office is smooth or whether there's lots of bumpy roads, this bike will get you there stylishly and safely. 
Function and form were clearly important to the designers of this model. With its ability to fold into a compact form, its aluminum frame looks just as good when carried as when it's being used. For your ease of use, the bike comes fully assembled, so no need to break out the tools. If you haven't yet tried a folding bike, it will change your world. It takes approximately 15 seconds to unfold the bike and lock into place (with a secure latch mechanism). 
Probably our favorite feature on this Swagcycle is how smooth it handles. With coil shock and adjustable preload and dual-disc brakes and Autoguard technology, you can feel confident as a road user that you have full control, even in heavy traffic. With strong LED headlights and a warning horn, it's been optimized for the most safety conscious bikers. 
Pros:
Extremely powerful brake to give you peace of mind when commuting

Comes with a key to unlock and start the bike's motor, for those who have security concerns

The trip computer display is a really useful feature that provides real-time information on speed, power mode and battery power. You can also time trips and control the headlight from your dashboard

Almost unbelievable value for money – this version is one of the gold standard e-bikes on the market with lots of features and is still affordable

Convenient charging port on the side of the bike

Ergonomic grip below the seat to help you carry it easily
Cons:
Uses a speed sensor to assist you with power – with torque sensors, the bike is better able to respond to multiple factors on your ride 

The key has to be used when the bike is in a half-folding position which may be inconvenient to some users 
Conclusion
An e-bike will not only make your commute easier, but will also make it more enjoyable. Hopefully this guide has given you an insight into the different types of bikes you want to check out, and those that can make the office rush a little less stressful!
If you enjoyed this guide, you'll also like: