Why should adults consider an electric scooter?
We all remember the first time we saw an electric scooter. It may have been in traffic one day, or while meeting up with friends in pre-COVID days. The conversation quickly turned from the initial questions of "What is that?" "Is it safe?" "Is it legal to ride that on the road?" to "Where can I buy one?" 
Since they broke into the mainstream market 5-7 years ago, electric scooters have taken the city landscape by storm. It's not surprising why they are so popular – they are a convenient, fast and green alternative to riding in a car or the effort of biking. 
While many people may have assumed that they would be a short-lived fad, electric scooters have had amazing durability in the micro-mobility market and sales are surging. In fact, the size of the e-scooter market was estimated to be approximately $18.6 billion in 2019. Now that public transport can be seen as a potential site for infection as a result of the COVID pandemic, many adults are making the switch to personal electric scooters.
It's hard to argue with their cost-friendly, environmentally friendly and convenience. While electric vehicles are also beneficial for the environment, e-scooters come at a significantly more affordable price and have numerous other benefits. 
It's impossible to write a serious review of why adults should consider electric scooters without mentioning that they are also a very fun method of transportation! They allow you to engage your inner child and reimagine an otherwise boring commute as a fun trip, flying along the road alongside the traffic. 
There is relatively little maintenance involved in owning an electric scooter apart from the charging process, which we will discuss in further detail.
Do electric scooters need to be charged throughout the day? 
It depends on the type of batter that you have. You should be aware of the specifications of any scooter before purchase so that you know how much charging will be required, and the ways to extend its battery life for as long as possible.
Most scooters will last a minimum of 4 hours on a full charge, with some models extending up to 12 hours in total. There are some best practices that you should follow if you want to maintain a long battery life. 
First, it's recommended that you are aware of the type of battery in your scooter. The three main types are lithium-ion, lead-acid and Ni-Cad batteries. Lithium-ion charges most rapidly and one of their best features is how lightweight and compact they can be. 
Lead-acid batteries usually take the longest to charge, while NiCad batteries need to be fully drained before a charge. 
Second, some batteries are detachable from the scooter while others are not. This is an important consideration when thinking about which scooter to purchase, because not everyone may have the space to charge the scooter. 
Third, it's recommended not to fully drain your lithium-ion batteries. The best thing that you can do is to charge up your scooter after any use. It's not necessary to charge the scooter the whole day long, but to get it to stay at optimum levels, then you'll want to keep it topped up. 
Manufacturers recommend keeping the charge above 50% whenever possible. A typical e-scooter will have 500-1000 charge cycles, and a full charge cycle consists of a 100%- 0% – 100% circle. 
Fourth, again we come back to heeding manufacturer instructions regarding battery life, and one of the constant warnings you'll see is to charge your scooter in an area that is cool and well-ventilated.
So, with these important points in mind, let's just right into the best electric scooters (in our opinion) for adults.
1. Razor E300 Electric Scooter – Matte Grey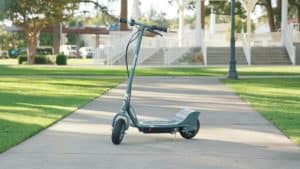 This is an incredibly smooth adult scooter that is both stylish and functional and is a perfect example of an affordable scooter that doesn't compromise on features.
With a sturdy alloy steel frame, and weighing 19.5kg, it handles well in use, delivering a top speed of up to 15mph. This model has a rechargeable double 12V sealed lead-acid battery system which can deliver up to 40 minutes of uninterrupted use.
The braking system is a hand-operated front brake, providing an easy and safe method to quickly stop. This model has a retractable kickstand to keep it upright when not in use. The front tyre is an extra-wide 10" pneumatic tyre that gives the smoothest possible ride. 
When you first receive this scooter, it's recommended to charge it up for 12 hours before first usage. There is some assembly required, in terms of attaching the handlebars and re-inflating the tyres, but it can be completed in under 5 minutes.
The manufacturers have stated that this model is designed for older riders, and that they can benefit from the incredibly sturdy frame and wide deck. 
It's a really smooth ride, and you can feel confident in how far and how quickly you can travel. The brakes are strong and will take some getting used to, especially if this is your first electric scooter. If you're concerned about safety, this is a good model to get started with. 
The recommended user weight is up to 100kg, and the majority of adults should be able to zip around on this scooter without encountering any issues. 
Pros
Love the matte grey colour – very stylish

Built from quality materials

Surprisingly powerful 

Can go for a full 45 minutes before needing to be recharged – it may not sound like a long distance, but at a top speed of 15mph, you can go quite far without needing to recharge
Cons 
Can be seen as a bit bulky so you will need some storage space

The scooter is not foldable, which may not be suitable for commuters or users who are looking for a more compact model
2. Gotrax GXL V2 Commuting Electric Scooter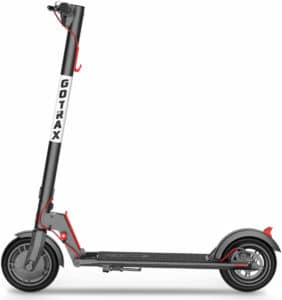 This electric scooter is consistently rated as best in class for price, durability, and design. If you're looking for the best commuting e-scooter specifically, check out our guide, but if you're searching for a stylish adult scooter, this should hit most of the points on your wish list.
At a glance, this is a fantastic model. Weighing just under 12 kg (11.9kg exactly), it's lightweight and won't be difficult to transport. Crucially for a commuting e-scooter, it's foldable to allow you to quickly and easily go from an office, or a class, to the bus or train at the touch of a button.
Unlike other scooters that can be difficult or awkward to fold up or expand, this can be done with the touch of a button on the Gotrax GXL. 
It's also got some other essential features that we think should be on every e-scooter. First, it comes with built-in LED lights for optimum safety when travelling in the dark or in poor weather conditions. 
And second, the brakes are as reactive, sturdy, and as safe as you would need them to be. It uses a dual disc braking system and pneumatic tyres to provide the user with a complete sense of safety and reassurance. You can activate the brake using your hand (attached to handlebar), which is a standard feature of e-scooters. 
So, how does this scooter compare when it comes to range, speed, and battery life? It performs extremely well for the price that you pay (and it's no surprise that it's frequently listed as sold out). It has a distance range of approximately 19km and uses a 250-watt motor.
As for top speeds, it can reach an impressive 25kmph, which compares well with shared city transport scooter brands like Lime or Bird. Of course, this figure will vary depending on the weight of the user, terrain type, number of stops and degrees of incline. Surprisingly, another factor that can impact speed is temperature. 
The battery is a lithium-ion battery which comes with all the advantages of a lithium-based battery. It has an excellent charge life (taking 4 hours on average for a full charge) and can also be used as a kick scooter if the power runs out. The LED display on the handlebars shows how much charge is left in the battery. 
Pros
Excellent quality scooter that looks stylish and is powerful and durable

Simple and easy to understand features

Compact, perfect e-scooter for commuting

Comes with a bell to warn other road users 

Ultra-bright headlight for those dark evenings
Cons 
It doesn't have standing start capabilities, meaning that you will have to kick start up to 3kmph in order to get it to start 

The throttle can be sensitive to the touch, so some practice is recommended before taking to the roads
3. Hiboy S2 Pro Electric Scooter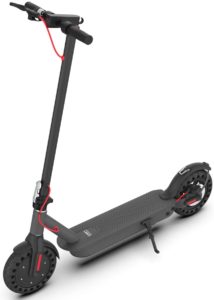 A stand-out e-scooter in the market, the Hiboy S2 has a number of key features that promise an exceptional experience for a very reasonable price. Weighing just 16kg, it's one of the lightest scooters in its category. 
Another perfect model for adults looking for a reliable commuting option, it's been designed for city use and most average smooth terrains. In terms of its aesthetic, it's hard to get a more attractive and appealing appearance in this range. Mostly black with red accents, it's a professional looking machine.
An electric scooter's tyres are obviously one of the most important components. As an owner, you have to think about things like wear and tear, road conditions, temperature and user weight because all of these will impact on your scooter's length of life. 
Fortunately, the Hiboy's manufacturers placed a high priority on the tyres, measuring 10" and made from hard and solid rubber. They have a unique honeycomb design which has been designed to absorb shock and be resistant to punctures. 
The braking system is made with e-ABS technology and comes with an integrated hand-operated double braking mechanism to give you peace of mind when on the road. ABS technology refers to anti-lock braking system, which means that the wheels won't lock up and become immobile when you brake suddenly, giving you better control when you need it most. 
We love the smartphone compatibility that comes with this e-scooter – we all love to be able to control our device at the touch of a button! With this feature, you can lock the scooter and set customised speed and cruise controls. This means that you can set a maximum speed level for each mode to your exact specifications. 
The manufacturer advises a maximum user weight of 118kg with a travel range of approximately 27 miles (but again, this will vary based on a number of factors).
Overall, it's very difficult to pull out any negatives about this model – based on price, features and style, it's a fantastic model and its rave user reviews are testament to that.
Pros
It's got a lithium-ion battery, which means that the charging process takes between 4-6 hours

An amazing little feature called regenerative braking which the manufacturer has said will extend battery capacity by converting the energy from braking to recharge the battery

LED display in the 'cockpit' section on the handlebars which connects with the app 

Foldable (in under 3 seconds)
Cons 
The lights aren't adjustable to your own preferences

Some users may find that it feels heavy 
4. EverCross Electric Scooter for Adults
This is another brilliant model from EverCross, a young brand based in Germany. There's a lot to love about this scooter, and with adults as the target audience, you will notice how all the features are built for your safety and comfort.
The frame is made from aluminium, and if you know anything about aluminium, you will know that it is both lightweight and strong. As soon as you step on the machine, the powerful features and clever design is evident. 
It weighs 20kg which is a little heavier than some of the other models reviewed, but with the extra features packed into the scooter, it's a good trade off. 
With top speeds of an incredible 45kmph, this is most certainly a scooter for adults only, and the manufacturer strongly recommends wearing a helmet and any other desired protective gear to ensure your safety. Even though it's a very powerful scooter, it's still foldable, so perfect for commuting.
It boasts a great range (up to 40km) without needing to be charged, making it ideal for a longer commute or for people living in bigger towns or cities. Not surprisingly, the average charging time is anywhere between 4 and 7 hours. 
It's important to be safe on the roads especially in the dark mornings or evenings. The super bright LED headlamps and taillights will make sure that you are fully visible. You can also choose to turn on the colourful under-deck side lights if you wish.
You'll notice that it comes with a seat – in fact, many e-scooters come with the capability to add in a seat but sometimes will be sold separately. With this EverCross model, the seat comes as standard but is fully detachable as needed. The seat cushion is super comfy and soft, and you may find that you prefer the seated mode to the standing!
Pros
Love the colourful underlighting strip 

3 cruising speeds that take the guesswork out of the speed you should be doing

User friendly LED display on the handlebars giving you information about the battery, lights, gears, mileage, and the cruising modes

Key ignition and push start button
Cons 
Not for use by children or teenagers – adults only!

Some assembly is required to get up and running, but the instructions are clear and the company's customer care team is on hand if you need further assistance
5. Megawheels Electric Scooter for Adults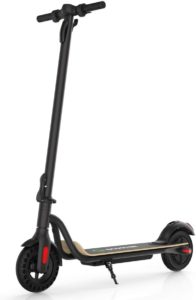 For the last review in this article, we want to draw your attention to the Megawheels electric scooter. This model comes with a 250V motor and can travel to a range of 17-22km, making it an ideal companion for rapid city or town transportation. 
It's incredibly lightweight at just 12kg, making it one of the lightest models in this review. Although it's light, you've also got some of the most important e-scooter features. 
There is front and rear LED lighting for safety, integrated kickstand, a fender/ guard over the front and rear of the machine and it also comes with the ability to quickly collapse it and then unfold as needed.
The manufacturer specifies that it can hold a user weight of up to 100kg and like most scooters, this will impact on the speed that the scooter can reach. For people who hate charging their devices, they will love that this model takes only 4 hours for a full charge.
In terms of incline climbing ability, you should be able to travel 20 degrees without the speed being affected too much. Any steeper than this, and you may notice a lag.
We love that it has three separate gears, making it feel more like a car and giving you more understanding about your speed relative to other road users. They are easy to access using the LED display.
With this model, you will be able to start from zero and begin travelling immediately without the need for a kick start. It's hard not to love this model!
Pros
Love that the LED display is very bright and adds a stylish touch of digitalisation to the scooter!

The brake is hand-controlled and also has a foot friction rear brake fitted on the back wheel for extra control 

One of the best charging times for all models in its category 

It has an outstanding build frame, and it feels study and safe
Cons 
No smartphone or app compatibility (yet)

Not suitable for rougher terrains and it will perform best on smooth or moderately smooth surfaces typically found in a town or city 
If you enjoyed this guide, you'll also like: