Why use a folding treadmill?
The majority of people will not have the space in their homes or offices to use or store a full-sized commercial treadmill. The advantage of a folding treadmill is that it can give you all the benefits with none of the issues.
Like any other large piece of exercise equipment, a good model can be quickly folded up and stored out of sight until the next usage.
Since gyms were closed at the start of the coronavirus pandemic, many people have taken to outdoor running or other forms of exercise. However, this is not always possible if it's raining or if conditions are unsuitable outdoors.
This is why a folding treadmill is the ideal solution for many people. You get the benefits of top-class gym equipment for a very affordable price.
Some people who want to invest in their home gym equipment may feel worried that a folding treadmill won't give you the sturdiness or reliability of a non-foldable model. However, the technology has come a long way since the beginning of home gym equipment production, and there are many excellently priced and effective machines that you can buy for your home use.
As with any major purchase, research is essential to ensure that your money goes a long way. You should start off with a good understanding of what you want to get from the machine. Do you want to be able to walk, run, jog, use it while working, or all of the above?
Are they safe and just as good as regular ones?
Yes, folding treadmills are just as safe and good as regular treadmills. Like all pieces of heavy equipment, there are lots of considerations when it comes to safety and reliability. It's important to buy from a reputable manufacturer, and we always advise you to read other user reviews to make an informed and safety-conscious decision.
The next most important factor is to consider the user weight and all other manufacturer instructions. There is a reason why instructions have clearly displayed safety and warning signs – user error can often result in serious injury – but this is also the case for any piece of equipment, whether at home or in a gym.
It's a good idea to measure the available space that you have in your home or office to make sure that you can accommodate it properly and you don't need to compromise your safety in any way.
Another key consideration is how you use the machine. Remember to check the motor power of your foldable treadmill before purchase.
Depending on how much you intend to use the machine, it may be the case that you need to purchase a machine that is the most suitable for your intended usage.
For example, if you are a heavy runner, you may want to invest in a machine that is built for more resilient use. For more moderate or average usage, then a standard foldable treadmill should be fine.
Again, the key consideration is whether the machine will be able to work for your intended purpose. If you purchase within this parameter, these is no reason why you should be disappointed in your choice compared to commercial style treadmills.
1. Best Choice Products – 800W Folding Electric Treadmill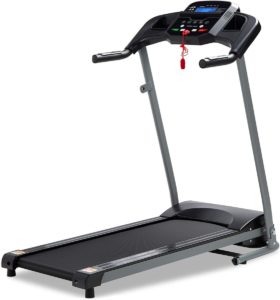 This is a highly rated product with thousands of outstanding reviews showing why it's an excellent choice. First, the specifications will meet the needs of the majority of people looking for an at-home folding treadmill.
It has a weight capacity of 250 pounds and a speed range of up to 7.5 miles per hour (or approximately 12 kilometres per hour), making it perfect for the individual user who is looking for a great home workout.
The available running space is 48 by 14 inches, which is plenty of room for most runners. You may be more accustomed to the larger commercial-sized treadmills in gyms, but this size is perfect for the majority.
In total, it's a super compact model, measuring 48 x 24 x 48 inches, and best of all, it's foldable which will allow you to use it in the most convenient location in your home or office and then store it out of the way when you're finished.
There are 5 programme speeds and 3 workout routines pre-programmed into the digital display to help you keep on track of your workouts. The advantage is that they come in beginner, intermediate, and advanced modes, depending on how much energy you want to spend.
The digital display is full of really useful features to help you keep track of your progress, including track distance, speed, time, and calorie counters. All this information will help you manage your workouts effectively and make sure you're getting the most out of each session.
Most importantly, the handles of this folding electric treadmill have the necessary buttons to allow you to safely work out. There you can find speed settings, start and stop buttons, and a heart-rate sensor. This ensures that you can have full control over the workout and you can avoid injury.
Pros:
     

Folds up very easily, and the wheels make it very user-friendly to wheel away

     

The control area has space for 2 water bottles as well as a shelf for a tablet, phone or book

     

Doesn't take too long to put together (approximately 30 minutes)

     

Can easily be modified to use as a walking desk when working from home or in an office
Cons:
     

The belt may need to be adjusted from time to time

     

Not as high tech as a more expensive model
2. Sunny Health & Fitness – SF-T1407M Manual Walking Treadmill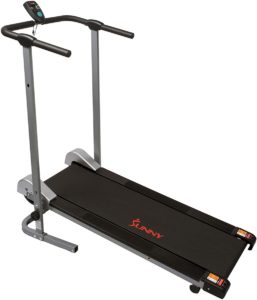 This is a great version of a machine that will help you to get fit without any fancy tech or extra features you may not need. For those who want a machine that has been built for walking instead of running, this is for you.
In terms of its purpose, it has been designed for walking, so it's not suited for those who want the dual walk/ run treadmill function.
As for its specifications, the moving area measures 42 inches by 13 inches, which is plenty of room for a brisk to fast walk, and anything slower than that. It supports a maximum weight of 220 pounds but should be suitable for the majority of users.
A great feature is its ability to allow you to increase or decrease the incline level, depending on how difficult you want to make your workout.
Some of the safety and user-friendly features include non-slip handlebars to ensure you can exercise safely at all times, transportation wheels, dual flywheels and a digital LCD monitor to keep track of your progress.
The transportation wheels allow you to quickly and conveniently move the machine around your home without straining yourself. The dual flywheels feature provide resistance to make your workout even more difficult. This ensures that the user has to exert more power and speed during use.
The fact that it is a manual machine with no electric parts means that you can set it up anywhere in your home or office and use it as much as you need. This also has the added bonus of not being too loud or noisy a machine, which gives you the ability to use it even in a busy family room or in front of the TV without disruption!
Pros:
     

Save the environment with this manual machine that requires only your energy to operate

     

The adjustable incline drastically increases the workout difficulty while remaining easy to use

     

There are a number of great features on the console, allowing you to design a really strong workout and make the most out of your time

     

Perfect for homes or offices with limited storage as it folds up neatly
Cons:
     

Some of the plastic components of the machine can be less robust than tougher materials

     

The frame can be heavy to lift up while transporting
3. XTERRA Fitness – TR150 Folding Treadmill Black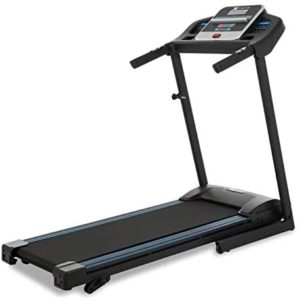 If you're looking for a model that is almost indistinguishable from one that you might find at the gym, the XTERRA Fitness TR150 is an affordable and reliable machine that stands up to tough scrutiny.
Measuring 63 x 28 x 51 inches, it's larger than the previous two models, but that is because it packs more of a punch in terms of its features. Weighing in at 108 pounds and with the capability of handling 250 pounds user weight, it's got a maximum horsepower output of 2.25 hp.
When in use, it can achieve speeds of between 0.5 and 10 miles per hour. In terms of pre-set programmes, it's got 12 different workouts programmed into the machine to allow you to have a flexible and customisable session.
Staying with the specifications, the running surface measures 50 inches by 16 inches, giving you plenty of deck space to run or walk for as long as you need to. It's also great to note that you have incline capacity of 3 manual settings to allow you to vary the difficulty.
We love the really clear and multifunctional 5-inch LCD console that allows you to track all the essential information for a treadmill workout, including time, speed, distance covered, approximate calories spent, and the user's pulse rate.
The pre-set speed settings allow you to quickly and easily choose or switch been your favourite workout. It definitely helps with motivation once you've been exercising for a while and you start to get tired!
The grips on the handlebars act as pulse sensors allowing you to monitor your body's reactions and adjust your pace if necessary.
Our favourite feature is the XTRASoft Cushioned Deck feature, which was designed for your ease of running. This useful feature means that you won't have to worry about straining your muscles too much or causing damage to any ligaments in your legs.
Pros:
     

The solid frame is a huge advantage over other models. Made from steel tubing, it's considered to be highly durable and long-lasting

     

The speed adjustment settings come in increments of 0.1 miles per hour which will allow you to safely and easily increase your pace

     

For the environmentally conscious, it has a low-power consumption feature built in as standard

     

Really easy to assemble
Cons:
     

Although there are lots of programme features on the LCD digital display, the model doesn't come with a goal function to give you something to work towards

     

As with most machines, the calorie counter is more approximate than totally accurate
4. SereneLife Smart Electric Folding Treadmill
Another really popular model, the SereneLife Smart Electric Folding Treadmill is one of the best models out there for home or office use.
The great advantages of folding treadmills will be well known to anyone who has a minimum amount of space in their home, but for people who want to maximise their workout capabilities.
Setting it up initially should take between 30-40 minutes at the most and is suitable for most rooms in your house or in an office space.
It's a reliable and hard-wearing machine that will push you to your limits in terms of a workout and won't leave you wanting more. The motor has a 1 horsepower output, and the machine weighs 60 pounds in total.
Measuring 50 x 24 x 49 inches, there are plenty of opportunities for usage and it's easily stored away. With a top speed of 6 miles per hour, you can also take advantage of the 12 pre-set programmes to give you a variety of workout types.
The LCD display console has touch button features so that you can quickly access the information you need about your run time, distance covered, speed, calories burned, and heart rate.
Our favourite feature is the app compatibility. Simply download the corresponding smartphone application to be able to take advantage of even more features, including recording and reviewing your training data, displaying your training stats on social media, and sharing with your friends.
It's perfect for anyone who wants to use the book or magazine tray while working from home or in-office. This model can be used by children or adults, but adult supervision is always recommended for safety. This means that your whole family can reap the benefits of this excellent fitness machine.
Pros:
     

Uses a hydraulic folding design that makes it easy to fold up and put away when finished

     

There are 3 adjustable incline levels that will allow you to make your workout more difficult

     

The noise of the machine is very low while in operation, giving you the ability to work out in many locations without disrupting others
Cons:
     

The frame is not as strong as other models. While an at-home machine won't be as sturdy as a commercial machine that you can find in the gym, it's something to bear in mind
5. Goplus 2 in 1 Folding Treadmill with Dual Display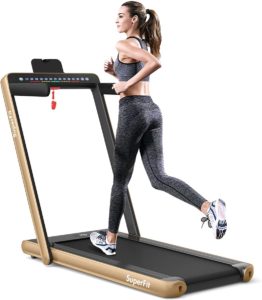 For people who want to take advantage of a home or office workout, the Goplus 2 in 1 folding treadmill is a fantastic option. Whether you want a normal workout or a workout while working, this machine allows you to do both according to your preference.
A great advantage is that it can be folded flat and stored neatly under a desk or anywhere that you have space in your home.
Now that many people have made the move to homeworking, some people have found that they have less opportunity to go for walks or exercise during the evenings. The advantage of this machine is that you can easily work and walk at the same time.
In terms of measurements, it measures 49 x 27 x 42 inches and can hold a user weight of up to 265 pounds. The running belt pressure measures 40 x 16 inches which is more than enough space for the majority of users.
As far as speeds are concerned, you can get between 1-12 km per hour for a normal workout, while it's possible to achieve 1-4 km per hour while folded under a desk.
There is very little assembly involved (good news for those who hate DIY!) and it can be put together very intuitively.
The tough steel frame is a great feature that will allow you to keep using it for a long time. This also means that the machine is quite stable and won't wobble or shake while in use, giving you peace of mind.
The unique features of the running belt are worth discussing. There is a wear-resistance surface, sound insulation layer, high strength support later, shock absorption layer, and a compression layer. All of these features combined mean that your legs will be protected when running and you don't need to worry about long-term effects.
Pros:
     

Fantastic 2-in-1 design with different programmes depending on how you want to exercise

     

Supremely powerful 2.25 horsepower motor

     

Can be started and operated using a remote control

     

Has a multifunctional LED display offering plenty of information about your workout and progress

     

Has speaker capabilities and a phone holder included in its smart design
Cons:
     

There isn't an incline or decline feature with this model, which some users may wish for

     

Unlike the features of a commercial gym treadmill, there is not workout fan included to cool down during exercise
If you enjoyed this guide you'll also like: