Technology has undoubtedly become an integral part of our lives. We've even transferred smartphones into smart homes, which are now the home to own. These come equipped with artificial intelligence that can control various facets of your home, from appliances to lights.
That being said, smart homes are not cheap. Also, it might be impossible for many conventional homeowners to turn their homes upside down and renovate them into fully functional smart homes. But, just as it is with technology and tech products, we do have a solution for this – smart plugs.
Smart plugs have become quite the talk of the town, and there are brands left, right, and center trying to sell their products! This is where it becomes crucial to understand what smart plugs are and the best use for smart plug. In this guide, you'll find answers to these questions and more, so make sure to read until the end!
What Is a Smart Plug?
A smart plug looks almost like a mobile charger adapter, only that it's an inexpensive and convenient way to transform any home into a smart home. 
Smart plugs can be connected to any appliance in order to convert them into a smart appliance and enable the owner to use them remotely using voice commands or apps. They can also be used to monitor energy usage and control other smart devices.
Using a smart plug is straightforward! All you have to do is plug the appliance into the smart plug and the smart plug into an electrical outlet. 
You can connect a smart plug with the mobile app using a WiFi network or Bluetooth such that the app works as a remote control. Once connected, the mobile app creates 'scenes,' also known as IFTTT, which stands for If This Then That, which helps the user control several devices simultaneously!
Microwaves, washing machines, cookers, induction, lights, air conditioners, etc., can all be controlled using smart plugs. A standout feature of these plugs is that they do not take a lot of space on the wall outlets, and there are a plethora of designs available so that you don't get bored with one.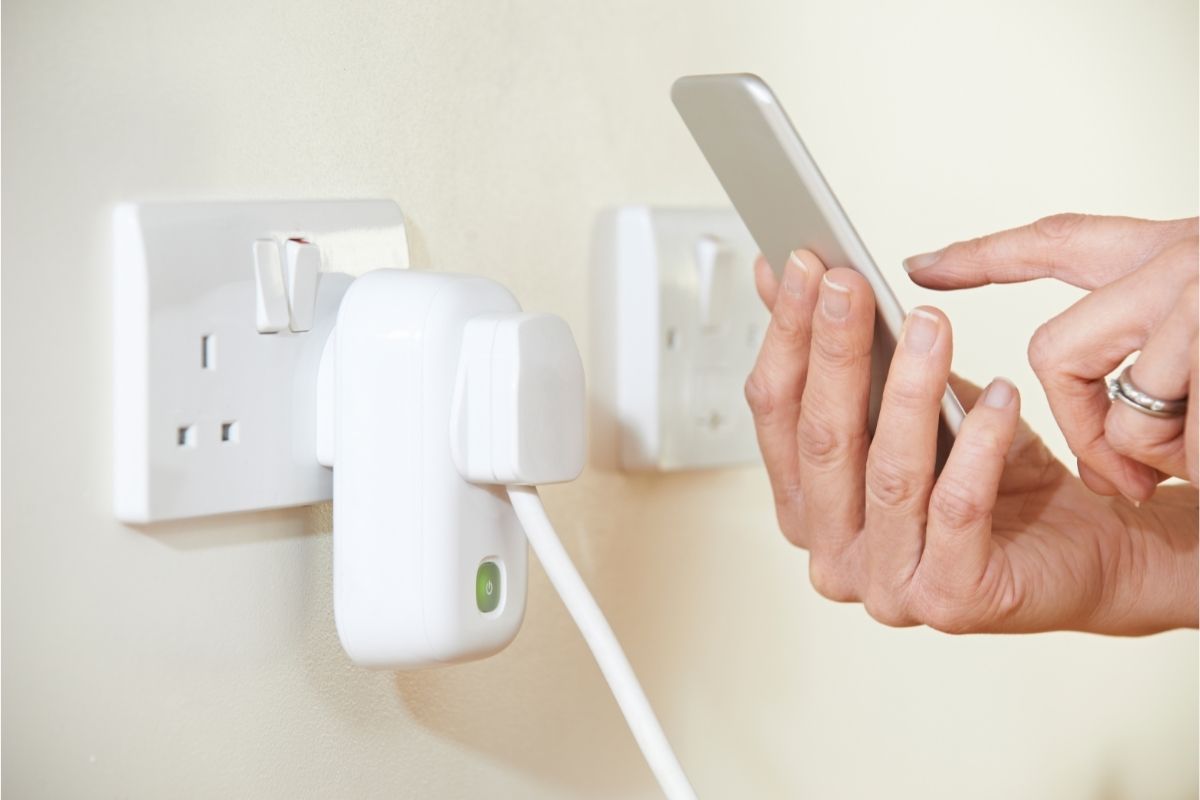 Smart Plug Common Uses
Below are some of the most common uses of a smart plug in a home!
Device Charging
Smart plugs can be used to charge any device – mobiles, tablets, laptops, batteries, etc. It's common knowledge that charging devices for prolonged periods unnecessarily can reduce their battery life substantially. 
But, with the help of smart plugs, you can set a particular time slot for charging your device so that you don't run the risk of overcharging.
Radios
Connect your radio with a smart plug and never miss your favorite show or songs. Smart plugs are 'smart,' thanks to their ability to be used remotely without little to no manual interference. It also means that a smart plug can switch on and off at set times.
WiFi Routers
Smart plugs can be connected to your WiFi router to switch it on or off remotely. But, keep in mind that you'll need Bluetooth smart plugs for this – a WiFi router won't cut it since it wouldn't work if the connection is slow.
WiFi routers can get overheated if used for prolonged periods. An overheated router will reduce or completely turn off your internet connectivity. Use smart plugs to avoid this and set the time for switching the routers on and off.
Dehumidifiers and Air Purifiers
If you have humidifiers, dehumidifiers, and air purifiers at your home, use smart plugs to schedule them throughout the day. This way, you can easily control the rooms' moisture and smell.
Moreover, you can also create an IFTTT applet that you can use through your smart plug to control the devices.
Hidden Outlets
There are always a few power outlets in the house that are unreachable or cannot be accessed due to some kind of blockage. Such outlets are kept switched on for most of the day, increasing your electricity bill. Smart plugs will make sure this doesn't happen by switching off such outlets when not in use!
In the Kitchen and Utility Room
In a room with a lot of appliances, such as a kitchen or utility room, it's good to know how a smart plug will fare!
Slow Cooker
Slow cookers are a modern marvel and every modern kitchen's pride, especially for working people. Slow cookers use just one pot to simultaneously cook multiple things, cutting down the cooking time that busy people don't have.
Before heading out, add all the ingredients into one pot and switch on the cooker. A smart plug will help you schedule the timings of your slow cooker so that the dishes are cooked for exactly the time they need.
Kettle and Coffee Maker
If you're a coffee enthusiast who loves starting your day with a hot cup of coffee, smart plugs can be your best friend. You can keep the devices connected with your smart plug and give them voice commands to get them running as soon as you wake up. 
You can also schedule the kettle or coffee maker to switch on at a particular time – perhaps you want to have a cup of coffee right when you get home from work!
Tumble Dryer
Tumble dryers are hazardous if left unattended and switched on. Smart plugs negate the threat of any mishap in case you forget to switch off the dryer when you leave the house.
No Human Interaction
The kitchen can be a dangerous place, especially for your children, as it can have boiling water in kettles, hot coffee in coffee makers, running induction, or a hot microwave in action. But, don't worry, all of this can be controlled using smart plugs!
In the Living Room
We've talked about how smart plugs make your work routine easier, but they can do much more! Here's how smart plugs can amp up your entertainment and relaxation game!
Entertainment Systems
Entertainment systems, such as DVD players and sound boxes, are typically spread across the living room, with hidden wiring that might be difficult to reach. This is why most people leave these devices turned on even when not in use. Smart plug allows you to turn off such systems using a voice assistant like Alexa or Google Assistant.
Air Conditioners
Wouldn't it be a relief to come back home from a hot day and find your room cooled? You can use a smart plug to remotely control your room's air conditioners.
Fish Tank Lights
Fish tanks have lights to mimic a fish's natural environment. Smart plugs can help control and monitor these lights at all times. Smart plugs can help you schedule the lights so that they switch on in the morning and turn off at night.
Lights
Surely you've got the hang of this by now! Yes, you can also control your house's lights using smart plugs and a voice command like Alexa. The system will work even better if you happen to own a smart light since you can then control the light's intensity and color.
In the Bedroom
Your bedroom should be a cozy place, and smart plugs can add to the overall comfort you get in your bedroom.
Electric Blankets
If you own an electric blanket, you know how hot it can get. The chances are that you'll wake up in the middle of the night sweating from the heat. Keep their usage in control by capping their run time via a smart plug and sleep cozily at night without any disturbances!
Lamps
If you're one of those individuals who wakes up in the middle of the night to use the bathroom or drink a glass of water, smart plugs will serve you well. Avoid tripping over a table or a folded carpet you couldn't see by keeping your lamps connected with the plugs. This way, you can turn them on from your phone anytime you need them.
Straighteners and Curling Irons
Forgetting to switch off a straightener or curling iron is a gateway to chaos. People are often in a rush to get to a party or gathering, so they leave these appliances on in their bedrooms. If this sounds like you, we advise you to start using a smart plug in order to turn them off remotely.
Outside
A lot has been said about the best use for smart plug in your home, but your home isn't just what's inside the four walls. Your home also includes the area outside. That being said, let's see what smart plugs can do outside!
Water Sprinklers
Most water sprinklers come with a timer, but using smart plugs to control them will allow you to switch them on and off whenever required. For example, you can switch off the sprinklers when it's raining. This will save you both money and water in the long run.
Garden Lights
Did you think that smart plugs can only control the lights indoors? Well, that's not the case! Use smart plugs to control your garden's atmosphere from almost anywhere. You can change the lights, intensity, colors and make your loved ones more comfortable all with a simple tap of your finger on your phone!
Irrigation Systems
If you have complex irrigation systems with built-in pumps for your plants, consider using smart plugs to schedule the pumps to maintain a consistent water flow. This will also absolve you of the concern of regularly watering your plants.
READ MORE: Why automate your home? 7 things to consider
Do Smart Plugs Consume A Lot of Electricity?
First things first, smart plugs use electricity even after the device they're connected to is turned off. That being said, the energy consumed is very low, almost negligible, so you don't have to worry about shelling out extra for your electricity bill.
Is It Possible to Use Smart Plugs without an Internet Connection?
Yes, you can use smart plugs without internet connectivity. Keep in mind that the usage is very limited under such conditions. Most smart plugs work remotely in tandem with a mobile app or artificial intelligence like Google or Alexa. 
However, such features won't be available without the internet. Simply put, you can connect your devices to an intelligent plug, but you won't be able to use them remotely.
Do Smart Plugs Save Energy?
Smart plugs can make your home more energy-efficient and help you save a few bucks. But there's a catch: you have to use the smart plugs with the appropriate devices. This will help you ensure that the smart plug is truly saving energy.
Conclusion
Smart plugs are the way to go if you want to make your house a more intelligent place to live. Furthermore, plugs not only allow you to operate your electrical appliances, but they're also highly energy-efficient and save you time and money. 
Smart plugs can be the much-needed initial step towards creating smart homes and making people comfortable with that kind of technology until they can go all-in with a fully integrated centralized smart hub for their homes.
We hope that now you're better aware of the best use of smart plug, which is – humbly put – anywhere you'd like! You can use them for your home, garden lights, kitchen and bedroom appliances, and music systems. Our website has more such interesting tech articles for you, so please feel free to check it out!