When Apple takes the headphone jack out of the iPhone, people did not stop buying the iPhone, they start buying wireless headphones instead. And if you own an iPhone that has the headphone jack stripped off, you might have already had a few encounters with the AirPods, which are Apple's own wireless headphones.
But if you really care about sound quality, the AirPods might just not cut it. And this is where the Bose SoundSport in-ear wireless headphones come in. Here is our Bose SoundSport Wireless Noise Blocking Earphones to help you decide.
Bose SoundSport Wireless headphones are among the best-sounding, most reliable in-ear headphones you will find at such a low price range. Once you get your hands on this tiny pair, it will only take a minute to figure the biggest advantages on these pieces. Two of the major advantages is that it's extremely easy to set and the sound quality is exceptional. All you need is to press a button on the right earbud to power it on and initiate a Bluetooth connection.
Bose SoundSport Wireless box comes with the headphones, a micro USB charging cable, a small carrying case with a carabiner clip, two different sized sets of StayHear+ tips and a user manual. Bose SoundSport Wireless headphones are the ultimate pair you need for all your workout and sporting activities.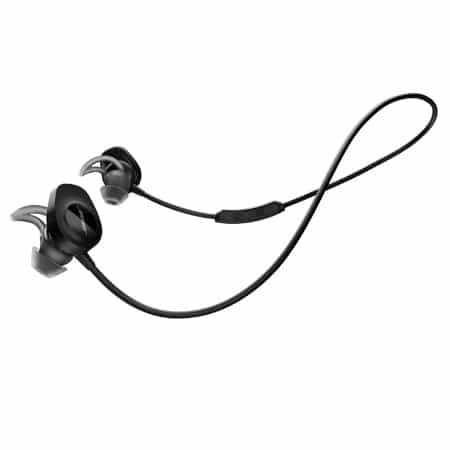 Build & Design
Bose SoundSport Wireless in-ears are bigger and bulkier compared to their wired siblings. Even the housing has changed a bit to accommodate the battery and Bluetooth components.
When you put them on for the first time, you might think that they are going to fall off; but they won't. This is because they are lightweight and the StayHear+ Tips included does a great job of holding them in place.
When it comes to design, this pair is not as bulky as it may first seem, they are actually quite pretty too. There is a single button on top of the right earbuds that powers the headphones and is also responsible for pairing them. Playback controls and the inline mic sit nicely in the neck cable.
The control modules are also nicely integrated into the cable such that they don't go flying around as you run. Remember how I mentioned that they are the best sporting headphones ever?
This pair is mainly made of a hard plastic material which makes it water and sweat resistant. This, however, doesn't mean that they are fully waterproof. So no, you may not plunge with them into the swimming pool. The headsets are available in blue or black, and I am told the silver model is on the way.
The ear tips seal off the ear canal for passive noise isolation and they have a small fin that rests against the ear for added stability. You also get three tips, small, medium and large, meaning that you can't possibly miss your perfect fit. As earlier mentioned, the tips are designed to ensure a secure fit during high-intensity workouts.
Bose SoundSport Wireless Noise Blocking Earphones Review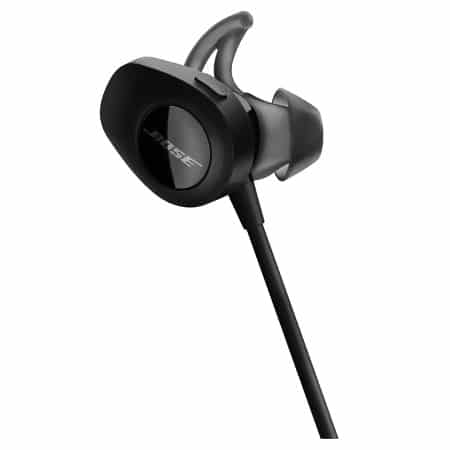 Using the in-line remote is relatively easy and straightforward, but you will need a few trials to get used to operating the controls without seeing them. In addition to the central multifunction button, there are dedicated volume buttons for rocking your levels up and down. The status LEDs on the right earpiece indicate the battery life and if your pair is powered up and paired. There is also a micro USB charging cable and a circular, padded zip-up protective pouch included.
Connection to your device is primarily and painlessly via Bluetooth. You also have an NFC connection option if you have a compatible device. For such a small pair of headphones, the range of 30 feet is commendable and stable too. Bose offers a battery life of about 6 hours of constant playback, which will comfortably last for an entire workout session or a day's worth of commute. It takes about two hours to fully charge the battery.
With the Bose Connect app, you can control pretty much any current Bose wireless product, including the SoundSport. You can adjust the length of time it takes to automatically power off your earphones, disable the robotic voice prompts, initiate Bluetooth pairing and adjust the volume. The app is however not essential to the operation of the earphones. The looks are pretty cool, but how do these little guys sounds?
Sound Quality
The Bose SoundSport Wireless sound quality is perfect with a powerful, punchy bass that will have you running faster to catch up with those beats. It doesn't have sloppy, soupy kind of bass that spoils the rhythmic impact of a track either.
Boss managed to craft a sound signature with good detail and doesn't focus on a particular frequency that might turn off most critical listeners. The Bose SoundSport wireless headphones are dynamic and will make your music sound lively and fun all-around.
They might not be the most accurate in-ear headphones out there, but you probably shouldn't be looking for stellar sound separation and details in Bluetooth sports headphones anyway. That said, the songs sound great, the bass is quite powerful and the low end receives the attention it deserves.
The mids aren't given much prominence, as most of the attention seems to have gone to the low end. This is not to say the mids aren't great, but they are exactly what you need for this kind of headphones.
Bose SoundSport Wireless Noise Blocking Earphones
The highs are well managed and do not come out as harsh or piercing even at maximum volume. The drums and guitars receive an extra boost which remains natural throughout the tracks. The high-mids and highs in vocals add an extra bit of clarity without sounding muddy despite the rich low-end presence. Overall, the bass-forward sound signature will certainly push you to power through your workouts day after day.
Bose SoundSport Wireless Noise Blocking Earphones
Pros and Cons
Pros
Great sounding wireless earbuds
Easy to use the Bose App
Solid Bluetooth connectivity
Very water-resistant 
Comfortable fit
Cons
Low battery life
Buttons take a little getting used too
A little bit bulky 
Conclusion
Bose has come up with relatively inexpensive earphones with many high-end Bose qualities. The Bose SoundSport Wireless headphones are comfortable, sounds great across the sound spectrum, easy to use and fairly cheap compared to competitors with the same features. They are clearly one of my new favorite workout headphones.
They sound way better than most sports headphones and the most important thing is that they stay in your ears no matter what you do. If you really need that extra bass to keep you going or maybe you're just concerned about sweat damage, these are your kind of headphones.
Helpful reviews on some of the top-selling headphones.