Elux By Specter Wireless Sports Headphone Review. The Elux headphones are a premium set of over the ear headphones selling for a modest price of only $79. The water-resistant Elux was designed for the active user with the latest industry technology CSR chip and CVC noise cancelation for optimum sound quality. With voice command voice control to answer your phone. Ideal over the ear headphones for running and active use. 
I have been using my Elux headphones for about a year now, and they are my favorite pair of headphones for down at the gym. They are smaller and lighter and built very rugged. The smaller ear covering reduce sweating, and they stay on your head if you are doing rigors activity. The sound is almost as good as my AKG N60NCs, but the Elux is a lot cooler to wear and don't get in the way like some bulky headphones.
They are much better for working out. See my full review Elux By Specter wireless sports headphone review.
The Elux was designed for fitness users and athletes that find many over the ear headphones are too bulky and warm to work out with. The Elux allow minimal over-ear coverage with maximum noise cancelation.
Don't be shied away from if you are not an athlete. These headphones are a great sleek pair of reasonable priced wireless headphones that are great for anyone.
I received my Elux in the mail a few months back after contacting Specter sound. They were so confident in their products that they sent me a few of their latest offerings to try out and review before I decide to promote their products. I decided to take my time with the review and use them over a period of a few weeks to see how they fared before making a review.
---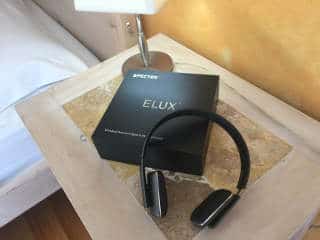 I was immediately impressed with the packaging and the sleek look of the Elux. Set up was quite easy. Plugin the USB cord provides for easy charging.  I am somewhat new to Bluetooth wireless headphones it only took me a minute to connect to my iPod. I first plugged in the headphones to give them a good charge.
Battery life is 12hrs. After using them at home and the gym a number of times per week. It took about three weeks for me to have to recharge them for the second time.
Plugged in for a few hours and they were good to go for another 12 hours. I did find as the battery power got lower reception started to diminish. 
---
Functionality 
The functions are simple enough, but you do have to remember a few things if you want to answer your phone and navigate to your music.
I am a little challenged when it comes to some multi-function controllers. I think for many people this would not even be an issue.
The front button is used for volume and skipping to the next song.
The back button on the ELUX turns the unit on or off, pairing with other devices, play/pause music and answering your phone. To set up, simply hold down the back button and a voice says "power on". Turn on Bluetooth on the device you want to connect with and select Elux, a voice with telling you "Phone 1 connected". Press and hold down the button and you will hear a voice say "power off"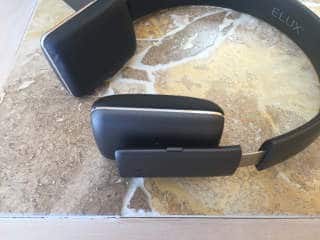 On the right side of the head strap is the blue power indicator light that will display red if the ELUX needs charging, USB charging port and mic for hands-free phone calls.
Both buttons are multi-purpose and take a little getting used to operate properly.
Two Multi-purpose buttons have a solid feel and perform all the functions quite easily after you get familiar with the basic functions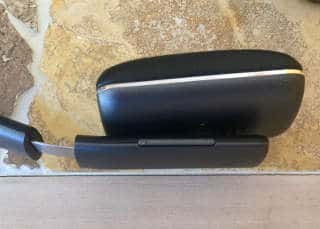 The two Multipurpose buttons have a solid feel and perform all the functions quite easily after you get familiar with the basic functions. I think I would like the back button placed somewhere else. When I adjusted the volume button on the front I had the tendency to put my thumb on the other side directly on the back button and press that at the same time. Not a huge problem but maybe something to consider in future updates.
The build of the ELUX Headphone is solid, but I would still handle them carefully if you want them to last a long time. Have a look at this demo. I didn't do this test personally but the Elux look very sturdy. 
---
Build And Quality 
The comfort of the Elux headphones is excellent. I was a little concerned from their website photos how comfortable they would be, but after putting them on and wearing them they proved to be quite comfortable and with minimum ear coverage your ears don't get as warm as most over-ear headphones.
The sound quality of the Elux is fantastic. They have a clean, clear, balanced mid and high range with a sound that is is not mudded with an overly hyped bass.
I went down to my local gym to get other people's feedback and compare them with a pair of Sony $200 and a pair of Beats $400. I personally found the Sony's had a muddy sound compared to the Elux for less than half the price. The $400 pair of Beats I compared them to sounded pretty close for a quarter of the price.
The 33-foot wireless range is handy. Down at the gym, I left my iPod in a bag in the middle of the gym and had no reception issues. I did try the ELUX at home. You can walk around your house but some walls particularly concrete interfere with the reception.
---
ELUX Sport Headphones
Pros and Cons
Pros
The ELUX is a really great sounding pair of wireless Bluetooth headphones for around $100.
Sleekly designed specifically for active users in mind.
Smaller ear covering to reduce ear overheating and sweating, avoiding a bulky headset that can get in the way of your workout.
All the features and sound quality of much more expensive headsets.
Cons
Function buttons take a little getting used to.
Although they are made quite sturdy. you still have to handle them with care.
Battery life is less than some models.
For some, the sound may be to crisp and not enough bass
Over-ear headphones can be to warm for some active people. Earbuds may be a better option. Specter also offers EFITZ wireless earphones
Pro or Con? Depending on your sound preference. I personally like the sound. It is clear and you can hear all the sound frequencies clearly. But for some who wants extra bass and hype. Then the ELUX might not be for you.
---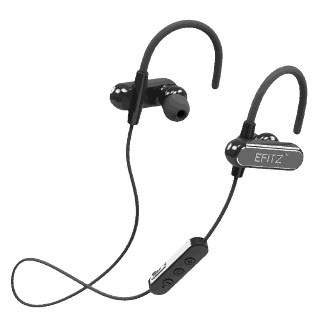 Final Summary the Spectra Elux
​Comes in Black or white
Song selection easily navigates through songs without touching your smart device.
The ELUX has a 12 Hr Battery Life less than many other brands. But for the average person, I don't think that is a major problem. I have been using mine for a couple of weeks now, for an hour at a time and the battery is still fine.
Noise Cancellation
Control your phone via voice commands on the headset
Water-resistant. You can't go diving with them but you can safely train with any weather.
Answer your phone without touching the phone​
---
Conclusion
The ELUX headphones are a great set of headphones, especially for the athlete or active user. Clean design with sleek ear covering that is not bulky and warm, two very important factors for training. They have good noise cancellation and the sound quality is clear and even throughout the sound spectrum. For some may not boom enough.
With their designs, Specter Sound set out to make a comfortable sports headphone that could go out in any weather costing around $100 with sound quality and features compared to other brands costing 2 and 3 times the price.
I think they hit the mark. With the best budget Bluetooth headphones for around $100
The clean crisper sound without extra bass could be an issue for some listeners. But for the person that wants to hear their music closer to the master recording without paying a premium price. then you will love the ELUX.
So if you are planning to get up off the couch and need some motivating music to get you through your workout or just want a good pair of wireless headphones for not a lot of money.
Then the ELUX is a great choice. See our headphone comparison below and be sure to use the discount code for an additional 10% off the ELUX Wireless Headphones.
Helpful reviews on some of the top-selling headphones.