If you're looking for over-ear wireless headphones, you're probably going to be making your selection based on their sound quality, aesthetics, comfort, and price. And I just love how the Bowers & Wilkins P7 Wireless headphones tick all these boxes. Read our Bowers & Wilkins P7 Wireless Headphone Review and see if they are right for you.
If you are reading this Bowers & Wilkins P7 Wireless headphone review, chances are you are already familiar with the Bowers and Wilkins brand, or you just love the stunning look and design of the Bowers & Wilkins P7 Wireless headphone as seen in our photo. Either way, this is an amazing pair of headphones as you are about to find out.
This P7 Wireless is a follow-up to the previously loved but wired little brother the wired P5 Bowers & Wilkins Headphones that are also doing great in the market. Unboxing the P7 Wireless reveals the headphones, a luxuries leather carrying pouch, a USB charging cable, a 3.5mm audio cable, and assorted documentation. Let's take a closer look at this piece of exceptional creation in broader details.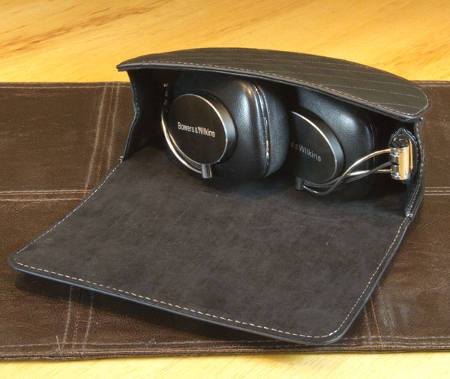 Build & Design
The P7 Wireless borrows a lot from their wired siblings; the earpads are very comfortable and the lithium battery lasts up to 17 hours. The P7 Wireless design offers a striking mix of retro themes and modern features that will appeal to enthusiasts across all age groups.
The overall design is sturdy and you can feel at first glance that it can resiliently handle rough treatment from time to time.
The power button also controls P7's apt-X Bluetooth connectivity. Sliding it across turns the headphone on and off, and pushing in words makes the headphones discoverable to new devices.
Once you've paired the headphones to your device on choice, you don't need to make them discoverable again. You also get audio feedback when the headphones are being made discoverable, turned on, or turned off.
Bowers & Wilkins P7 Wireless Headphone Review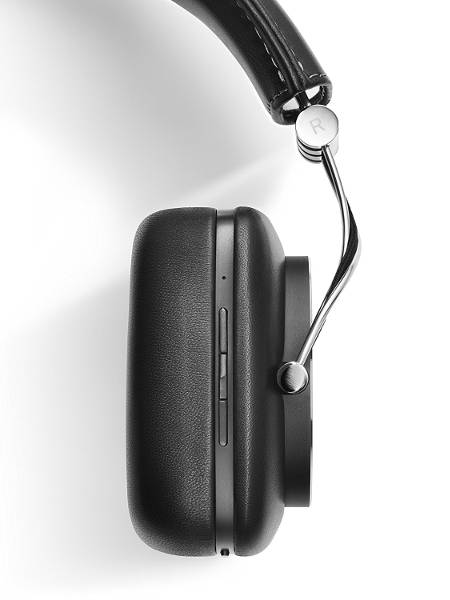 The playback and volume buttons are located on the right ear pad, with the playback button sitting in between to distinguish the volume toggles. The middle toggle button is also able to play and pause any Netflix and Amazon Prime Video across streaming media devices, laptops, Smartphones, Tablets, smart TVs, and so on. With the ability to fold up and fit into a tiny carrying pouch, the P7's are as portable as wireless headphones can get.
While most leather-bearing headphones have friction and sweat issues, the leather that makes up the P7 is super soft and easy to clean. As you will find out, using the P7 Wireless for hours continually doesn't create the toasty and uncomfortable feel commonly associated with most leather-covered headphones.
The Bowers & Wilkins P7 Wireless headphone might not be the best noise isolating headphones in the industry, but the sealing around the ear pads does a great job at blocking off the unnecessary noise in your surroundings.
When it comes to connectivity, the Bower & Wilkins P7s comes loaded to the gills with all the latest technology. Connectivity is supported by AAC, apt-X, and A2DP Bluetooth profiles, meaning that your headphones will never drop the signal within the recommended range of 30 feet.
The headphone also comes with an option for hard wiring to your favorite device. The removable cable gives you an option to just jack into your device directly when your battery runs out or if you need extra fine sound quality.
Bowers & Wilkins promises a battery life of about 17 hours, which is more than enough to cover a week's worth of commutes or about two days of listening nonstop at the office. Considering you could very easily charge them or just switch to wired listening when the battery runs low.
---
Sound Quality
The P7 is not specifically designed for noise-cancellation; however, I give them a well-deserved credit for their effort on this. When it comes to balancing the guitar in the tracks against the background distortions as well as keeping the high-pitched wailing under control, the P7s do this without ever overcooking the treble.
Great quality earphones should be able to point your attention towards new details in a song, and sure enough, the P7s do that with amazing precision even with the tracks you've already listened to over and over before. The bass is pretty deep and powerful too, and they do so while delivering a comfortably full-bodied sound.
Should you choose to connect to your wireless device via the provided cable, you would notice improved transparency and detail – in exchange for the freedom of Bluetooth connectivity.
The general sound quality of this pair is rock-solid without clarity issues or obvious flaws in both the wired and Bluetooth listening modes. They are not the perfect choice for studio work as Bowers & Wilkins artfully tailored the emphasis on some notes to make them perfect for casual and commuting use.
Bowers & Wilkins P7 Wireless Headphone Review
If you are a bass-heavy music fan, you will feel right at home with the P7s wireless. Most of the basslines in the tracks will stand out against a mix of instruments and vocals but still remain balanced without drowning everything else. Away from the bass, the mids sound pretty good too.
The 40mm drivers offer pleasing warmth and tonality that can only be compared to the noise-canceling quality that you get from the likes of Bose QuietComfort 35. The bass has some growl to it and it brings an extra dimension and energy to songs across multiple genres. The treble is well balanced too and never veers off into to much brightness or harshness.
The P7 Wireless headphones sound signature lends itself pretty well to critical listening, but some listeners may find it a bit warm, though still enjoyable. The Bluetooth apt-X codec also seems to contribute to better wireless sound quality from compatible devices giving these headphones an edge over the competition.
---
Bowers & Wilkins P7 Wireless
Pros and Cons
Pros
Classic stylish design with high-end build
Great sound quality
Bluetooth works great
Comes with quality carrying case
Cons
Buttons feel cheap
Less noise cancellation than other competitors in this price range
Pricey
Conclusion
The P7 clearly sets high standards for other competitors in the same price range. The company has done a commendable job of building an excellent pair of headphones with a stylish design, high-quality sound, and user-friendly Bluetooth controls.
Anyone looking for great quality over-ear headphones with exceptional quality and a powerful punch in the bass area should consider the Bowers & Wilkins P7 Wireless headphones.
Helpful reviews on some of the top-selling headphones.