Just when we thought the Bowers & Wilkins has succumbed to competition, it pulled out the Zeppelin wireless speaker, which has made a remarkable mark since its launch. The Zeppelin has managed to take things to a whole new level.
It appears like every element has been redesigned from the ground up, with an upgraded cabinet, new drivers and more powerful digital signal processing. Let take a look at what has been improved with our Bowers & Wilkins Zeppelin Wireless Speaker Review.
The Zeppelin streams music via Spotify Connect, AirPlay, and Bluetooth apt-X and there is a dedicated Bowers & Wilkins control app to handle all that more easily on iOS, PC, and Mac. It's quite easy to underestimate the work that has gone into this wireless speaker, but you will be surprised at what you find out at a closer look.
It's not about the looks either; the Bowers & Wilkins Zeppelin Wireless is a ferocious, powerful and great-sounding wireless speaker. And if you didn't know that it's waterproof, well, welcome to Bowers & Wilkins' doing things.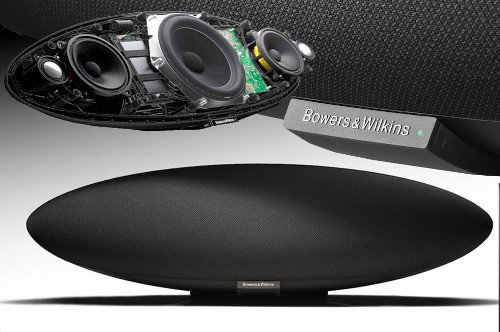 Build and Design
The Zeppelin Wireless is an elongated football-shaped speaker with a small centered base. A lot of reworking has been done to place it a notch higher than the company's flagship versions. It now comes with five drivers which include two 25mm metal dome tweeters, two midrange drivers featuring FST technology and a single 15cm woofer, the same size as the one found on the flagship A7.
They also feature anti-resonance dust caps for a smoother, cleaner response. A Class-D amplifier now powers each driver, and the company notes that digital signal processing is now twice as powerful for more accuracy.
What is actually happening here is that the company is repackaging some of its flagship remarkable features and engineering technology into a smaller and more modest offering through the Zeppelin wireless speaker.
The result is a minimal, sleek speaker with a soft black cloth covering those sumptuous contours and curves. It certainly isn't the lightest in this range, but its design makes it more compact and far from intrusive. The built quality is solid with the chest cabinet now reinforced using fiberglass ribs.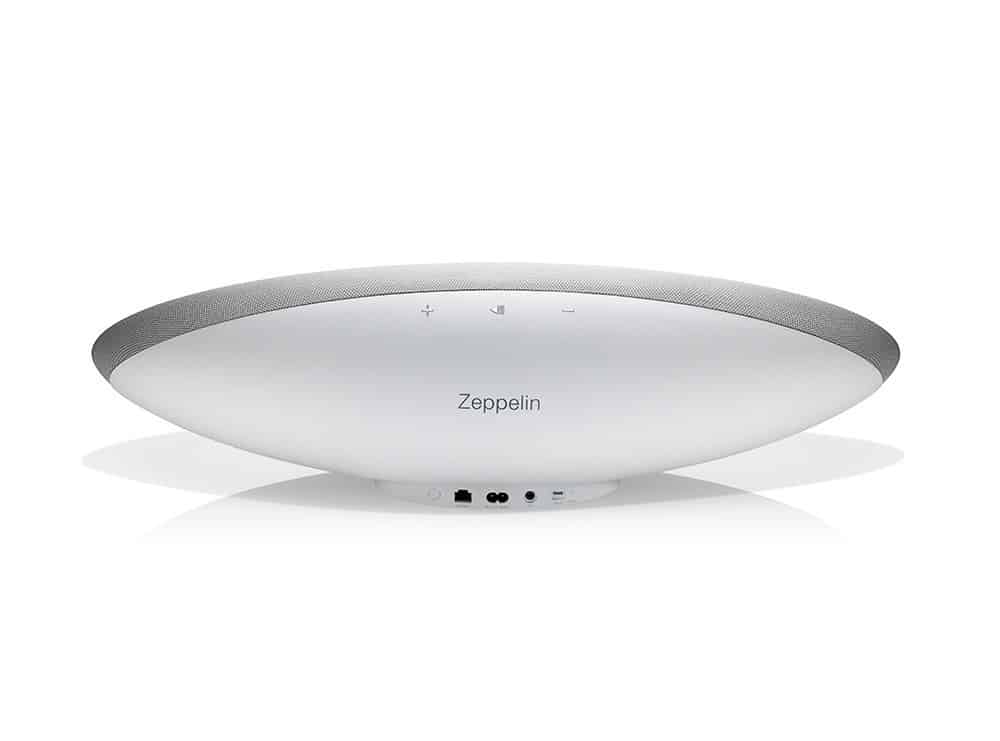 The connections for an Ethernet port, power cord, and a single 3.5mm auxiliary input now sit around the back. On top are three large but nearly unnoticed buttons for play/pause, rewind, and forward. AirPlay, apt-X, Bluetooth, and Spotify Connect facilitate connectivity to your Smartphone. That's a whole lot of options for such a small speaker. But if you need to go old school, direct connection to the 3.5mm input will do just fine.
To initiate Bluetooth pairing, just touch the right-hand side for two seconds, while a tap on the other side will switch to the 3.5mm input. It's that simple. To set up the Zeppelin, you will need the help of an updated Bowers & Wilkins Control app onto your iOS device, PC or Mac which will get you up and running in no time. Unfortunately, there is no Android version yet, so Android owners will have to set this up via their computer.
Connection via the PC is straightforward there's a link on the Bowers & Wilkins website to download the app. Once you install it, you a get a nicely designed graphic user interface that makes it easy to enter your Wi-Fi password, update the app, register your device and scan for paired Bluetooth devices. Fans of online streaming can stream via Spotify Connect and AirPlay straight away.
---
Sound Quality
The Zeppelin has a wide girth that helps it to create a sweeping, expansive spread of sound that will not struggle to fill your largest room or overpower the smallest one. The sound profile is precise, well imaged and remains composed no matter how high you push the volume. The rhythms across the board also remain convincingly precise, organized and coherent.
The Zeppelin adds a sense of glamour and refinement to its sound that's as likely to impress hardcore hi-fi fans, as it is casual listeners. Fineness and Subtlety are its main assets. The bass is chunky and firmly controlled; every note starts and stops accurately, which results in a rhythmic, flab-free sound.
Both the mids and highs remain defined, and the bass remains compost no matter how much you crank up the volume. Sounds are precisely placed and cleanly separated with the stereo image.
Focusing on vocals and guitar accompaniment reveals the transparency in the midrange and pretty a wide soundstage. There is no shortage of insight and clarity either. Throw in the mix any violin track and you will notice how the violin pulls through with texture and unexpected clarity. This is quite beyond what you can expect from an all-in-one system.
The quality of Zeppelin's bass remains one of the most astonishing in the Zeppelin series. It's full-bodied and firmly controlled, making the electronic drums and fat electro bass line of most tracks sound powerful and big. It plays rowdy dance tracks with boundless energy and attack, but there's nothing strained and hurried about its presentation. Overall, the Bowers & Wilkins Zeppelin Wireless speaker is a produces stunning sound, no matter the source or song.
---
Bowers and Wilkins Zeppelin Wireless
Pros and Cons
Pros
Sleek design
Exceptional build quality a sleek look
Speaker performance is exceptional
Fast setup
Ideal for home or office use
Cons
Midrange could be a little more pronounced 
Not android app for controls
No wireless power
Not very portable.
---
Conclusion
The Zeppelin employs a modern and unique design without necessarily calling too much attention to itself. It ditches the right angles and clean lines to adopt a pretty spheroid design. The speaker also instantly blends into the surroundings of any room you put it in. So regardless of the aesthetics of your office or home, you can be sure the Zeppelin will complement any room.
It has been over 8 years since the first generation was launched and the Zeppelin remains as influential and powerful as ever before. The sound is definitely bass-heavy, but the added punch doesn't interfere with spectrums in the sound profile.
Other frequencies are also well balanced with vocals and guitars well separated and clear. And it's really loud too. It's actually loud enough to handle a beach party or a full-blown house party single handily.
The Zeppelin is more into the premium speaker market and it delivers in sound and price. Its size is two feet wide limiting its portability. This is a great speaker for someone that appreciates good style and great sound quality.
But for someone that is on the go and would like something more affordable and portable, there are other options available that would fit your needs better. See our Top 10 Latest Wireless Speakers for 2017 to learn about other options. 
So if you are looking for a unique wireless speaker design that comes with great timing, drive, and overall authority, you should make this football-shaped buddy your companion.
Price: $799.95 US
Where to buy: Amazon
Source: Bowers & Wilkins
See other articles on wireless speakers and headphones