The Sennheiser Momentum 2 On-Ear Wireless Headphone is a really nice package made using high-quality material and loaded with useful features that exceedingly compensates for its premium price. They have pads that rest on your ears rather than around them, which makes them more portable and compact.
Sennheiser's first generation of the Momentum headphones was all about fashion and style, with this second generation, however, they seem to be focusing more on strength and performance. The second generation has been tweaked and improved with advanced noise-canceling capabilities. The result is good looks, great sound quality, and enhanced comfort.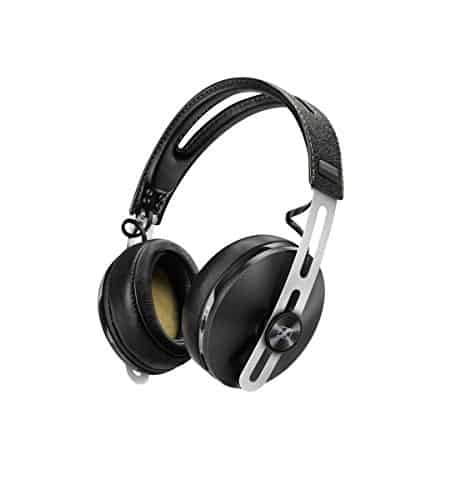 Build and Design
The Momentum 2 headphones look a lot like the original version. One common thing across the entire Momentum range is that its headphones use higher-grade fabrics than most headsets out there. The headband is sandwiched between different textures of leather for comfort while the stainless steel arms attached to the headband offer stability and stylish fold-up action.
The collapsible sliders are durable and have the flexibility to bend, which enables them to achieve a perfect fit. The closed-back ear cups are attached to the steel rails with a ball that offers a good amount of movement. Most on-ear headphones start torturing your ears the moment wear them, and it might take quite a while to get used to them.
The Momentum 2, however, promises a different story. Their headband is designed to evenly distribute the pressure across the pads leaving no chance for uncomfortable pressure points. They come in two colors; the black version and the off-white version.
The earpads are thicker and softer than the previous version, letting you wear them for hours without feeling like you need to adjust or remove them, and your ears won't feel overly warm during use. You do get warm ears after listening for a half hour or so but not anything more than you would expect from full ear coverage.
The outside of the cups reveals a beautiful, gunmetal gray paint which transitions into a glossy plastic ring that holds buttons and microphones. The left cup holds active noise cancellation microphones, while the right cup holds 3.5mm input for wired listening, micro USB for charging and multi-function button with the volume rocker. All these functions are discretely intergraded to maintain a premium profile.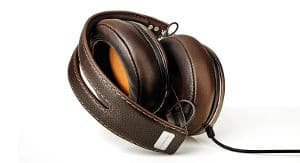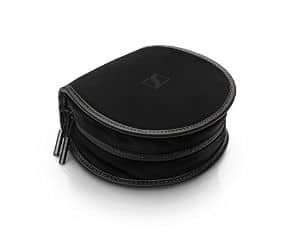 The headphones come with a leather carrying case, a thin silky bag for protecting your headphones during transit, a charging cable, a 3.5mm audio cable, and in-flight converter. The headphones themselves come with Bluetooth wireless, NFC, apt-X and Sennheiser's NoiseGard active noise cancellation.
Expect a battery life of around 22 hours of playback music with moderate volume and noise cancellation activated. If your battery runs out, you can simply plug in the provided audio cable and continue listening. Some reports have indicated that at a moderate volume you can get upwards of about 25 hours of playback time per charge. More than many competitors.  
The wireless reliability is great, offering a stable, uninterrupted connection even as you wander from room to room in your home. The only small challenge is that once you turn on the Bluetooth, noise cancellation is turned on by default.
And you have no option to turn it off in case you want to listen to what is going on around you or maybe just save a bit of the battery power. But then again, you have up to 22 hours of battery life, so if I were you, I wouldn't worry much about that.
Sound Quality
The Momentum 2 headsets sound much better compared to the original Momentum headphones, but Sennheiser maintains their sound signature in both pieces.
The Momentum 2 is a great sounding pair of headphones that anyone keen on acquiring premium headsets would be happy to use daily. The general sound profile is fun, chunky but without the piercing sharp treble associated with some noise-canceling headphones.
The noise cancellation capability is on a whole new level. The Momentum Wireless boasts of Sennheiser's proprietary NoiseGard technology which does a really impressive job of dulling the noise in the world around you. Listening to music through Sennheiser Momentum Wireless is a glee-inducing experience.
The closest competitors to Momentum 2 along the line of noise cancellation are the QuietComfort 35 from Bose and Sony MDR-1000X. See our full Top 10 Latest Headphones You Should Know About to see other great headphone options.
The lows on these headphones are pretty deep with powerful sub-bass that you would really appreciate. The bass might be heavily present, but it's nicely delivered and never sounds boomy or interferes with other sound frequencies, not even with bass-heavy songs.
The mids sound forward, vocals come through loud and clear, and guitars get all the snarl and bite that they deserve. The highs offer great details without any hint of harshness even when you pump up the volume. They go as far as digging out the sound of fingertips sliding on strings without becoming cringe.
Sennheiser Momentum 2 On-Ear Wireless Headphone Review
The Sennheiser Momentum 2.0 treble is crisp and well defined. If you are used to listening to soft-sounding and warm headphones, the Momentum 2 may seem a little bit sharp at first listen, but after a few hours of listening, your ears will tune in, and you will notice these are not harsh headphones at all.
The overall sound profile is rich and full-bodied with a level of refinement and composure that you will not easily hear from Bluetooth headphones.
Despite the strong performance when it comes to bass, I still think the Momentum shines in the midrange. Here is where you will find finer track details and plenty of clarity. As far as sound quality is concerned, this pair squarely lands in the premium bracket and doesn't hold back anything.
Sennheiser Momentum 2 Wireless Headphone
Pros and Cons
Pros
Great classic design built with quality materials.
All frequencies have great detail
Rich base
Long battery Charge 22 hrs
Cons
Can't turn off noise cancellation
A little over priced
Can get a little warm to the ears
Conclusion
Some Sennheiser Momentum 2 On-Ear Wireless Headphone Review have mentioned that this pair is a bit pricey. From what I see, the Momentum 2 headphones come with really impressive features and sound quality that makes every single penny you spend on them worth the investment. The design is pretty sleek, lightweight and portable, and the materials used are high grade and long-lasting.
Sennheiser's sound signature doesn't disappoint in this second generation either. With the bass so well balanced and nicely delivered without any hints of muddling, you can enjoy your superb sound quality across all volume levels.
You will also enjoy the clarity in both vocals and instruments, and the deep details uncovered in the wide soundstage. Add that to the industry-leading NoiseGaurd noise cancellation technology and you have the best headphones that will take you from home, across a busy street, through crazy traffic, to the office and back without missing a single punch line.
Helpful reviews on some of the top-selling headphones.