The year 2017 will be known as the year of the smart speaker with Amazon Alexa and Google Assistant gaining in popularity. The smart assistant Alexa has been out for a few years but Google more recently entering the smart assistant market. Both have been gaining in popularity especially in 2017. Amazon and Google's first round of smart assistants focused on the smart assistant application and the speaker quality was marginal.
The last year has seen many speaker manufacturers that are getting into the smart speaker market. JBL, Bose and Harman Kardon all have smart speakers available. They are using third-party smart assistant technology like Google, Cortina, and Alexa and concentrating on great sound quality.
The big speaker companies are taking Smart Assistant technology and combining it with their own speaker technology and are now coming out with very impressive sounding speakers with the added ability of voice command that can control the speaker as well as a number of other smart home devices.
Last year Harman Kardon introduced the Aura speaker: a totally different take on a speaker. Looking very space-age and modern the Aura has 360 degrees sound with an even clear sound and with a very surprising volume and bass.
The new Harman Kardon Allure has taken this same design and sound characteristics and added more features. The main ones being that it is powered by Amazon Alexa Voice Service and also a glowing light that makes it feel even more space-age. Let's have a closer look with my Harman Kardon Allure Alexa Smart Speaker Review.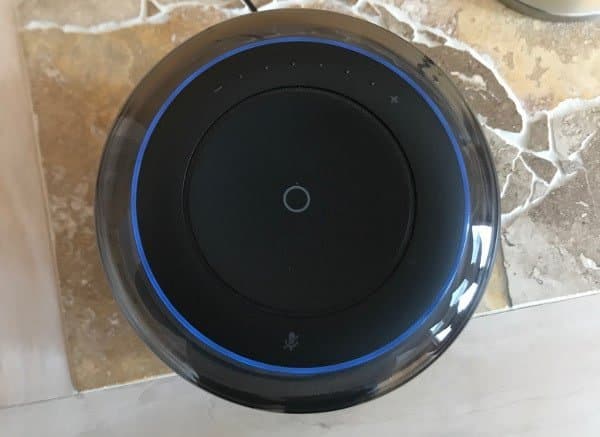 Build and Design
The Allure's design is very different from most speakers on the market. It actually does not even look like a speaker and looks more like a cool looking lamp. The outer top shell is made of a smokey plastic with a blue light inside that moves when you are interacting with the speaker or there is music playing.
The top controls are pretty simple, but after you learn a few voices commands, you will rarely need to touch the AllureOn one side are 6 dimples that you can touch or swipe your finger over to adjust the volume. You will only be using these controls if Alexa does not respond, or you prefer not using voice commands. Unlike Google's assistant that responds to " Hey Google Volume 70%" Alexa responds to 1 thru 10. Example: "Alexa volume level 7 "The second button on the top is the microphone off.
This is when you do not want Alexa to respond if anyone says the word "Alexa".The most important button the Action button is in the center. This button is used to wake up Alexa if she is not responding or when you are playing loud music. The Harman Kardon Allure has 4 built-in microphones with far-field voice recognition that allows you to talk to Alexa from across the room. I found if you are listening at a maximum volume of 10 Alexa sometimes does not hear you.
You then have to press the top of the Allure to get Alexa's attention. There is a blue light ring on the top that indicates the volume level. A half-circle indicates volume level 5. It also glows blue when Alexa is ready for commands. The base is made with hard plastic with perforations to allow the magical sound to come through.
On one side is the Bluetooth pair button. Kind of an odd place above the power input on the back. Depending on how often you pair new devices it would have been nice to have on top with the other controls. On the bottom is an active transducer that gives this smart speaker an incredible bass that you can feel across the room.
Features
The Harman Kardon Allure is married to the Amazon Alexa Voice Service. The same as the popular Amazon Echo. This allows you to control a number of smart devices with voice commands. The Allure works great with many paid subscriptions like Pandora and iHeart and is ideally suited for someone that has an Amazon Prime account to access music and TV programming. See the dropdown below for compatible protocols and brands.
To learn more: What are smart devices all about?
Amazon Alexa IoT Protocol And Compatible Brands:
Amazon
Belkin
Control4
Kwikset
Nest
Philips Hue
UPB
X10
Insteon
ZigBee
Z-Wave
Powered by Amazon Alexa Voice Service
Alexa is a smart voice assistant developed by Amazon and is used on all of their smart devices like the Amazon Echo, Amazon Dot, and Show. Alexa was named after the ancient library of Alexandria. Alexa can respond to a number of voice command like turn on or dim lights, directly call a phone number, play your favorite music and more. Here are a few commands.
---
50 Alexa Voice Commands
Always start with "Alexa"
Music: " Alexa, play music by Rihanna" and Alexa will play a playlist from Rihanna.
Latest News:" Alexa, what's in the news?" Alexa will go to the latest news broadcast.
Weather report: "Alexa, what is the weather? " Alexa will tell you the latest weather in your area.
Shopping and to-do lists: "Alexa, add butter to a shopping list." or "Alexa, add clean out the garage to my to-do list" Alexa will add butter to a list you can access from your smartphone. You will get a reminder to clean the garage when requested.
Set a timer or alarm: " Alexa, set a timer for 5 minutes" or " Alexa, Set an alarm for 8 AM " Alexa will remind you in 5 minutes and wake you up at eight.
Set dates in Calendar: "Alexa add appointment Thursday at 9 pm" Alexa will put into a connected calendar this date.
Get a Calendar date:" Alexa, what are my appointments today" Alexa will tell you what you have scheduled on your calendar.
Get local movie info: " Alexa, what's on at the movies" Alexa will tell you what is playing at your local movie theater
These are only a few things that the Alexa smart voice assistant can do for you. You will need to set up and subscribe to music services to access music. Smart devices like lights and thermostats also can be controlled by Alexa providing they have compatible protocols.
---
Far-field voice recognition
Alexa can hear you from across the room. If the music is being played at top volume Alexa sometimes does not hear you and you will have to press the Action button on top to get Alexa's attention. Generally, she is quite responsive.
Wireless Bluetooth streaming
If no internet is available you can connect your smartphone or tablet and stream your favorite music.
360-degree sound
The Allure has 360 degrees sound. This means it projects sound 360 degrees. This allows the Allure to really fill a room with sound and the sound quality remains the same wherever you are in the room.
360-degree lighting and elegant design
The Allure has a glowing blue light that can sometimes turn red. The glowing light and design really give the Allure a sci-fi feel.
Sound Quality
When I first received the Allure I set it up in my office and I found the sound quality of the Harman Kardon Allure to be very impressive for its size. For further testing, I brought the Allure into a larger room and this is where it really shines.
I placed the Allure in the center of the room and walked around the speaker and the sound remains consistent. The highs stayed the same and the bass is always there nice and strong. This little speaker with its 360 degrees sound projection can really fill a room. The speaker does not play in stereo.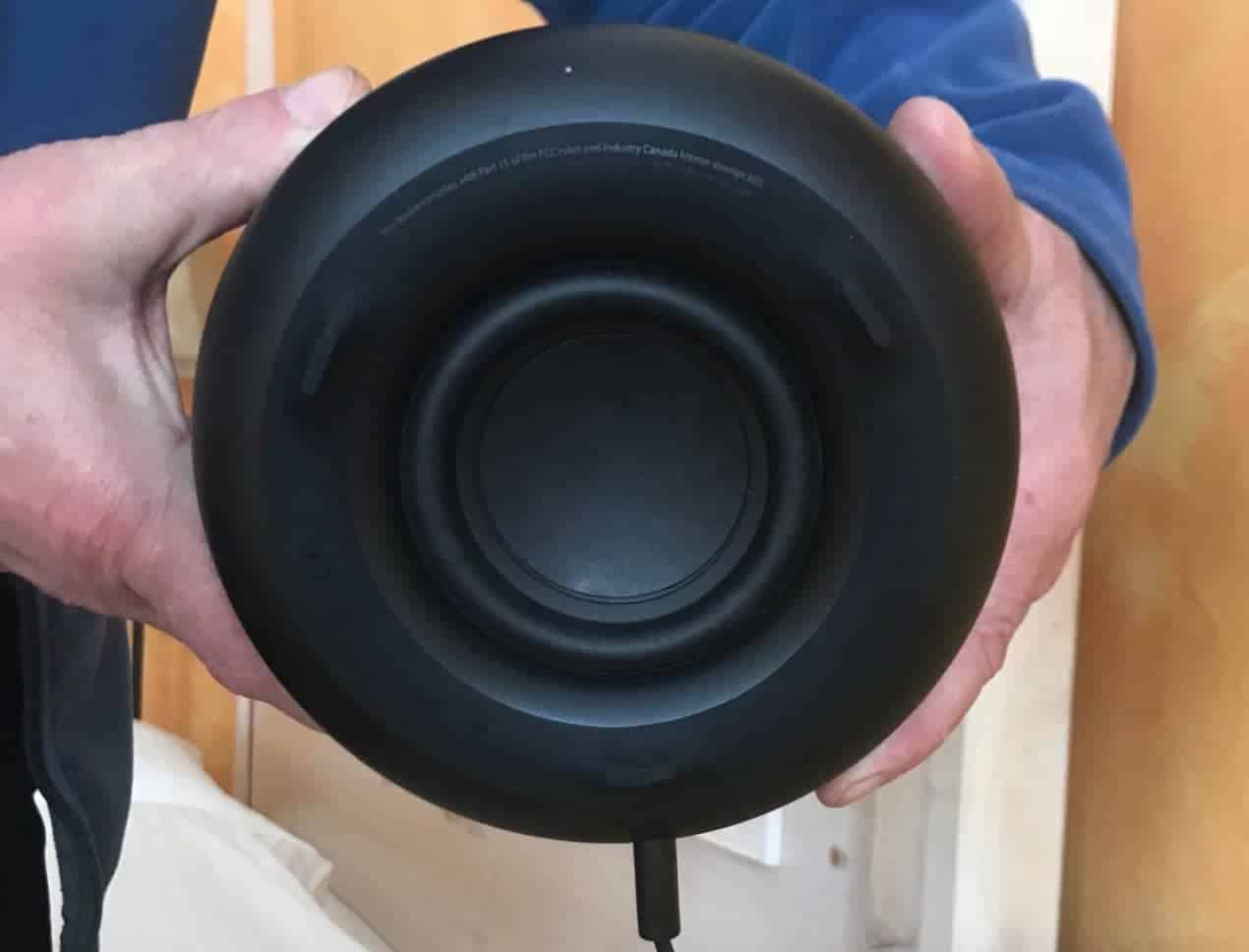 Bottom Transducer
Sound Frequency analysis
Bass
This little speaker really has an impressive bass for its size. The transducer located on the bottom of the speaker creates a bass that you can feel throughout the room.
Midrange frequency
Vocals are slightly out front with good clarity.
High-end frequency
The high end is there but is not overly crisp. At loud volume, the mids and highs seem to get muddled in the mix.
Overall bass-heavy speaker with even mids and highs
Harman Kardon Allure Specs
SPECIFICATIONS
Total rated power: 60W
Frequency response: 40 – 20kHz
Transducers: 38mm x 3• Sub-woofer: 90mm
Weight: 2.5 kg
Power supply: 19V/3A
Wi-Fi: IEEE 802.11 a/b/g/n/ac
Wi-Fi operating frequency: 2.4GHz band and 5GHz band
2.4GHz Band transmitting power: <20dBm
5GHz Band Transmitting Power: <20dBm
Bluetooth version: v4.2
Bluetooth profile: A2DPv1.3 AVRCPv1.5
Bluetooth transmitter power: <9dBm
Bluetooth transmitter frequency range: 2.402 – 2.480GHz
Bluetooth transmitter modulation: GFSK, π/4-DQPSK, 8DPSK
What you get
1 x Harman Kardon Allure
1 x Ac Power cord
1 x Owners Manual
Dimension (W x D x H): 166 x 166 x 193mm
Harman Kardon Allure Alexa Smart Speaker Review
Pros and Cons
Pros
Cool unique design
Room filling sound that is very impressive for the size of the unit
Far-field voice recognition works very well
Ideal if you already are an Amazon Prime subscriber or have other paid services like Spotify and iHeart radio.
Cons
Must have paid subscriptions to get music services
HK Alexa set up app not available in IOS in Canada
No USB port
Should you buy it?
The Harman Kardon Allure is an excellent smart speaker for the money. I can see this type of speaker replacing a stereo system in many households. Sound quality is good and you have plenty of volumes if you are going to have a party. The speaker aspect of the Allure is great. The only issues I have is with the Alexa assistant, especially if you live in Canada or do not like to subscribe and pay for media services.
For Canadians, setting up the Allure can be a little more difficult. The HK Alexa Setup app is only available in Canada at the Google Play Store and is not available on iTunes Canada at the moment. I had to use an Android phone to get the Harman Kardon Allure setup and could not use my iPad.
A number of services are not available in Canada and you cannot get music for free without having paid subscriptions. Amazon Alexa was only released in Canada in late 2017 and I think a number of services will be improved on in the next year.
If you are already an Amazon Prime member and already have a paid subscriptions to Pandora or iHeart you will love this speaker. But if you are cheap like me a smart speaker with the Google Assistant onboard may be a better choice.
I could get up and running with the Google Assistant with free Google music and free Spotify accounts. As a third-party user of Alexa Assistant, the Allure has a few things that are not available compared to the Amazon Echo. Spotify is not available and there is no phone drop-in. 
Check out the Google Home Mini or Google Home Max or see my review on the JBL LINK 10 or LINK 500 Smart speaker line that operates with the Google Assistant.
Since this device is plugged in all the time. A USB charge port would have been nice as another alternative to charging your devices.
For a small office, the Allure may be a bit much and a smaller speaker like the Amazon Echo could be a better choice. This speaker is ideal to sit near the center of the house or in a kitchen where the sound can be enjoyed in a larger area and Alexa can hear you take commands at any time.  The plastic design makes it easy to wipe and ideal for a kitchen. Some comments I have read said it looks more like an appliance than a speaker.
What's better Alexa or Google?
Amazon Alexa has been out a little longer than the Google Assistant and is both relatively the same in overall functionality. The Amazon Alexa is more configurable and has more third-party add-ons and smart devices available at the moment than the Google Assistant. Both are comparable with many major third-party smart devices like Philips Hue, Kwikset, and Belken but the Amazon Alexa is compatible with more.
The overall usability and setup of the Amazon Alexa are not as easy as with the Google Assistant. Commands have to be more specific with Alexa compared to the Google Assistant and the answers you get are more complete. For example, ask Alexa a birthday of a famous person and Alexa will give you the month and day, whereas Google assistant will give you a month, day and year. I found in general Google Assistant will come up with more answers where Alexa says "I don't know that".
Both systems are still relatively new and are the leading Smart Voice Assistant on the market. The next few years as more smart devices come available I think there will be a number of improvements and hopefully a little standardization to make it easier to match up compatible smart devices.
For now, check smart lock manufacturers and smart devices on your wishlist to ensure compatibility with Alexa or Google.
The JBL LINK 500 has Google assistant combined with an excellent speaker. See my JBL LINK 500 Bluetooth Smart Speaker Review as an alternative to Alexa.
If you are going for a fully automated smart home you will need to step up to a smart home controller like Wink or the Samsung Smart Things. This is another level of smart home controller that you can program to set daily tasks to be done at different times, add various types of sensors for security systems and add on many new smart devices. Both Alexa and Google will work with these popular systems.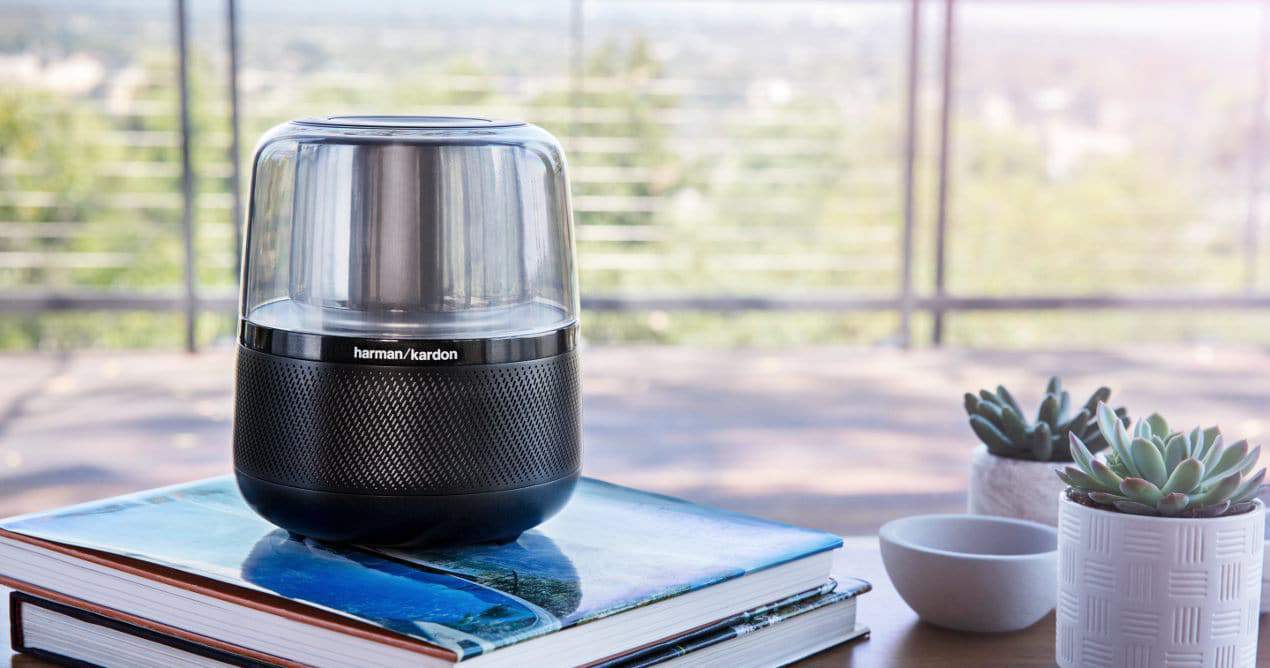 Conclusion
With all the new entries to the smart speaker market in 2017, the Harman Kardon Allure stands out as something a little different. Its appearance is very unique and futuristic making the Harman Kardon Allure definitely part of the new generation in small smart speakers. The sound quality and expansive 360 degrees sound is impressive and can easily replace a bulky stereo system.
If sound quality is not a big concern I would stick with a basic Amazon Dot or Amazon Echo but if you would like something with good sound that will fill a room the Allure would suit you well.
The Allure cost about $150 more than the Amazon Echo but still costing less than other speakers in this class of speaker on the market. You are getting a massive improvement in sound quality for your money and if you keep an eye out I am sure they will go on sale for under $200 see latest Amazon pricing.
Price: $249 US
Where to buy: Amazon
Source: The sample of this product was provided by Harman Kardon
Other smart devices and speakers