Artificial Intelligence assistants are clearly the future and many new smart devices for your home are being introduced daily. These gadgets are capable of making your life much easier. All you do is speak out a few commands and ask for whatever information they are designed to offer and what they are offering is growing all the time. You no longer need to touch your phone just to perform certain basic tasks. Hands-free voice command is where it is at.
One such smart gadget is the Amazon Echo Dot 2. Its the smallest in their series. You get pretty much all the same Alexa functions as their bigger models but with less of a speaker. Let's take a closer look with my Amazon Echo Dot 2 Review.
What is the Amazon Echo Dot 2?
Amazon Echo Dot 2 is a very innovative product. It is a hands-free, voice-controlled device that uses Alexa. It's essentially a smart speaker that has managed to take the voice assistant, Alexa and converted it into a much more general home assistant. In a few years, Alexa has transitioned from a speculative curiosity into a versatile voice assistant designed to help you with pretty much everything from playing Spotify music to telling you what the weather looks likes. 
With the Amazon Echo Dot 2, you don't need your phone to perform the most basic tasks. Want to order pizza? Simply tell the Echo Dot that, and in a wink, you will have the delivery man knocking on your door.
Want to know what the weather will be like tomorrow? Shout across the room and the Echo will pick up your or other family members voice with its improved far-field voice recognition.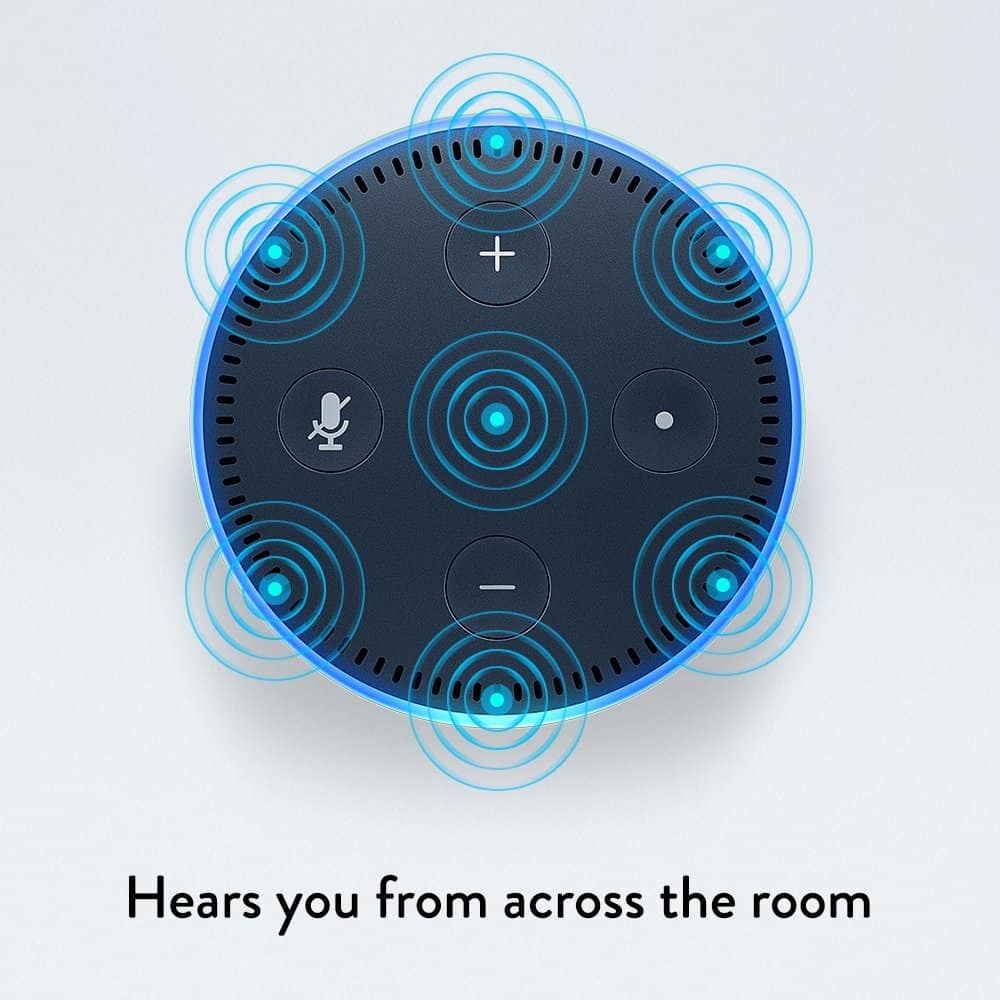 Photo from Amazon
You can do a wide range of tasks using the Amazon Echo Dot 2.  You can tell Alexa to read your favorite book and listen while you are doing something else. You can ask for news update and have the news bulletin read out for you. You don't have to sign in to your local theater's website to find out what's playing this weekend.  You have the Echo Dot to do that by simply asking Alexa.
There are many other activities you can accomplish using this smart gadget including controlling your home lighting framework, playing music and notwithstanding estimating your drive time using the Echo Dot Stupefied. It will seem a little strange at first but soon you will find it very convenient that Alexa is always there waiting to give you answers and all you have to do is ask.
Unlike its predecessor the Echo, the Echo Dot 2 is more portable and comes at a third of the Echo's price. And even with its small size and at a lower price it's amazing how the Echo Dot is capable of doing almost everything that the Echo does.
So basically, you get the same value at a much lower price, minus the speaker. If you already have a Bluetooth speaker in the house you can easily pair it with the Dot 2. If you don't here are a number of ​great portable Bluetooth speakers available.
The Design
For those who have never come across the Echo Dot 2, the best way to imagine its size and shape is to think of an ice hockey puck; the hard, flat rubber disk that is normally hit across a surface in ice hockey. If that does not bring it home, picture a pile of about five, round digestive biscuits arranged on top of each other to form a sort of compacted, cylindrical figure.
That is exactly how small and compact this device is. This makes it pretty easy to store and also move around. Compared to the regular Amazon Echo tower, the Dot is a considerable smaller coming in at just an inch and a half in height.
The previous Echo had many large speakers which significantly contributed to its weight. The Echo Dot comes with a small inbuilt speaker that is purely meant for Alexa voice assistant. If you need better sound quality and proper listening you can use the 3.5mm outputs and Bluetooth to connect to an external sound system.
So the fact that the Dot doesn't have a speaker like the one the Echo had doesn't hinder clients from playing music at all. The external sound frameworks here could be portables speakers or desktop Microsystems. Whichever they are, they will still work.
Some of the most notable differences between the Echo and the Echo Dot include the audio outputs and reduced size. But there are a few more tweaks too. The external painting has now been changed to glossy instead of the previous matte. There is also a set of additional volume buttons strategically place at the top of the gadget. The previous Echo had the top edge that entirely twisted acting as a volume button.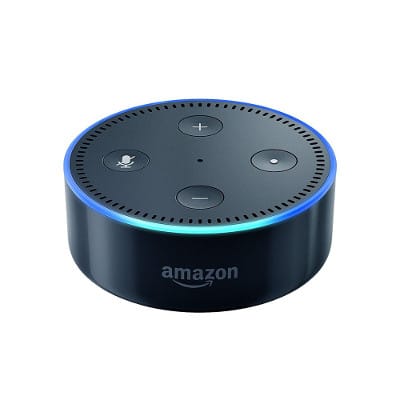 Photo from Amazon
The twisty top probably wasn't included because of Dot's minute and compact size. Same as the Echo, the Dot still doesn't have a built-in battery as it is aimed at home utilize.
As for control supply, this time it is via micro-USB and not a bespoke fitting. In any case, despite the fact that the Dot is intended for home utilize, you can utilize it portably as the micro-USB can support a battery pack and even a mobile Wi-Fi hotspot.
Features
Apart from the external music capabilities and minimized size, the Echo Dot 2 functions more or less like its older sibling. But most importantly, it lets you control it by issuing commands to it, and it's always listening unless you decided to mute it. You can also wake it up using your chosen command prompt.
This gadget is equipped to perform day to day tasks that may be considered trivial as well as tasks that are regarded as more significant and consequential provide you an Amazon account. For example, with regards to your commutation, the Alexa assistant comes in extremely handy. You can simply tell the app your travel schedule and Alexa will provide you with a traffic update and even estimate your drive time before you set off on your excursion.
Alexa can also plan and manage your calendar on Google. All you have to do is to instruct it to add an item to your calendar, specify the day and time of the appointed task and it will plan it for you.
The  Amazon Echo Dot 2 is now equipped with the new ESA (Echo Spatial Awareness) this new feature allows multiple Echos to listen to the same command. The closets Echo will be the one that responds. Great when you have a few Echos in different rooms in your house.
Depending on how elaborate of a smart home system you will also need a smart hub. What is a smart home hub and how do you choose one?
Here's an example a few commands
 "Alexa, add an item to my schedule."
 "Okay. When?"
"8 am."
 "On what day?"
 "Tomorrow."
"What is it?"
 "Go for a youth summit"'
"I have added go to a youth summit at 8 am tomorrow to your schedule, is that okay" "Yes"
Alexa can recognize a number of different family members
The best part about the Alexa assistant is that it can support a number of profiles of different family members separately. You can simply switch between profiles by letting Alexa know about it. With Alexa, you no longer need to search for some of the stuff you need on Google.
For example, you don't have to go to your Google search tab to know the day's weather. All you have to do is to ask Alexa and give her the location, and you can get all the details you need.
You will also come to love the music streaming capabilities of the Echo Dot smart assistant. If you are an avid music fan, you can seamlessly search and stream music from sites like Spotify and Amazon Prime Music. To do this, however, you need a Spotify Premium subscription.
The only slight demerit about the Echo dot is you can't depend on it for quality sound and optimal music experience; this is probably due to its diminished size and speaker capabilities.
The Echo Dot also gives you news briefings and happenings from your favorite sources like BBC and CNN upon your request and therefore keep you updated on the latest occasions. You can also do your shopping by voice and manage your shopping list provided you have a Prime account.
Perhaps one of the most impressive features of the Echo Dot 2 is the far-field voice recognition which is supported by seven highly sensitive microphones on its top; one in the inside and six in a circle. This handy feature allows you to issue commands to from whenever room you're in your house and the Echo Dot will pick them up.
It works exceptionally all around provided there is no major sonic interference from other devices like an uproarious TV or sound framework which can make it difficult for Alexa to understand your commands.
It works exceptionally all around provided there is no major sonic interference from other devices like an uproarious TV or sound framework which can make it difficult for Alexa to understand your commands.
Amazon Echo Dot 2
Did you know that that the Amazon Echo Dot 2 can also control other smart devices in your home? Amazon calls these extra abilities "Skills". Amazon also introduced a new feature to the Echo Dot called the Amazon Echo Spatial Perception or ESP.
This feature can come in handy if you have several Echo units. Ideally, all the Echo units are always listening to your commands, but if you have several of them interconnected using the ESP feature, only the nearest device will respond to you.
If you are thinking of buying the Echo Dot and also considering getting Amazon Fire TV to check out my Amazon Fire TV Cube Smart Streamer Review. It basically is the Echo Dot and the Amazon Fire TV all in one box.
Conclusion
The new Echo Dot 2 is a much more improved version than the first-generation Echo Dot. It recognizes voices and listens better than the first version with its improved far-field voice recognition. This improvement is a very important feature that really can make or break a device like this. The Echo Dot was designed to be an access point for Alexa. Making Alexa more accessible for everyday hands-free help in your home. Improvements to the new Dot has been quite significant from the previous model.
The addition of ESA (Echo Spatial Awareness) will allow you to easily control a number of Echo devices around your home
Although much improved from the first Dot it's voice recognition technology still has a way to go. It still is temperamental and does not always hear your command. Example if playing loud music and you are not close to the Echo Dot she will not hear you.
If you find this a problem purchasing a separate Alexa Voice Remote would probably be a great help although not available outside the US as of yet. The Echo Dot 2 at around $50 is a great entry into the voice command world.
The speaker on the Dot is not great for playing music and if this is a concern purchasing the Amazon Echo  Plus or Echo 2 would probably be a better choice. However, pairing the Dot with another portable Bluetooth speaker is easily done and you will have a wider selection of better speakers to choose from.
Other reviews on the latest smart devices