Is Netflix not working on your Toshiba Smart TV? Don't worry. We've got you covered! Follow these steps to fix the issue and get back to streaming your favourite shows and movies.
But before we understand how to fix Netflix on your Toshiba TV, let's dive into what Netflix is.
What is the Netflix App and does it come as standard with Toshiba Smart TV's? 
Based in the United States, Netflix is a production company that offers media and technology services. The project started in 1997, and in 2007, Netflix started charging a subscription fee for its movie streaming service.
It is an internet destination for Netflix Originals, series, and movies. Worldwide, there are about 193 million users of Netflix. Netflix is accessible everywhere except Crimea, North Korea, China, and Syria. Its global accessibility has propelled it to the pinnacle of online broadcasting services.
It is available on almost all platforms, and it is accessible on a wide range of devices. These include those running Android, iOS, Chromecast, PlayStation, Wii U, Blu-ray players, Xbox gaming systems, set-top boxes, Microsoft Windows, PCs, tablets, Samsung, LG, Panasonic and Toshiba, among others.
6 ways to fix Netflix not working on Your Toshiba Smart TV 
Nothing is more annoying than wanting to binge-watch a series on Netflix and you keep getting error message after error message. But luckily, you have come across this guide, and we can walk you through the different possibilities of fixing your Netflix on your Toshiba.
1. Check the Internet Connection 
A reliable internet connection is necessary for apps like Netflix to function in Smart TVs such as those made by Toshiba. If the internet is slow, the app won't function properly and will frustrate you. It's possible that the service supplier has problems or that your internet connection has expired.
By upgrading your internet, you may fix this. By checking the settings, you can resolve the issue with the internet service. Use the remote to access the TV's settings, then pick "Check your Network" under the "Get Help" icon.
If your Toshiba TV displays a green checkmark, the internet connection is the issue, not the Netflix app. You must reset the router or modem to get the network back online. 
You can check if the issue is resolved by disconnecting the TV router and then putting it back in after a bit of time. I also have a specific guide on resolving Toshiba TV not connecting to WiFi issue if you're having a broader issue around a lack of internet connection altogether. 
2. Close Netflix and Start Again
The easiest solution is to close and reopen the app when Netflix fails to open or won't stream content. Any insufficient data blocking the app from operating correctly should be cleared after quitting the app. 
For most streaming apps, depending on your Toshiba Smart TV model, select the app and press the "OK" button until you see further options, such as forcing the app to close.
3. Reboot your Toshiba TV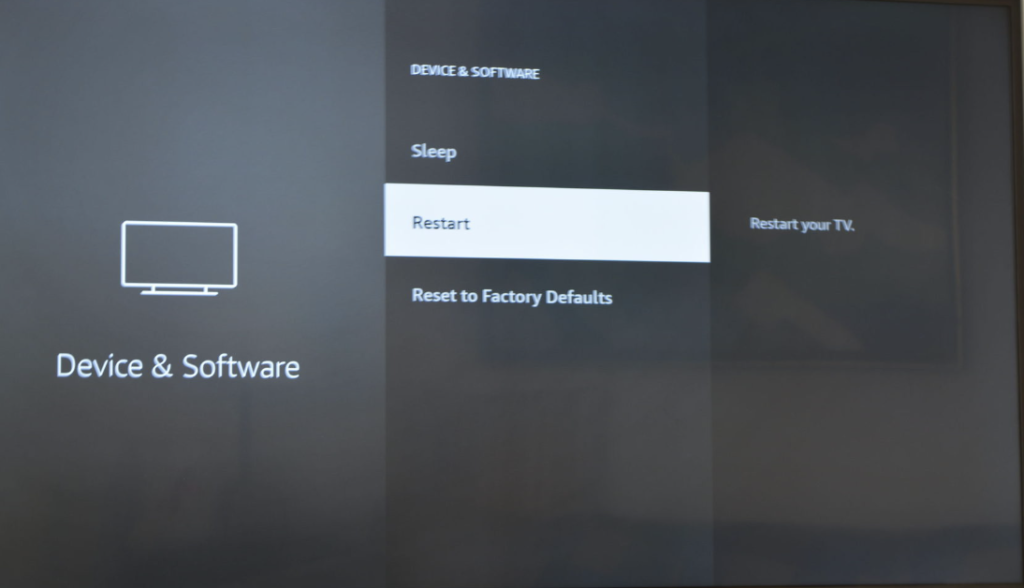 Reactivating your Toshiba Smart TV is a different way to get your Netflix to function. The reset procedure, however, will vary depending on the model of TV you own. For instance, if your TV has a Wi-Fi link, you'll use a different method than with the Fire TV Version.  
You can restart a Toshiba Smart TV that connects to the internet by:
On the remote device, press the Menu button.

Next, click the Setup option.

Afterwards, select Settings.

Then proceed to the setup, choose the reset option, and hit "OK."

For verification, you must input the TV's security pin. Then click the return key.
You can restart your Toshiba Fire TV edition by using the steps listed below:
First, find the Firestick's Settings option.

Choose My Fire TV next.

When the confirmation pop-up displays, click the Reset button.

Your Toshiba smart TV will start operating after that.
4. Disconnecting Netflix from All Platforms

Streaming through the same Netflix account across numerous devices can lead to issues. Therefore, it is advised that you sign out of each platform at once. This will help reset everything and clear any problems on your Toshiba Smart TV Netflix App. 
You can start this by visiting the Netflix website:
Choosing Accounts.

Then look for and pick "Sign out of all devices."

Before logging back into your Toshiba Smart TV, wait a short while.
5. Keep Apps Updated 
All apps must be kept updated for your Toshiba TV to operate Netflix. Smart TV apps will experience issues if they need to be updated. So it would be best if you kept all apps up to date continuously.
To update your apps directly:
Turn on your Toshiba TV and then go to the Google Play Store.

Then choose the applications you want to upgrade.

Choose the Netflix app to see extra details displayed on the screen.

You'll receive a notification asking you to take action if any of those apps have updates. 

However, if you do not need to update the app to the most recent version, it will tell you it is current and up-to-date.
6. Install Netflix Again
Deleting and reinstalling the Netflix application is sometimes necessary to fix all the bugs.
A programme can be installed and uninstalled easily on your Toshiba Smart TV, and by doing this, all files and cache are removed, and you are left with a blank Netflix to start over with. 
The erasing and resuming process could fix any problems with that data if there were any. If you are an experienced user, consider deleting files without first reinstalling them. The problem would then be resolved with less difficulty and the same manner.
In Conclusion 
If you are still not getting any results after following these tips above, you may need to contact your local service provider or technician to look and see if there is a more technical issue as to why your Netflix isn't working. 
We hope you have found what you need from this guide and can now enjoy your programmes without issues!
If you're still having issues, it would be worth taking a look at our complete Toshiba TV problems guide to go through some of the other common problems you may encounter from this smart TV brand.