Robot vacuum cleaners provide concentrated, hands-free cleaning for tiles, carpets, and hardwood floors. Over the last few years, robot cleaners have become more popular than other types of vacuum cleaners because they require less input from the owner to perform cleaning tasks. If you are considering buying an iRobot Roomba here is iRobot Roomba Robot Vacuum FAQs.
The iRobot Roomba vacuum cleaner is one type that is capable of identifying dirty areas within your home and clean rooms just by the press of a button. This robot can be programmed to operate independently and has a set of sensors that can detect furniture, walls, and other home equipment while cleaning to avoid accidents. It has independent side wheels that facilitate a 360-degree rotation for maximum efficiency.
Benefits
Just like any other robotic vacuum cleaner, iRobot Roomba has several advantages over traditional cleaners. To help you determine if this is a suitable device for you, let us highlight some of the benefits you should expect to experience.
Easy to Use
Once you program the robot for your home, it will virtually operate on its own. All you need to do is place it at the starting spot for it to do the cleaning. As long as it is in good condition, you do not need to worry about it getting stuck or malfunctioning along the way.
Convenient
iRobot is ideal for people with mobility issues. Individuals who are handicapped, elderly, or suffer from any ailments that limit their mobility can really benefit from this device's hands-free operation. They can easily program it to do most of the cleaning, and thus do not need to worry about staying in a dirty house or hiring a cleaner.
The robot can recall the layout of your home, can dump any dirt during the cleaning process and returns to its station once the work is completed.
Automatically Adjusts to Different Surfaces
The iRobot Roomba cleaner has a built-in sensor that can differentiate between floor surfaces. It automatically adjusts itself to suit any type of floor or surface. This feature ensures that the robot remains efficient on almost all floor types. You simply need to change the cleaner's settings and place it on the new surface to get it started.
Saves Time
iRobot Roomba requires less input from you, so it will save you a lot of time since you do not need to be present for it to work. You may turn it on as you leave the house and it will do the cleaning as programmed. You can, therefore, spend this time engaging in other activities.
Requires Less Maintenance
The robot moves back to the charging station as soon as it completes its job, or when the battery gets low. It is made from durable material that requires very little maintenance.
The built-in sensors prevent Roomba from bumping into objects, which means, it can serve for long without getting damaged. It only operates within the space it is programmed for.
---
Frequently Asked Questions
1. Does one need Wi-Fi to use iRobot Roomba?
The vacuum cleaner can work perfectly without a Wi-Fi connection. However, to be able to manage it through your Smartphone, an internet connection is a must. You need a mobile app for scheduling the cleaner and controlling it remotely.
2. Can I use my Roomba without Wi-Fi?
Yes, you can still use Roomba even if you do not have a Wi-Fi connection. All you need to do is hit the CLEAN button, and it will vacuum your room. However, not using Wi-Fi will deny you access to some features that are available on the mobile app.
For example, you will not be able to schedule any cleaning. You will also miss out on the cleaner's mapping report as well as any voice control capabilities offered by Google Assistant and Amazon's Alexa.
3. How is iRobot Roomba Reset?
There are various ways through which you can reset the cleaner. One is through the CLEAN button. Simply press and hold down the button for ten seconds. Once you release the button, you will hear the reboot tone, to indicate that the procedure has been completed successfully.
You may also perform the reset from the iRobot Home App. To do this, press the Home button of your phone two times quickly. You will see a preview of some of your recently utilized apps. Swipe either left or right to find iRobot Home App and close it. Re-open the app and look for Roomba in the detected robots list then resume the connection procedure from there.
4. How long does Roomba last?
On average, a Roomba vacuum cleaner lasts between three to five years, depending on the amount of cleaning and how well you maintain it. With proper care, the robot can do hundreds of cleaning cycles before it needs replacement.
5. How does one change the language on iRobot Roomba?
Turn the cleaner off by pressing the CLEAN button until the lights go off. Press the same button again until it beeps and displays the current language. Release the button to enter into Language Selection Mode. Continually press on the CLEAN button until you get the desired language then turn off the cleaner to save this choice.
6. Is iRobots worth it?
There is no doubt that the iRobot Roomba is a useful device. It can vacuum the floor, clean it, and remove any dirt. It can clean vinyl, hardwood surfaces, even carpet floors. With the iRobot Home app, you can do the cleaning and schedule the device from anywhere. In the long run, it is cheaper than hiring a cleaner.
7. Does Roomba Learn?
The latest models of Roomba, such as the i7+ and i7, do remember your room layout. Older models do not have this ability. Therefore, it will depend on the type of Roomba you have.
The newer models have various features that enable them to map a room out. These features include an infrared receiver, bumpers that help avoid obstacles, cliff sensors that prevent the vacuum from falling down the stairs as well as wall sensors and cleaning paths.
8. Does Roomba fall downstairs?
Roomba does not fall down the stairs. It is fitted with cliff sensors that detect any edges and turn the device away from them. However, a physical barrier should be used in case the room to be cleaned has a balcony.
9. Does Roomba work with Google Home or Alexa?
Roomba is compatible with both Google Home and Alexa. With these two apps, you can use voice commands to tell your Roomba to clean the house, stop cleaning or move to its charging area. What is Smart Home Automation and how does it work?
10. Can Roomba damage hardwood floors?
No. Roomba is suited to clean hardwood floors. Its cleaning system combines brushes and a suction that can capture dust, collect debris, and leave your hardwood floor clean. The device comes with iAdapt navigation feature as well as Aeroforce vacuuming technology that make it suitable for cleaning hardwood floors.
11. Does Roomba make a lot of noise?
Roomba is a bit loud, but not as noisy as an upright vacuum cleaner. If the noise is a distraction, you can program it to do the cleaning when you are not around the house. It may become louder on thick surfaces, such as a thick carpet because more energy is required to clean them.
12. Can Roomba clean pet hair?
Roomba is one of the best models for pet hair cleaning. It has multi-surface rubber brushes that can lift pet hair from any surface. Cleaning your home regularly using iRobot Roomba will keep it free from any pet hair.
13. Does Roomba have different cleaning modes?
Yes, it has three cleaning modes. The CLEAN mode cleans an entire room in about 25 minutes regardless of the surface. The SPOT mode (accessed via the SPOT button) cleans a localized area with a diameter of one meter. The cleaner will make spiral movements in the same area until it becomes completely clean.
The PROGRAMMED mode is when Roomba starts cleaning at a specific programmed time. The cleaner leaves its charging area at the specified time, cleans the designated area then moves back to its station.
14. What is a virtual wall?
A virtual wall is an invisible barrier that restricts Roomba from accessing the places it's not supposed to clean, such as doorways. It can also be used to divide large rooms into sections for more efficient cleaning. The wall can block up to three meters of space. The wall's intention is to reduce the amount of work done to the area defined by the homeowner.
Roomba Cleaning map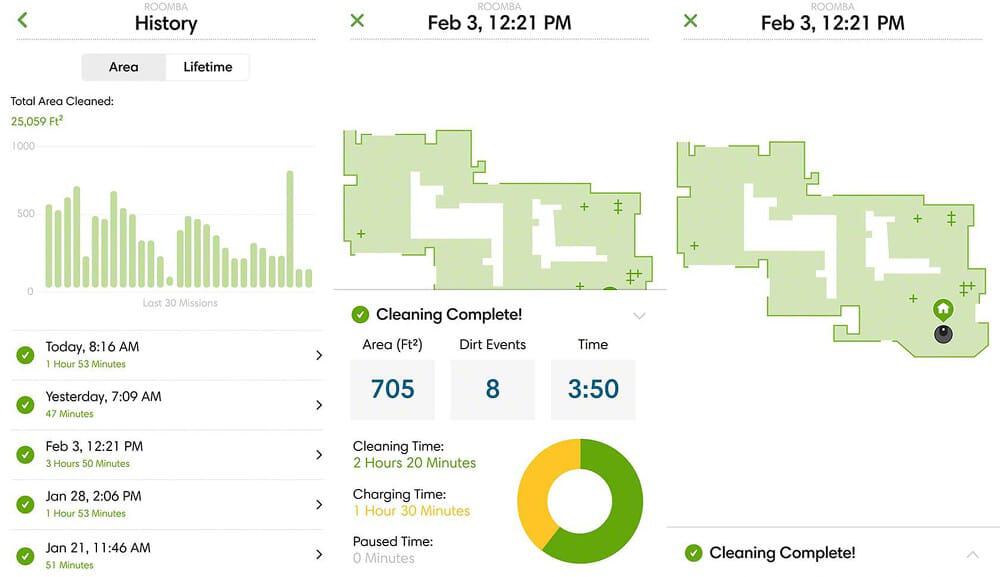 15. Is Roomba safe for children and pets?
Roomba has a feature that shuts it down whenever it is picked up. However, for maximum safety, always supervise your children during the cleaning exercise.
16. Does Roomba clean all corners of the room?
The cleaner has a spinning side brush that can reach corners, walls, and any other sections of your house that seem unreachable. It can clean under kickboards, furniture, and beds as well.
17. How long does a Roomba battery last?
A fully-charged Roomba battery can last between 60 and 90 minutes. However, this depends on the floor surface being cleaned. Recharging the battery can last up to 12 hours using an ordinary charger and about two and a half hours using a rapid charger.
18. How Much do iRobot Roomba Vacuum cleaners cost?
The Roomba has six Robot Vacuums to choose from. The base model is the Roomba 675 starting at $299.99; it has basic features and is good for a light-duty application. As the price increases, the features and suction power also increases. Here are the six models and their manufacture retail price. But check Amazon for pricing because they do go on sale.
19. Should You Buy a Robot Vacuum Cleaner?
Although not a necessity and many would consider a luxury item. A robot can save you time and make it easier to maintain a clean home. A robot vacuum cleaner will not totally element the use of a conventional vacuum cleaner but can reduce the need to vacuum from once a week to once a month. As you choose the more expensive models, the more automation and features you get.
---
Compare iRobot Roombas Models
1. iRobot Roomba 675 Robot Vacuum
The iRobot Roomba 675 is Roomba's least expensive Robot vacuum cleaner. A good entry-level Roomba ideal for a student or for a second unit around the house. Not great for pet hair.
3-Stage Cleaning system
Patented Dirt Detect sensors
MSRP $299.99
Good for a student
---
2. iRobot Roomba 690 Robot
The iRobot Roomba 690 is very similar to the Roomba 675 but has the additional feature, Dual Mode Virtual Wall Barriers. This creates an invisible barrier to select specific areas to go to or stay away from.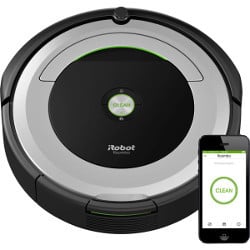 3-Stage Cleaning System
Includes 1 Dual Mode Virtual Wall Barrier
MSRP $349.99
---
3. iRobot Roomba E5 Robot Vacuum
The iRobot Roomba E5 has five times suction compared to the 675 & 690 and has a few advanced features like Dual Multi-Surface Rubber Brushes, High-Efficiency Filter and is better suited for pet hair.
3-Stage Cleaning system
 6 additional advanced features
5 x Suction
MSRP $449.99
---
4. iRobot Roomba 960 Robot
The iRobot Roomba 960 has the same suction as the Roomba E5 but has even more additional advanced features.
It can clean an entire floor of a house and will automatically go back to the charger recharge and continue to vacuum. Using the Roomba app, you can get Cleaning reports with coverage maps to see where the vacuum has cleaned.
3-Stage Cleaning System
Includes 1 Dual Mode Virtual Wall Barrier
5 x Suction
Recharges & Resumes
MSRP $699.99
---
5. iRobot Roomba i7 Robot Vacuum
The iRobot Roomba i7 has ten times the suction. It knows the difference between different rooms and can be programmed to vacuum areas more often than areas that are not used as much. It has Imprint™ Smart Mapping that learns your home does a more efficient job vacuuming your home.
3-Stage Cleaning system
Customize cleaning preferences
10 x Suction
Recharges & Resumes
MSRP $799.99
---
6. iRobot Roomba i7 + Robot
The iRobot Roomba i7 is Roombas top of the line vacuum clean with 10 x suction and all the advanced features.
It comes with a self-cleaning docking station and will clean continually on its own going back to the docking station to recharge and empty debris.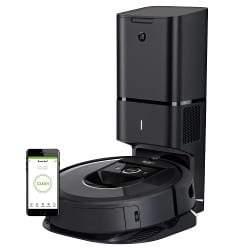 3-Stage Cleaning System
Customize cleaning preferences
Empties on its own with Automatic Dirt Disposal
10 x Suction
Recharges & Resumes
MSRP $1099.99
---
Other Robot vacuum cleaner options
Roomba is not the only makers of Robot Vacuum cleaners. Dyson has entered the market with the Dyson 360 Eye, not as many features as the comparably priced Roomba i7 but you get an excellent suction and Dyson quilty.
The Xiaomi New Generation Smart Vacuum Cleaner is a low-cost Chinese alternative to the more expensive Dyson and Roomba brands. Although priced under $500, this smart vacuum rivals the performance and features of many expensive Robot vacuum cleaners on the market.
---
Dyson 360 Eye
Dyson has been making top quality, innovative vacuum cleaners for many years. The Dyson 360 Eye is their version of a Robot Vacuum.
The 360 Eye has good suction as to be expected from Dyson, but its design is a little bulkier than the Roombas and may not get into as many areas.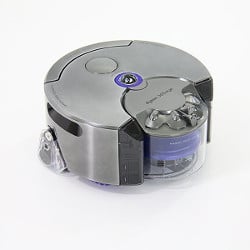 Full of sensors with a 360-degree standard-definition camera
Very good suction
Good for pet hair
MSRP $999.99
---
Xiaomi New Generation Robot Smart Vacuum Cleaner
The Xiaomi New Generation Robot Smart Vacuum Cleaner is a low-cost Chinese alternative to the more expensive Dyson and Roomba.
Xiaomi is very precise and more purposeful with it's vacuuming then comparable priced vacuums. With comparable navigation features as the more expensive Roomba i7.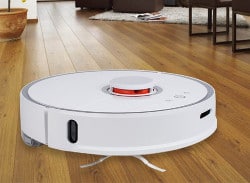 Great value Robot Vacuum cleaner
Laser distance center
Plans routes automatically
MSRP $499.99
More about smart home devices