The LG V30 is LG's newest flagship phone. LG's V series continues putting the emphasis on photography, videographer, and audio. With the new LG V30, all three have been addressed. This makes the LG V30 ideal for bloggers and users that demand better audio and an excellent video/camera. LG seems to have learned from previous models and listened to feedback from the LG V20 and LG G6 users and produced the feature-rich LG V30 smartphone.  Let's have a closer look with my LG V30 Smart Phone Review.
In the last few years, rival phones like the Samsung Galaxy S8 and the Apple iPhone X have greatly improved their onboard cameras. The LG V30 seems to be taking it a step further and leading the way by introducing the first glass Crystal Clear Lens, the first QHD+ OLED 18:9 FullVision display, Cine Video mode for producing movie-quality videos and for audio added a Hi-Fi Quad DAC formally only available on more high-end audio equipment, creating the best mobile video production platform of any other smartphone currently on the market.
This is not the first time LG has been pushing the boundaries of smartphone technology. They were the first to come out with the dual-camera system and wide-angle lens on a smartphone. These features are now being followed by other smartphone manufactures
I have been looking for a new phone or camera to take better pictures and videos for my site to use alongside my picture editor suite of tools. 
I like the idea of a phone because of its portability and the quality that many smartphones companies are producing has been quite impressive in the last few years with major entries from the Apple iPhone X and the Samsung Galaxy 8 both are incredible phones with excellent photo and video capabilities.
The price of the LG V30 is on par with other flagship smartphones and are expensive, costing close to $1000 or more like the iPhone X. Keep in mind these are not just phones anymore with a subpar camera onboard for quick shots but cameras that have greatly improved photo quality with lens and features that only a short while ago was only available on professional equipment. See Amazon pricing LG V30, Samsung Galaxy 8 or Apple iPhone X.
If you are waiting for a replacement from LG for the LG G6 with a new LG G7 as promised, you may be waiting a long time. There have been mixed reports of the new G7 smartphone release date. The original G7 release expected in early 2018 now has been a rumor that LG is doing a complete rebuild from scratch with a release date was expected in April 2018. So you may want to consider taking a closer look at LG V30.
Recently the people at LG gave me the opportunity to try out an LG V30 loaner to play around with for a few weeks. This gave me a great opportunity to have a closer look at the LG V30. I don't usually review phones but since I have been shopping for a photo/video camera for my blog I thought I would share my experiences with the LG V30 with you.
What caught my attention from all the reviews I researched was the video/camera capabilities and the Quad Hi-Fi DAC. The video capabilities on the LG V30 are better than any other SmartPhone on the market. In this LG V30 SmartPhone review, I will go through a number of features but there are really too many features to extensively cover everything.
LG V30 was introduced in September of 2017 and in the past, LG V series smartphone was limited to the US, Canada, Australia and parts of Asia. This year they are being made available to more countries like the UK, Germany, and Spain. See Amazon Pricing in your area.
​Build and Design
The LG V30 is a very sexy phone. They use premium quality components inside and out. The build is sleek and its 158g weight is slightly lighter than other flagship phones. Both front and back of the LG V30 are coated in Corning Gorilla Glass 5. The edges are made of AL6000-series aluminum a very strong light metal, the same used in sports equipment and mountain bikes.
The front glass display is an OLED (organic light-emitting diode) FullVision display with 18:9 aspect ratio. The screen wraps around slightly and is a big improvement from the LCD display from the previous model LG V20. The screen display has a crystal clear picture with very accurate vibrant vivid colors, arguably better than most competitors. You can be the judge and compare the specs iPhone X, Samsung Galaxy Note 8 and the LG V30.
---
Some people's reactions when first holding the V30 is that it is light for a premium flagship phone. This lightness and the durable materials the V30 is made from means it has some real impact resistance. This phone has U.S. military drop-test standards. Through rigorous testing, the LG V30 passed 14 categories of MIL-STD-810G – the U.S.
This phone conforms to U.S. military drop-test standards. This makes the V30 good for military use in any circumstances and will give you great phone breakage protection if you drop it in your daily life. And you will!
In the LG V30 vs Galaxy Note 8 drop test video below, the V30 did do very well. It did eventually crack with a number of drops but the phone continued to function even with heavy damage. I was sent a loaner model to try out but nevertheless, I would still purchase a really good case.
This would add a little more weight to the phone and a little extra something to hold onto. LG V30 case prices start at $10 and a really good one goes for around $30 see Amazon pricing.
---
LG V30 Vs Galaxy Note 8 Drop Test!
There are two volume buttons on the left upper side that have a nice tactile solid feel. On the right side are combination nano-sim tray and micro SD card slot that can support up to 2 terabits. On the bottom is located a USB port and a single mono speaker which is a bit of a disappointment.
The sound from the speaker on the LG V30 is not as good as some of its competitors. This is not a major problem since more often than not you would use a Bluetooth speaker or listen with a good pair of headphones and take advantage of the onboard 32-bit Hi-Fi Quad DAC. The speaker location is also not the best. I had a tendency to muffle the sound with my hand as I was holding on to the phone when gaming on the LG V30.
Unlike the other flagship phones that are doing away with the headphone jack, the LG V30 not only has a headphone jack but has a 32-bit Hi-Fi Quad DAC on board for excellent headphone sound quality, provided you have good quality headphones. This is a first for smartphones. This means other manufacturers will be increasing their audio performance in future models. The future "Sounds" great!
Flip the phone over and you will find a glass back with a slight curve. The phone sits comfortably in your hand and it is very smooth and comfortable to grip. It does not feel like it will slip out of your hands. On the back upper center is the fingerprint sensor/power button. If you are used to power buttons on the side edges, you may find this takes a little getting used to but after a while, it really is a great location for the power button.
Fingerprint recognition works very fast as does the face recognition. Above the sensor-button is the dual-lens similar to other flagship phones but made from glass. Another smartphone industry first. Besides that, there is a flash for the camera.
The overall design is much more compact and less boxy than its predecessor the LG V20. The LG V30 is water-resistant IP68 rated. Meaning it can be submerged in water to a depth of 1.5 meters for 30 minutes. Good to see this is becoming standard on many newer phones.

Right side combination nano-sim tray micro SD card slot

Headphone Jack on top of the LG V30

Left upper side two volume buttons

Speaker and USB port on the bottom of the LG V30
---
Features
Face recognition
Voice recognition
6-inch Quad-HD+ Full Vision display
HDR 10 support
Snapdragon 835. 4GB RAM
64 or 128GB storage
Hi-Fi Quad-DAC
Display
Display
The second screen/dual window function available on the LG V20 has been done away with and replaced by a customizable floating bar. It is a half-circle with an arrow that sits on the side of the screen. You can move it anywhere you like on the screen. Tap the bar and it opens to a variety of assigned apps and commands.
You can easily assign your favorite goto apps and commands. The floating bar comes default with QuickMemo+ note-taking and a selfie camera for quick camera access. Some may be disappointed that they have gotten rid of the split screen that was a standout feature in LGs LG V20 and replaced it by a floating Bar.
Operations on the LG V30 is what you would expect from a flagship phone quick with no delays. Navigation is very fluid and with a little exploring, many options can be found very easily. Games also run smoothly with no shudder and the picture is vibrant and sharp. The V30 will have no problems keeping up with any games.
---
Camera
The camera is what really sets this smartphone apart from other smartphones. The LG V30 comes with a glass lens. A first for smartphones and normally only found on professional digital single-lens reflex cameras or DSLR cameras. The aperture is F1.6 allowing more light through for crystal clear image with vivid colors that are more accurate than other smartphones.
Front Facing Camera
The front-facing camera's low-light performance is a major disappointment in a dark setting. Selfies are bright and the color is bad. For a blogger that wants an all in one unit and selfies are an important component, the LG V30 has one of the poorest selfie shooters compared to other flagship phones.
Rear-Facing Camera
Moving to the rear-facing camera on the V30 is where the world opens up to numerous other possibilities than selfies. LG V30's main rear-facing camera is 16MP and has an impressive F1.6 aperture. This should allow it to take better low-light pictures than its competitors.
But unfortunately this is not always true and the Samsung 8 and the Google Pixel seem to outperform the LG V30 in low light conditions. But in some shots in dim light, the V30 provided better balance and light contrast.
Check out the video below comparing the LG V30 vs Samsung S8 vs iPhone X and see what you think. They all perform a little different in variable settings and each has their strong points and flaws.
---
LG V30 vs Samsung S8 vs iPhone X Comparison 4K
Video Quality
The video quality is outstanding with 15 Cine Effects presets and onboard editing to achieve cinema-quality videos. The Cine Effects presets are really handy and create a real difference in the mood of your film. Another really nice feature is the Point Zoom when in Cine Mode.
Tap a spot on the screen and zoom smoothly to that subject or area for a professional look. These features are a great way to help a novice video blogger get better quality videos. Here is an interesting video comparing the LG V30 to $50,000 Red Weapon Camara.
They reshot the Walter Mitty Longboard Scene using both cameras and the results are quite surprising. This video and the LG V30 smartphone could inspire the next great filmmaker. Add a smartphone stabilizer for around $100 to $200 and get a real professional result.
Smooth-Q 3-Axis Handheld Gimbal Stabilizer
---
LG V30 vs $50,000 Red Weapon Camera
​​​​Battery Life
Battery life has always been a strong point with the LG V series smartphones. The LG V30's batterie life is on par with other flagship smartphones it can handle a full day of busy use with no problem. Screen-on time is between 4-5 hours. Unlike the LG V10 and LG V20 that had a swappable battery and metal design, the new LG V30 is made from glass on the front and back and with this design it has wireless charging capabilities when using a wireless charger.
Sealing the LG V30 and not making the batteries removable was necessary to improve its overall durability and waterproof capabilities. Wireless charging is available on a number of phones with glass backs. Wireless charging works with Qi-certified chargers that are available as accessories and in cars, cafes, hotels, airports, and furniture.
Qi is an open, universal charging standard created by the Wireless Power Consortium (WPC). Wireless charging is slower than plugging in directly with a USB cable. The LG V30 also has Quick Charge 2.0 so you can directly plug into the USB port to quickly charge the battery.
---
LG V30 Smartphone Specs
General Specs
Display
6.0" QHD+
OLED FullVision Display
2880 x 1440
FullVision Display – 18:9 Aspect Ratio (2880 x 1440), 81.2% screen-to-body ratio
HDR10 Supported – improved picture quality for movies, TV shows, games, and user-generated content with enhanced brightness, color, and contrast
Floating Bar – access app shortcuts and call notifications on a moveable/collapsible toolbar
Always-On Display – time, date, and notifications always shown on a sleeping screen
Battery
Memory
64 GB
RAM: 4 GB
microSD™ Support
Processor
Qualcomm SnapdragonTM 835
Design & Durability
Available Colors: Cloud Silver
Fingerprint-Resistant 3D Glass Back
Premium Anodized Metal Sides
Rear Key with Fingerprint ID
Size: 151.7mm(H) x 75.4mm(W) x 7.3mm(D)
Weight: 158g
IP68 Dust and Water Resistant 1
Shock Resistant with MIL-STD-810G Testing 2
Corning® Gorilla® Glass 5 Protection on Front and Back; Gorilla Glass 4 on Camera
Comes with
USB Type-C Cable (Quick Charge 3.0 Charger)
Power And Performance
Platform: Android 7.1.2 (Nougat)
LG UX 6.0
Processor: Qualcomm SnapdragonTM835 up to 2.45 GHz x 4 +1.9 GHz x 4 Octa-Core MSM8998
Battery Capacity: 3,300 mAh Non-Removable
Talk Time 3G: up to 22 hours
Talk Time 4G: up to 17 hours
Standby Time: 440 hours
Qualcomm Quick ChargeTM 3.0
USB Type-CTM Charging Port
Wireless Charging with Compatible Dock2
Internal Memory: V30: 64 GB3 ; V30+: 128GB3
Supports microSD card up to 2 TB (cards sold separately)
RAM: 4 GB
Dual Rear Cameras
16 MP Standard-Angle Lens f/1.6

Field of view: 71 ̊
Resolution: up to 4656 x 3492 pixels (default); 1.0 μm pixel size
Glass Camera Lens – minimizes light dispersion for superior sharpness and color
10-bit HDR Image Sensor – capture up to 1 billion colors
OIS+2.0 and EIS

13 MP Wide-Angle Lens f/1.9

Field of view: 120°
Image sensor: 1/3.4″
Resolution: up to 4160 x 3120 pixels (default); 1.0 μm pixel size

LED Flash
HDR – controls contrast for photos
Laser Detection Auto Focus and Phase Detection Auto Focus
Zoom – up to 8x (digital)
Manual Mode – adjust shutter speed, ISO, exposure, white balance, and more; save image as RAW (JPEG + DNG)
Graphy* – select reference photos that automatically adjust Manual Mode settings
Pop-out Picture Mode – use both rear cameras to automatically add frame effects
Camera Modes: Food Mode, Panorama, 360 Panorama
Film Effect – choose from 8 preset filters
Quick Share – access sharing platforms instantly after taking pictures and videos
Front Camera
5 MP Wide-Angle Lens f/2.2

Wide-angle field of view: 90 ̊ Toggle to standard angle field of view: 80 ̊
Resolution: up to 2560 x 1920 pixels (default)

Full HD Video Recording
Auto Shot – take a selfie with automatic face detection
Gesture Shot – take a selfie with a simple hand gesture
Gesture Interval Shot – take four selfies in sequence by making a fist twice
Gesture View – transitions between camera mode and preview mode automatically
Selfie Light – screen illuminates around the photo preview for well-lit selfies
Beauty Shot – softens facial features
Video
4K Video Recording at 30 FPS
Resolution: up to 3840 x 2160 pixels (1920 x 1080 default)
Cine Effect – choose from 16 different color grading presets to add a cinematic look
Point Zoom – zoom in on any selected area within the frame for more stability and control
Manual Video Mode* – adjust audio focus, manual focus, white balance, frame rates, and more
LG-Cine Log – when in Manual Mode, capture 200% wider color gamut & BT.2020 800% dynamic range for enhanced video manipulation in post-production
Steady Record 2.0 – record smoother, clearer videos on the move
Slow-Motion Video Recording – 1280 x 720 resolution, 240 FPS
Time-Lapse Video – record a video that plays back faster than normal
Quick Video Editor – merge up to 50 photos or videos; trim and add title/text, background music, and theme effect overlays
Snap Movie – capture and combine a series of short video clips
Audio
RAM (Receiver as Mic) – 2 analog mics combine with the phone's receiver to improve sound clarity while recording in loud environments
Hi-Fi Video Recorder – 2 AOP (Acoustic Overload Protection) mics record video with higher-quality sound*
HD Audio Recorder – capture high-quality sound with the ability to record over a separate audio track; choose between Normal, Concert, and Custom modes
Wind Noise Filter – minimize background and wind noise during video recording
32-Bit Hi-Fi Quad DAC – Digital-to-Analog Converter (DAC) for crisp, full sound through wired headphones
Sound Preset – select custom DAC output frequencies to achieve different sound experiences
Digital Filter – choose from Short, Sharp, and Slow to change the sound characteristics
Hi-Fi Streaming – MQA decoder enables high-resolution audio to be packaged in a small size
LG V30 Smart Phone
Pros and Cons
Pros
Sleek beautiful design
Christal clear OLED display
32-bit Hi-Fi Quad DAC onboard
Packed with many features
Wide-angle option very useful
Outstanding onboard video editing capabilities
Cons
Low light condition picture quality is not always great
Selfie pictures are disappointing
Pretty pricey
Should you buy it?
If you plan to take a lot of selfies using the front-facing camera then other smartphones may be a better option. If you are someone that wants the latest phone with technology that will last a few years with camera/video capabilities that are close to a good professional camera then the LG V30 would be an excellent choice.
The front-facing camera is a bit of a disappointment considering how great the rear-facing camera is. If you plan to mostly stay behind the camera and film and take beautiful photos then the LG V30 would work perfectly for you.
I can't see this phone replacing serious photography or video equipment, but since it is the camera you will most like have on you and is charged and ready to go you will capture moments often missed.
You can be incredibly creative with the video/camera features with the outstanding onboard video controls. I can see this camera capturing some incredible spontaneous high-quality pictures and videos.
For audiophiles a Hi-Fi Dac with a headphone jack that is also a big plus if you have a quality pair of wired headphones Everyday headphones will not produce the sound advantage that the Hi-Fi DAC delivers. The phone's speaker is a little disappointing but honestly, it isn't meant for hi-fidelity.
That's why headphones and Bluetooth speakers are the way to go when listening to music.I understand that wireless charging requires a glass back to operate with wireless chargers but I am a little suspicious that there is not a better way. Many consumers would like a higher-end phone and do not need wireless charging.
Give us a durable phone with less glass and more camera features like the V30 this would add to it durability and bring the price down to a more reasonable price point. The sleek sexy look of the latest phones are great, but it really is almost pointless if it will always be covered up in a case.
My gripe with the trend in phone manufacturers is the use of glass on the back of some phones. Before with one screen if you dropped your phone you had a 50:50 chance of your phone not landing on the glass screen. Now with both sides covered with glass, you have a 100% chance of hitting a glass surface.
They do appear to be getting tougher but I see more glass as an expensive repair down the line that if made with another material would not be an issue. I would gladly swap the wireless charging feature, which requires a glass back, for a less fragile phone with a lower price point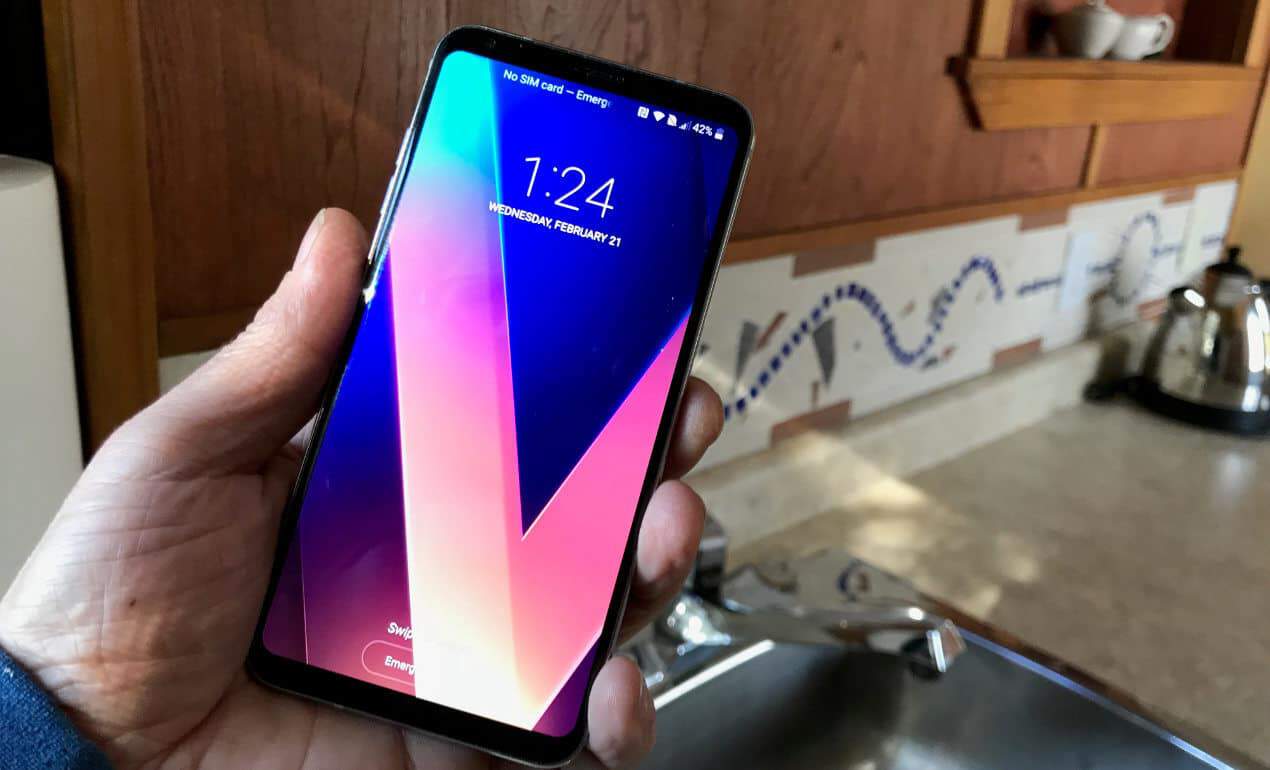 Conclusion
The LG V30 has definitely earned its spot as one of the top flagship phones on the market in 2017. LG has again raised the bar on smartphone features. They have added wireless charging and improved water resistance and durability. What really moves this smartphone up a notch is the LG V30 has a 32-bit Hi-Fi Quad DAC for better headphone audio.
The camera has a glass lens that takes clear vibrant pictures and has a very useful wide-angle capability. The video features are above the competition especially the video capabilities. Features that before only were available on expensive cameras.
With this feature-rich smartphone, you will have a great versatile Android phone for everyday use and have a really good camera available to capture moments at any time. It has smooth responsive applications and a gorgeous display screen with many extra features to play with, making it fun to use.
The LG V30 is an excellent phone that has a lot of benchmark features but comes up a little short on a few basics like selfies. In the right hands, this phone can create some wonderful pictures and videos. The LG V30 is pricey but still is priced $500 less than the iPhone X and can match or outperform the iPhone X in a number of areas. It also is likely to go on sale in the future making it a real deal.
See other articles and reviews about smart devices