The Linksys AC1900 Dual Band Open Source Wi-Fi Router (WRT1900ACS) offers you fast Wi-Fi performance at a long-range. It is the upgraded version of the WRT1900AC model that was released in 2015 and is now the top router that Linksys has to offer.
You will find the Linksys AC1900 Dual Band Open Source Wi-Fi Router (WRT1900ACS) has an efficient transfer speed for external storage devices and its stackable design makes it convenient to store. Let's take a closer look with our Linksys WRT1900ACS Dual Band WiFi Router Review.
What makes this Linksys better than Its predecessor?
The WRT1900AC router boasts of powerful hardware. It was one of the best models for its time with 256MB of system memory and a dual-core, 1.2GHz processor. The WRT1900ACS router is an upgraded version with significantly more power. This version offers you a 1.6GHz dual-core processor and more system memory with 512MB of DDR3. The overall performance is therefore much better because of its more powerful hardware specifications.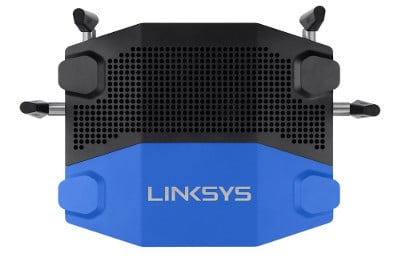 More Features than Ever Before
The WRT1900AC router has more features than ever before. One of the best features is the OpenVPN which protects you when accessing it remotely. You have a higher level of customization such as setting the Wi-Fi networks to mixed mode.
There is also an option for you to choose the channel width as opposed to using the auto select. If you want to drag and drop any of your clients between the high priority and normal priority lists, you can do so with the Media Prioritization feature.
Effective parental control is available which allows you to set blocking time and allow access to certain sites only. While at home on the local network you can check the Internet speed with the internet speed test. This shows you your broadband Internet speed.
Design
The Design of the Linksys AC1900 Dual Band Open Source Wi-Fi Router is the same as its predecessor. The dimensions are the same and its look has the retro design of the earlier WRT models. The blue and black design was first introduced by Linksys over ten years ago. It is, however, larger in dimension. The router itself is stackable and can be easily mounted on a wall.
 The one major design difference that this model has is it lacks the internal fan. Internal fans tend to make a lot of noise and are parts of routers that break more often. It is a lot less for you to worry about with the internal fan gone from the design. With new improvements over the years, the units do not run as hot as previously.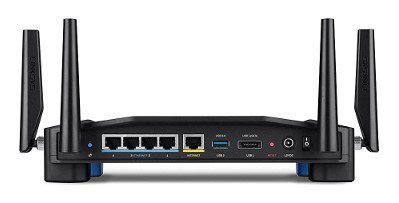 Additional Specs of the Design
 On the front side of the WRT1900ACS router is an array of LED lights. These are there to show you what the condition of the router is. It is possible to switch these lights off in case they become a bother at night. You can switch the LED lights off through the Web interface of the router.
On the back of the blue and black router, there is one port for gigabit WAN which is the Internet port and four ports for gigabit LAN. There is a USB 3.0 port and a USB 2.0 port which can alternate as an eSATA connection. These two USB ports allow you to port to external storage devices in one go.
Setting Up the WRT1900ACS Router
The setup process for the WRT1900ACS router is much more like its predecessor but it can also be used without having to set it up at all. This router has a default network setting which it comes with right out of the box. The information on this can be found printed on the bottom of the router. All you need is to plug the WRT1900ACS router in and connect the WAN port to an Internet source like a broadband modern.
Customizing the WRT1900ACS Router
The WRT1900ACS router is easily customizable to your preferences. All you need is to access the Web interface. You can do this on a connected computer. You can also access the router's IP address which is a default address, 192.166.1.1. You will then need to log in with the default password which is "admin".
Another remote option exists where you can access the Web interface by opening an account through Linksys Smart W-Fi accounts. It then takes you only a few moments to get to the Web interface through linksyssmartwifi.com as opposed to the IP address. This option allows you to access your network from any computer that is connected to the internet which makes your WRT1900ACS router manageable from any location in the world.
Linksys WRT1900ACS Dual-Band WiFi Router Review
Remote Management Via Mobile
Regardless of which device you use to access the Web interface with, you will find it similar in design all across. If you switch on the remote management feature of the router you can manage it through the free Linksys Smart Wi-Fi application for mobile. This is available for both iOS and Android operating systems. The application does only allow you access to some of the main features and settings of the WRT1900ACS router.
Remote access to your router means that it needs to be constantly connected to Linksys. This may be a security risk but it does have the OpenVPN and is perfect for quickly checking on your network at home while on the go.
---
Linksys WRT1900ACS Dual Band WiFi Router Specs
General Specs
| | |
| --- | --- |
| Network Standard | IEEE 802.11a, IEEE 802.11ac, IEEE 802.11b, IEEE 802.11g, IEEE 802.11n |
| Frequency Band | 2.4 Ghz / 5Ghz |
| Antenna | External antenna x 4 |
| Power Supply | AC Input : 110V~240V(50~60Hz)DC Output : 19 V with max. 2.37 A current |
| Dimensions ( W x D x H ) | 9.7 in, 2 in, 7.6 in |
WIRELESS FEATURES
Wireless Standards
EEE 802.11a, IEEE 802.11b, IEEE 802.11g, IEEE 802.11n, IEEE 802.11ac, IPv4, IPv6
Frequency
2.4 GHz / 5 GHz
Memory
128 MB Flash256 MB RAM
Data Transfer Rate
1.3 Gbps
Ram Technology
DDR3 SDRAM
Features
IPSec passthrough, Stateful Packet Inspection (SPI), Wi-Fi Protected Setup (WPS)
Wan Ports Qty
1
Wireless Protocol
  802.11a/b/g/n/ac
Package Content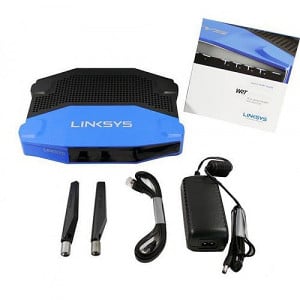 System Requirments
ADSL broadband Internet service
Microsoft® Windows® 7, 8, Vista®, XP®, 2000, Mac OS®, UNIX®, or Linux®
Microsoft® IE 9 & 10, Firefox® 4.0, Safari® 6.2.6, or Google Chrome® 11.0 browsers or higher
---
Linksys WRT1900ACS Dual-Band WiFi Router
Pros and Cons
Pros
One of the fastest routers on the market
Very fast file transfer from attached storage devices
Has eSATA, USB 3.0, and USB 2.0 ports
Great long-range performance
Many positive user reviews
Cons
Limited controls in firmware
2.4GHz Wi-Fi performance 
For Mac users, the storage feature doesn't support Time Machine backup.
Conclusion
The Linksys AC1900 Dual Band Open Source Wi-Fi Router (WRT1900ACS) offers you high performance and incredible speeds of 536Mbps on average for close range. Up to 100 feet away the router offers an average of 349 Mbps which is good in comparison to many other Wi-Fi routers on the market. If you are looking for fast Internet speed and high performance, the WRT1900ACS router will give you one of the best online experiences.
This model replaces its predecessor, the WRT1900AC, which was an excellent product on its own. The WRT1900ACS router, however, comes in with more power and improved performance making it the top Linksys Wi-Fi router to date. It can also be described as the best in the categories of speed, range, signal strength, and storage capacity.
See more router reviews