Getting an accurate weather forecast is very important as it helps you to plan your day and what to wear. Unfortunately, the weatherman is not always accurate when it comes to weather predictions, especially in local area weather forecasts. This is because the weather man's system is usually located away from where you live and is often located out of town by the airport. A home weather station can solve this problem, let's take a closer look with my Netatmo Smart Weather Station review.
If you are in need of accurate weather forecasts that not only update you on weather conditions outside but also inside your home. Netatmo Weather Station is a complete personalized weather monitoring solution for you. Netatmo Weather Station is a smart device that collects all information related to weather conditions and makes the information available to you by relaying it to your Smartphone or computer as notifications. 
"Why do they have financial analysts? To make the weatherman look good."
Netatmo Weather Station Features
It measures temperature, barometric pressure, humidity, indoor Carbon (IV) Oxide, and Sound levels
Netatmo Weather Station relays real-time updates on weather updates
Graphed weather conditions data and data history
Free Netatmo Weather Station personalized account Fully waterproof
Ultra Violet (UV) rays resistant
Amazon Alexa fully compatible (sound response) Smartphone application for Android and 'OS devices as well as Windows
You can connect multiple Netatmo Weather Stations to a single computer or Smartphone or multiple stations to a single computer or Smartphone.
Easily add additional accessories lets you monitor wind and rain conditions.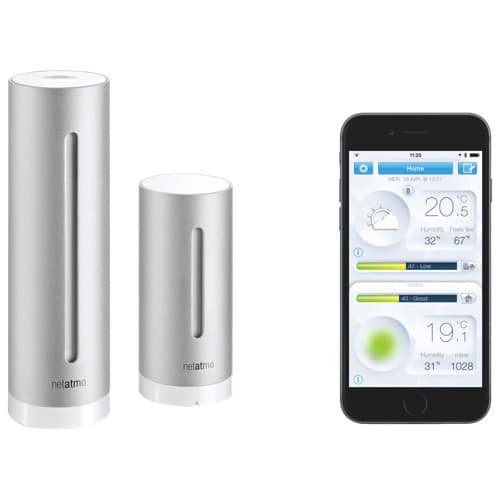 Netatmo Weather Station Design
Netatmo Weather Station is an excellent, state of art personal weather station despite its premium price. The developers of Netatmo Weather Station have ensured that every coin you spend on this device is worth its value. It comes in two modules, indoor module, and an outdoor module. Both designs are cylindrical in shape and small in size. The indoor module is designed to be installed and used inside the house whereas the outdoor module is installed outside. Both are ingeniously designed with aluminum and plastic tips on top.
The indoor unit has a glowing strip that glows in different colors to indicate different weather conditions. The indoor module measures 45x45x155mm and the outside module measures 45x45x105mm. It's weather-resistant and therefore can be placed at any point outside your house ensuring that the two units are not more than 300 feet apart for efficient data relaying.
The outdoor module uses four AAA batteries while the indoor module uses a pair of AA batteries. Netatmo Weather Station has all its sensors placed at its base.
Setting Netatmo Weather Station Up
Netatmo Weather Station set up process is very easy and simple. You begin with a one-time USB connection to your PC and visit Netatmo Weather Station's website to download firmware setup. All Wi-Fi information will be uploaded to the base station and after that is done it will instruct you to disconnect and connect the Netatmo Weather Station to a source of power.
Insert the new batteries in the slots at the base of each module and the modules will automatically connect to your Wi-Fi network.  Place the indoor module inside any room you want and your outside module just needs to be screwed on a wall but away from major obstructions.
Download Android and lOS mobile apps depending on which handheld device you own on Google play store and App store respectively. Its rain gage is very accurate as it uses a tipping mechanism to measure the amount of rain using tips of a tiny cup inside the rain gage.
Netatmo Weather Station has an accurate humidity sensor used to measure the amount of moisture in the air. It has the ability to stay wet even when the temperature is high during the day. Netatmo employs sonic measurements to measure the speed of passing wind in its wind vane as opposed to the bulky traditional wind vane that uses rotating cups fixed on arms.
This Weather Station has a very accurate temperature sensor with an accuracy of 10.3 degrees Celsius from a distance of 5 miles. The smart features that accompany the device's accuracy are useful in monitoring carbon IV oxide and noise levels. Noise level monitoring feature is useful when holding parties at home and you are careful not to offend the neighborhood.
Remote Monitoring Of Weather Conditions
The software installation will automatically install a shortcut on your desktop screen upon completion of installation and set up. You can click on this shortcut to access your personalized web page. You may also access data on the weather conditions in your home using mobile applications. Each function comes with a beautiful widget that allows you to access data on each function directly.
Alexa Support
Netatmo Weather Station has added Alexa support to its services which allows you to get a spoken response on the current weather conditions. This function can be added by visiting the mobile app and turning the service on
Mobile Application
Netatmo Weather Station mobile app (available for Android and i0S) has a beautifully simple design. It features the finest graphics and a blue background color combination. It is divided into two halves. The upper half shows outdoor weather conditions with a bar beneath it to display the overall quality of the air. The lower half shows indoor weather conditions, with a bar of three circles that represent how good the air inside is along with temperature and humidity levels.
If you scroll the screen up from the bottom, you can view carbon IV oxide concentration levels inside the house measured in parts per million (ppm) together with the sound level measured in decibels. The Netatmo Weather Station sends weather updates at intervals of five minutes to update you on current weather conditions.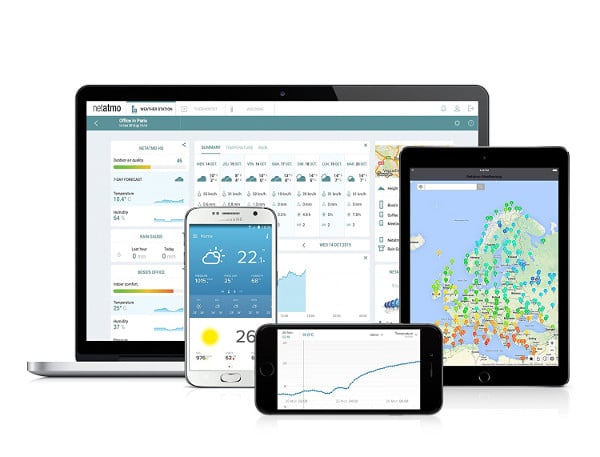 Netatmo Weather Station is now compatible with Amazon Alexa
Website Access to Weather Conditions
If you cannot access the mobile application, just log in to my.netatmo.com and get to see updates on weather conditions using your computer or Smartphone. The website provides information on each day's weather update, historical data, and a week's forecast. If you choose to share your data with the public Netatmo database, you get to see a map showing global weather data and trends. You have to be careful when turning this feature on as it will make your location visible to all other users. The battery life on the two modules is also shown on the website.
Noise Monitoring
Netatmo Weather Station sends the current noise levels (in decibels) of the environment inside the house to the Netatmo app. It also monitors dangerous noise levels for the human ears. It will report and advise you that prolonged exposure to loud noise is harmful to your health if your noise levels exceed the set minimum.
Carbon (IV) Oxide Monitoring
The Weather Station is pretty accurate in measuring the amount of carbon (IV) oxide inside and outside your house. Carbon (IV) oxide levels at 400 ppm are normal for the outdoors whereas carbon level of below 1000 ppm is normal for indoors. Carbon (IV) oxide level is bound to increase if the number of people inside a room increase as they use up oxygen and exhale Carbon (IV) oxide.
The indoor Netatmo module has a LED glowing strip that glows green for good carbon levels, yellow for moderate and red for very high critical Carbon (IV) oxide level. This is also reflected on the website and mobile app prompting you to open windows for ventilation when Carbon (IV) oxide level is high. If you begin cooking and forget to open your windows, the Carbon (IV) oxide concentration level will also increase. You will receive an update as a notification on your phone indicating the increase.
Netatmo Weather Station Carbon (IV) oxide monitoring is very useful especially if you have respiratory conditions such as lung problems. It will tell you whether the quality of air inside and outside your house is appropriate for you. Not only is this device helpful to people who need to keep tabs on the quality of air in the environment but also for you because you need to take care of your health.
Additional accessories Wind Gauge and Rain Gauge.
You can purchase additional accessories to help you monitor your local wind and rain conditions.
Rain Gauge
A Rain Gauge on your Smartphone
Receive an alert on your smartphone the moment it starts raining
Measure the rainfall and decide how much watering your plants need
The Netatmo Rain Gauge only works with the Netatmo Weather Station, sold separately
Only one rain gauge can be connected to a Netatmo Weather Station
Wind Gauge
Measure wind with a Revolutionary Ultrasonic technology
Ultrasound = no inertia. Unlike the Mechanical wind gauges
Ultrasound = provides the best accuracy for wind direction
Receive alerts on your smartphone and track historical graphs on the app (smartphone, tablet or pc)
The NETATMO wind gauge only works with the NETATMO weather station, sold separately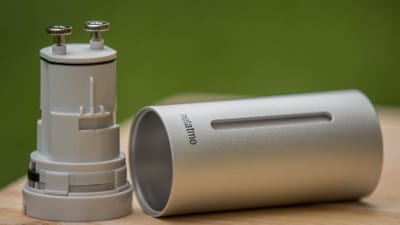 ---
Pros and Cons
Pros
A sleek cylindrical and ingenious design
Fully compatible with Android, iOS devices as well as Windows PC
Easy to install and set up
Keeps track of humidity, sound, temperature, and carbon (IV) oxide levels
Wireless connection.
Very light in weight (16 ounces)
Cons
Netatmo Weather Station is quite pricey
On-demand, measurements are often late
Sensors take some time to get accurate readings
Weak Wi-Fi connectivity, the outdoor unit is not water-resistant/proof and lack of community readings
Conclusion
Netatmo Weather Station will keep the guesswork out with its accurate weather forecast that covers both inside and outside of your home. It' also helps you relax and avoid glancing at the window for the weather condition outside as you only have to check your Smartphone or PC for an updated weather forecast.
You get real-time weather updates with tips of what action to take on outdoor and gardening activities. A good example is if it rained yesterday and there's still water in the soil, you'll be advised not to water your outdoor plants.
Netatmo Weather Station also has a sync feature that helps you sync all the other connected smart devices and may turn off watering devices if the weather conditions aren't favorable. Based on these features and its price, I can comfortably give this device a rating of 7/10.
Other eco-friendly reviews