The Onway 26″ 750W 7 Speed Snow & Beach Fat Tire Electric Bike may be the E-Bike for you. No stranger to making E-bikes Onway has been in business for over 20 years and with this experience are able to produce quality E-Bikes for a reasonable price.
The Onway 26″ 750W is a versatile cruiser E-bike with fat tires, great for on the trails at the beach and on snow. It comes with a wide range of aftermarket products and replacement kits to make customizing easy. A quick look through reviews on Amazon reveals that the Onway is committed to making sure that you are 100% covered and happy with your purchase.
Let's take a look at our Onway 26″ 750W 7 Speed Snow & Beach Fat Tire Electric Bike Review.
The frame is lightweight aluminum, which makes it durable, plus a three-year warranty from the manufacturer. The bike has great features that set it aside from its competitors by a measure of both durability and performance.
The Fork and rims are made from the aluminum alloy while the tires are the Kenda 26*4.0, wear-proof and anti-skid model. The front and rear are equipped with high-performance TEKTRO mechanical disc brakes that safely bring the bike to a stop with slight pressure on the lever.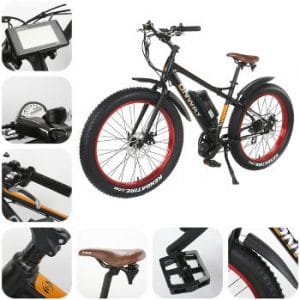 The bike comes with a central drive, brushless motor that attains high speed without getting too noisy. The lithium battery comes with intellective protection and offers a significantly longer battery life, but nothing exceptional.
Pretty much each part on the bike has a warranty; the motor, display, controller, and battery have an Eighteen months warranty while the frame has three years warranty.
The bike gives you 9 levels pedaling adjustments so you can adapt your bike to whatever terrain you find yourself. The extra fat tire allows your bike to take all sorts of terrain with ease; it can go from sandy beach to snowy ground without skidding or stalling.
There is not a lot of shock absorption so you feel the bumps on this bike. It's more of a cruiser than a mountain bike. It's heavier and not as agile as a bike with smaller tires. The bike operates great on the snow, at the beach, and in suburban areas.
Riding over speed bumps and potholes is not great as there is no shock absorption on this bike. You can adjust tire pressure and change seats for a more comfortable ride but there is no way to install shocks without some major changes. The tire can get noisy on blacktop roads.
The battery charger is not the best quality. If you have a number of E-bikes in your household purchasing a good programmable charger and following good battery care practices will help ensure you get the most life out of your battery. Here is a Battery Care Guide and a charger that is recommended. 
Features:
Motor: The bike comes with an 8FUN 48V, 750W central driven motor, brushless, hall effect, with high speed and low noise. So you can power through your neighborhood or sneak out of your office unnoticed. The motor will comfortably hit speeds of 20 miles/h on pure e-bike mode.
Battery: The bike runs on a 48V11.6AH, lithium battery which fully charges within 4-6 hours. The charging time is not as first as we could have loved, but given that it takes you up to a distance of 47 miles from a single charge is pretty impressive.
Display: the LCD display indicates the battery level, speed, and turning indication. There is a Power on/off and a lever to select one of the 9 pedal assist levels.
Frame: the bike is built around a strong aluminum frame though the manufacturer recommends that only one person can ride at a time.
Two working modes: Onway e-bike offers electric power and manpower modes. If you are traveling for long distances, you can alternate between manual and electric modes to preserve both your battery and your energy. If you need some great pedaling workout on the move, just switch to manual mode all the way. And if you need to get to the office without breaking a sweat, simply ride in electric mode all the way.
Easy to use: The adjustable seat fits any rider while the LCD mode display offers a fun riding experience. The 26*4.0 fat tires can handle all sorts of terrain without limitation; from sandy beaches to snow ground, you're covered all the way.
Remarkable quality: Onway e-bikes are built from 100% high-quality aluminum alloy frame, high-strength front fork, double layer aluminum alloy wheel and meters with 3-speed smart meter button.
Fabulous riding experience: Shimano 7 speed gear, 20 miles/h top speed & 46 miles max distance. 
Brake: Front and rear TEKTRO mechanical disc brakes capable of bringing your bike to an instant stop safely.
Saddle: Velo plush padded and adjustable saddle that suits any height.
Maximum load: 276 lbs, which is more than enough for one grown-up adult plus light luggage.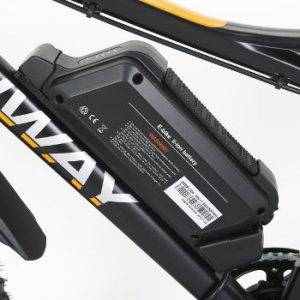 Onway 26″ 750W 7 Speed Snow & Beach Fat Tire Electric Bike Specs:
Main components
Frame: 26″ aluminum alloy
Fork: Aluminum alloy
Rim: Aluminum alloy
Brake: TEKTRO front and rear disc brake
Speed gears: SHIMANO 7 speed
Tire: 26*4.0
Performance
Power Mode: Sine wave intelligent speed sensor
Max speed: 35 km/h
Max distance: 65km
Max Load: 125kg
Charging time: 4-6h
Electrical system
Motor: BAFUN 36V, 500W center-motor brushless, Hall effect, high speed
Controller: 36V brushless Hall effect, intelligent sine wave controller
Display: LCD, showing on/off, battery indicator, 5-level assist
Light: LED light
Battery: SONY cell 36V 10.4AH, bottle lithium battery
Onway 26″ 750W 7 Speed  Fat Tire Electric Bike Assembly Video
Onway 26″ 750W Electric Fat Tire Bike
Pros and Cons
Pros
Strong driving force: 48V 750W Bafang motor, 11.6AH SONY lithium battery, quality is up to 3 years guaranteed. 
All-terrain application: The 26*4.0 fat tire, apply to all-terrain, can be used in sand beach and snow ground, without limitation of seasons.
The generous warranty offered by the manufacturer on all parts of the bike.
Cons
The Onway is not the most ideal bike for city commute as it doesn't handle speed bumps and potholes very well due to limited shock absorption.
LCD displays only KM, not miles.
The ride is a bit rough and not very comfortable.
Warranty information
As earlier mentioned, the manufacturer is committed to making sure that you're satisfied and happy with every single dollar you spend on their products. Here is their generous warranty offer.
Battery:18 months warranty (battery capacity less than 80% renewed in six months, one-year maintenance; start from the date of calculation).
Frame: 3-year warranty (only in normal use which means that only one person can ride at a time, can't carry two or more).
Other unlabeled consumables such as lamp /pedal/tires: 1-month warranty.
Gear wheel/fork/chain/charger/front axle/rear axle/flywheel: 6 months warranty.
Display/controller/motor: 18 months warranty.
Conclusion
Onway 26″ 750W 7 Speed Snow & Beach Fat Tire Electric Bike is a great option for any rider looking for something that can handle all sorts of terrain. It maybe a little too big and bulky for a daily commuter but for urban cruising its a real winner. The Kenda 26″ 4.0, wear-proof and anti-skid tires make this an ultimate off-road choice for real outdoor adventures. 
A great bike for heavier people and older adults that would like to cruise around the neighborhood. The bike has received numerous positive reviews from biking communities which is a good indication of its performance, and I can't hesitate to recommend it either.  Give it a try and give us your feedback.
More e-bike reviews